I like to start spring with a spring cleaning or I should say "audit", it's my annual ritual and I always put a good podcast in the back. I go through all my wardrobe and first I see what still fits, what should be fixed, and what can be swapped, sold, or donated. There are some great YouTube videos out there on how to clean your trainers, if you have some beyond repair, brands like Puma have "Bring Me Back" in-store schemes that make sure products can be reused or recycled. If you find yourself with pieces that you love, but have outgrown the style, save them, archive them if you have the space, and in the future, your nieces, nephews, and kids in your life will be teenagers and will love your vintage clothes.
With inflation hitting many of us worldwide, I like to think that economic and ecologic go hand in hand. It is essential today that we maintain the lifetime of a garment, so part of my ritual is taking my belts in to have holes added, shoes resoled, visiting to the dry cleaners, and luckily, I can do alterations myself. One of the best things you can do is know your size, 75% of the clothing returned cannot be resold and most of returned items end up in landfills. Please remember to wash your donated clothes, or they will also end up in a landfill and cause another clog in the system. The best assurance for clothes donation is directly with a refugee center.
When doing your spring audit, you can get a clear idea of what you have and what you are missing. In many ways, you can get that instant gratification just trying on your own clothes. We put together our Spring Essentials picks, with pieces that we love that can only enhance what we already have in our wardrobes. I'm gradually trying to add more color to my wardrobe and pieces that fit my lifestyle as I find myself more and more outside.
Editor's Picks: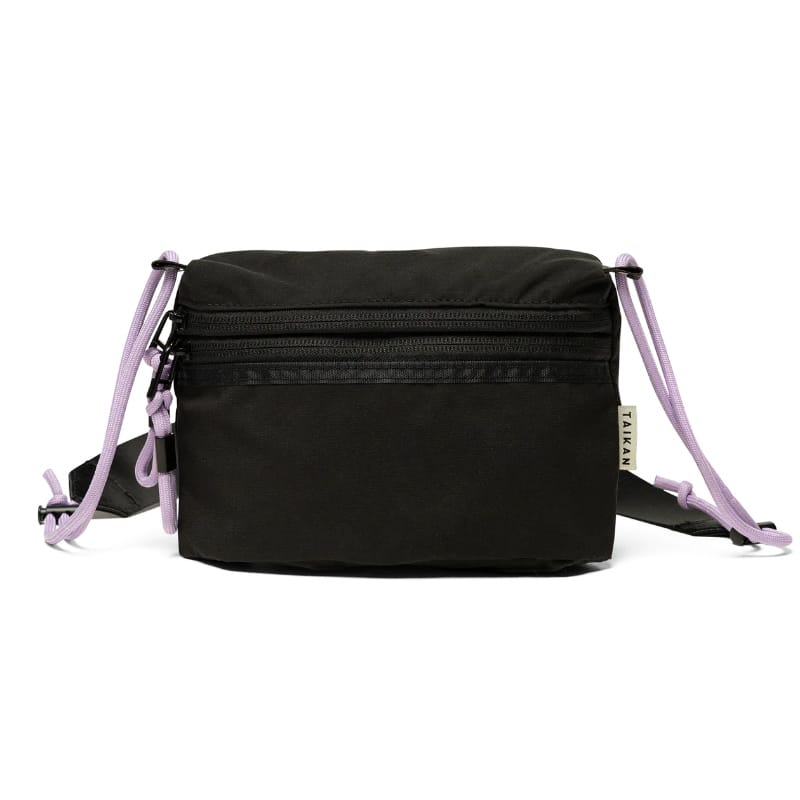 TAIKAN Sacoche Premium, 37.95€
SACOCHE is a Japanese-influenced silhouette; suited to meet the needs of the creative individual. The light and practical nylon sac can be worn over the shoulder, around the neck, or concealed easily under layered clothing. With a dual external mesh pocket and a main zip compartment, there is ample space to accommodate your daily needs including keys, phone, point-and-shoot, markers, pens, lighters, passport and more.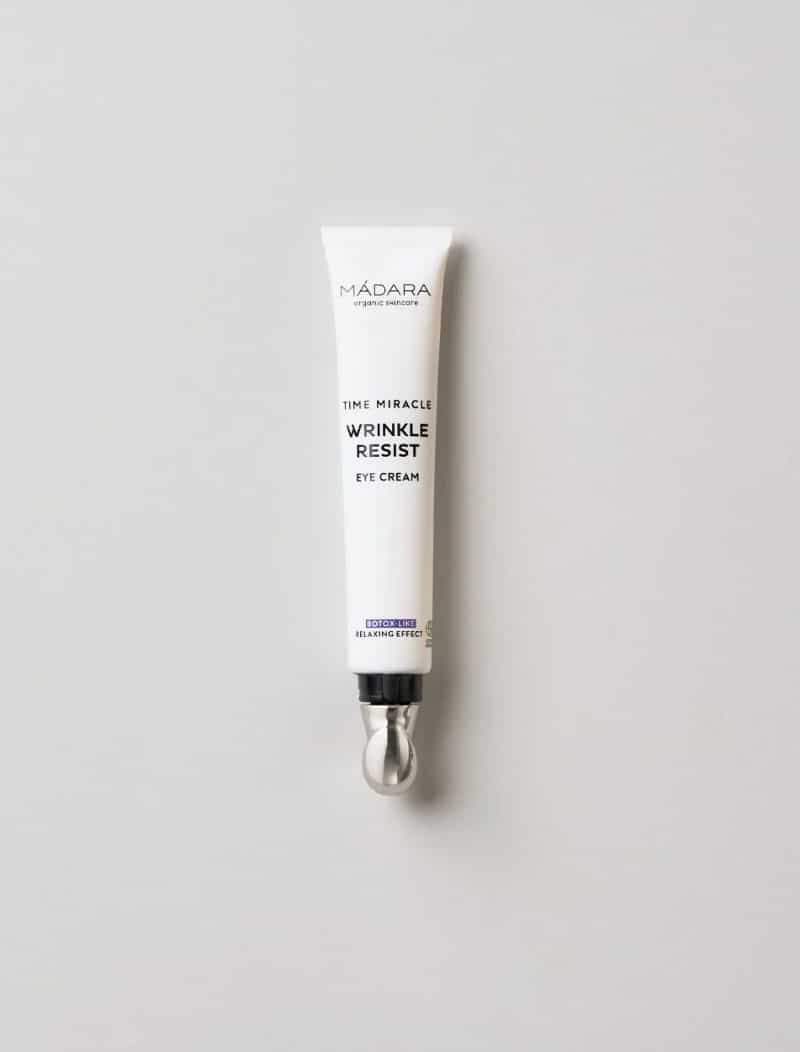 Wrinkle Resistant Eye Cream by Madara Organic Skincare, 39€
Our eyes are getting adjusted to longer days, and prepping for losing an hour in the spring this eye cream works as a plant-based botox. It holds the Ecocert Cosmos Natural certificate while based on northern birch water to increase the power of youth-preserving active ingredients.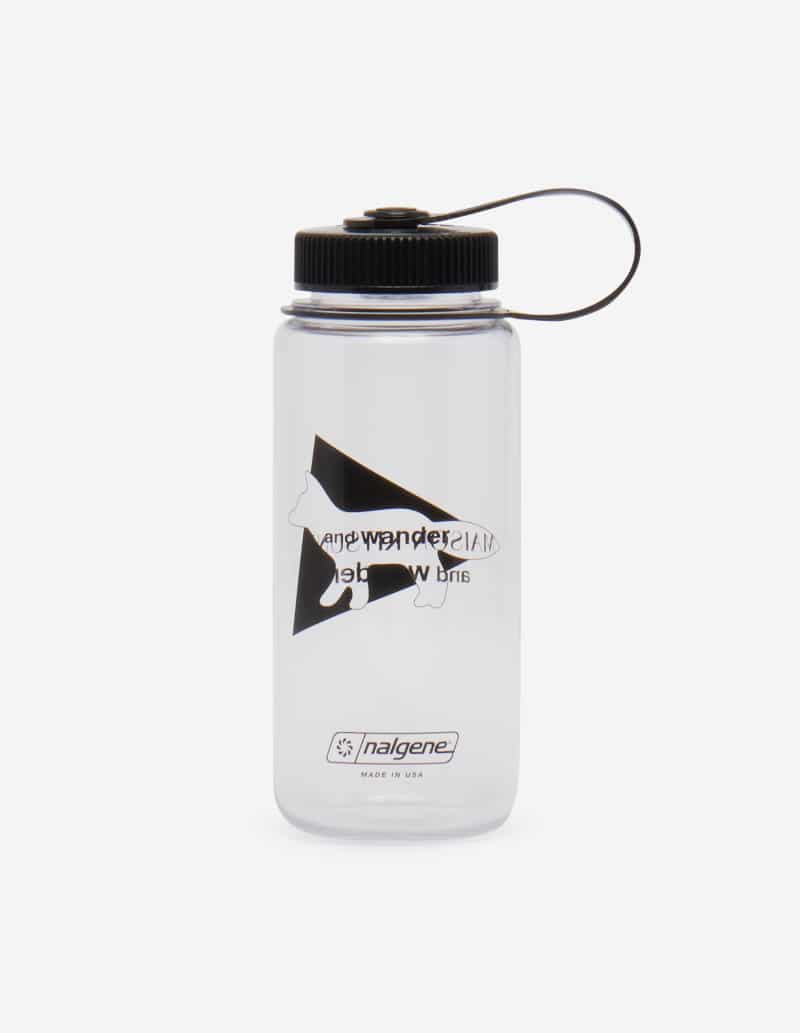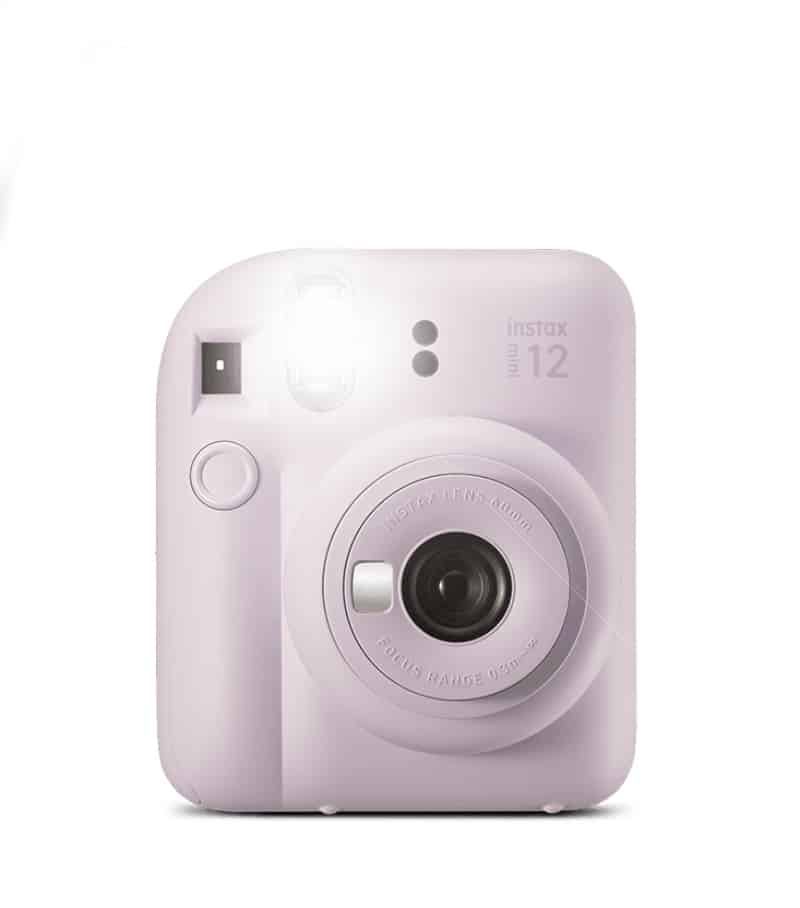 Fujifilm INSTAX mini 12, 89,99€
The Fujifilm INSTAX Mini 12 is a compact instant film camera that offers a fun and easy way to capture memories on the go. Its lightweight design and intuitive controls make it an excellent option for both beginners and seasoned photographers who want a simple, point-and-shoot experience. Perfect for anyone looking for a hassle-free instant film camera to capture this Spring's memories.
Maison Kitsune x And Wander Nalgene Bottle, 45€
And Wander is a high-quality outdoors brand from Japan with a cult following. While Nalgene's Wide Mouth arguably is the most ubiquitous water bottle on the market and a staple in the outdoors, the Kitsune fox found on the bottle and throughout the collaboration will see you take the fox on a journey into uncharted terrain.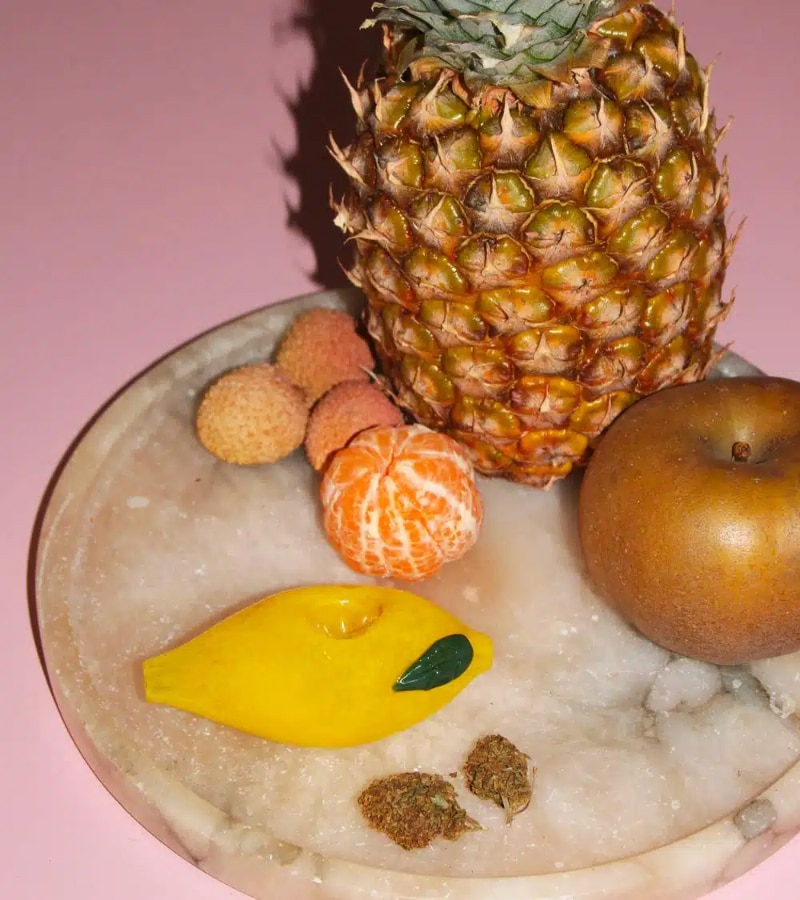 Lemon-shaped CBD pipe from Red Eye Glass®, 49€
This pipe is cute enough to store in your fruit basket or just about anywhere for a touch of spring! Great for smoking your tobacco substitutes. Consuming CBD with a pipe is more environmentally friendly than smoking rolled cigarettes, as it does not require rolling papers and does not generate cigarette butts. As a result, it saves money: you don't need to buy tobacco and rolling papers!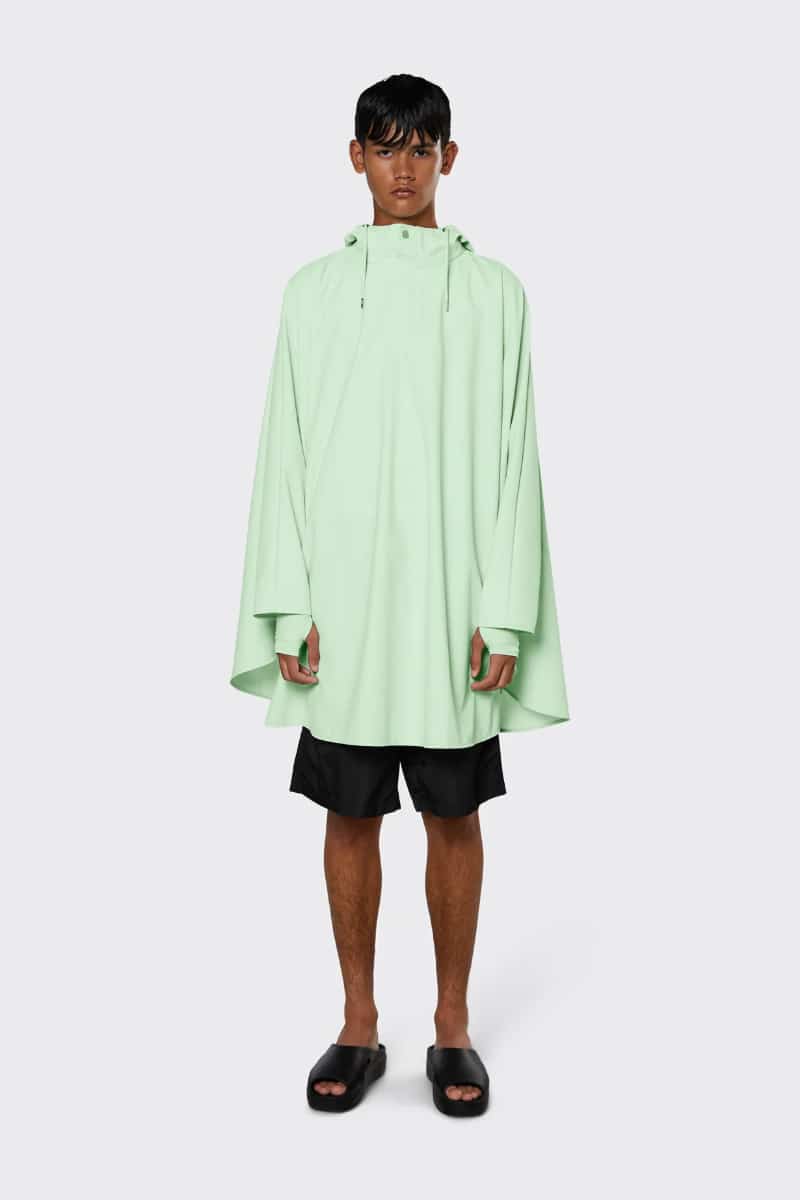 I've been looking for a raincoat this length and I'm loving the take on the classic rain poncho in a minty pastel green. The loose silhouette is also great if you are used to layering during Spring. Optional sleeves can be created using snaps at the arms. The thumbholes ensure a perfect fit, even when cycling. Also, you can machine wash this at home on cold. The durability of its products is one of the most important parameters for limiting the brand's impact on the environment.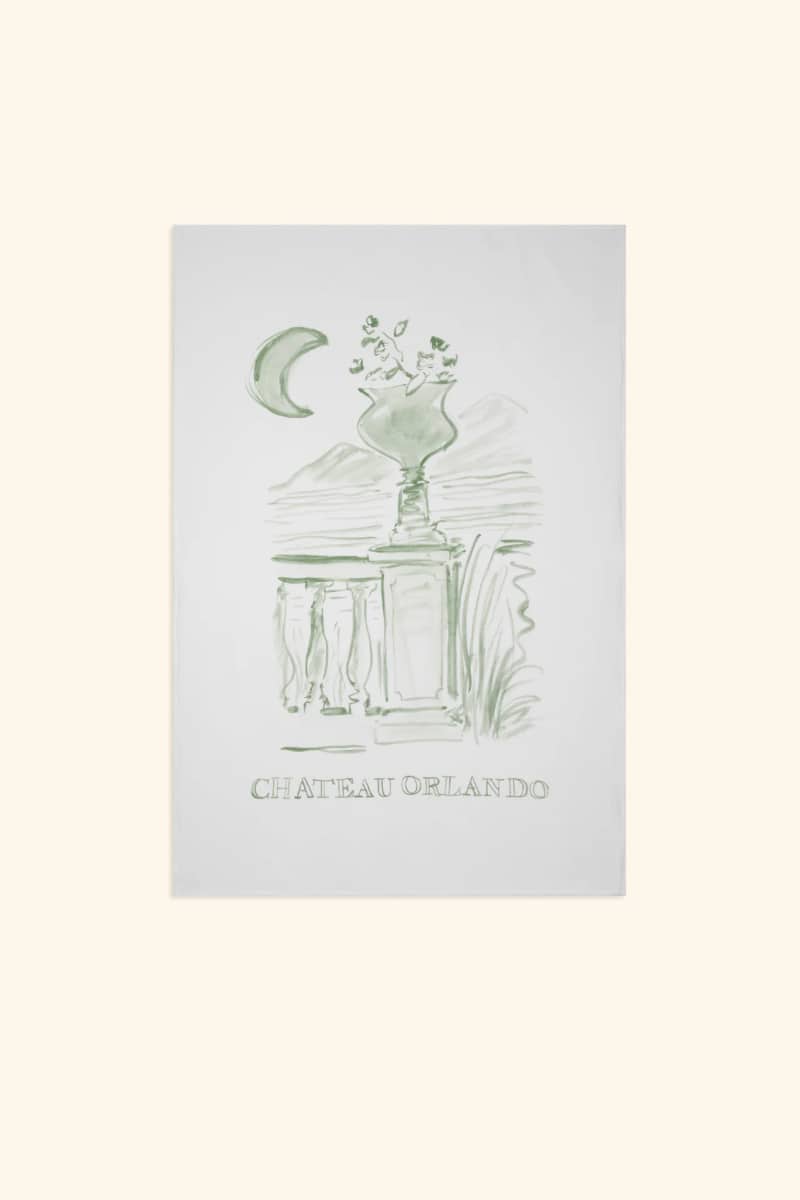 Nocturne Beach Towel by Chateau Orlando, 95€
I saw this towel the other day at Le Bon Marché and it was so much more than a towel, it was big enough for me to make starfish and soft enough to use as a blanket. I immediately started daydreaming of laying in it on a hammock or in my garden with a good book. I have had the same beach towel for at least twelve years, so I'm ready to splurge on this beach towel with a design inspired by an antique engraving. I love it so much, that I will probably lay it on top of my old towel. Additionally, it is 100% cotton and made responsibly in the Veneto region of Italy.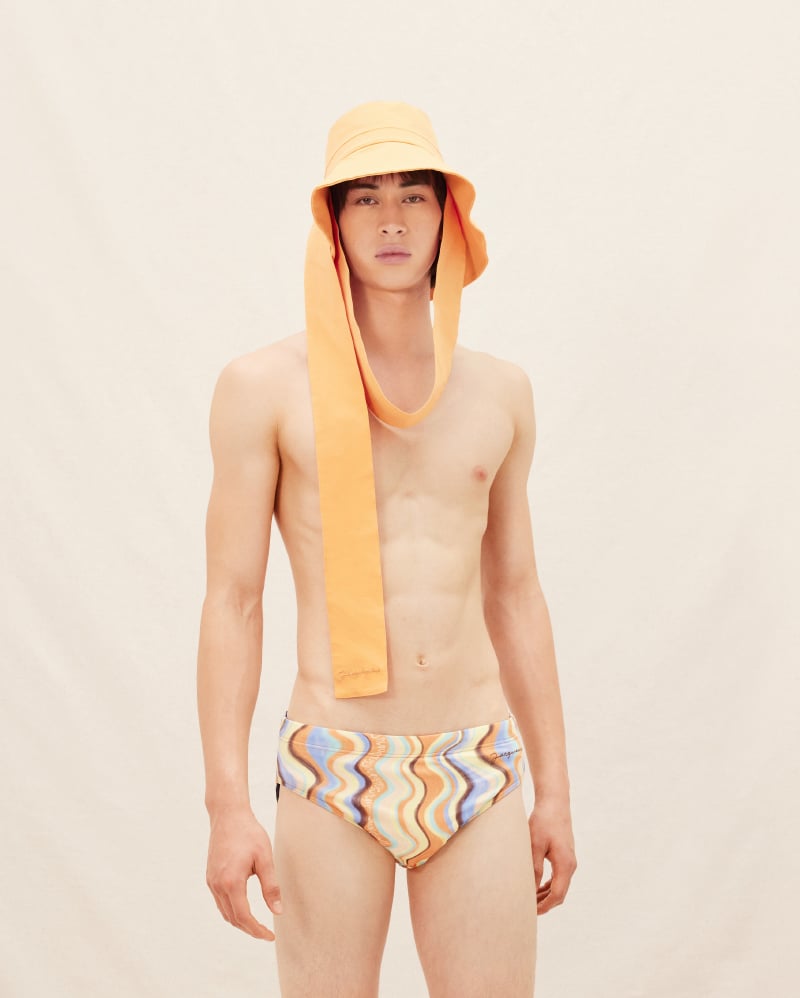 I feel like I might be pushing it with a brief for spring, but not if you are from the South like Simon Porte! This printed adjusted brief cut is made from 80% Biodegradable Recycled Polyester and manufactured in Portugal.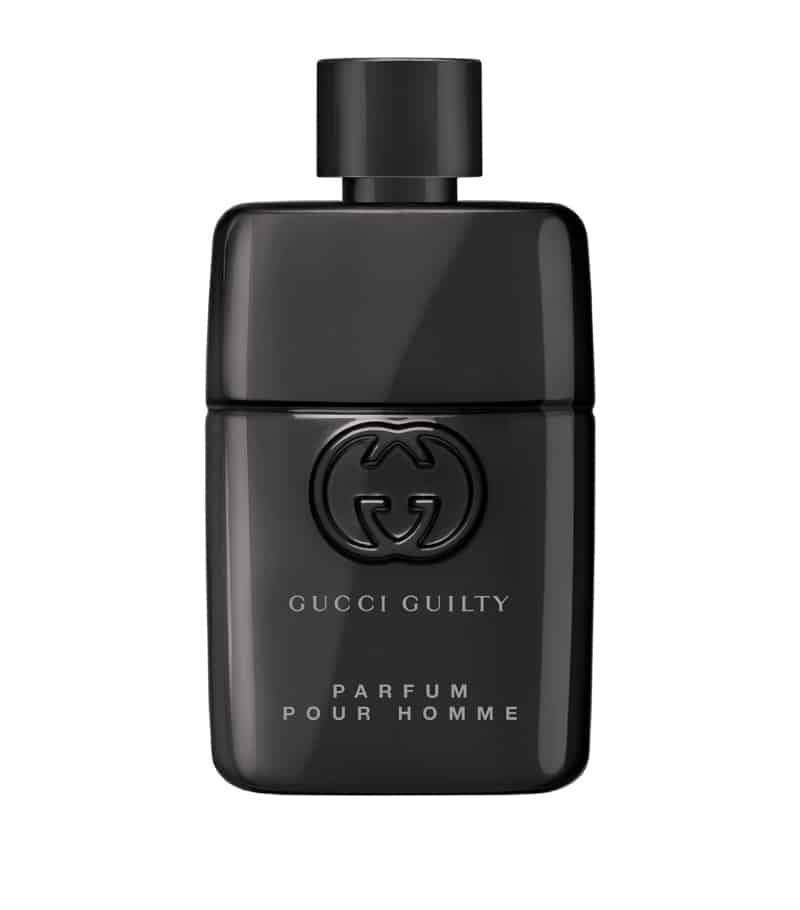 Eau de parfum Gucci Guilty Pour Homme, 126€
This creation is a contemporary interpretation that takes up two legendary ingredients in the world of perfumery that had their heyday in the 70s: top notes of rose and chili. The latter creates a comforting retro atmosphere. In addition, since 2018, Gucci's operations and supply chain have been completely carbon neutral.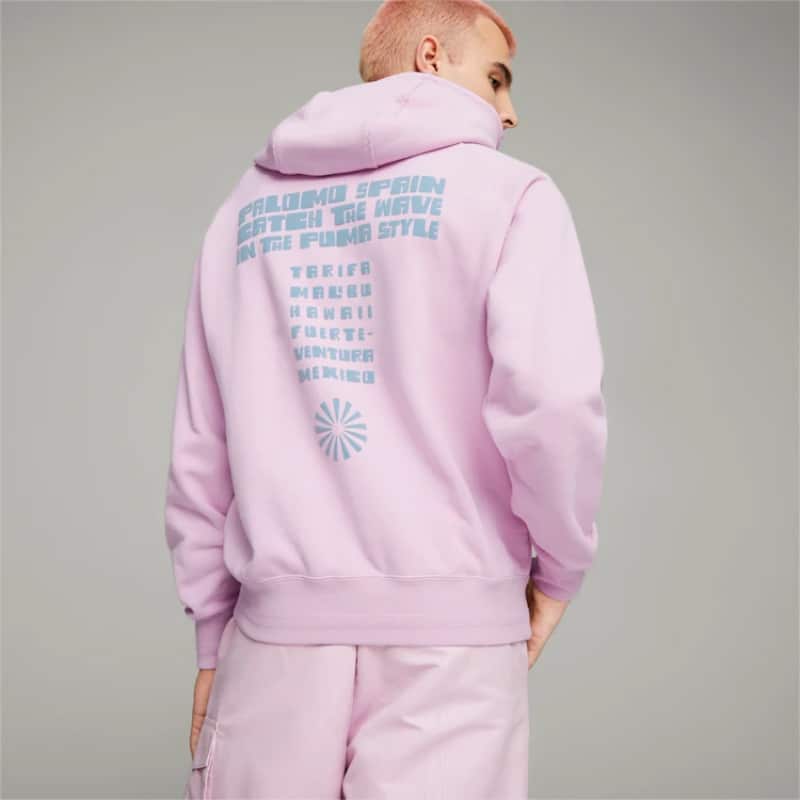 Puma x Palomo Spain Unisex Hoodie, 130€
This spring sees the second Puma x Palomo Spain highly anticipated collab. The collection pays homage to the easy breezy spirit of the '60s and '70s surf culture while serving up some high fashion. Previously, I wouldn't be pushing pink, but let's face it, pink is punk these days and the non-conformist color of choice.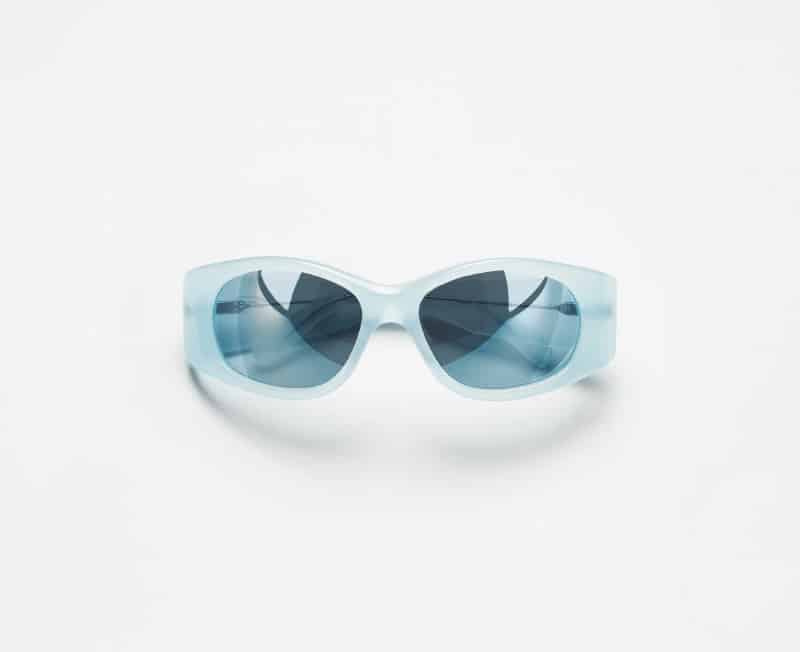 Wide Sunglasses by CHIMI, 160€
There has been lots of buzz about CHIMI since opening their Paris flagship store during fashion week as it quickly has become a go-to label for trendy sunglasses and timeless frames. This bold, androgynous wraparound frame gives a touch of eccentricity and if you are usually draped in black like me, it adds a bit of color to your look just in time for spring.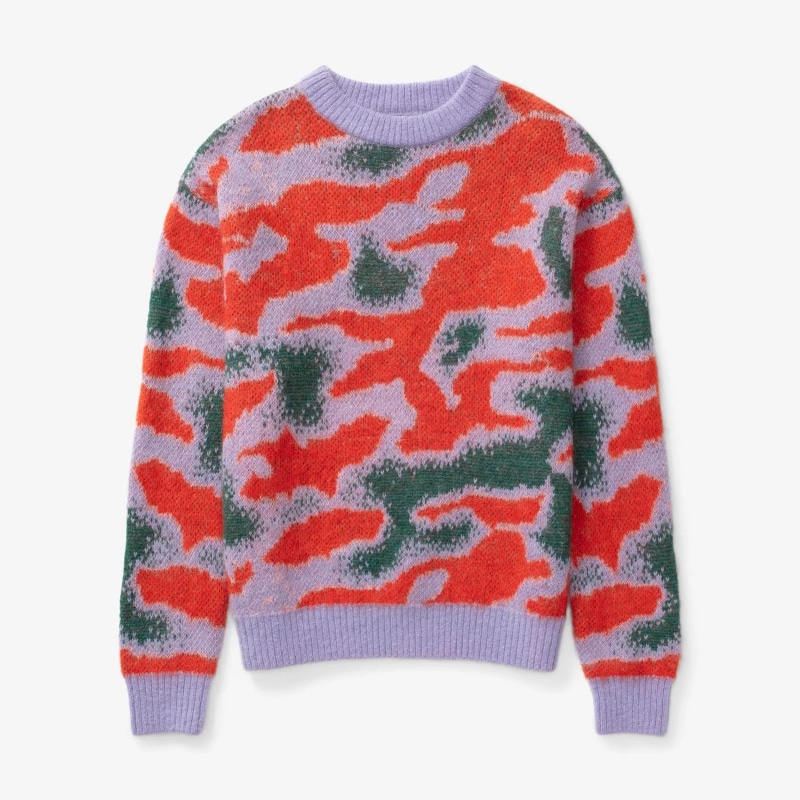 SNS Mohair Knit Crewneck, 179€
This crewneck has an all-over Jacquard Knit construction blending red, purple, and grey making the perfect transitional piece from winter to spring. Made with mohair and featuring ribbed accents on the crew neck, cuffs, and hem, this sweater continues our Mohair Knit series with eye-catching details.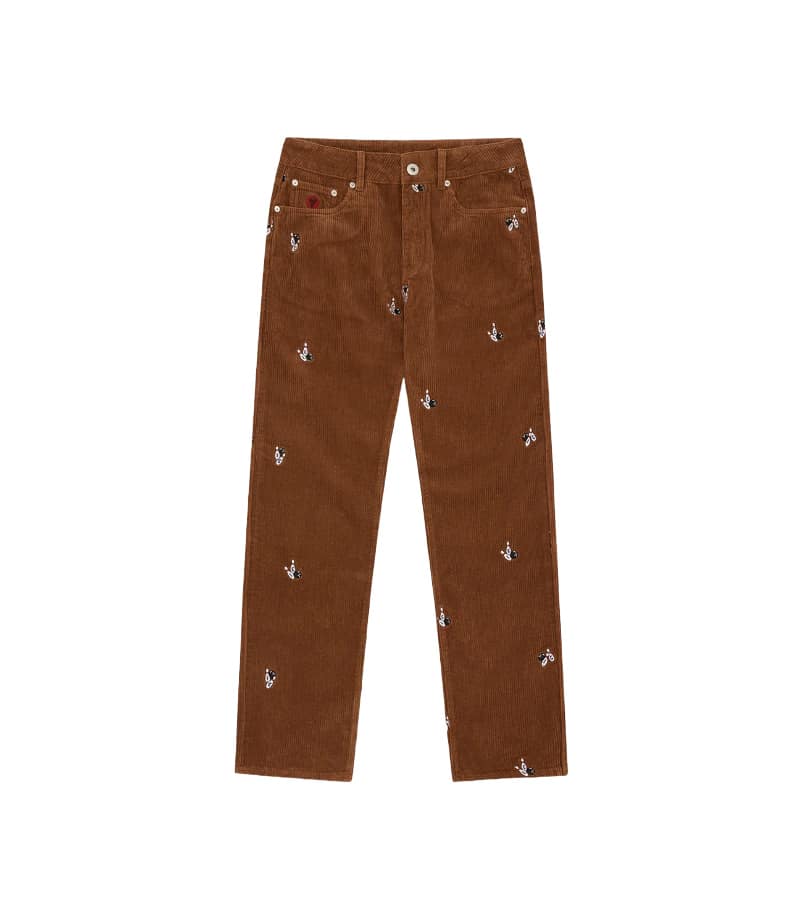 Embroidered Corduroy Pants by Icecream EU, 175€
For Spring '23, ICECREAM takes a romantic view on the glamour and pop culture driven by mid-20th century Americana and nothing speaks to me more than bowling, brown, and cords. This brings me back to my childhood and how I thought adults dressed and I don't feel like a full-fledged adult until I own brown cords. ICECREAM is part of the Billionaire Boys Club universe by Pharrell Williams and Nigo in 2003, they have and continued to align their brands with the causes that matter including working with NYCHA for financial housing support to those affected by COVID-19, raising awareness and money for Black Lives Matter, Stop Asian Hate, mental health non-profit organizations and more.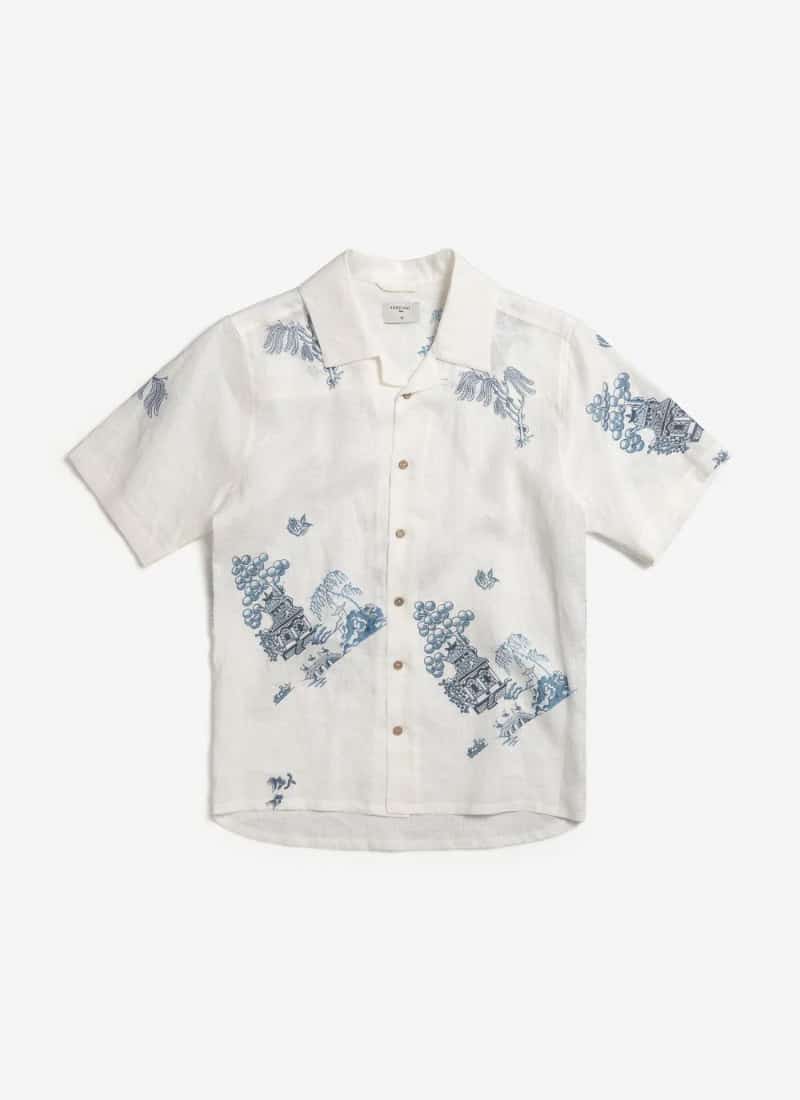 Cuban Linen Shirt by Percival, 200€
A Cuban collared linen shirt is a state of mind. It says "I'm on holiday, please pass me my sunglasses and put up the do not disturb sign." It's 100% linen in a range of colors, just in time for the sun. Percival has been sported by Hollywood royalty, including the likes of Andrew Garfield, Michael B Jordan, and Ryan Reynolds.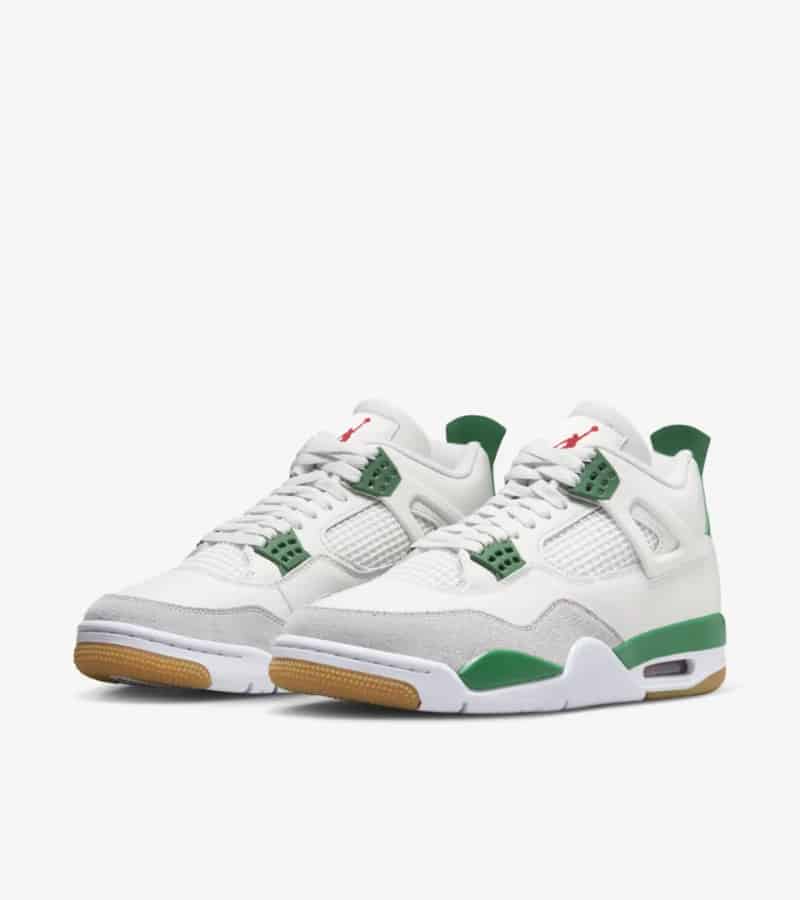 Nike SB x Air Jordan 4 Pine Green, $225.00
Jordan transcended basketball to alter pop and street culture forever. Skating makes up both street and sports culture, it is even an official Olympic sport now. Nike SB (from the greatest sneaker duo the late Sandy Boedecker and the legendary designer Tinker Hatfield) along with Jordan tweaked the AJ4 design so you can skate all day and land big tricks. They brought back the '89 shape around the toebox for improved fit and an impeccable flick so you can do kickflips and tailslides all spring. Or, if you are like me, you can play pickleball in them too, and bring swag to your local court.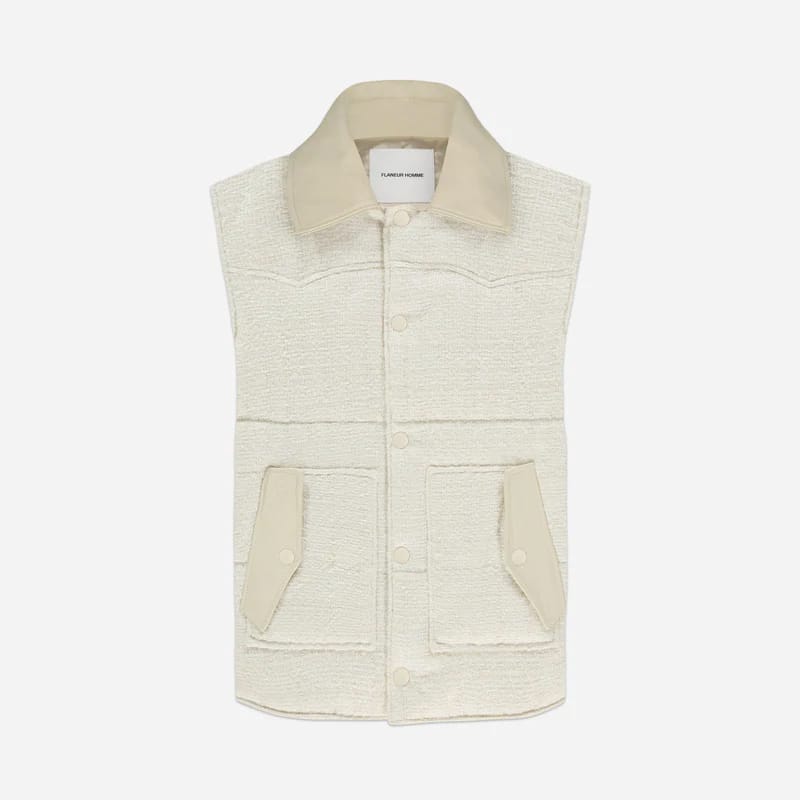 Padded Gilet in Ecru Tweed by FLÂNEUR, 275€
I've been exploring all of Flaneur's SS23 collection, we are in love with their Everything Sucks hoodie to their vegan leather blouse and flared trousers. Combining inspiration from the skater and rocker scenes as well as modern pop culture, the brand started out by creating small capsules which eventually bloomed into full ready-to-wear collections. Flaneur Homme aims to bridge the gap between streetwear and high fashion and this padded gilet is the perfect example.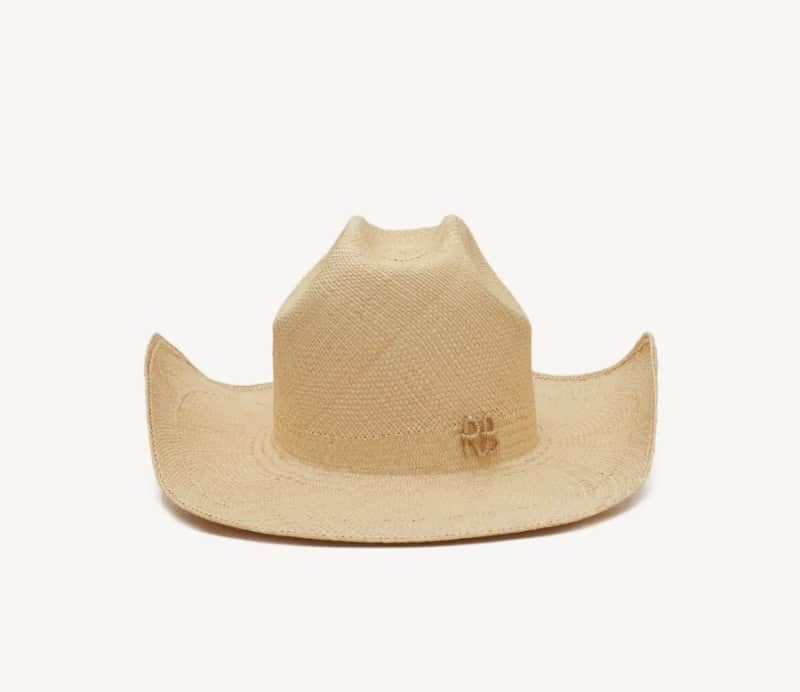 Ruslan Baginskiy Monogram-embellished Cowboy Hat, $360
This is a classic silhouette that will last you from spring to summer. Cowboy hats are usually associated with Westerns, and with this piece, every outfit seems more cinematic. Ruslan Baginskiy supports local production, therefore each hat of the brand is Made in Ukraine, for them and for us it is one of the main principles of sustainability.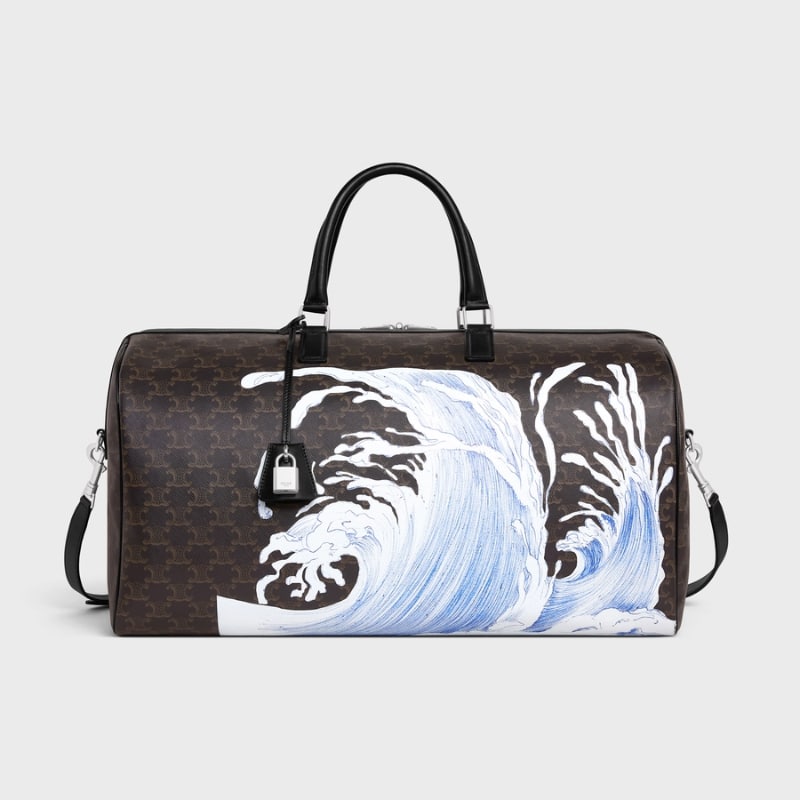 Large Voyage Bag by Céline, 1800€
If you are looking to invest in a weekend bag that you can hand carry, shoulder carry and cross-body carry, then this is it. The beautiful David Weiss wave print just makes us want to get out and travel. Made from high-quality materials, Céline bags are known to last you for years to come.