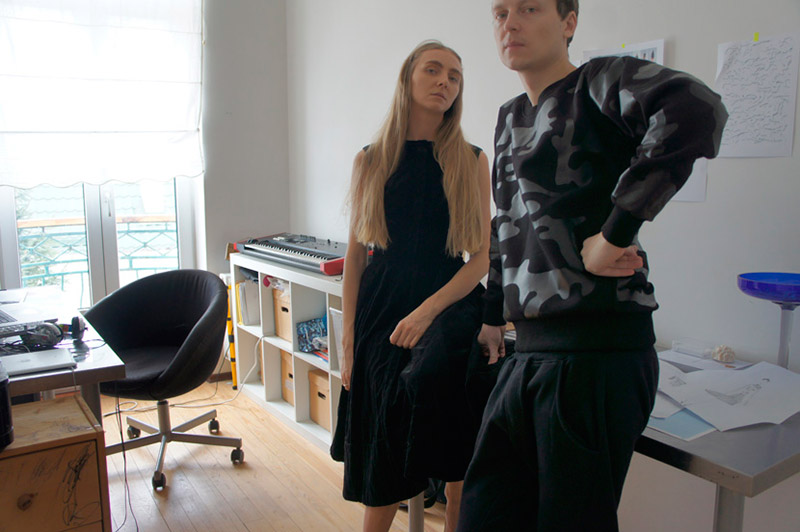 Until a few years ago, if I thought of "Russia" it unfailingly appears before my eyes the image of the richly honored crown of the Empress Alexandra Fyodorovna Romanova and the bulky furs worn by the protagonists of Doctor Zhivago… Today fashion has come on in leaps and bounds. Eastern Europe has become an incubator for talented designers. Among them, the pair composed by Ksenia Marchenko and Anton Schnaider for the brand Ksenia Schnaider. Of Ukrainian origin the first, Russian the second, in 2011 they create a brand which is among the most innovative and internationally respected. Theirs is an independent label. Theirs is a style that combines tradition and innovation. Their purpose is to express a different point of view through creativity. Their garments are designed for all those "who appreciate the spiritual more than the material and for people with a strong personality. For people who don`t want to hide their personality behind a popular, commercial brand". Their 2013-14 F/W Collection is called BODYWARMER and transforms the now obsolete gilet in a must-have garment for next season…
Fucking Young! – Ksenia and Anton… Welcome! Let's break the ice… When did you meet and when did you decided to work together to create your brand?
Ksenia Schnaider – Hi, hello! Ok, to be honest our story is about love. First we became a couple and then we started working on a new brand together. It happened very naturally in 2011 when we put together Ksenia Schnaider's debut collection.
FY – For whom and why was Ksenia Schnaider born?
KS – Ksenia Schnaider was created for people who want to have clothes that are made well and which can be worn for more than one season. Our clothes are people who appreciate the spiritual more than the material and for people with a strong personality. For people who don`t want to hide their personality behind a popular, commercial brand. Ksenia Schnaider has a masked philosophy to give more freedom to express personal beliefs with our clothes.
FY – Yours is an independent and up to grade brand. Which place do you think emerging designers occupy in the international fashion system? Instead, which one do you think they should? What do you think, at the very end, the innovative contribution that you are and will be able to make is?
KS – We think emerging designers and brands, including Ksenia Schnaider, are allowed to be more creative and less commercial. Obviously selling our collection is still a focus, especially as we love to see people wearing Ksenia Schnaider, but we also enjoy being able to do what we want to do without thinking too much about commercialism. Emerging designers are able to create beautiful, unique clothes using the best fabrics, and we think it's inspiring for larger designers and brands to see that.
FY – Fashion is… Past, present or future?
KS – We consider fashion to be present.
FY – What are the main differences between the Western and the more Eastern European flavor's design of which, currently, you are among the most popular representatives?
KS – Eastern street fashion is all about looking rich and dressing up. Can you imagine beautiful ladies surrounded by bad architecture and grey winter days? Every day we are impressed. We like to travel and to see contrasts between Western and Eastern Europe. We think we are building the bridge with Ksenia Schnaider's collections between these two worlds. We work with classical European cut and bring some traditional Ukrainian flavor mixed with new technologies.
FY – A song that represents your style. A film which you would have wanted to be the stylists for. A book that might inspire your collection.
KS – It's not a song but this music fits to Ksenia Schnaider we guess… Ostinato by Stefano Arnaldi. When it comes to books, we love reading reminiscences of Russian upper class of 19th century; we think this memory indirectly inspires me.
FY – Let's come back to your 2013/2014 F/W Collection… The name "Bodywarmer" is already explicative… It is in fact the classic waistcoat to be its centerpiece. Yes… Just the waistcoat, a garment – as you yourself have said – incredibly popular in the Soviet Union due to its affordability, utility and versatility… Tell us!
KS – Our collections are always about the clothes. We like to explore new features and traditions of clothes, codes and cuts. So, it`s very logical that for the winter collection inspiration comes from the warmest garment in Ukraine. Nowadays people don`t wear it often, but 20-50 years ago it was very popular. But it was out of fashion, it was popular because it was cheap and functional. We decided to reanimate it with luxury materials – leather, velvet and silk.
FY – Who have you wanted to dress up?
KS – Everybody.
FY – Which have the privileged materials been?
KS – Velvet, silk, leather…
FY – CAMOUFLAGE, your 2013 S/S Collection, has been a great success. What are the differences between the two and which are the similarities?
KS – Our focus on quality and use of luxury materials such as silk is still there. However, even though Camouflage" was relatively simple, we've tried to simplify things even more with "Bodywarmer", creating pieces that are easy to pair with one another and incredibly comfortable for the cold months.
FY – What is the favorite garment of the collection that you prefer?
KS – The velvet bodywarmer with embroidered spicas… I love it!
FY – What can't lack in Ksenia's and Anton's wardrobe?
KS – We both really love to wear Ksenia Schnaider as much as possible. We have one of our signature long white silk dresses and multiple pairs of our wool trousers. Anton loves his black camo sweatshirt from our Spring/Summer 2013 collection!
FY – Some "news" about your 2014 S/S Collection…
KS – We will impress the world with it!
FY – A phrase, a slogan that represents you as designers and captures the essence of your brand…
KS – Our motto… Ksenia Schnaider is all about strong beauty.
Thanks a lot!