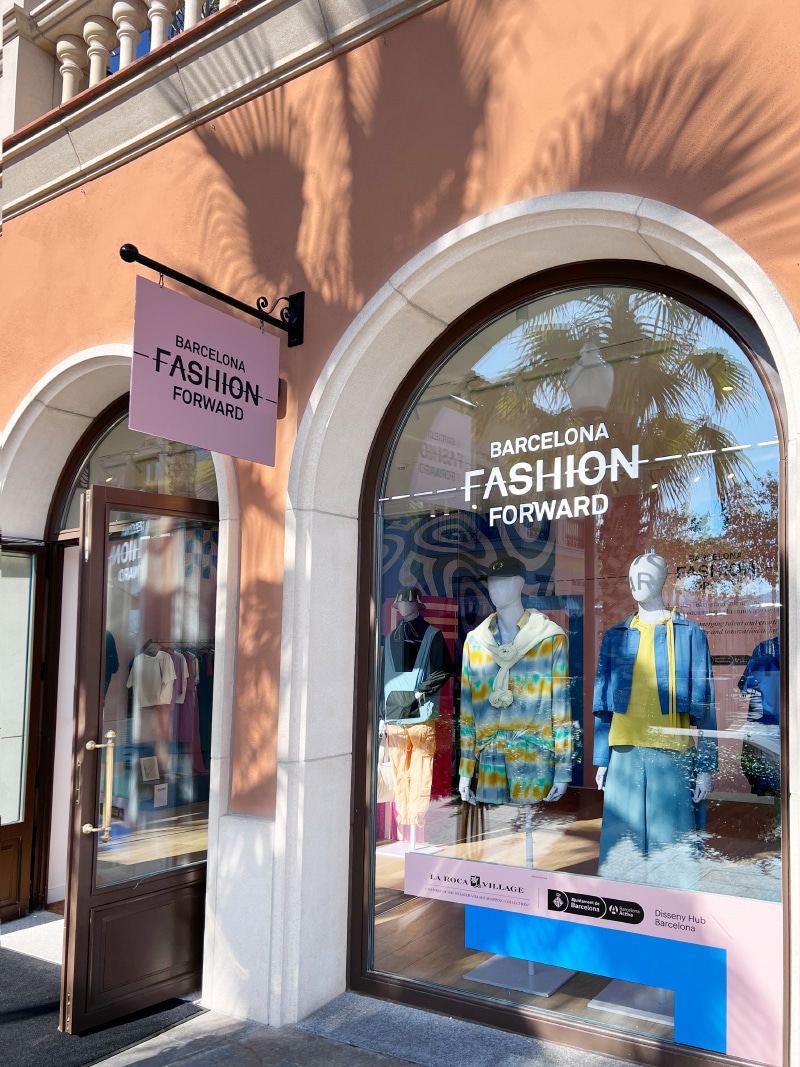 Continuing with the commitment to support emerging and contemporary talent and to be a showcase of local fashion to the world, La Roca Village, one of big shopping spots in Barcelona, hosts the Barcelona Fashion Forward concept store, a space where brands like Zer Era, Nuoo, Mesnikovich and Paraíso will put their Spring/Summer 2022 collections on sale until March 28.
This new proposal to support emerging talents turns the Village into a fashion hub where you can discover emerging brands that work with sustainable fashion criteria. With this initiative, La Roca Village accompanies emerging designers in their professional development, giving visibility to their collections, offering a point of sale, and accompanying them through a mentoring program that offers knowledge in physical retail, content creation, and customer interaction.
Patrick McDowell, a leading designer in eco-sustainable fashion and a global ambassador for The Creative Spot, will be in charge of giving the first mentoring session and supporting the designers at the opening of the temporary boutique.
From Fucking Young! We wanted to learn more about two of the brands that are part of the project. Zer Era, a project created by designers Ane Castro Sudupe and Núria Costa Ginjaume, which seeks to offer an urban, transformable and adaptable product, but which at the same time endows any look with simplicity and fun; and Paraíso, by Oscar Puig, which seeks to inspire through the universe of fun and color of its genderless and locally produced garments.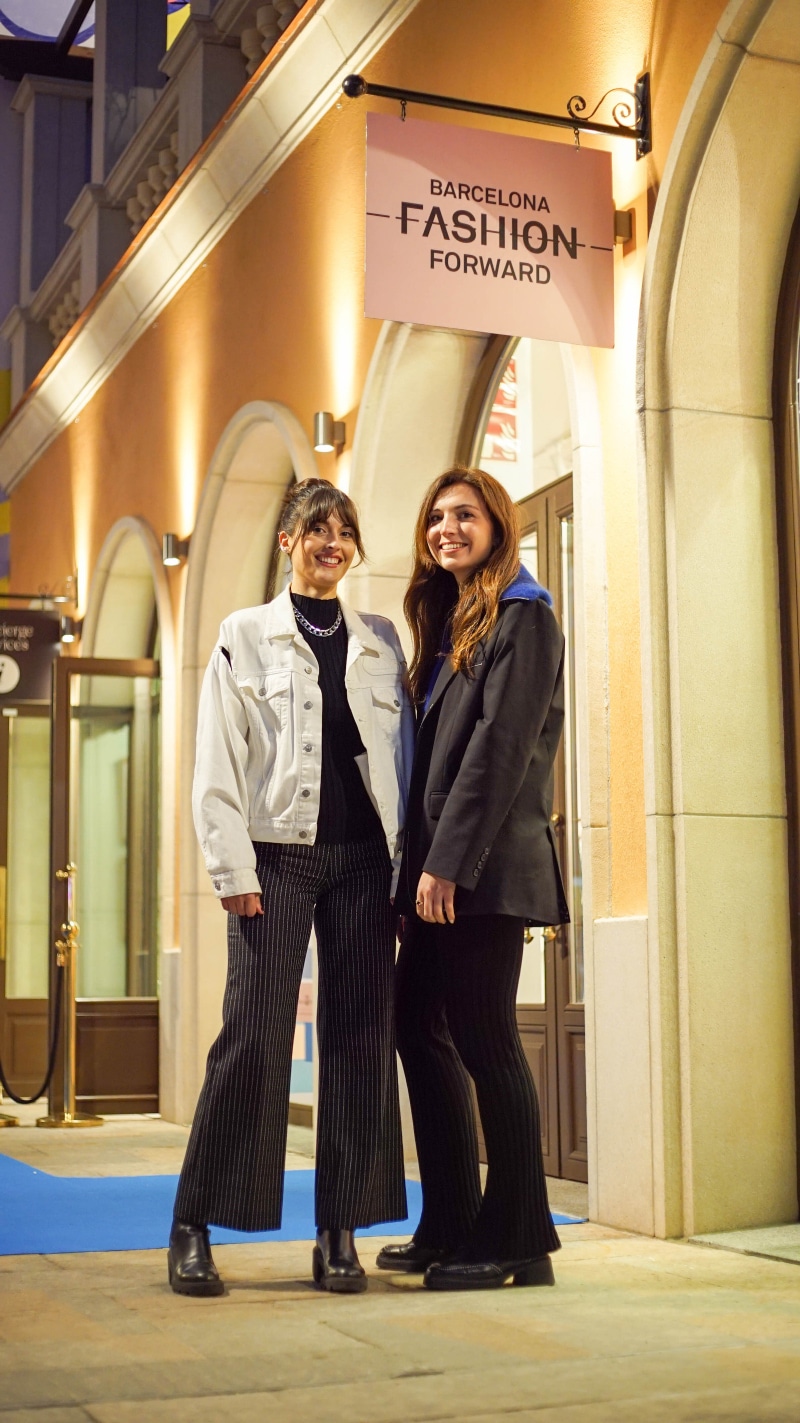 ZER ERA
For those who don't know you, what is ZER ERA and how did it come about?
Zer Era was born as a project that introduces innovation through different digital manufacturing techniques such as 3D printing with the aim of creating sustainable fashion. From the beginning one of the main pillars of the brand has been sustainability, on the one hand eliminating excess waste generated when creating garments and on the other hand designing intelligently, proposing products with closed life cycles to be converted back into the raw material. Within the brand, we have two internal lines, the research line that is dedicated to the development of fabrics and the implementation of digital manufacturing systems in our processes and the commercial line that launches commercial collections with transformable garments that adapt to the needs of our customers. The objective of the commercial line is to eliminate the seasonality of garments, making them useful in different climatological and aesthetic situations.
Is it difficult to manage a brand between two people, or do you complement each other well?
We have always believed that the fact of being two people fighting for a project has been an advantage on a professional and personal level. The more points of view there are behind any decision, the more contemplated and analyzed it will be. We have always opted for collaboration between several people and, furthermore if the profiles are different, the more interesting are the synergies that are created. In addition, all of us who are part of the fashion sector know that it is a very hard and complicated world, and being lucky enough to have a friend who supports you constantly and who is going through the same situation as you is something that has allowed us to reach where we have arrived We are sure that the road alone would have been much more complicated.
You have done an internship at the Eindhoven University of Technology. How is that reflected in your collection?
It was our starting point, we were very lucky to have the opportunity to travel to the Netherlands and be able to do a stay in the Wearables department of the Eindhoven University of Technology. There we were able to start researching textile development through digital manufacturing techniques. We created a total of 100 samples made with technologies such as the 3D printer, the industrial embroidery machine, the body scanner, laser cutting… among other three-dimensional design techniques and programs. He also taught us how to work with people from other disciplines and showed us all the advantages that this has. We believe that this is the future of design and that the best projects arise from teams made up of very diverse profiles.
What is your creative process?
One of the most interesting aspects of our creative process is the implementation of technology. We constantly try to analyze our production system to improve it through the use of new technologies that provide direct solutions. Currently, we use a three-dimensional design program on top of an avatar to develop our designs and through digital prototyping, we avoid excessive garment prototyping that is a waste of time and money for any company. It allows us to analyze in-depth each design, its final aesthetics, and its functionality and make changes easily and quickly. After defining the final design we can choose, depending on each garment, to materialize the pieces with digital manufacturing techniques. In which case we add an artisan process to be able to assemble the pieces. We try to implement technology in all phases of our creative process with the sole objective of improving them. But we always resort to crafts as we believe the fusion of both parts gives rise to digital crafts.
How do you incorporate sustainability into your process?
By incorporating the three-dimensional design program, we eliminate the excessive prototyping of the traditional system. In addition, the production system that we propose offers us a fashion without waste. Through digital manufacturing techniques, we can create garments without any type of waste, we create only what we need. We digitize the patterns and materialize the pieces of the garments with definitive forms. This means that we do not need the cutting process and therefore no material is wasted. On the other hand, our garments are generated with a finish that can be reused and this means that our garments have a closed life cycle. Once we are no longer able to use the garment, we can melt it down and recreate the raw material. In our commercial line, we bet on transformable garments that eliminate temporality. These are garments that adapt to different climatological and aesthetic needs. We can transform them so that they become garments that protect us from the cold, the rain or are perfect for a hot day. We work on the functionality of the garments so that they adapt to us and not the other way around. From both lines, we are committed to intelligent fashion, which analyzes the development of the garment, its use, and finally the end of its life.
La Roca Village is supporting you with a mentoring program in which issues related to sustainability will be worked on. Do you think that more projects like this are needed in Spain and why do you think it is so difficult for many brands to make the leap to more sustainable and ethical production?
The truth is that it has been a real pleasure for us to work with the incredible team at La Roca Village. Knowing that they are committed not only to sustainability but also to emerging designers and also offer us services to promote our projects is something that we believe is essential to grow and improve the fashion sector. We fully understand that any step and change is complicated for a fashion company, especially if it is small. In the end, it involves an effort and probably an investment that not all companies can afford. But we believe that sustainability is not currently something to be introduced as part of a brand, we believe that it is a concept that should already be mandatory and therefore should not be highlighted as an added value. All companies should be sustainable in some way since there are many ways in which we can work on sustainability. Part of the design process is planning products intelligently, and this always means doing it ethically and protecting the environment.
Is it necessary to re-educate the consumer? How could it be achieved?
Yes. And more so in a market as perverted in fashion as the Spanish one. The consumer believes that he can pay 20 euros for jeans, 5 for a t-shirt and 30 for a jacket. We have to explain to future generations what is behind each of the pieces that we have in our wardrobes. That they understand the added value of a created piece: where it was created and how. We would like the consumer to come to want a garment and buy it because he is really excited to have it. That our cabinets were not to be used and thrown away but that they will accompany you throughout your life. That the pieces of clothing grow with the consumer. That is the message we want to convey and explain.
What projects do you have in mind for the near future?
We want to work our textile research LAB and collaborate with other brands that are interested and aligned with the same values as us, which are sustainability and innovation. We will continue promoting the creation of new fabrics with new digital techniques. At the same time, we want to perfect our product by working with different buyers that help us move the product to new markets.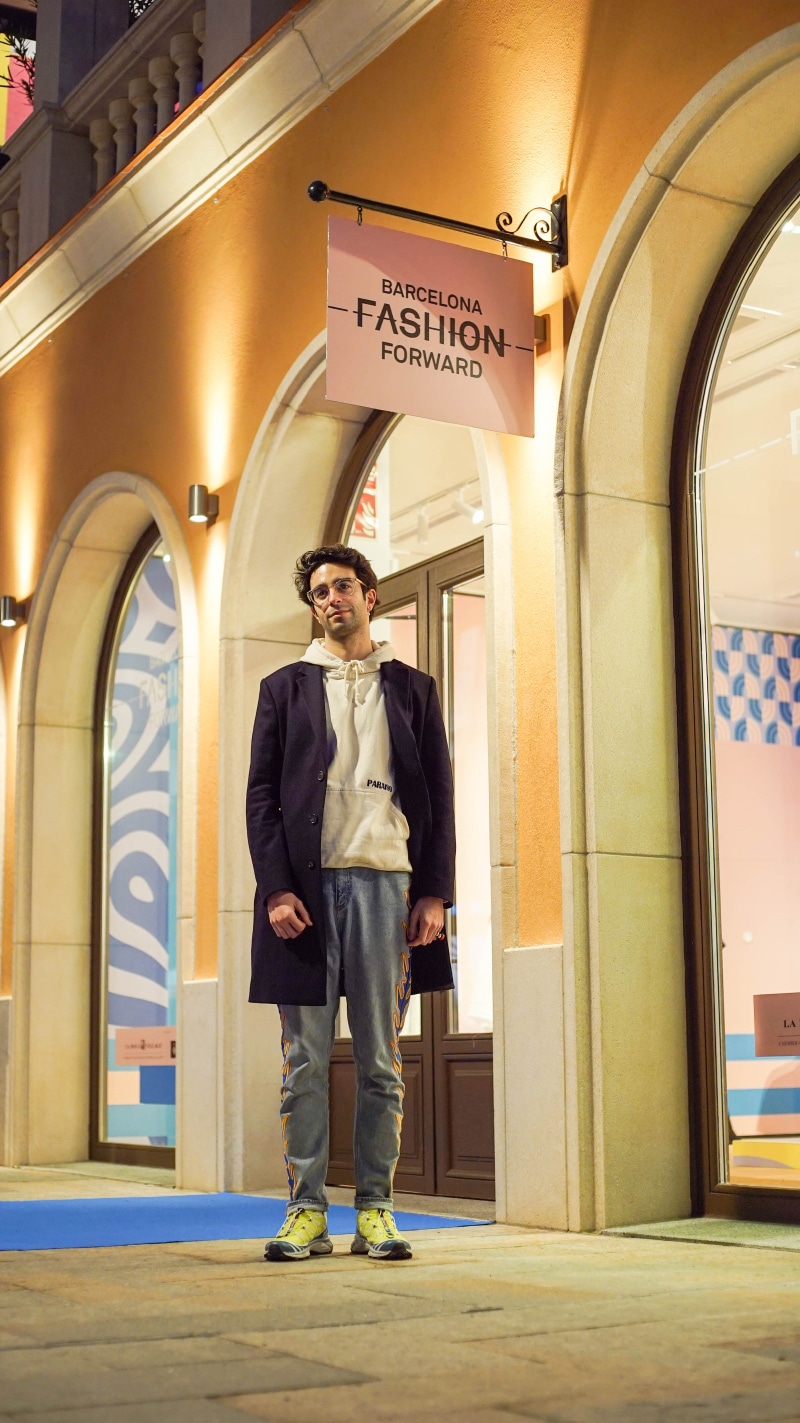 PARAISO
For those who do not know you, what is Paradise and how it has started?
Paraiso is a brand without gender or season, which is committed to generating a universe of fun and vital enrichment. We try to make garments with a soul, that transport you to paradisiacal universes, and with which you can enjoy every moment of your life. In addition, we try to go beyond the product and create a community where we can share the pleasure of life and share messages of positivity. Paraiso was born as a swimsuit brand in the midst of a pandemic, that is why we have a Mediterranean aesthetic and codes, with very vibrant colors and fun shapes, which we believed were necessary at such an uncertain time. Following the success of the swimsuits, we launched into making everyday garments that shared this same carefree and fun aesthetic.
How is sustainability present in your creative project?
We believe that sustainability today is no longer an added value, but rather a moral obligation as a brand. That is why we try to carry it out in all the branches of our project, from retail and communication (packaging, merchandising, etc.), to the most complex, which is production. That is why we are committed to producing our garments in Barcelona and its surroundings. When we started the project, we sewed all the garments at home, and we want to continue maintaining this spirit, with small workshops and artisans. We also try to reuse materials, use fabrics from surplus stocks, and above all, be very careful in the quantities we produce, we work with a hybrid model between pre-order and stock so that the customer can have a garment from us without waiting for a month, but without generating a stock of garments that can remain in the warehouse at the end of the season.
Can "genderless" be considered a form of sustainability?
Of course, we believe that sustainability has to do with being respectful of the planet's resources, but also with people, both with those who produce the garments and with consumers. It is our responsibility as a brand to break gender and exclusivity barriers that exist in fashion and in society. In our understanding, being sustainable has to do with both the environment and diversity and inclusivity, be it gender, ethnicity, sexuality, etc.
What interests you the most in this La Roca Village project that you are part of?
It is an incredible opportunity to be involved in this project as it gives us resources and exposure as a brand that we cannot afford on our own as young designers. We are excited to be able to have a point of sale next to brands of the category that are in La Roca Village. In addition, their team has helped us manage and plan our collections, with a sales perspective and approach, but always respecting our position and even highlighting our value as young designers, which is very important to us. In addition, as a native digital brand, we are very interested in the face-to-face experience and the feedback we receive from the people who visit us in the pop-up, it is a way of taking our community beyond the networks.
Why do you think it is so difficult for brands to make the move to more sustainable production and how do you think it could be changed?
Committing to sustainability is a challenge for designers, but I think it is a moral obligation and an urgent need for our planet and society. I think there is a change in the production and marketing model, which a large part of the fashion industry has yet to make, and which has not been carried out by the economic interests of large corporations. Many practices, rooted in this sector, are based on taking advantage of the inequalities suffered in other countries and exploiting resources indiscriminately, in addition to playing with the insecurities and emotions of the consumer inappropriately. I believe that there are more and more clients who are committed to sustainability, inclusion, and diversity, now is the time for the industry to make a change, and stop exercising abusive practices, on the planet, its resources, and on people. I believe that the solution to this problem lies in continuing to bet, both designers, professionals, and clients, on respectful practices and on generating a community that puts pressure on figures of power.
Any interesting project you want to tell us about?
Right now we are working on preparing our new studio in Barcelona, a place where in addition to working, we intend to strengthen our community and make it a part of our brand in person. Soon we will open the doors of our house one day a week so that our clients and friends can visit us. In addition, we plan small events to grow the Paraiso family.