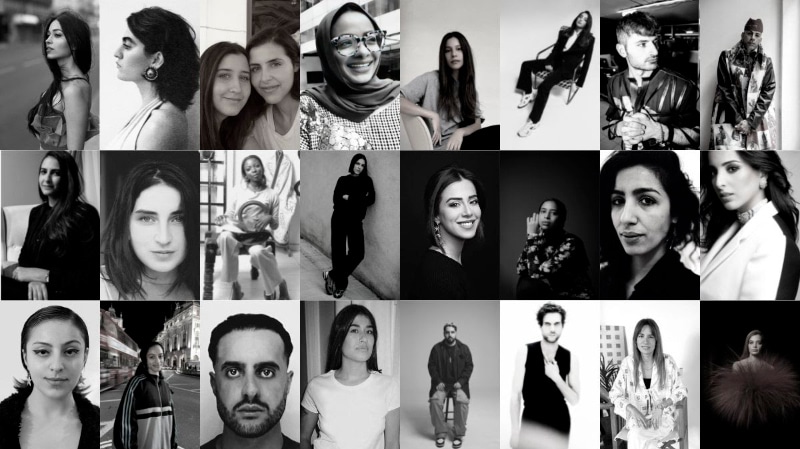 The non-profit organization Fashion Trust Arabia (FTA) announced the emerging design talent who have made the finalist list for the FTA 2022 Awards. The FTA 2022 Advisory Board was responsible for selecting 24 designer finalists from applications submitted by emerging talent from across the MENA region, for a chance to win one of the 5 FTA Awards as well as the Guest Country Award.
"This year we've received over 1,000 applications from incredible talent across the MENA region. Since we launched FTA in 2018, our community has been growing immensely, and it's incredibly rewarding for us to witness the journey of many Arab designers who have taken their brands to the next level." – Tania Fares, FTA Co-Founder & Co-Chair.
The finalists will present their work to the FTA Jury in Doha on October 26th, 2022. The 6 winners will be announced during the evening's FTA 2022 Awards ceremony. This year's FTA Advisory Board includes Adam Baidawi, Alexander Fury, Bryan Boy, Carmen Busquet, Edgardo Osorio, Elizabeth Von Der Goltz, Erdem Moragliou, Fabio Piras, Gabriella Karefa-Johnson, Gaia Repossi, Imruh Asha, Mary Alice Malone, Nina Garcia, Olivier Theyskens, Patti Wilson, Pierre M'Pele, Piergiorgio Del Moro, Saif Mahdhi, Sarah Andelman, Sara Maino, Sofia Guellaty, Tiffany Godoy, Wayman Bannerman and Micah McDonald. The FTA 2022 Judges will be announced closer to the Awards date.
The finalists for this year's FTA 2022 Awards are:
Ready-to-Wear Award – Renawa Yassine (Lebanon), Rym Beydoun (Super Yaya), Siham
and Sarah Albinali (Saudi Arabia), Youssra Elsadig (Sudan)
Eveningwear Award – Amna Salem (Kuwait), Artsi Ifrah (Morocco), Moulham Obid
(Syria), Yasmin Mansour (Qatar)
Jewelry Award – Alexandra Hakim (Lebanon), Dalila Barkache (Morocco), Fatma
Mostafa (Egypt), Youssra Nichane (Morocco)
Accessories Award – Duha Bukadi (Tunisia), Eilaf Osman (Sudan), Karen Gaballa (Egypt),
Leila Roukni (Morocco)
Franca Sozzani Debut Talent Award – Claudia Khachan (Lebanon), Kazna Asker (Yemen),
Mohammed El Marnissi (Morocco), Rayana Boulila (Algeria)
The finalists for the Guest Country Award are (This year's Guest Country is Turkey):
-Şansım Adalı
-Burç Akyol
-CeylinTürkan Bilge
-Bünyamin Aydın