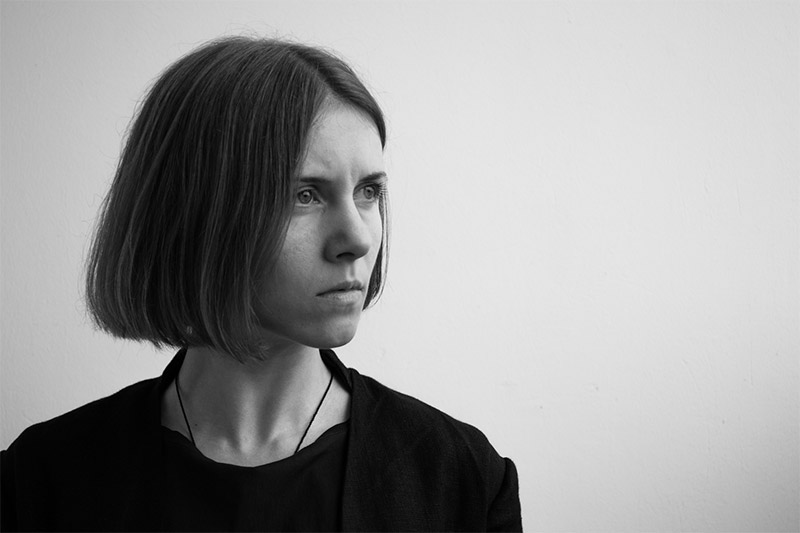 "SOSNOVSKA aims to provide order in the darkness by merging surreal emotions with dedicated functionality", few words that describe a brand, the brand founded in 2009 by Anna Sosnovska and Vitali Chyleka: a wonderful combination of minimalism, tailoring and conceptual fashion.
For the SS14, they return to the essence of forms, construction and shapes. The male silhouette is deconstructed only to be refitted into pliable exterior shells, enabling wearers' unconditional movements. Garments are aimed at men who confront the world pensively, thus fully exempted from all distractive turmoil. Eclecticism of the spirit is embraced, allowing us to turn our most profound thoughts into outspoken realities. Clear lines, understated detailing and narrow elongate shapes further underline a return to the foundation of silhouette casts.
SOSNOVSKA is also the brand through  which we have decided to launch the new formula for the interviews Made in Fucking Young! to be alternated with the more classical one… Sixteen questions: simple, fast, direct. The goal? Entertaining us and you with originality. "Reveal" our guests in an unconventional way. Breaking the mold… What do you think?
Fucking Young! –Your FUCKING! fashion-story…
SOSNOVSKA – To create something particular and with deep meaning. It is a profound feeling to develop a story from your thoughts and  sincerest inner inspiration.
FY! – Your FUCKING! philosophy…
S – Always be yourself.
FY! – Your FUCKING! passion…
S – I find in my work.
FY! – Your FUCKING! fear…
S – Fear exists when you are allowing it into your consciousness. I prefer to deal with and approach this feeling differently.
FY! – Your FUCKING! city…
S – It is a city where you can leave yourself completely, even if you are physically not in it. It is a spherical space.
FY! – Your FUCKING! style…
S – Style has its own depth and peculiarity. It's laconically associated with the depth of thoughts and our consciousness. Furthermore, it expresses the views of the owner and develops a connection with new emotional outbursts and special moods.
FY! – Your FUCKING! garment…
S – Quite closed garments that do not distract you from the societal process in which you are involved.
FY! – Your FUCKING! last collection…
S – Our latest men's collection spring summer 2014 is centered around pure forms and thoughts, an open mind and certain renunciation of the ordinary…
FY! – Your FUCKING! inspiration…
S – When surrounded by silence, one can immerse oneself in inner deepest thoughts.
FY! – Your FUCKING! colour…
S – Very deep black – the colour from which you can draw an entire spectrum of emotions and moods.
FY! – Your FUCKING! customer…
S – A man who is aware of his surroundings and acts with pensive confidence.
FY! – Your FUCKING! song…
S – Music that has a deep meaning and provides an emotional jolt at the right moment.
FY! – Your FUCKING! movie…
S – This is a movie that touches your thoughts and will remain in your memory as a moment that you've experienced as reality.
FY! – Your FUCKING! book…
S – This is a book that you write everyday of your life, in which its finale only depends on your interaction….
FY! – Your FUCKING! desire…
S – To solely move forward and improve.
FY – According to SOSNOVSKA… What is FUCKING YOUNG!?
 S – A being equipped with pure reason and an open soul.
Thanks a lot!