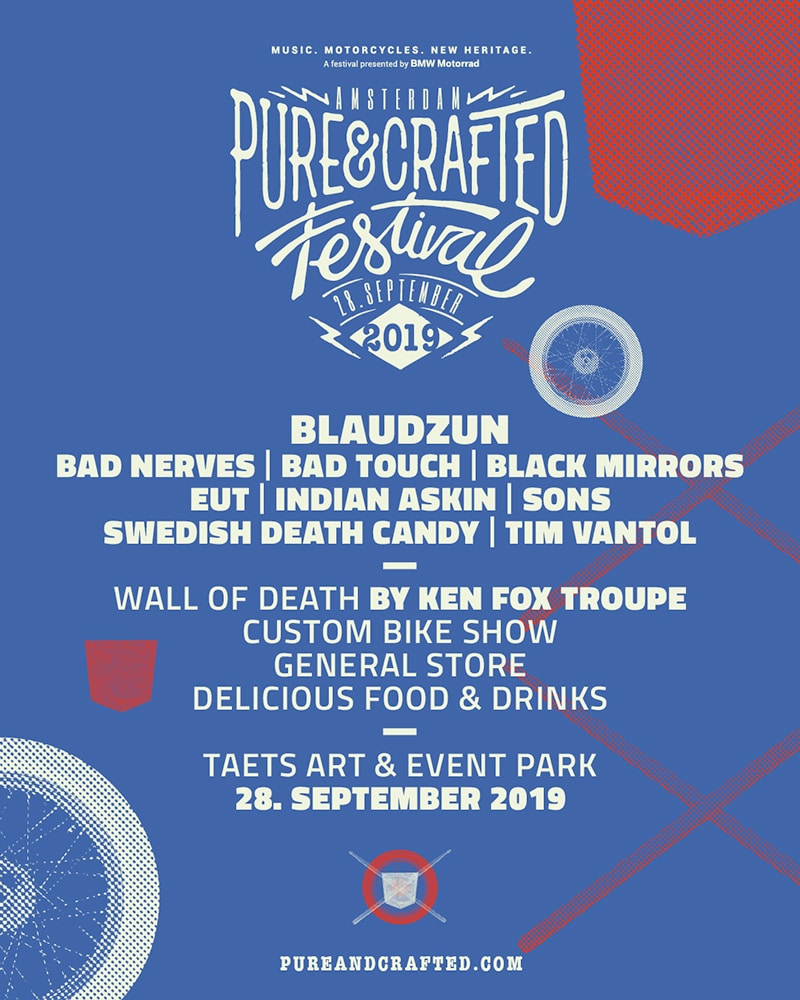 Here we go again: even though the summer days might come to termination in no time at all, music and lifestyle are still eager to play their zaniest bells in full swing. Following three trailblazing festivals in Berlin in 2015, 2016and 2017, alongside an international on-the-road edition last year, Pure & Crafted will debut in the Netherlands for the first time this year. On September 28th, the renowned Taets Art and Event Park is abounded to become one's playground, with plenty of areas spread across an entirety of spaciousness. The Taets represent a spectacular national heritage site located in Zaandam – the Westelijk Havengebied of Amsterdam- and will be a perfect setting for music, motorcycle culture, and New Heritage lifestyle.
The fresh and unfiltered music that Pure & Crafted is known for – past acts include the US band Interpol, The Refused and The Hives – evolves on two stages, with a new focus on innovative, up-and-coming acts from around Europe. On a style note, the programming stays extensive, covering indie, rock, folk, singer-songwriter, melodic punk rock and contiguous flavors. Here, lovers of motorcycling can indulge in the motorcycle culture. They'll find inspiration in new –and avant-garde– models and see excellent motorcycle clothing and accessories.
The International Custom Bike Show in the Wheels Area offers a major panorama of beauty in steel, rubber, and gasoline. Customizers from around Europe present achingly beautiful bikes and let us in on a few tricks of the trade, showing off the art and craft that goes into the creation of unique designs. Guests can see, experience and chat about the painstaking handiwork that goes into top-level bike customization.
The General Store is where you can find the beauty beyond the bikes themselves. It highlights fashion, lifestyle accessories and a wide variety of eclectic food in the surrounding Food Court. One can peruse and purchase fine leather goods, clothing, and must-haves from carefully selected popular brands and check out the ever-popular food trucks that showcase a meticulous selection of traditionally prepared dishes & refined drinks.
Tickets for Pure & Crafted are available at www.pureandcrafted.com/tickets