"You've got the key of the street." – Charles Dickens, The Pickwick Papers
Ideally, the famous English novelist seems to address to them, to the Converse Inc. team. Yes, because the brand born in Malden (Massachusetts) has found the key to success in the "street". It is a hundred-years and over success rooted in the concept of urban-contamination: between road and sport, between sport and fashion, between cultural and inter-ethnic.
In 1923, the basketball player Chuck Taylor, in collaboration with the Company, introduces the All Star model to improve his performance on the playground: it is a boom that brings to the brand international growth. The Converse phenomenon sings all over the world, becomes a trend, an icon, a must-have for the youngers. we all loved and owned a pair of All Star at least once in our life. I fell in love with them when I was a little boy watching an Amarcord series from the late 70s', The White Shadow (someone will remember it!).
Today Converse is a major that tests and invents. A clear example is the Converse Essentials project directed by Stephen Clark, Global Apparel Product Director. Heading up a team of five, Stephen plays a leadership key-role in identifying consumers'needs, market opportunities, trends and driving the global Men's Apparel vision and strategy. We spoke with him, that's what he said.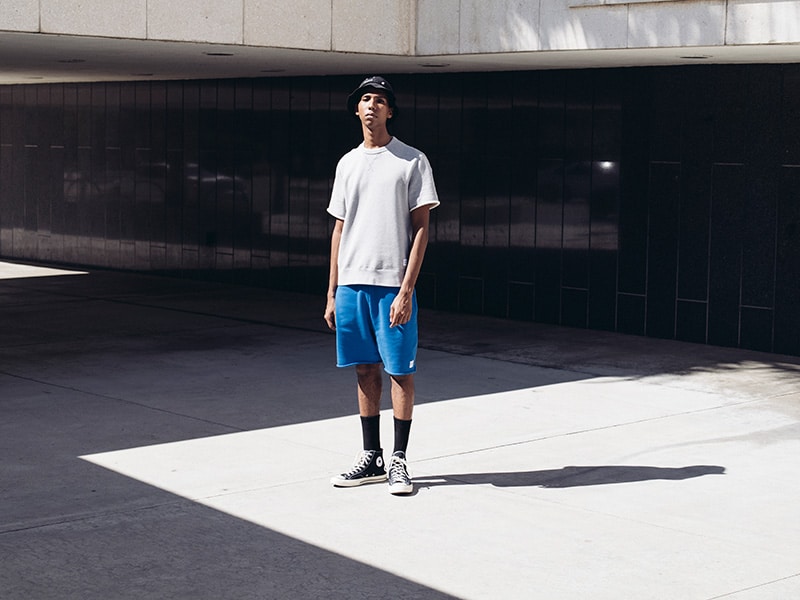 FUCKING YOUNG! – Hello Stephen! When and how was your partnership with Converse born?
Stephen Clark – I joined Converse 6 years ago in London, before moving to the New York Design office 5 years ago, and have since moved to the Boston HQ 1.5 years ago, it's been an exciting journey so far – I love to travel and experience new culture.
F.Y! – How has the brand changed over the years and what is it today with you as the Product Director?
S.C. – I have watched the brand evolve and grow a lot over the past 6 years. It used to be very reliant on the past, whearas the new Converse brand is looking to grow into the future in terms of products and culture – it's really moving with the times…change is good. Converse streetwear is a great example of where the brand is going.
F.Y! – If I say streetwear what do you reply?
S.C. – Products that were either born in sport or military, crafted for the street…….style is the important element, its all about 'the look' when kids get dressed in the morning.
F.Y! – And what if I say sportswear?
S.C. – There is a historic element to sportswear, simple items like a fleece hoody, were designed to function in sports, many years ago – and are deeply rooted in these everyday items that people wear today.
F.Y! – How does the label succeed in combining these two souls, daughters of the modern era?
S.C. – These elements cross over very easily, a great example is an MA-1 Bomber jacket worn with a hoody underneath…the aesthetic is perfect and super credible from a style point of view. The important ingredient is products that are born in authenticity.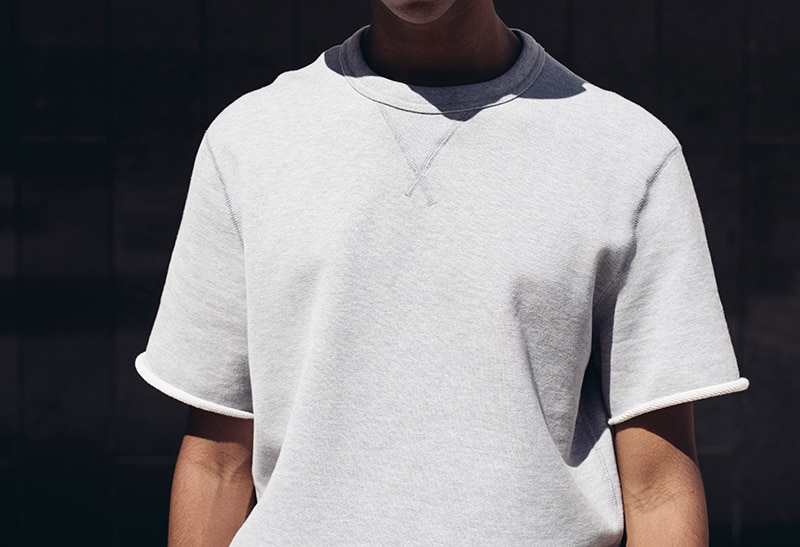 F.Y! – Trend of the moment is the "feat" of high-brands with sports and underground ones, not least Louis Vuitton for Supreme. What is your opinion?
 S.C. – I have been watching the collab game rising over the past decade, it's exciting, the consumer wants more from brands, there are no hard lines anymore, across music, art, and culture, this is a healthy evolution and I do not see it going away anytime soon. It gives brands a chance to extend their portfolio, so the opportunities are endless…but it's not a bullet-proof formula…it's becoming harder every day to be innovative in this field, and maintain excitement.
F.Y! – Converse as well is not new to this type of collaborations (I can remember the one with Missoni for example). There will be others in the future?
S.C. – We have a very strong vision for this part of the business when we launched Essentials X Fragment…this is a teaser of the type of quality that Converse is targeting…the future is very bright indeed, watch this space…..!
F.Y! – You are leading a task force made up of five people. How does the team members interact with one another? How do you manage to identify the consumers' needs and interpret the must-have of the moment?
S.C. – The team has been built with specific expertise across product categories, from the top-down – we all sit beside each other every day so there is never a dull moment or lack of dialogue! We keep a very close eye on style/trend, it's great being so close to NYC – one of the most vibrant and compelling melting pots in the world when it comes to streetwear, we push ourselves each day to stay in tune with how the youth are living, that is key…to keep up with the kid, as the game is changing rapidly each day.
F.Y! – In the two past years, you have dealt with the Converse Essentials project, a true love matter – as you define it. Would you like to talk about it?
S.C. – Essentials is the perfect blend of product and culture from a brand like Converse. Focussed around classic sportswear items, redefined for streetwear….it mirrors the story of Converse as a brand, born in sport, raised by the streets. This collection has put Converse on the map as not only a footwear brand but as an Apparel brand.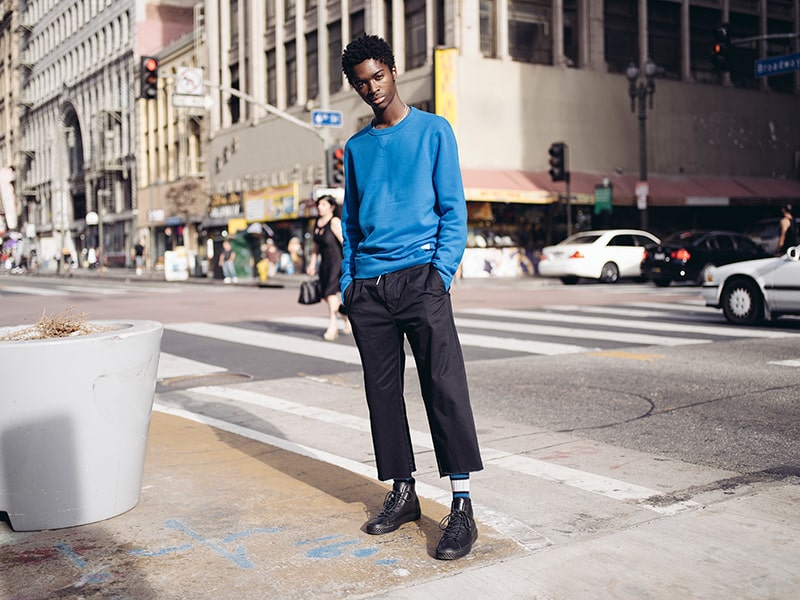 F.Y! – The metropolitan style strongly permeates the SS17 Collection in which basic items such as sweatshirts and shirts become "essential" elements in the male wardrobe. Tell us!
S.C. – These items are very easy to wear and style with an outfit, they are democratic items that can be anchored in any look. We have given much thought to design details like the 'hidden media pocket' on the Essentials PO Hoody….we took a classic from the past, and updated it with vital attributes for modern urban living.
F.Y! – The most representative item?
S.C. – When we launched this collection, we were very focused on the Essentials Crew Sweat, in terms of trend and how the streets were adopting this silhouette, we will move with the consumer on this, and you will definitely see an evolution here as we approach new seasons.
F.Y! – London, New York, Boston (where you have been working on the Essentials project and living with your wife Tiffany). What is, among these cities, the one you feel yours?
S.C. – Ha that's a great question, honestly I feel so lucky to have lived in all 3 of these cities, London/NYC are amazing and remarkable unique cities, which definitely have a huge influence on the person I am today, but it's been great to move to Boston and experience New England life. Boston has a strong gritty element to it which reminds me of living back home in Scotland, growing up as a kid, I love it.
F.Y! – As usual, our last question… According to you, what is really FUCKING YOUNG! today?
S.C. – Fucking Young to me is DIGITAL life, I am obsessed with technology, and I am closely watching how Cell/Mobile phones are vital survival devices in this modern age…I see that there is now an app that measures you, sizing you up for apparel and then delivers items to your home in your correct size…I'm inspired to see how far this is going to go… How much longer are we going to have brick/mortar stores and high street shopping?!