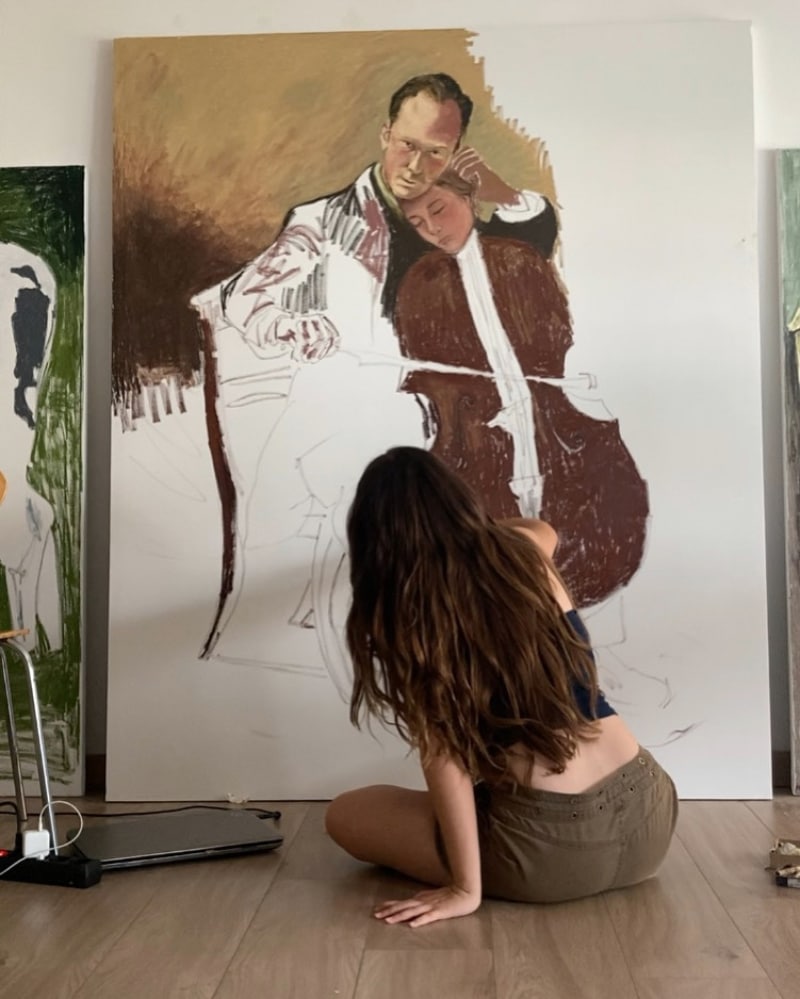 We visited the first solo exhibition of Elena Garrigolas hosted by Saatchi Yates in London. Elena is a young Spanish artist who draws her inspiration from personal experiences of growing up in a religious family and attending Catholic school, traumatizing relationships between men and women, and personal vulnerabilities. In 17 works presented at the gallery, the artist explores themes of the female role in relationships as well as aging, motherhood, and beauty by depicting exaggerated, comical scenes and anthropomorphic characters. Using humor as a self-defense mechanism allowed Elena to depict darker themes and create thought-provoking and surrealistic snapshots of female perception in society.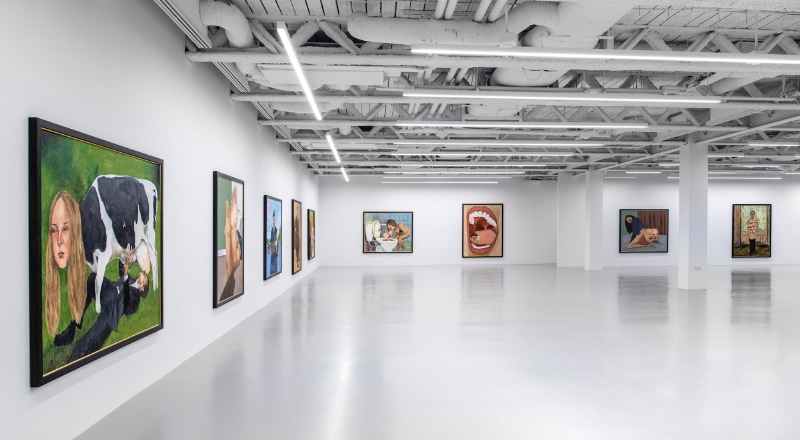 When did you decide to become an artist? Do you remember what made you want to become one?
Since I was little I had a knack for drawing and showed great interest. In second grade I started going to extracurricular activities at a place where they gave you a space to draw/paint. The owner would walk around and give you instructions, help you, and give you advice. I remember that when I started going there weren't many children, and those that were there didn't take it seriously, it seemed more like a place where parents left their children to be left alone. But not me, I wanted to learn. I walked around to see what the older people were doing and I admired them. I could only think: "Someday it will be me."
Are there any artists or a specific piece of visual art that influenced your work?
What I'm doing right now was influenced by different things and has been reflected as I discovered them: stock images, the strange collages that are on the internet, and the marginalia that appear in medieval manuscripts. Songs like "I'm yer dad" by Grlhood. Movies like Anomalisa or any animation by artist Jan Švankmajer. Artists like Tetsuya Ishida, Miriam Cahn, Nancy Spero, or the illustrator Roland Topor The famous phrase "the personal is political" that I have appropriated and is the basis of everything I do.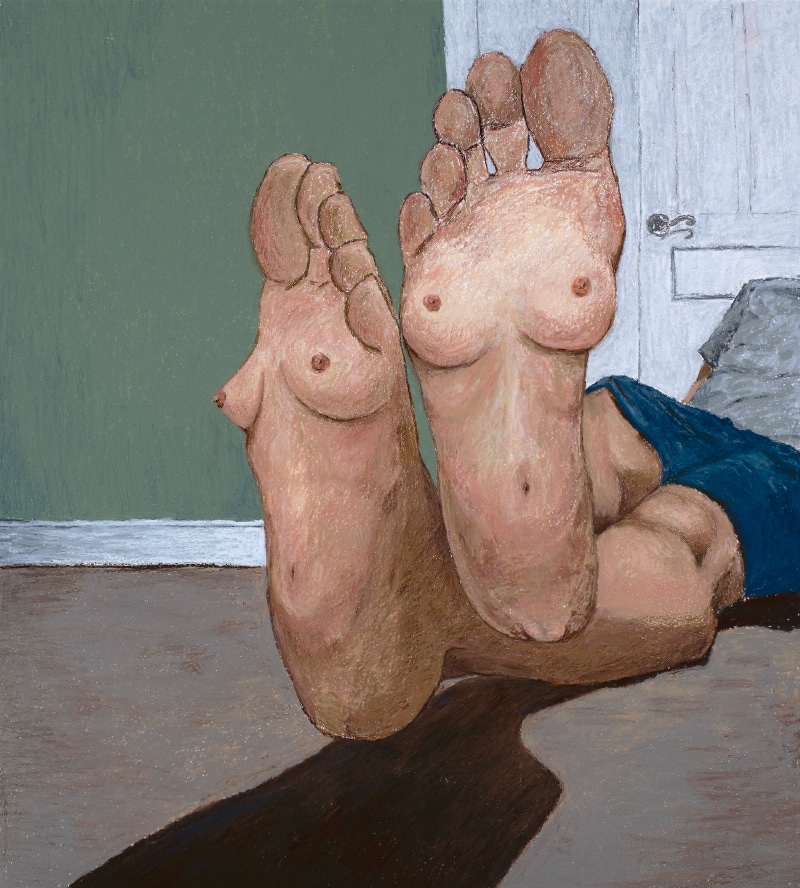 Elena Garrigolas, Chillin' killin', 2023, Oil on panel, 161.5 x 148 cm
Your work is a way to transform and portray traumatic experiences of your upbringing, would you say you have created an alter-ego that you depict? Can you describe how is it different from you?
Really the only difference there is simply that this "alter-ego" is braver than me. He is not afraid to tell what he feels or thinks. There is no shame in laughing at yourself or exposing yourself so crudely. There is a security when I draw that I don't have in real life.
Relationships between men and women in your works are based on submission and domination, what are the common traits of men and women that you are depicting?
I draw on experience and do it exaggeratedly. I talk about myself and the relationships I have or have had with different groups of people: men, friends, family, mother-daughter relationships, and my fears of aging. So I don't know if they have characteristics in common. I'm talking about the woman's body, a traumatized body. I'm talking about depression, rejection, dysmorphia, the difference in treatment between brothers and sisters/between being a daughter or being a son; about how it feels to be a woman in various aspects of life. The man is there to be able to make my metaphors. (the one with the cello for example, the man is not a man, no one can imagine what it means but I want to keep it to myself)
There is a religious background to things that they told me in religion classes or in the talks we had to attend at school about what women should be like. (for the man, who seemed that the woman could not exist without him).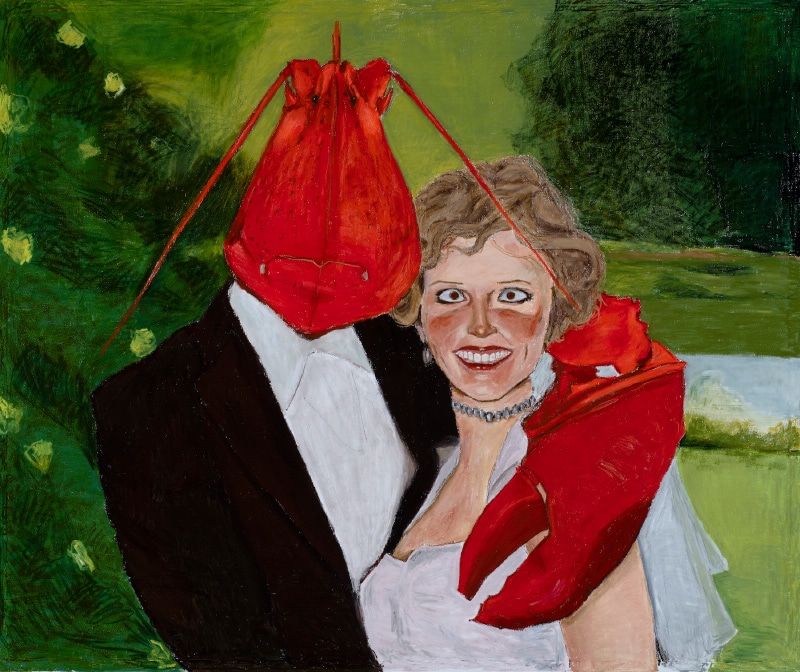 Elena Garrigolas, Forever, and ever, and ever, 2023, Oil on canvas, 150 x 180 cm
Titles of your works are mostly well-known memes, what comes first, choosing a title or the painting? Can you describe how do you go about starting a new piece?
Are the titles memes? Now I can't think of any that is a meme, but I always wait until the end to put the title and I don't think about it too much, I write the first thing that comes to mind. The one about the woman's wedding with the lobster is simply because the idea of ​​the painting was because lobsters spend their lives with the same partner and I imagined a "desperate" woman looking for her "ideal" man and since she couldn't find him, she married the lobster. And that's where the title "forever and ever, and ever…" comes from. To give another example, I put the cow's self-portrait "My Milkshake Brings All the boys to the farm" alluding to the song "My Milkshake Brings All the boys to the yard." It's the first thing that came out to me, it's more fun that way.
My process is simple, I have an idea, I do it. I used to make small drawings on paper and it would take between an hour and three hours at most. I'm very impatient and I need to get it out quickly. I like to collect images, on my own and from the internet, everything I like I have in a folder categorized into several others. Right now it's chaos but sometimes when I need inspiration I just go in and get an idea. Sometimes I make my collages in an app with my phone to have a visual image and go faster with the drawing. I save them and one day I make them. Or not. It's not always a good time to do whatever idea, I have to feel it. Other times I get up because I can't sleep and I need to draw it. I have many pencil sketches that I would like to redo and paint in the future. I always start with a vague and basic drawing and when I paint with oil pastels I give them life, it's almost like discovering what's in the drawing, I surprise myself sometimes.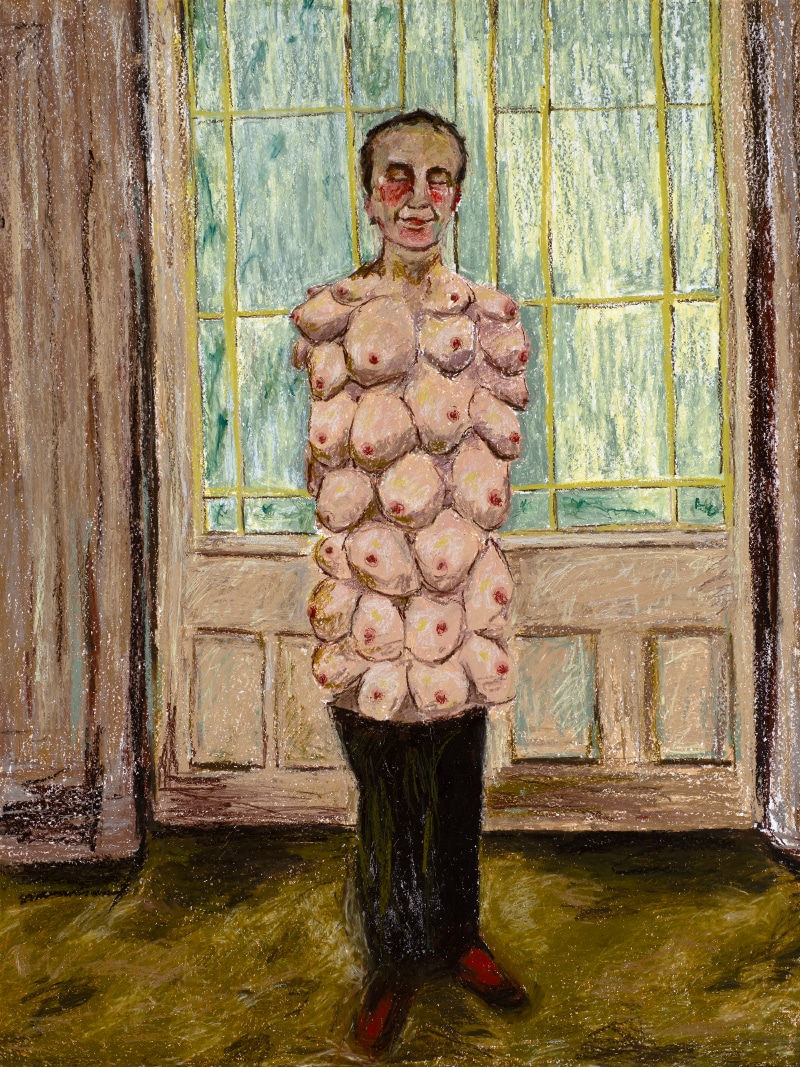 Elena Garrigolas, Ideal Woman, 2023, Oil on panel, 187 x 141 cm
Does any music influence your work?
As I mentioned before, not only with the titles but also with my way of approaching the problems I have, and then translating them into drawings. Grlhood, Hole and Only Fire are three of the groups that have helped me the most.
What I listen to most is metal but this simply gives me the motivation to start painting, I am also interested in some video clips that are usually violent or tell bizarre stories.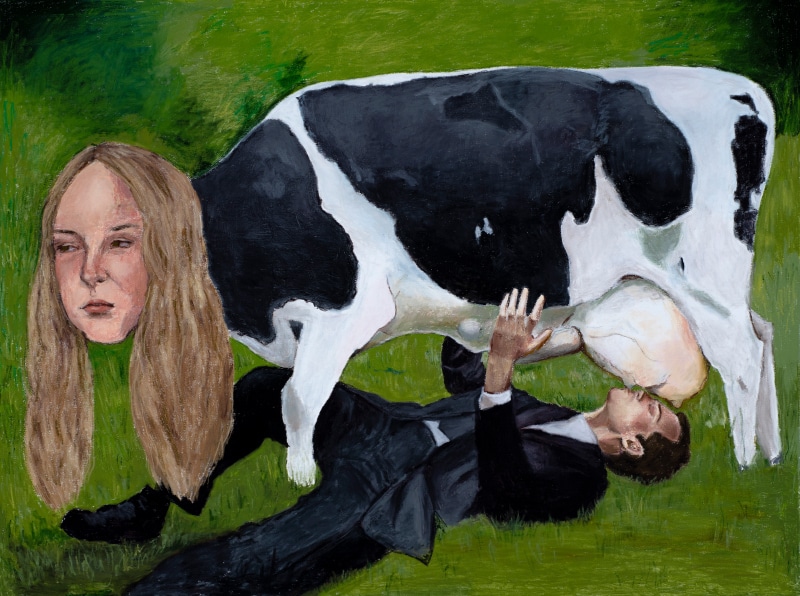 Elena Garrigolas, My Milkshake Brings All The Boys To The Farm, 2023, Oil on canvas, 150 x 180 cm
How do you create a "working mood" in your studio? Are there any rituals?
I usually put on some music and get started. It's the only thing I need and when everything is already disordered, I can't find the colors I need, I have to organize to be able to continue. Little more.Are there any messages that you would like to make people conscious of through your art?
I never think about that when I have ideas or do them. I rather think of myself, as if it were a diary, to express and communicate how I feel. If anything, it is a way to communicate with the people around me without having to say words.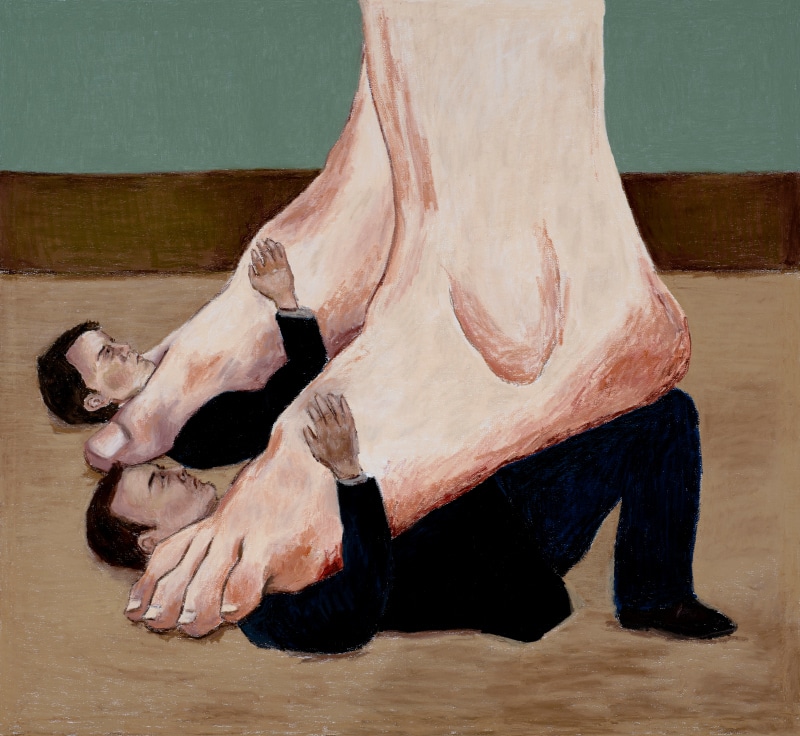 Elena Garrigolas, New High Heels, 2023, Oil on canvas, 160 x 175 cm
What would you want viewers to feel when they come across your work?
I have never thought about the reaction of the viewer, it is something that has always mattered little to me, but now that I have had the experience of reaching so many people, and having them there in person, talking to me, I have realized many things. What I liked the most and I want to continue happening is the reaction I have seen in women. May my art make them feel heard or understood, that it starts conversations, that women's concerns become visible, and also validated. What affects one affects society in general.
Where do you see your work going in the next few years?
I have no idea, all I know is that I have many ideas and now I finally have the chance to make them come true. I want to make installations, larger paintings, animations… We'll see. I'm excited to see how far I can go. A year ago I didn't imagine that I would be doing two-meter works and here we are.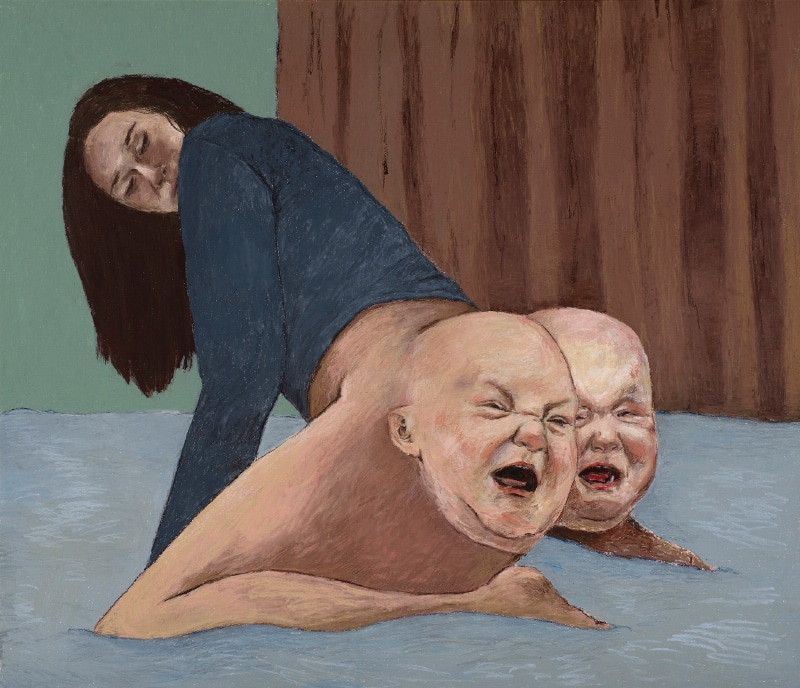 Elena Garrigolas, Slumber party, 2023, Oil on panel, 148 x 172 cm
Elena Garrigolas's solo exhibition is at Saatchi Yates until the 22nd of December
14 Bury Street, St James's, London SW1Y 6AL