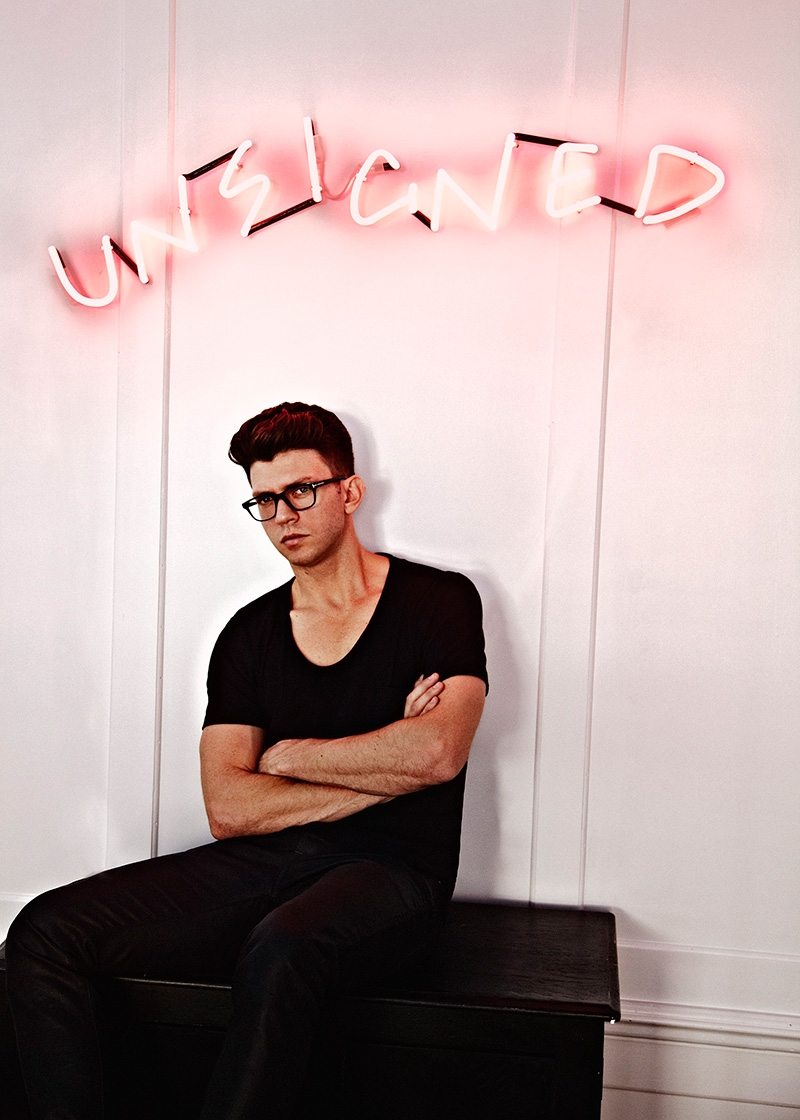 "Experience is not what happens to a man, it's what a man does with what happens to him", Cesar Perin certainly takes George Falconer (Colin Firth)'s words in the film A Single Man seriously. But unlike the protagonist of his "bosom movie" Cesar is a ready to take risks, daring… always positive man!
He arrives in London from Santa Catarina, Brazil, with a suitcase full of dreams but little money in his pocket. In a few years he becomes one of the most successful and talented models scout in the fashion industry. His Unsigned Management is now known all over the world. To him the merit to have discovered many new international stars: Ollie Mann, Anders Hayward, Max Rendell, Arran Sly but especially Eden Clark and the phenomenal Alexander Beck…
We have had the pleasure to speak with him and that's what he told us:
Fucking Young! – Hi Cesar! You were born in Santa Catarina, Brazil. Since you were a child you have been revealing a great passion for fashion. When did you realize to have it? Can you remember any glad anecdote?
Cesar Perin – I can recall when my mother used to take me to shop for my school uniform, I would always sneak into the basket the latest denim jeans. My cousins told me recently that I used to teach them catwalk when I was very young, thankfully I can't remember lol.
FY! – In 2001 you come to London, as you said, without knowing any word of English… Why London?
CP – In Brazil at that time, there was a massive tendency to mirror what was going on in the USA in terms of music and life style etc., but I'd always admired England – the English accent, the monarchy – it was a very special thing to me and I always dreamt of visiting the UK since watching events broadcast on TV.
FY! – The British capital should have been the first stop of your European trip…but you decided to stay. Why?
CP – Originally my idea was to travel across Europe to discover new horizons, but when I arrived at Piccadilly Circus and came out of the tube station, something triggered in me immediately, it was love at first sight – I felt that I'd arrived home! I know that sounds like I didn't belong in Brazil, but it's how I honestly felt. London is certainly one of the best cities in the world.
FY! – Europe-Brazil. London-Santa Catarina. Which are the main differences? What does fashion represent in Brazil? What in Europe? 
CP – Fashion in Brazil is nothing like in Europe (which is more daring and trend orientated); it's laidback with lots of tropical influences. Not a bad thing at all.
FY! – What do you love most of your native country? And what of your adoptive one?
CP – I love the Brazilian way of life, especially being on the coast. The nature is so exuberant and the weather is incredible. My adoptive country on the other hand has the power to make or break you. It's the ultimate place to realize your potential.
FY! – From a personal shopper in Brazil to a busboy in London to an international fame model scout. How hard was the way to the success?
CP – If you want to succeed at anything, you have to work hard, take a few risks, learn from your mistakes and persevere.
FY! – Today you run Unsigned Management where you continue to search for and find your new faces… What do you think your trump card is and, in general, what are the skills needed to practice your profession?
CP – It's all about passion, patience, commitment and surrounding yourself with a great team.
There is a stream of beautiful people in London; they can cross your path when you least expect it. When they do you must be fast and concise. You sometimes have only 2 seconds to decide if your senses are in agreement and this person could be a potential new face.
FY! – Who was the first model you discovered to gain international fame? Can you remember something special about him?
CP – So many of the models I've scouted have gone onto big things – Alexander Beck, Arran Sly, Max Rendell… then Eden Clark, she went from anonymity to fame in a few go-sees. I still remember the day I found Eden, I was at a summer festival watching the Rolling Stones perform with Amy Winehouse. Eden was wearing these geeky glasses and was dressed like a real tomboy. She still looked cool though. After only a few months of that first encounter, Eden landed the front of cover of British Vogue alongside Rosie Huntington-Whiteley and Jourdan Dunn. That was such a glorious summer.
FY! – Let's talk a little bit more about the models… In 2011 you glimpse Alexander Beck's face in a bookstore in Cambridge. You halt him by exclaiming: "Stop, I love your face". He – a 17 years old student from Thaxthed, Essex – becomes the most desired model of the world and the face for the Italian brand Prada…Why did he strike you?
CP – For a long time people did not get Alexander's look. Actually it was only myself and Russell March (the then Prada Casting Director) who got it from the word go. But after Alexander did Prada exclusive, he blew up. And not only within the fashion industry, he made international news. It was beyond exciting.
When I first spotted him in Cambridge, it took only a split second to know a star was born – I couldn't contain myself. I completely went with my intuition.
Alexander is absolutely exquisite, so unique, the facial harmony, the symmetry. One of those striking beauties that only math's can explain. To top it off he also has the sweetest nature, ok he can be a little wild at times, but that's just a part of being young and fun. Alexander is continuously growing into a handsome man and he has THE best walk I've ever soon on the runway.
FY! – In general, which are the characteristics one need to have to strike Cesar Perin?
CP – It's a conjunction of facial structure, harmonious almost magical looks with a natural sense of style and confidence, not forgetting good eye contact and a firm handshake.
FY! – Intuition, innovation, bravery… Three fundamental aspects in your job… But today, what does the market ask for? How important is to sense and foresee the new trends of a sector that, like this, runs so fast?
CP – Faces come and go in the fashion industry and since street style has taken off it has changed, but the classics will always be there… Mark Vanderloo, Brad Kroenig. I try not to follow trends, instead I try to find the unseen and perhaps create space for a new type of face, I think 'what's next'.
FY! – Once you said: "I have come from very humble beginnings, but for me they were full of everything I needed: love and respect"… Which role do these two ideals play in your life? 
CP – It's about remembering where you came from, doing the best of your ability to not hurt someone, giving all you can to others, and remembering the best will always come to you naturally if it's meant to be.
FY! – Cesar Perin's favourite book, movie, song.
CP – Book: Who Moved My Cheese? by Spencer Johnson. Movie: A Single Man by Tom Ford. Song: Weights & Measures by Dry the River.
FY! – Black or white?
CP – Black.
FY! – 2014 seen through Cesar Perin's eyes…
CP – It's a year to make space for more creativity, let the contentment be permanent, and maybe find a new star for 2014.
                                                                                                                                              Thank you so much!