Vincent Garnier Pressiat is a French Designer representing a new wave of talents emerging from the experience of working with the best creators in Paris. Vincent worked with Galliano at Margiela and Olivier Rousteing at Balmain before being let off during the pandemic. Far from stopping him, it gave him the impulse to start his own brand. With big influences from Paris at the beginning of the last century, his collection is mature enough to shake things up in 2021. The post-pandemic world is his cabaret.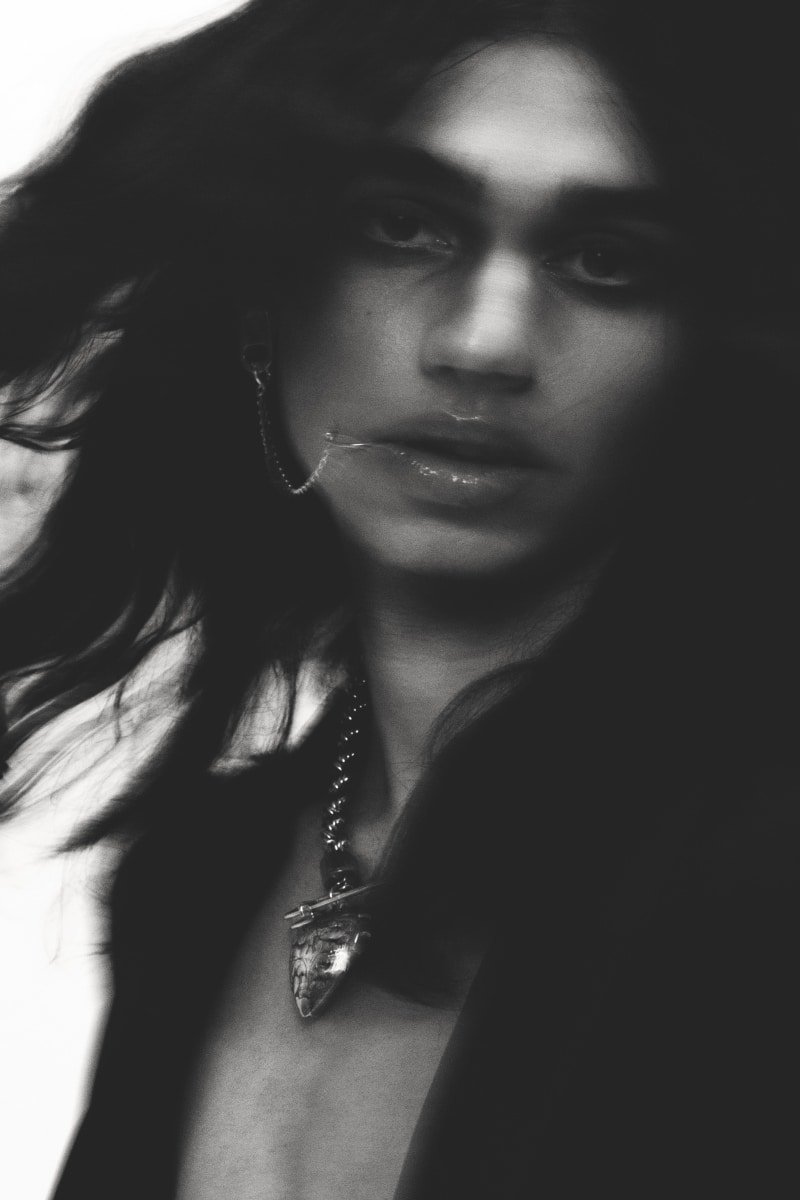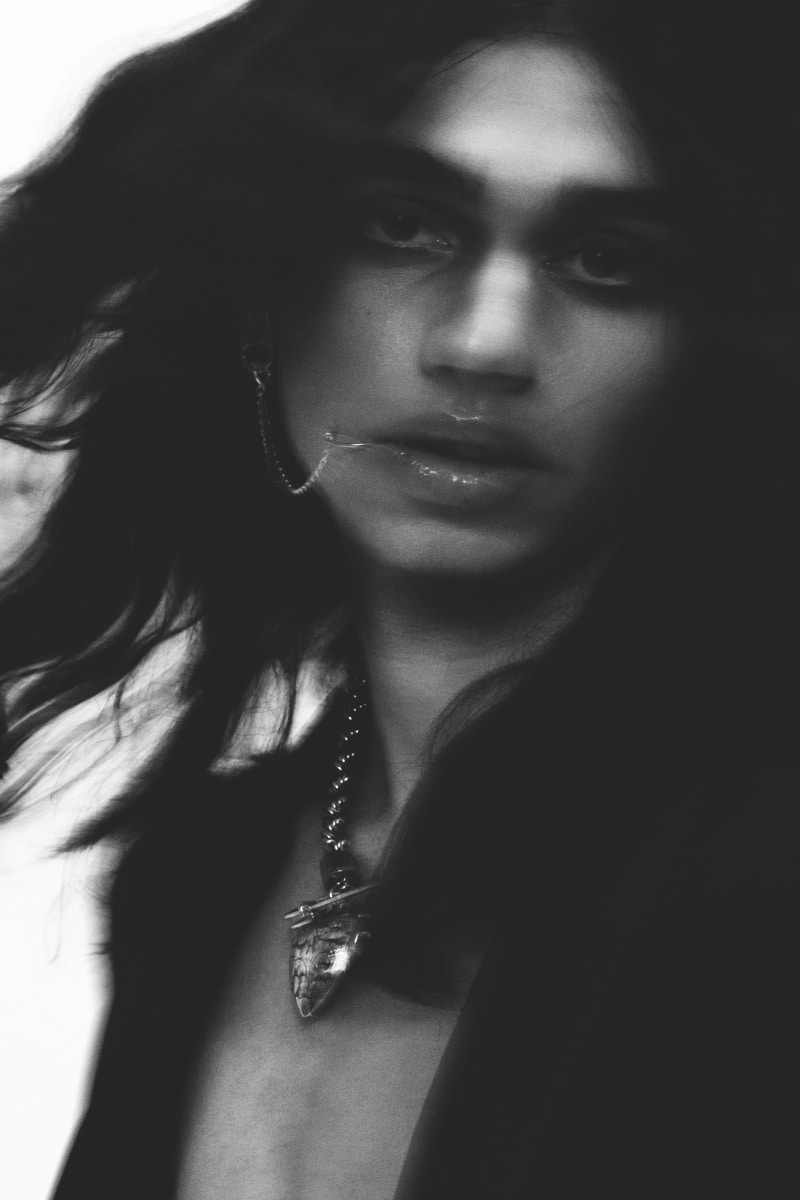 Salut Vincent! You presented your collection called "Diamant de nuit (Night Diamond)" at the Daunou Theatre in Paris near Opéra Garnier. Why choose a theatre in a moment when show and performances are no more?
It was a wink at all these people out of work, as an act of rebellion. We took a different approach, the audience was on stage and the models in the pit. We reversed it to match the sanitary rules, to have fewer people in the audience. And when you go to the theatre what is beautiful? The theatre itself.
The theatre in itself becomes the stage.
Exactly, we created a painting that was to be seen from the stage!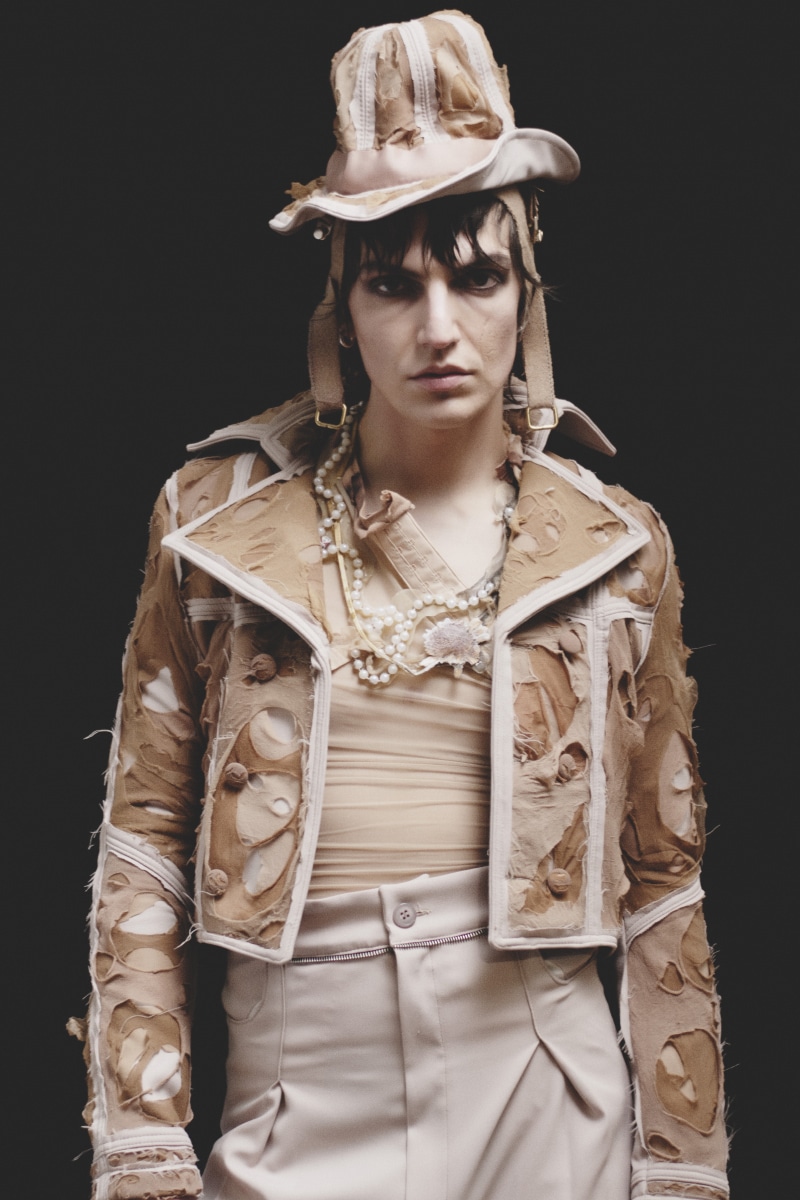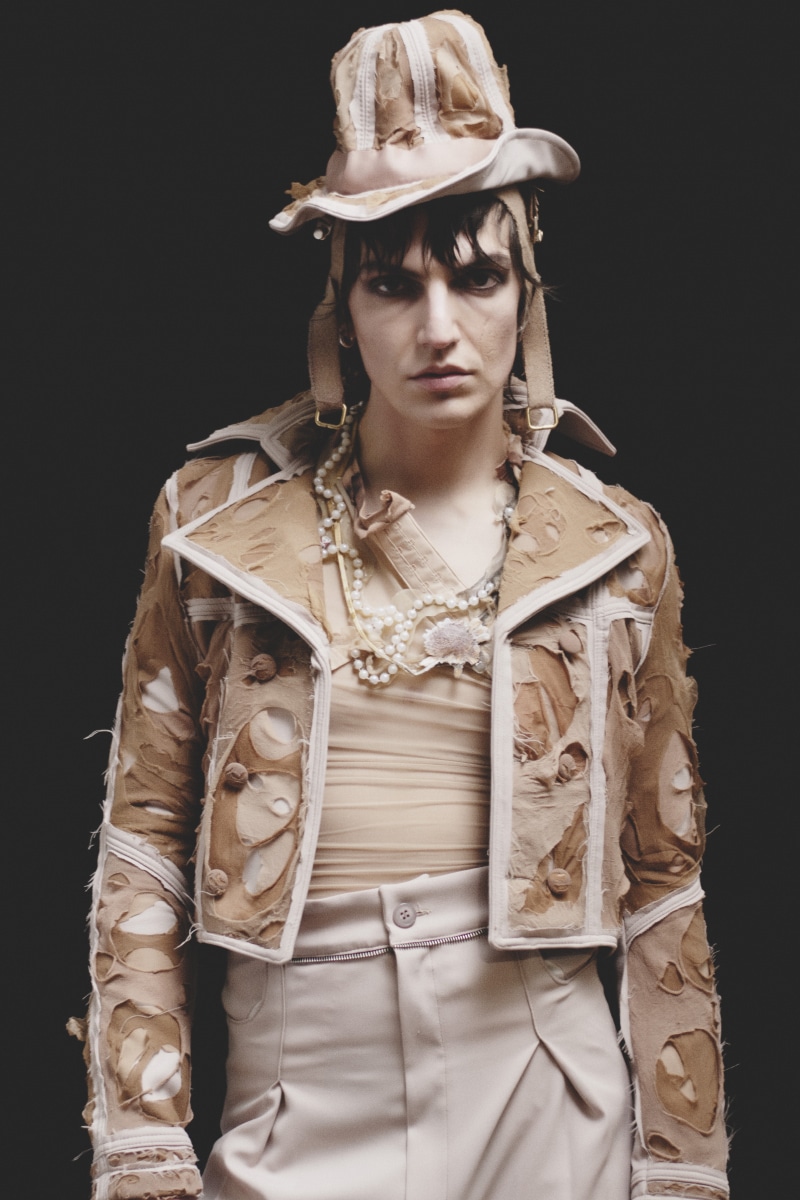 In 1971, a fire that ravaged the Daunou theater and your collection also seems to be the result of a devastating episode where clothes got torn, or even burnt while some are left poorly attached. Was there a nod to a particular event?
The nod is in the reference to a landmark event in history, prohibition. The people were stuck in this restraining society and the clothes showcase this idea. The torn aspect of the clothes represents a skin mutation, we shed our old skin to proudly adorn the new one. The location also shows this; the theatre was under construction, luxury has fallen, the bourgeoisie is falling, but we are – still – celebrating.
Tell me about this coat, look 4, worn by Meng.
Meng's coat! It's a revisit of Paul Poiret's coat, and I wanted to bring a cocooning side, but we took it to the extreme to have this downy side and we created a contrast with this kite material. When it's windy, the coat inflates to create a new shape. The final result made me think a lot about old-fashioned kickboxing coats that you take off before the match.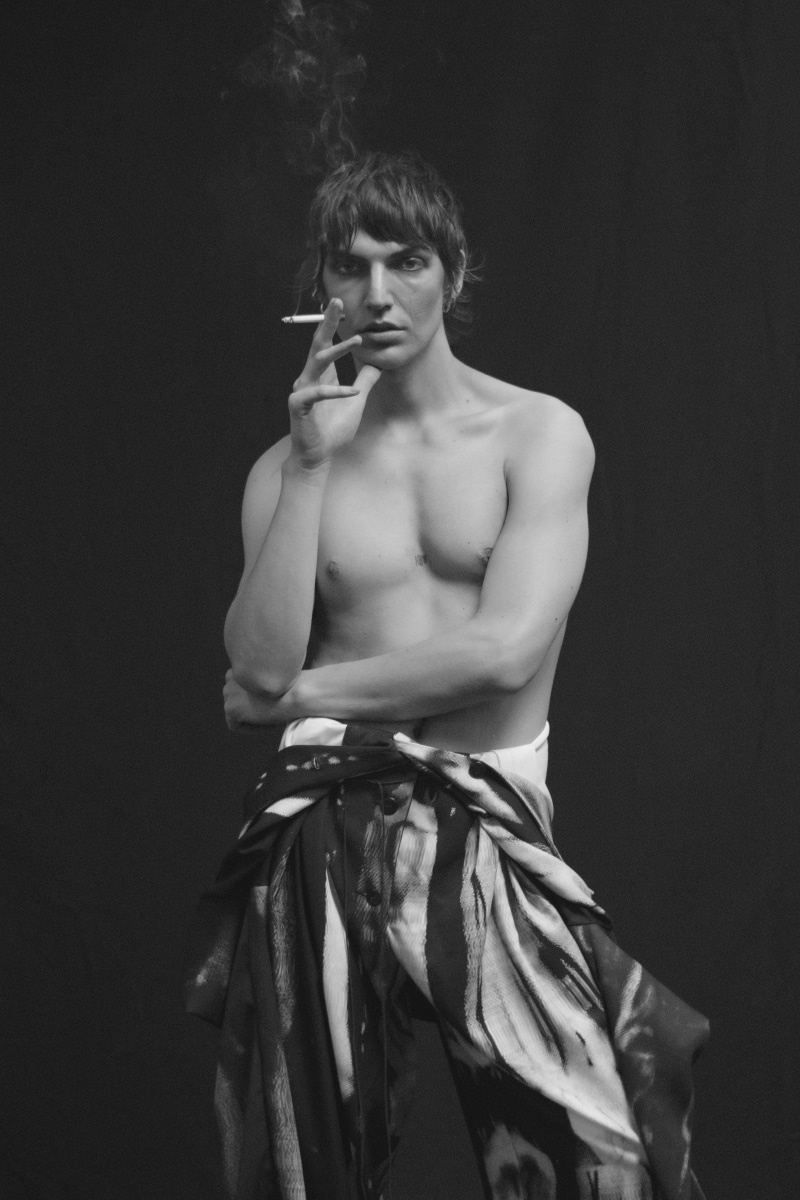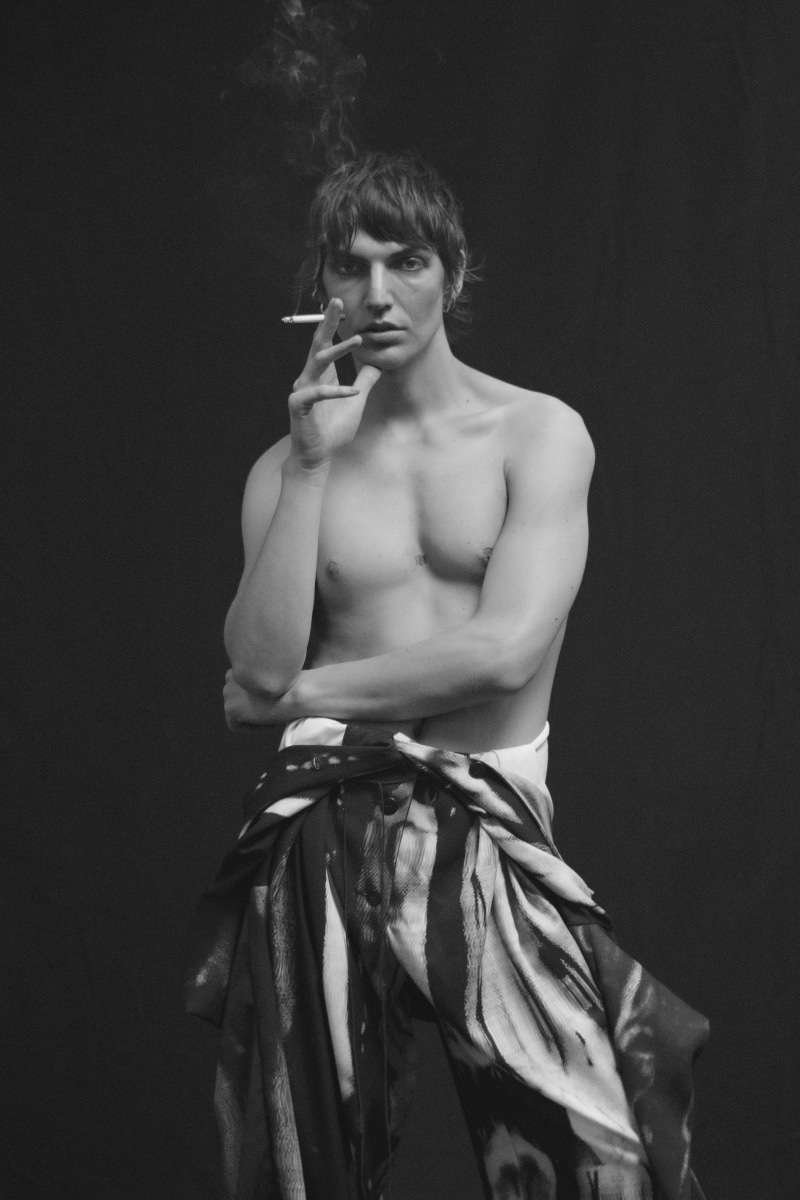 It somehow reminded me of Dior spring 1998 at the Opéra Garnier by Galliano. Can you tell me about your experience with John Galliano at Margiela and how it inspired you for Diamant de Nuit?
Insane! He is a humble genius, who teaches you a lot. My experience with him has honed my attention to detail. What inspired me the most down there is the work with the material.
What about your experience at Balmain?
I learned about ornament and the business side of fashion. I stopped working there because of lockdown so it gave me the opportunity to work on my debut collection.
Would you have done this collection without lockdown?
Of course not! I would not have made this very collection if there had not been a lockdown. It gave us a break from the frantic pace of the Parisian lifestyle. Finally, we had time to think and to reflect on our work and ideas.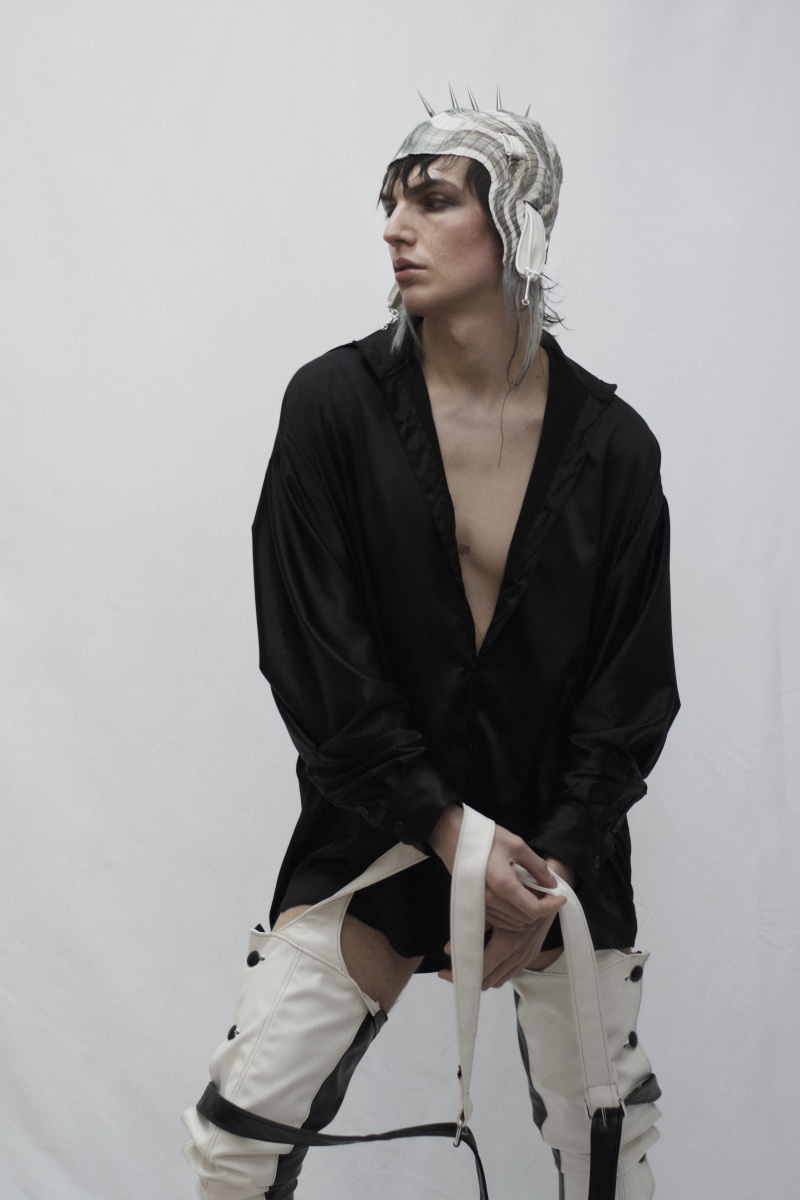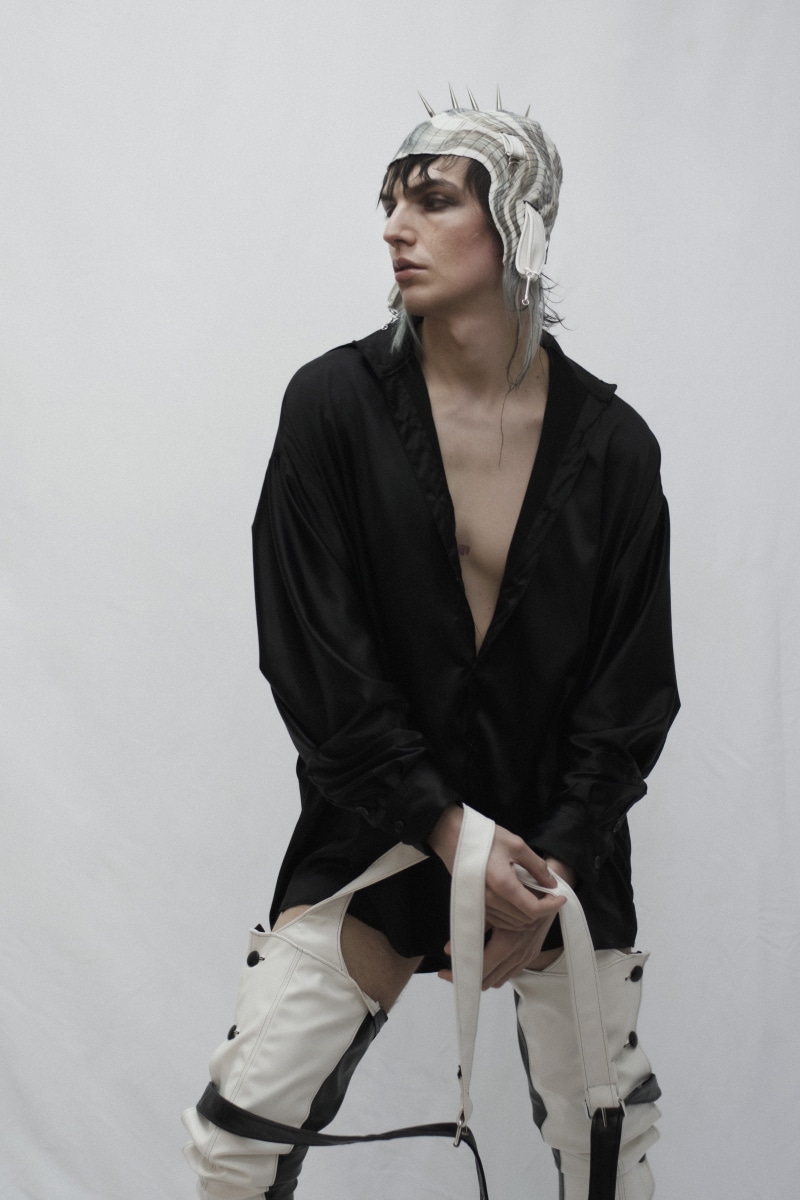 So, this collection, what are your main inspirations?
The 1930s with the wide and cuffed pants, the skimpy jackets. The Roaring Twenties with the dramatic dresses. The Harlem renaissance with the zazous that you could meet in a ravaging decor but who remained ultra chic. There was also a lot of Victorian inspiration with the lingerie and corsetry.
Baudelaire said of dandyism that it is "The cult of oneself". Do you think dandyism has a place in 2021?
Of course! Dandyism is also provocation. In 2021 we need this excess of elegance.
Which also goes with the wave of decadentism.
Yes, this collection is exactly this!
This collection is very you. In the end, wouldn't your greatest inspiration be yourself?
No. My biggest inspirations are my friends and the people around me. I would never do a collection on Egypt when I have never been there. I am inspired by my life and my experiences but always in a chic and elegant way.
The music for the video was composed by David Shaw, can you tell me more about that choice?
We met through Nikkria (Vincent's alter ego painter), David ordered a painting from me for his music studio. I then discovered his music which is very garage music, sexual and provocative and it matches perfectly with my collection.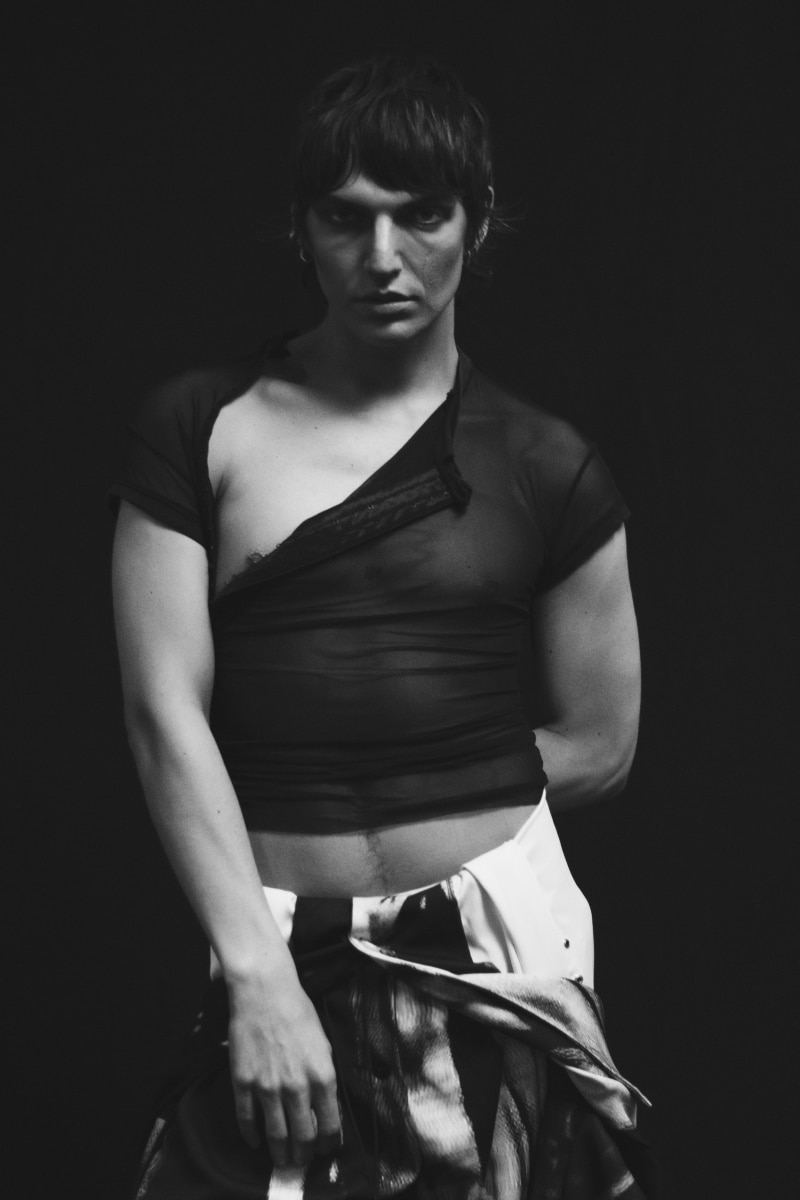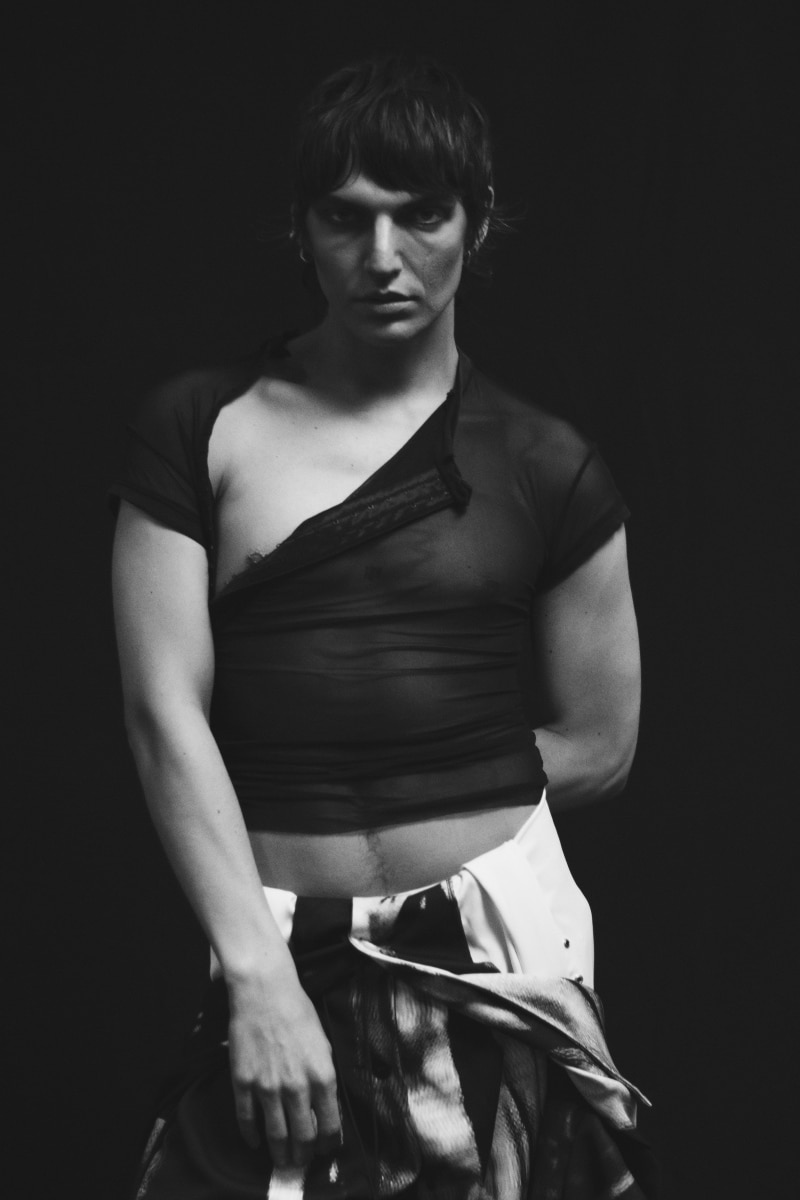 Tell us about Nikkria, about those collages you make. Is it 100% you?
Nikkria is 100% me. It was originally a personal process that I did not show to anyone. During the first lockdown, I decided to show it. The goal is to create visual distortion while taking hallucinogenic drugs. The intent is to represent the drug experience.
So the process is done under drugs?
No! It's the inspiration, it could have but no – laughing-. So I take the photos (multiple photos of details), I do the styling, I direct the person's movement and from this shoot, I collect all the elements and make them into a distorted painting.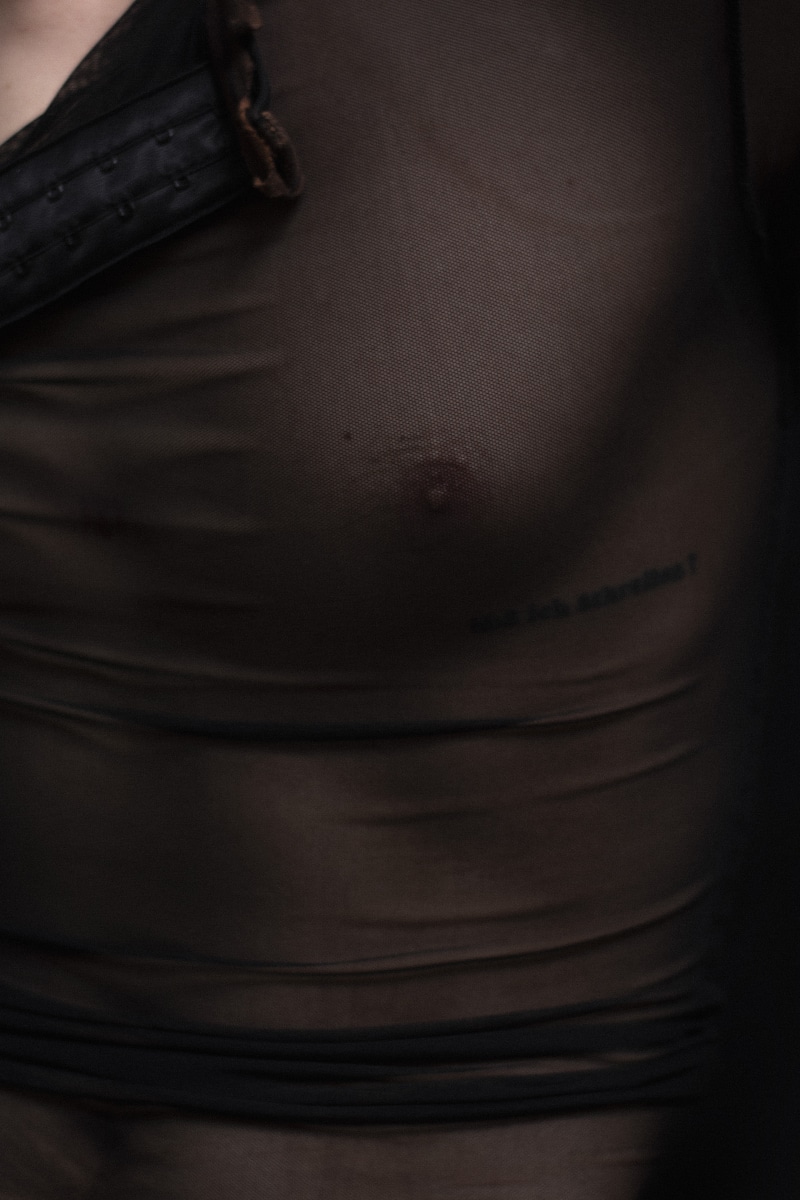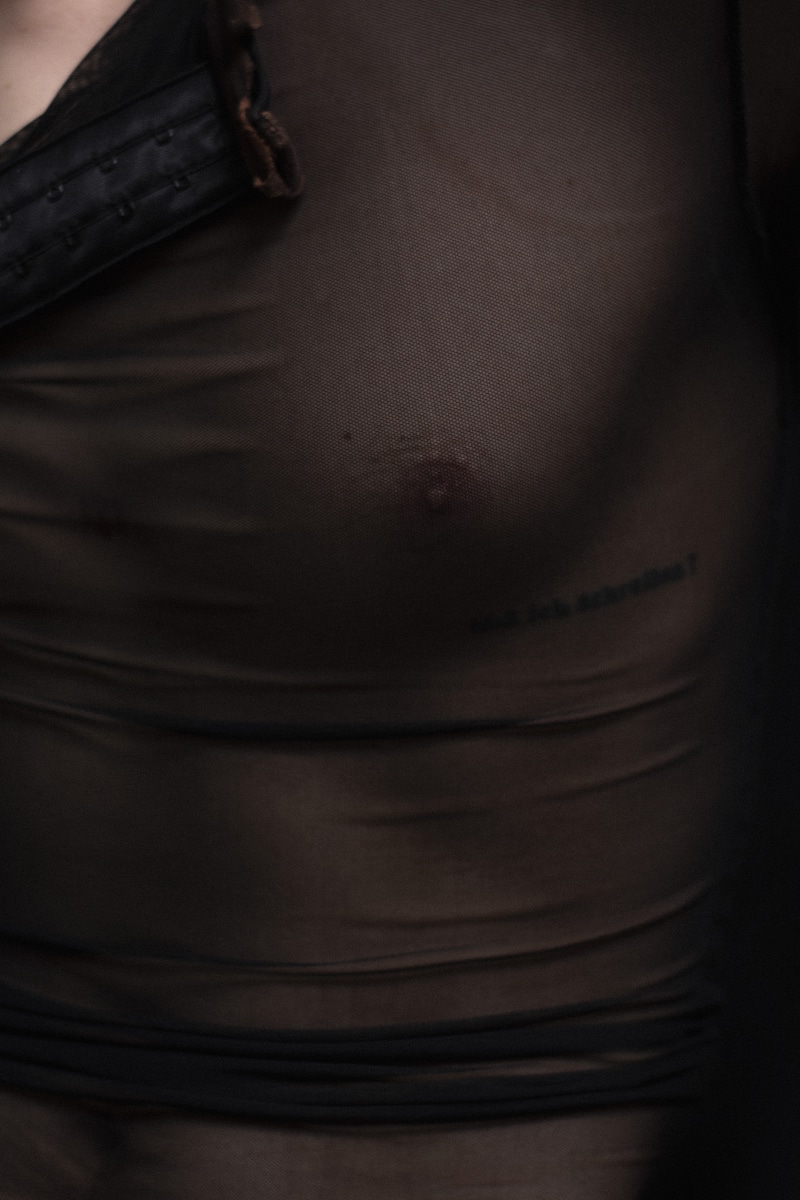 Is that how you ended up working with Michelle Lamy?
Exactly. We knew each other from our nights at the Manko (Parisian cabaret which closed in 2019). When she found out that I was hiding behind Nikkria she went "ah but it's Vincent! I know you". So we worked on a collaboration on HFT magazine.
What do you remember from your Manko years?
ONLY HAPPINESS! Joy and madness. Acceptance without judgment, without social class. It was very what used to be the Palace or Studio 54. Everyone mingled and it created a very pleasant and decadent atmosphere. No one was judging. And all of this was punctuated by CRAZY shows. Manko has always inspired me, the aesthetics have always matched my vision. Besides, the two artistic directors helped me with this first collection.
Oh yes, Marc Zaffuto and?
Manon Savary!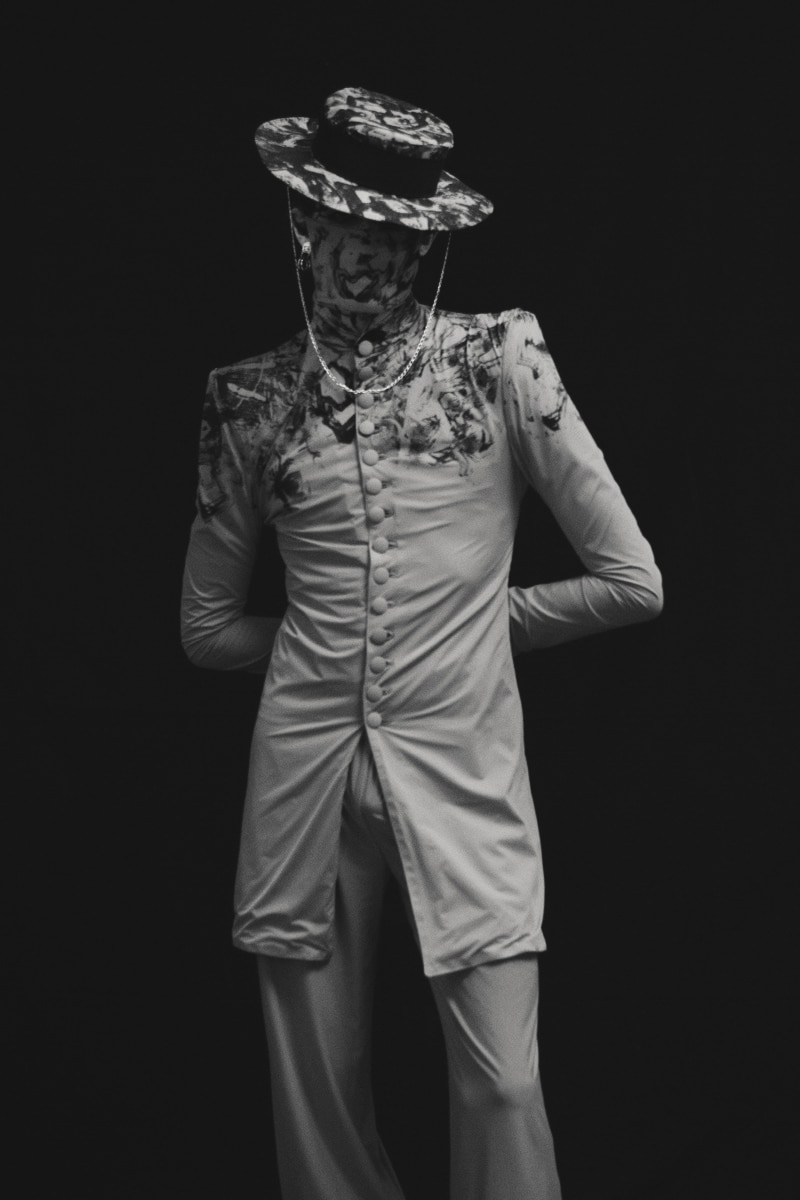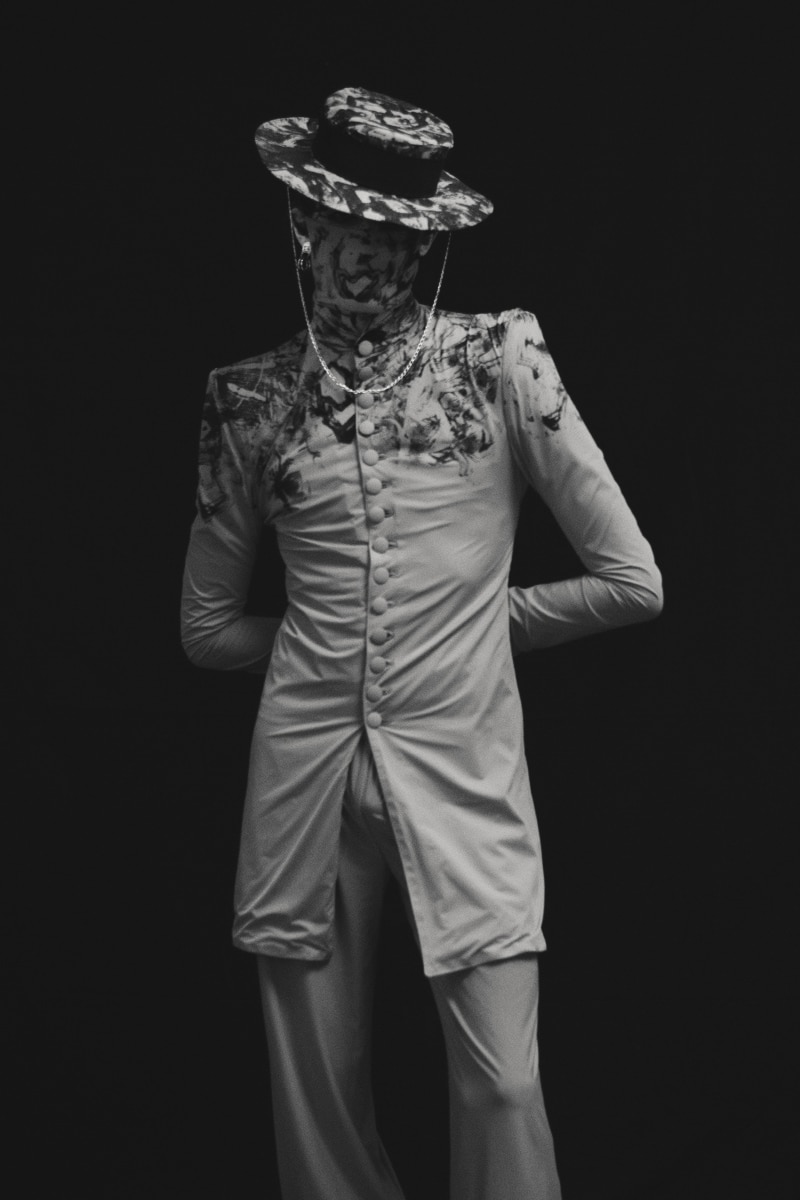 What do you think will come out artistically of this difficult moment?
People crave celebration and joy. The videos help us create very spectacular things also because the shows with strict codes without eccentricity are no longer the order of the day. My fist show tells a story, every model has a story and that creates SHOWTIME. Quite less mechanical and industrial than what we were seeing pre-pandemic.
Did it help you to start with a non-physical show?
You have to start with a punch, you have to strike hard, the prohibition side of this collection reflected on a rebellious universe that says NO to what society dictates to us at the moment.
These are the new Roaring Twenties!
Exactly, 100 years to the day.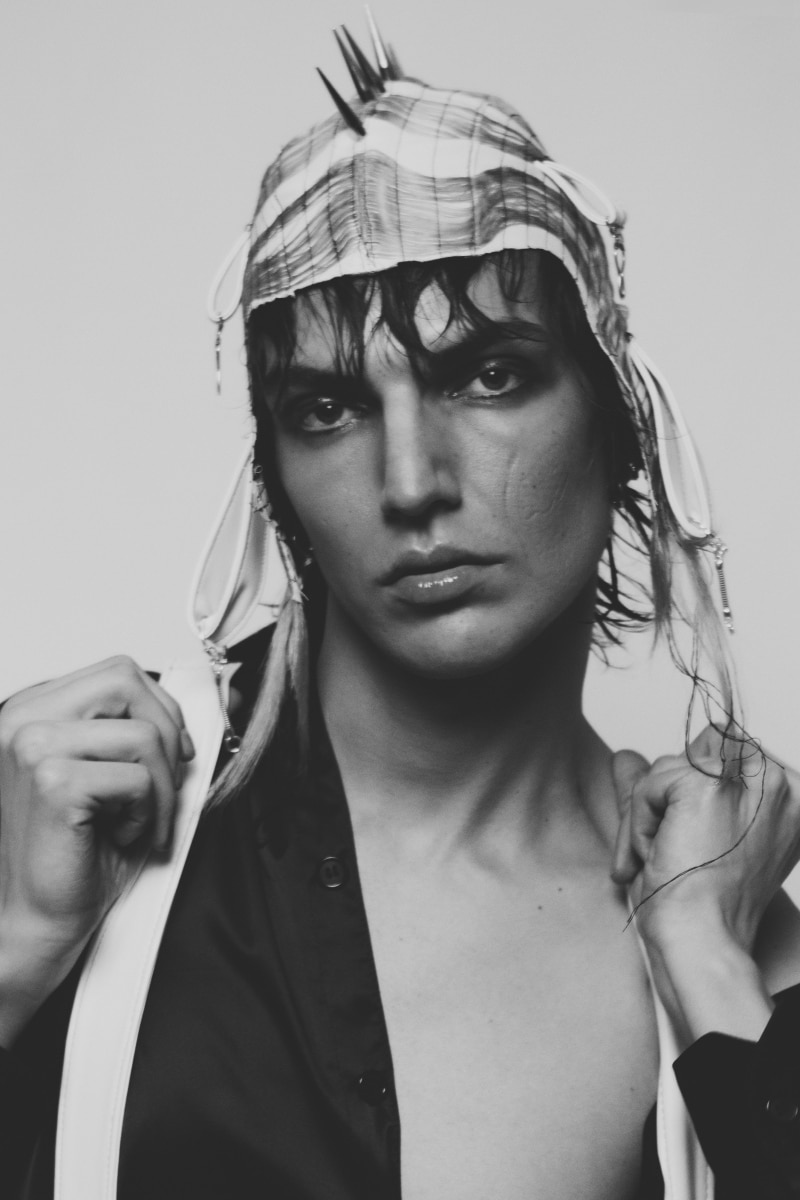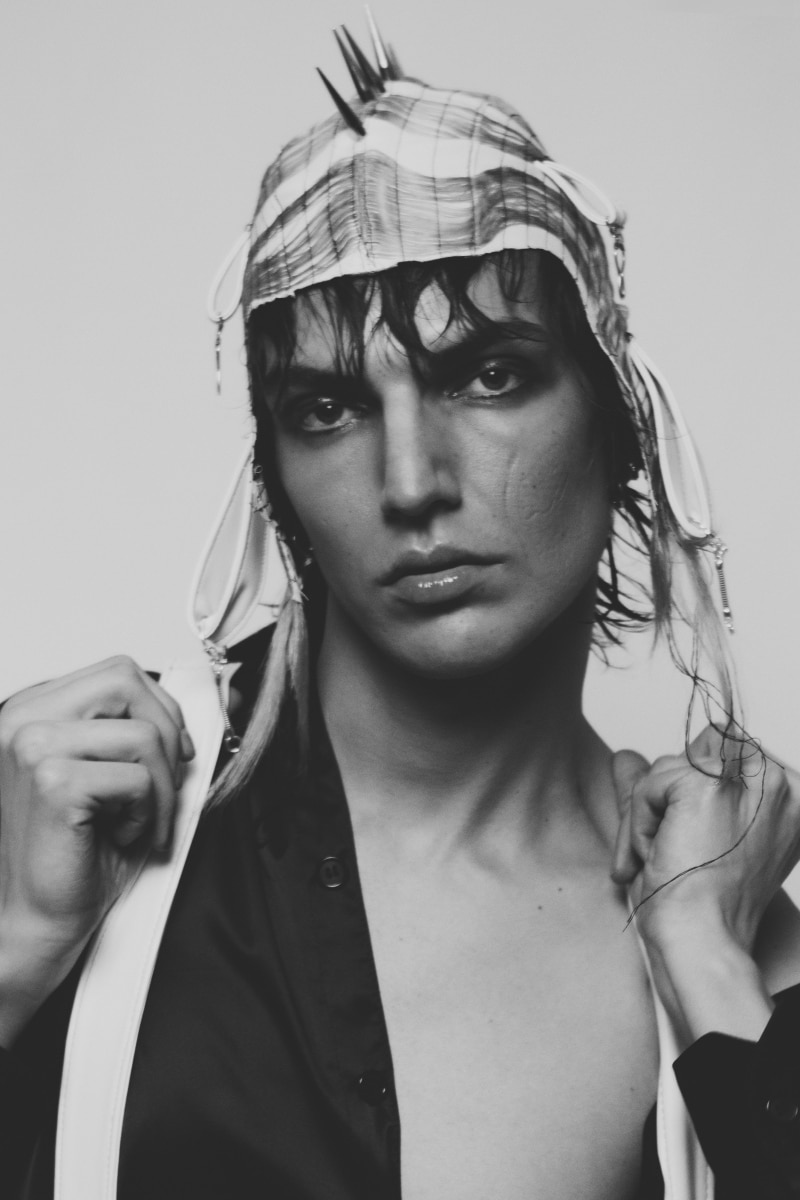 What is your definition of Love?
Love is the goal of a lifetime. It's the ease of life.