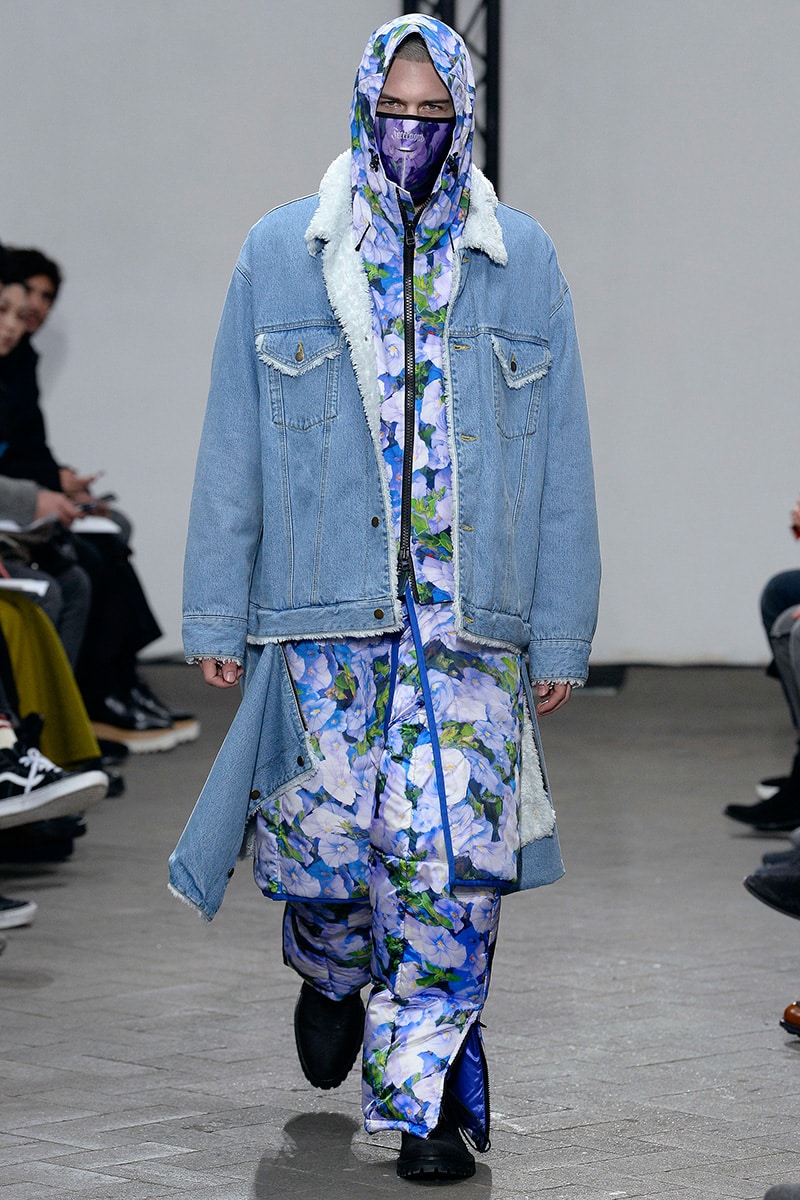 Few deeply meaningful words alternated with long silences. Hiromichi Ochiai expresses himself like a composer. His fashion is like a symphony of shapes, volumes, and colors with a psychedelic vibe flowing into it. Ochiai can take the most different inspirations and make them sound in perfect harmony. Contrasting silhouettes, different lengths, and wisely-mismatched styling become the language of a new form of elegance deeply rooted in the tones of traditional tailoring, but that stands out with a completely different sound. Workwear is transformed into an innovative concept of contemporary sumptuous elegance. Disassembled and reassembled pieces, precious fabrics overlaid with transparent techs, different prints combined. The research is entirely focused on giving life to a modern visual-poetry and letting his work speak, while the designer remains taciturn and modest. Facetasm is a complex orchestration where every single detail plays an important role. A poem where the unsaid is as much important as the words chosen. We were allowed to discreetly enter Ochiai's inner dimension and ask him about his work and opinions about fashion in present days.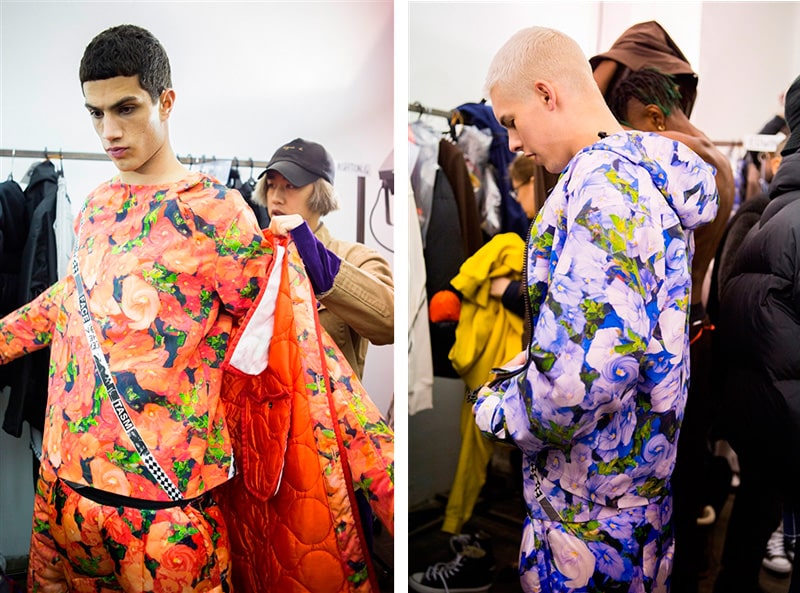 What was the very first time you thought about starting your own brand and how did Facetasm was born?
The Idea came to my mind really early, when I was still in High school. From that moment on everything I did was meant to realize this project of mine.
Today the gap between streetwear and high fashion has become subtitle, to the point that one could even question about its existence. Do you think there is still a real difference between the two?
Streetwear is more appealing to the mass in present days and it represents an easy way for designers under many aspects. I think that the hardest challenge for a creative is still in the high fashion world. You need to be really determined and prepared because there is a lot to across.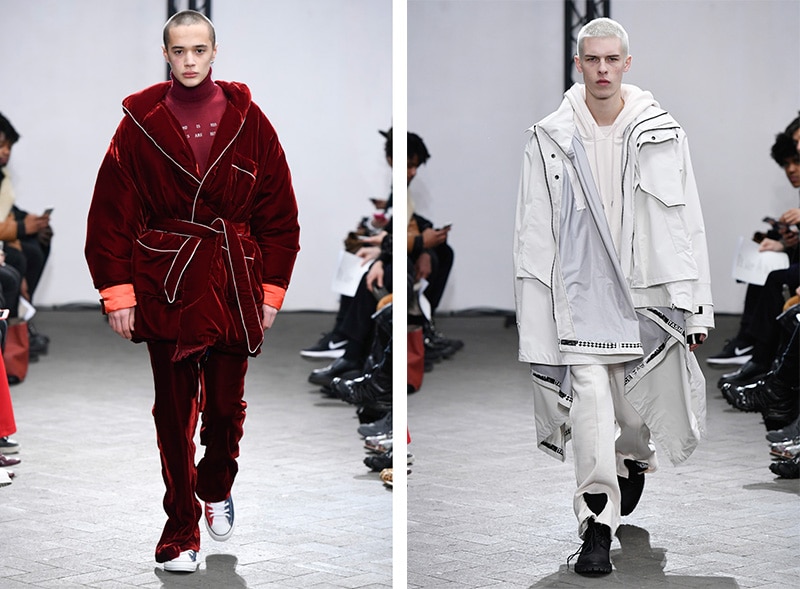 I know your hometown, Tokyo is very important for you. Now, In the internet era when all the distances and geographic borders have been overcome. What is the relationship between a creative mind and geographical and cultural belonging?
Despite that, like everyone in the fashion business, I travel very frequently, I still have a very special relationship with my hometown. My favorite way to search for new inspirations from the city is to ride around with my BMX through Tokyo. My city has still the capacity to mesmerize me and give me new motivations every time.
Hip Hop and trap are now the most fashion-related music genres, how do you feel about it? Also, It is well known that your music culture is deep down into Psychedelic and Noise Rock. Do you think that rock is still playing an important role in fashion nowadays?
I don't get easily influenced, as a person. Also, I don't give so much importance to what is going on in the mainstream music panorama. I have a really deep connection with music and I always get inspired by a lot of different music genres and their related culture.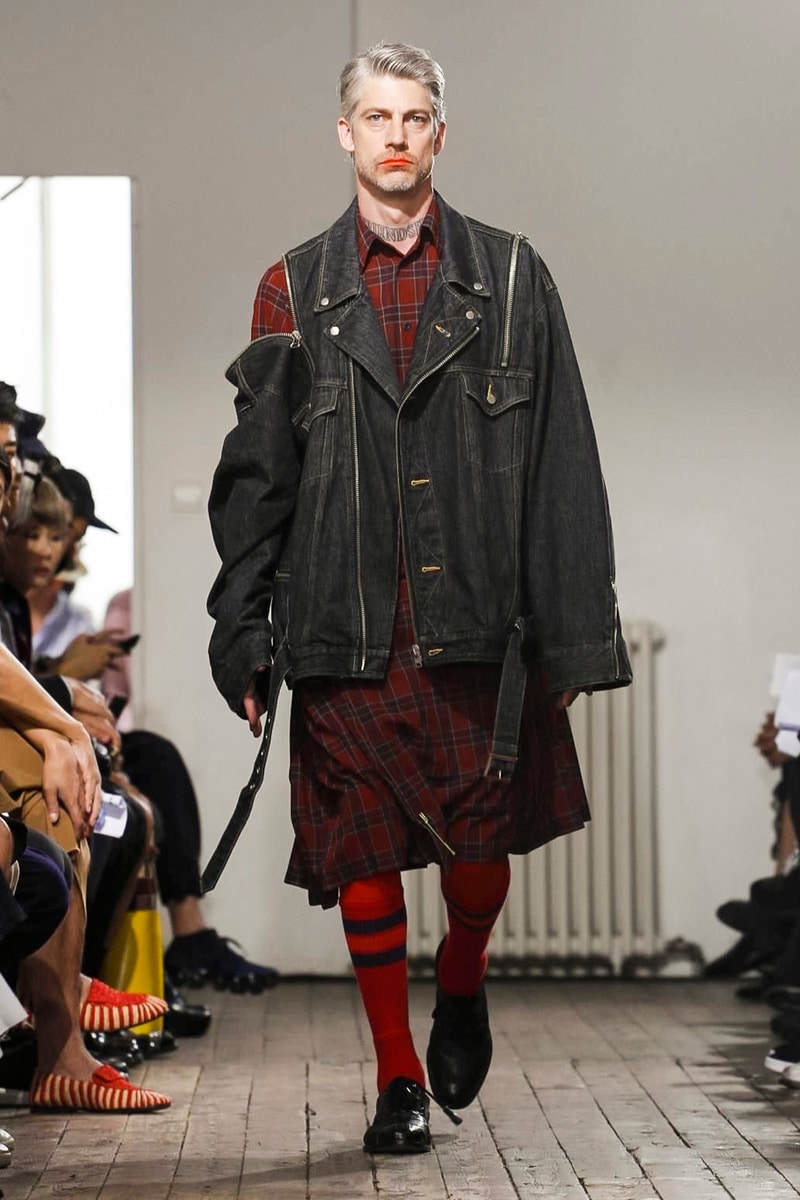 Fashion is an endless cycle of old and new. What is your relationship with research and vintage?
I have never really thought about it, actually. If you like fashion and you start approaching it, this kind of consciousness will come naturally. For what concerns research, curiosity is a fundamental element in every creative expression.
Subcultures and counterculture in general, also thanks to the Web 2.0, are becoming so mainstream that their existence itself is now questionable. Is still counterculture a thing?
Counter-culture always appears from where nobody expected, and that is very important for counter-culture. Counter-culture will never die.
What are you planning for the near future?
Some interesting news will come up next year for sure, but I still can't reveal anything yet. A little bit of patience is needed.