Since breaking into the scene with the launch of his label in 2018, Boramy Viguier has been described as utilitarian and mystical, two adjectives that work as a yin to its yang. It might be this magical balance that makes him one of the up and coming menswear designers to watch. Having gained experience at Alexander McQueen, Craig Green, and Lanvin, he has come into his own presenting his third collection in Paris and London last January to praise. 2019 proved to be the break-out year for the young designer and we caught up with him discovering what he might hold for us in the future as we enter the new decade.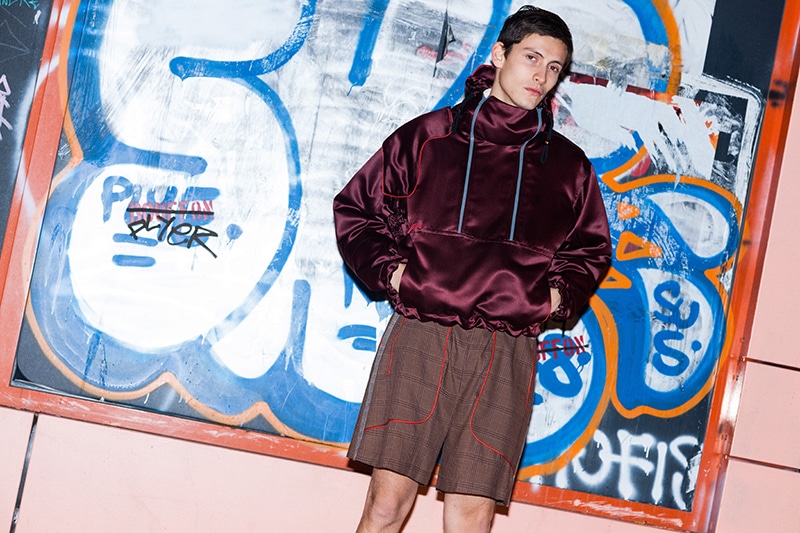 It's been quite the year to kick-start your career with a nomination at LVMH Prize and Andam. We have seen your collections, so let's get to know you! What's your sign and element?
I'm a cancer and my element is water. Do you want to know anything else?
Yes, we are just getting started! Tell us a bit about growing up in the Paganland of Paris.
I grew up in the Paris suburbs before moving to Paris when I was around fifteen. I don't know what to say really. I love living in Paris very much, I think it's a good fit for me. I enjoy walking around. It is a city for sure, but having experienced living in another city it is the perfect city size for me, not too big. I'm always walking. No tube, no buses, good food. Just ideal for me.
Having your own brand means creating your own world. Take us back before 2018 when you launched your label, and tell us a bit about being part of the art world, school and how you ended up in the crazy world of fashion?
I started my career working in an art gallery (Emmanuel Perrotin) which was a really good experience for me because it taught me how to work. It was tough but it was good. Not so much about the artists themselves but mostly because of the work.
I started to study fashion in London (Central Saint Martins), but I don't think it was made for me. I was very happy when I got a job in a house. I dropped out with no hesitation. I always believe that to learn you have to work.
I don't feel I ended up into a world in particular. I'm just doing what I love the best I can. I was never very interested in what people thought of me. And that always saved me a lot of trouble. The world of fashion might be crazy. I really just don't care. There are fashion designers that I love and I'm just focusing on them. I watch five shows every season and that's good for me.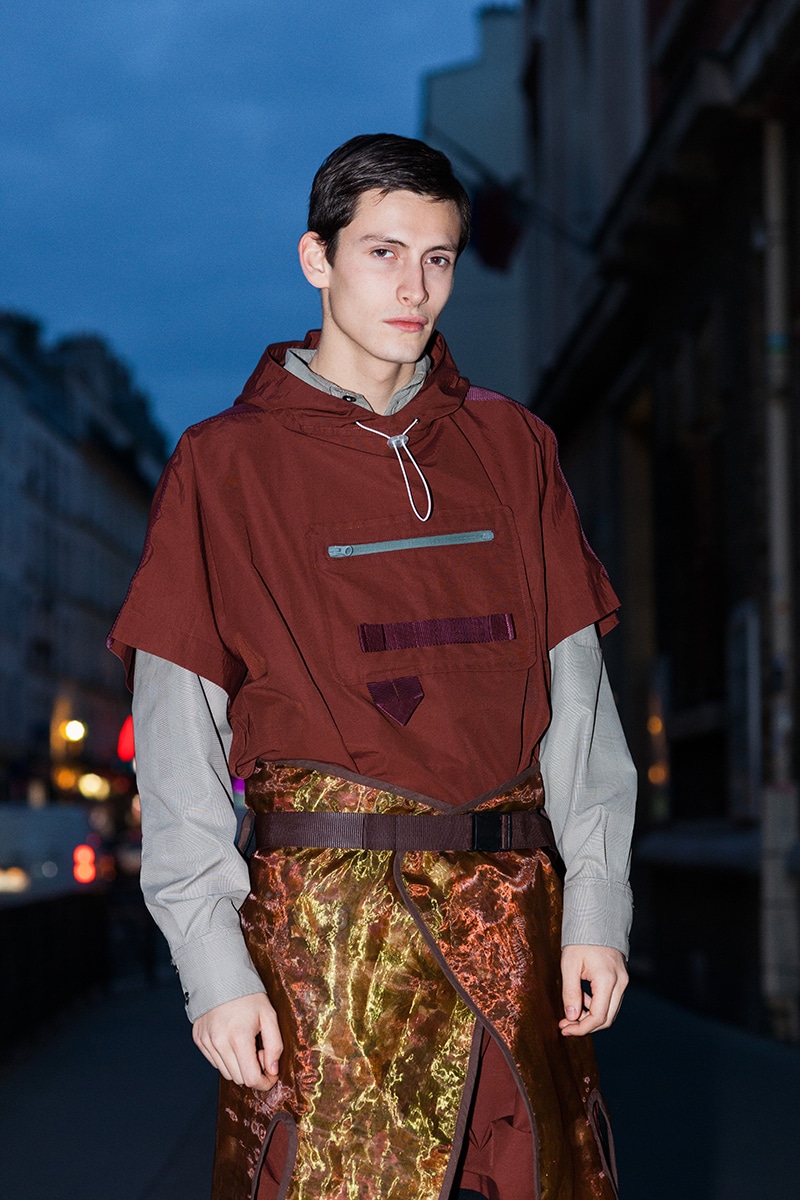 Why was it important for you to launch your own brand? Was that always part of your vision?
Not at all. At first, I told myself I would never start my own brand. I wanted to find someone that I find talented and work at my best for him/her. But things change. I started to imagine what I would have done if it was for me. And it came very naturally. I just knew I had to work for myself. Try to illustrate my wish in garments. With no restrictions.
If you hadn't founded your own label, who would you like to design for?
I love a number of designers today. I think what Craig Green is doing in London is great, I love Stefano Pilati's random identities, The Soloist in Japan, I always find Rick Owens very enigmatic, I love the clothes at Prada, Galliano's work at Margiela is just marvelous. So precise, so well made. He is a true technician. I just like designers who make a strong point with their own vision.
If I am not mistaken, you are quite keen on tarot…can you please tell us how you worked this into your Spring Summer 2020 collection?
I really love the tarot imageries and what it implies. The sacred aspect of it. The fact that the cards speak for themselves even if you are not a connoisseur. I constructed my collection thinking that each look could belong to a major arcanas of my own deck. Looks with strong spiritual values.
I remember a couple of years ago CocoRosie designed their own deck. Does music play an influential role in your work? What were you listening too while designing Spring Summer 2020 collection?
I listen to a lot of Dead Can Dance, Lisa Gerrard, Jocelyn Pook…when I am working. It just puts me in the ideal condition to work. I feel that this is the kind of music that helps you to be closer to reality, to see life from the big picture, thinking of the cosmos, being part of the universe. I guess this is what I modestly try to do with garments.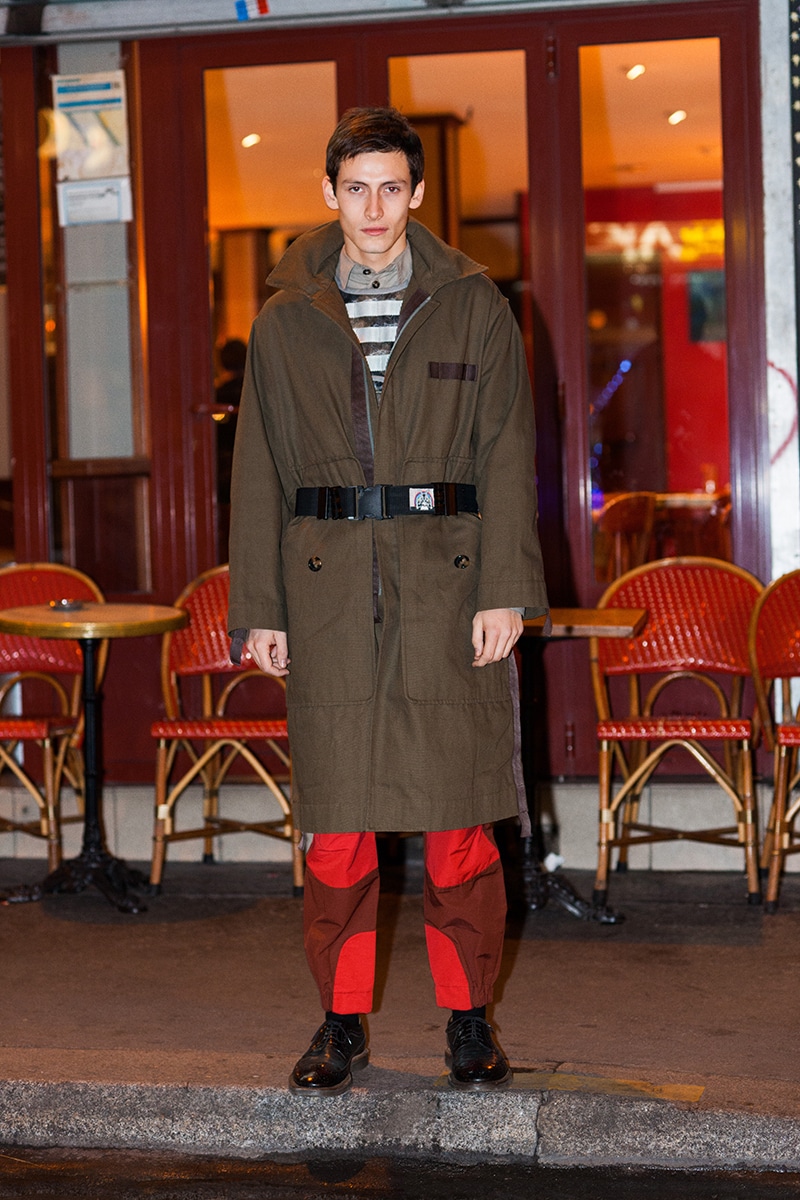 Would you say you believe in magic?
It depends on how you perceive magic. I don't really care for the David Copperfield kind of thing. I often find it very bad taste. But I like the idea of aspects of nature you don't necessarily get. I believe in forces that are bigger than humans. That the human brain can't comprehend. A sacred dimension. People that are always down to earth just don't interest me at all. I am very suspicious about people that are too pragmatic.
Did you have a favorite fantasy book or movie growing up?
My mum was really fond of Frank Herbert's Dune. She told me the story ever since I was born. It's a very special kind of literature. This story really is in my system. We loved the movie too. Even if David Lynch himself was not happy about it, this is still a film that counts a lot for me. She also made me read a lot of comic books from the French nouvelle vague area. Druillet, Moebius, Jodorowski… This was the core of my education.
Dune is one of my favorite books and with so many different interpretations. I'm looking forward to the new reboot coming out, but style-wise, I don't expect it to have anything on Lynch's. Who knows how things might have been if Jordorwski had his. What are you reading at the moment? What other literary genres interest you?
I'm reading a book about Tarot. I'm usually reading novels from French literature like Celine, Proust. I like Bukowski very much too…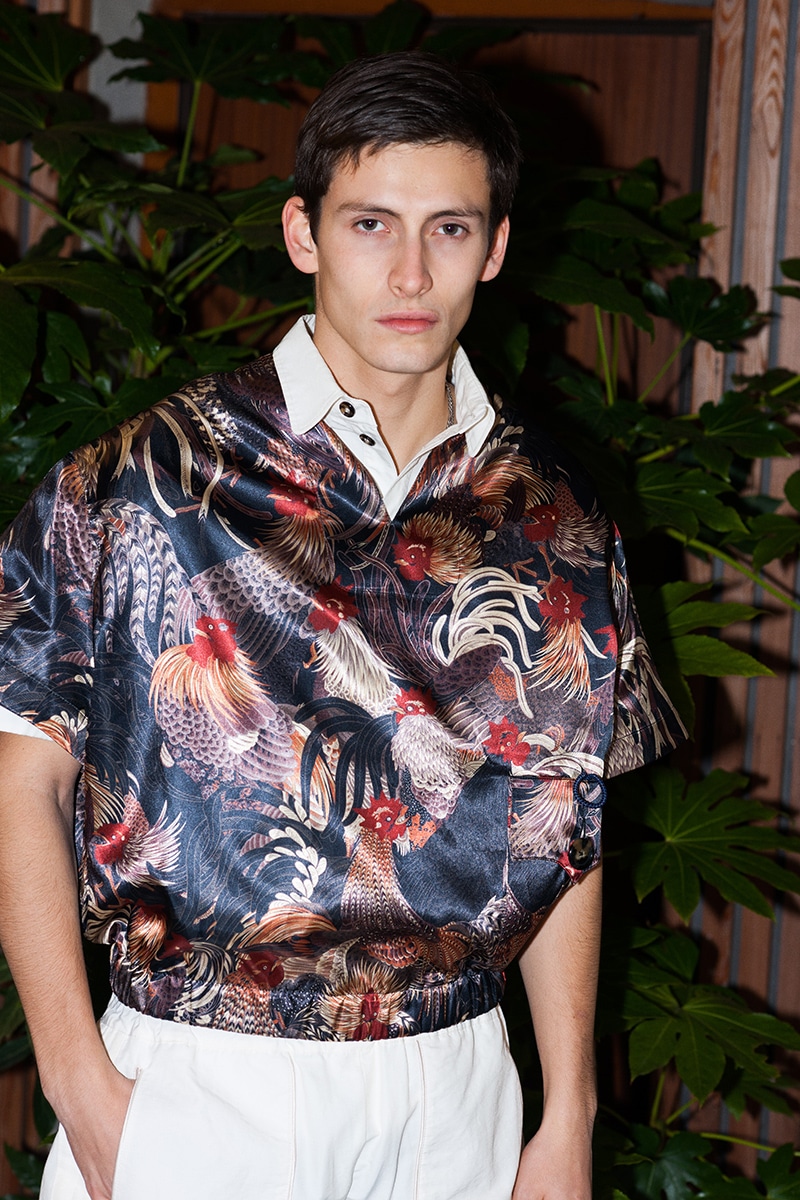 I've never read anything by Bukowski, but I know he has become even more cult in recent years with Softbois. On a more hopeful note, have you found your spirit animal or any special talisman?
I don't really have any specific spirit animal, but I collect a lot of objects. Like rocks, pieces of jewelry, etc… I just like to have them near me.
Have you developed any ritualistic behaviors in your atelier?
Not really. I arrive early in the morning and I work.
One of your big achievements of this past year was your work with Browns in London. How did the capsule collection with Browns development?
Very naturally. They were among the first to purchase my collection. They asked me to do a capsule collection for them. A global wardrobe from trouser to coat. I just imagined a military collection ornamented by religious and sacred elements. I wanted to have the feeling that this was from a closet of a spiritual warrior, a sort of modern crusader.
There is a mystical side to your otherwise utilitarian structures. Who are the shamans of our times? Have you met any?
They are an artist I like, that are doing works that I consider sacred. Again I like an artist that brings me closer to a mis-seen reality. I may sometimes lose the good perception of things. When I am too much into my bourgeois life, doing a thing in a systematic way. There are artworks, music, films that I consider like gospels. The people who do it are the shamans of our times for me.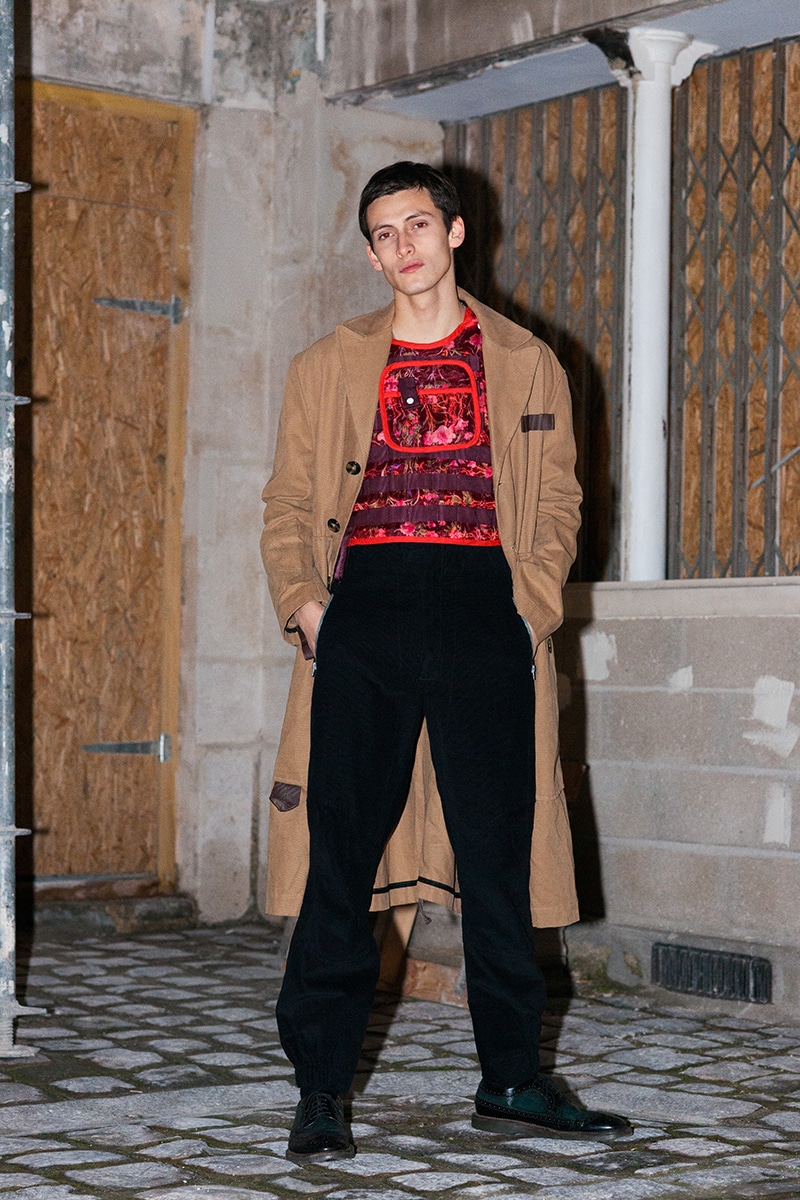 In this digital age, are there any truths to reality?
Yes for sure. It is harder to perceive it when you are 24/7 on your Instagram. But no one is forcing anyone to do it.
What scares you the most about the future?
The global fall of human IQ.
Or maybe we are outsourcing a major percentage of our brains. Finally, there is a certain connection between memory and scent. What's your favorite smell?
The smell of a fireplace.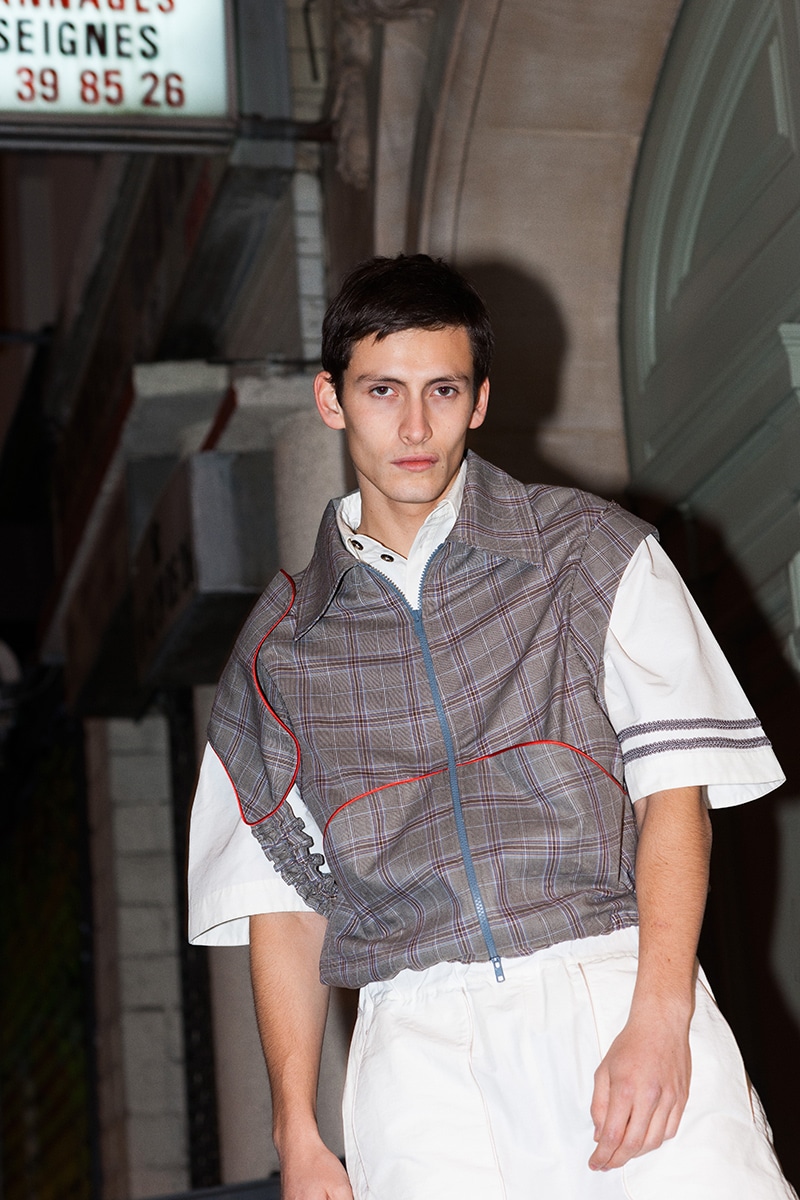 Ferdinand from Metropolitan shot by Louise Reinke in a selection of Boramy Viguier trousers and trenches from AW19/20 and shorts and shirts from SS20.
Thanks to La Moustache Production.