Andrew Coimbra is a Toronto-based designer infuses high-voltage colours with experimental fabrics to create a youth-infused menswear line. Season after season, Coimbra investigates his heritage and his country, while highlighting the beauty of the world around. After cutting his teeth in the design world by working for Pink Tartan, Philip Sparks, and Proenza Schouler, Coimbra went on to create his eponymous menswear line a few years ago. Since then, he's showed off his chops with his vibrantly unique line of youthfully injected menswear staples.
If you had to choose a look (from your FW16 collection), what one would it be and why?

Ooh, I think I really like this look. It's just such an effortlessly chic and casual look, and I genuinely can't wait to wear it this Fall!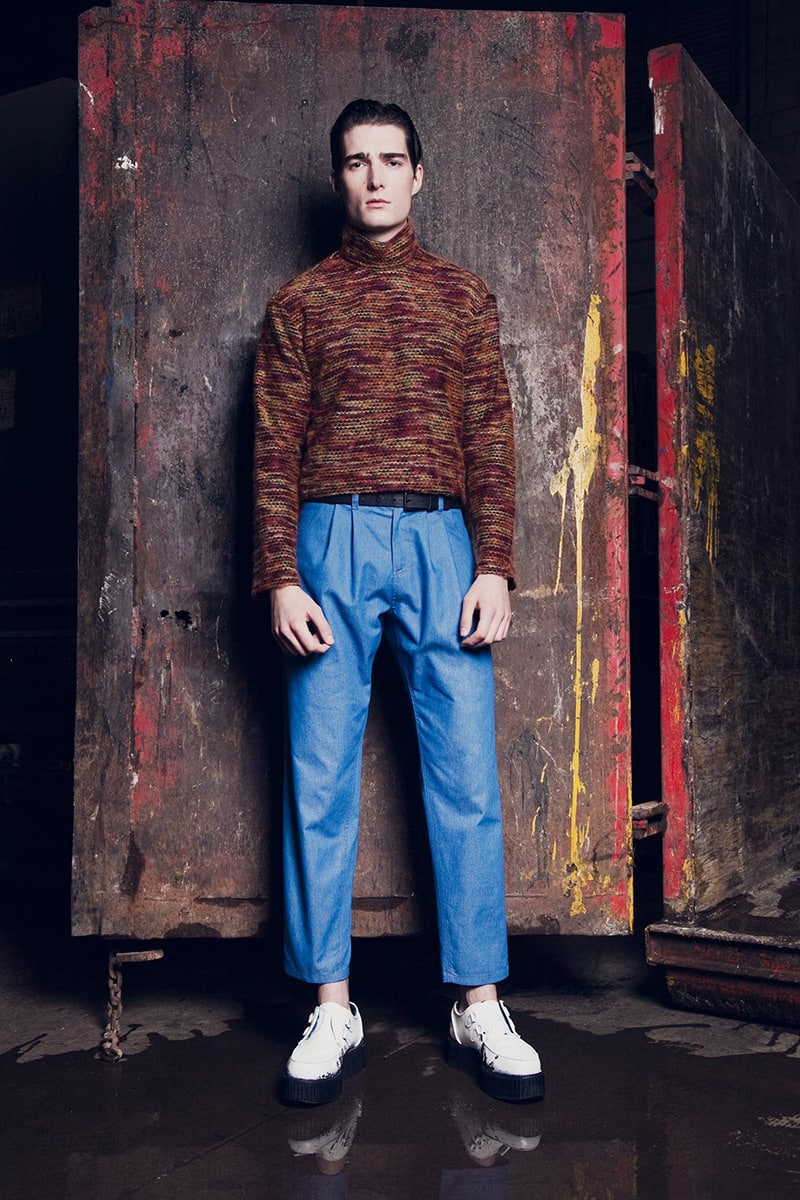 How would you describe your ideal customer?
The Andrew Coimbra menswear collection's aesthetic is defined as cool, refined ease and inspired by contemporary art and youth culture, combined with an emphasis on tailoring and fine fabrics. The ideal customer is confident, cultured and classic; he knows how his boundaries and when to step outside of them.
Can you give me a hint on what's to come this Spring 17?
I really want to explore the idea of immigration, from a personal perspective as both of my parents are immigrants. That's all I'll say for now! 😉
You really embrace colour in your collections – from your paint splatter pieces from a few seasons ago to the rust and denim shades this season. Can you talk a little about that?

I love the idea of exploring colour. I think it's such an important part of the way we experience the world, and I think without colour as an expressive quality in a collection, everything would really look the same. Of course, there are shapes, composition, and textures that help define but some things you cannot express without colour.
To expand on that, I come from a fine arts background. It's incredibly crucial to me to include colour in the work I do in artful ways in order to make the garments that much more connected to the art world.
Can you talk about some of the thought behind the material and technique?

I typically spend months sourcing fabrics, and building a board of options and then narrowing it down based on components I think will really help bring the collection to where it needs to be.
The fabrics in the FW16 collection were all found the way they look – there were no treatments done to them to increase their aesthetic appeal. It was important for me to find materials that are manufactured in such a way that is both industrial and beautiful considering the inspiration behind the collection; marine pollution and natural defense.
 
Tell me something about your daily working routine?

Well, like many young/new designers, I work a full-time day job. It's not very glamorous, but it's the truth.
I work throughout the week at the "nine to five" and try to keep brand-related tasks to out-of-day-job hours. After work, I get to my emails, arrange meetings with stylists that make requests to use samples for photoshoots, source materials, design my collections, and draft new styles as the collection develops.
What are five adjectives to describe your style?

Classic, Contemporary, Effortless, Masculine & Feminine.
 
Who are your favourite designers at the moment?

Aesthetically speaking I, along with the rest of the fashion industry, it seems. I'm absolutely loving what Demna Gvasalia is doing, specifically with Balenciaga. It's so refreshing.
What's the biggest problem a young designer must face to start his career?

The biggest thing would say is a problem for young designers would be access! We need more platforms and visibility in order to gain industry traction, and potential investors to help build our brands. There are a lot of great creative minds all around the world that just need the opportunity to express themselves and share their visions.
The very last question, that we always ask: what today is really FUCKING YOUNG!?
What's Fucking Young! right now – to me – is just being and doing you! Own your identity and don't fuck with what other people are doing unless it's positive and contributes to the greater good. ?
Click HERE to see Andrew Coimbra's FW16 Collection.