Hedi Slimane presented the Celine menswear collection Paris Syndrome for Fall/Winter 2023 at the iconic Le Palace. Wiz Khalifa, Jack White, Lisa, Marlon Magnee of La Femme, Etienne Daho, were some of the music royalty gracing the front row including The Libertines and The Murder Capital who performed lived afterward, while actors from both sides of the pond were there from Romain Duris, Mathieu Kassovitz to Jack Dylan Grazer under the Art Deco interior and neon-lit CELINE.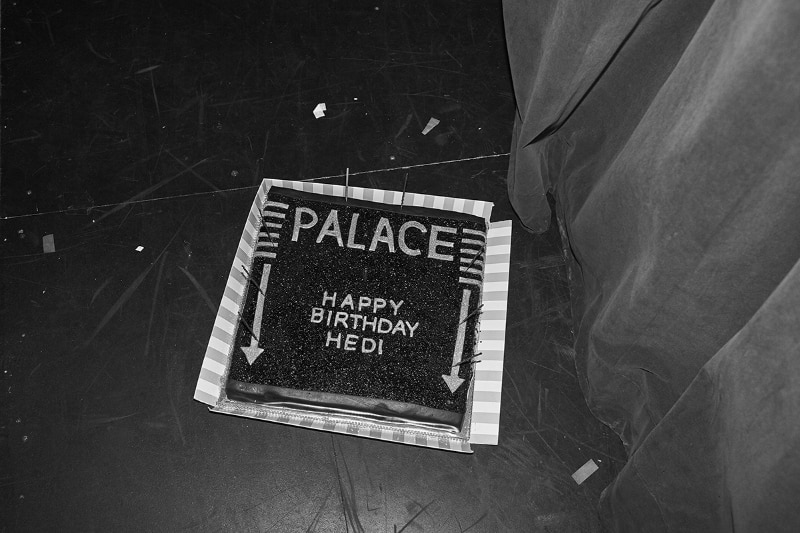 The legendary Paris club has a history of famous faces that frequented the likes of Karl Lagerfeld, Yves Saint Laurent, Kenzo Takada, along with Grace Jones, Andy Warhol, Mick Jagger, Jerry Hall, Serge Gainsbourg, and Prince, thus it has often been dubbed as the Studio 54 of Paris. Le Palace is meaningful for Slimane who started to frequent it at age sixteen and back in 2018 celebrated his 50th birthday there. As models sporting fringe and modern mullets walked out to an original soundtrack for Celine by Suicide, you could smell the homage to Paris nights, Celine's 2019 fragrance Nightclubbing casting an olfactory aura as their hands were kept deep in their pockets and sunglasses on the tip of their nose.
Slimane resurrected the spirit of the late 70s and 80s at Le Palace with sharp leather pants slim to slight bootleg in black lava, studded biker jackets, racer jackets, plenty of rhinestones including Le Palace dazzling on some backs and even some cowboy cuts made up the centerpieces worn with romantic blouson jackets, broad-shouldered jackets or tweed or cashmere or even some oversized leopard and tiger printed coats are made from shearling cashmere. Elegant and edgy, there was an empowering masculine elegance that ran throughout the collection. I could count the trainers I spotted on one hand while formal pointed shoes took over. The mashed-up styles went further and delved into today's youth's rediscovery of the 2000s electro-clash and electronic rock sounds and scenes. Not all of today's youth are lucky enough to inherit the perfect leather biker jacket or leather pants which today are considered iconic staples and Slimane understands iconic.
Take a look at the collection below: