NE-YO is back with his seventh studio album Good Man, following his 2015's Non-Fiction, which peaked at #5 on the Billboard 200 upon its initial release. Back in May we heard his new single, "Apology", ahead of the album's release. He took to Twitter to explain the latest single, saying that it was written for the women he's hurt. We are now waiting for more men out there to have the apologies rolling in. The 17-track effort features the likes of PARTYNEXTDOOR and Eric Bellinger, and is now out via Motown Records/Compound Entertainment.
We caught up with the Grammy award R&B singer to get a snapshot of where he is in his life today.
With your new record, you decided to bring a back your debut sound, what inspired you to do that? 
Once I knew what message I wanted to put out there with this album, I felt a more soulful sound would best deliver that. Just want people to feel it, R&B makes you feel it when it's done right.
How would you describe a good man? 
He's responsible, pays attention, means what he says and says what he means. Looks inside for the solution and holds himself accountable, doesn't pass the buck or point the finger so quickly. LISTENS. These are just a few traits to look for.
We definitely have some of these bad traits with current men in power, but you are bringing us hope for the rest of them. You have so many number one hits, do you have a favorite one?
I don't pick the favs, that's more for the fans to do. They're all special to me I one way or another.
This album is called Good Man. You aren't the same man as you were when you first appeared on the scene. How did you changed over the years?
I've evolved as I think all men do once you realize what's real and whats fantasy, what truly means something and what truly doesn't. I'm more attentive and patient in my relationship. Communication is a focal point. Not quick to anger behind misunderstandings but rather patient enough to take the time to figure out where the misunderstanding came from.  
Sounds like you nailed the difference between a boy and a man. On a different note, how has your sartorial style evolved over the years?
My style has certainly evolved. As I got more into it, learned what suits me, that's when my style truly transcended. I'm not particular to any one designer. It's more about the piece and how it fits, not the name on the tag.
Do you remember what model were your first kicks?
I don't, but I do remember not owning a pair of Nikes till I was almost seventeen.
On your single Push Back you teamed up with Stefflon Don, how did you discover her? 
I was a fan of the things she was doing before she really broke out. I knew her voice would fit the song perfectly so I reached out. She was down and the rest is history.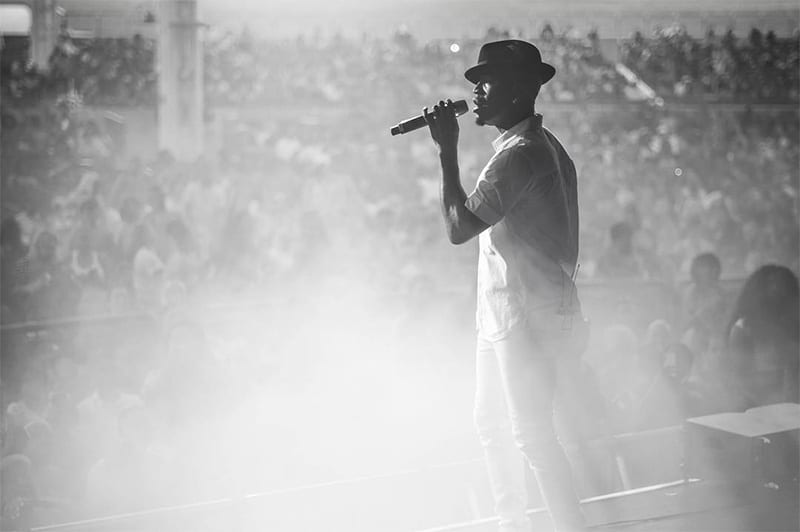 You worked a lot with Rihanna in the past, do you guys still keep in contact and any chance of working together in the future? 
We have the kind of friendship that doesn't require us to see or hang around each other frequently. Whenever we reconnect it's like we never left. And yes we will work again soon.
You have written for a lot of singers, is there someone, in particular, you really want to write a song for?  
STEVIE WONDER!
You collected stories for this new album. Any particular stories about Paris?
The black, white and grey of love is universal. The stories come from all over, Paris included.
Do you have any plans to come to Paris for Fashion Week?
If Paris will have me again at fashion week I'd be absolutely honored. Had a great experience every time I've attended.