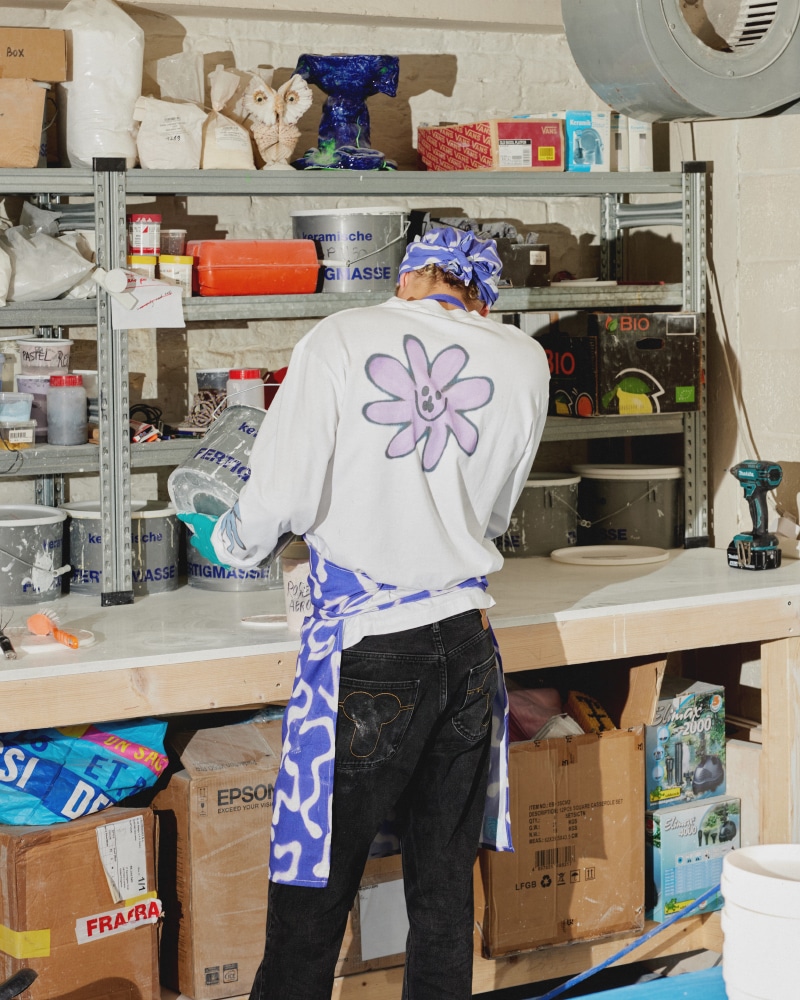 Carne Bollente and Frizbee Ceramics are joining forces to introduce their first small capsule collection of witty, unique ceramics & clothes.
Fitting/Convenient to the upcoming holiday season, they have co-designed a series of ceramics and ready-to-wear clothing and accessories. The mission was to bring back 90s street art and its rave culture with the help of their iconic designs.
Carne Bollente is including a Classic T-Shirt with an Allover print that highlights its "ORGASM twist", as well as another long-sleeve with distorted flower smileys. Lastly, they will have a small series of purple faded graffiti effect socks, a small neckerchief/bandana and their iconic apron. Perfect accessories to include in the gifting season.. or just to treat oneself! All styles are, as usual made with 100% Love in Portugal, in limited quantities.
For the porcelain products, they have decided on a range of plates, cups as well as funky plant pots. The collection is loud and fun with clear colours & evocative, offbeat designs as for example the "ORGASM TWIST" plate. Raised-edge plates with a faded graffiti effect and smiley motif bowls are hand-casted and glazed in limited batches using only high-quality materials. While each of the crafted products is one-of-a-kind, they are also all 100% dishwasher safe. Therefore, convenient for everyone who loves to bring a new twist of kinkiness & joyful youth into the modern kitchen through this collaboration (and new wave of homeware)!
Take a look below: