The Spanish designer allies with Nike in her new proposal 'Dewdroppers', presented in the framework of the Men's Fashion Week in Paris.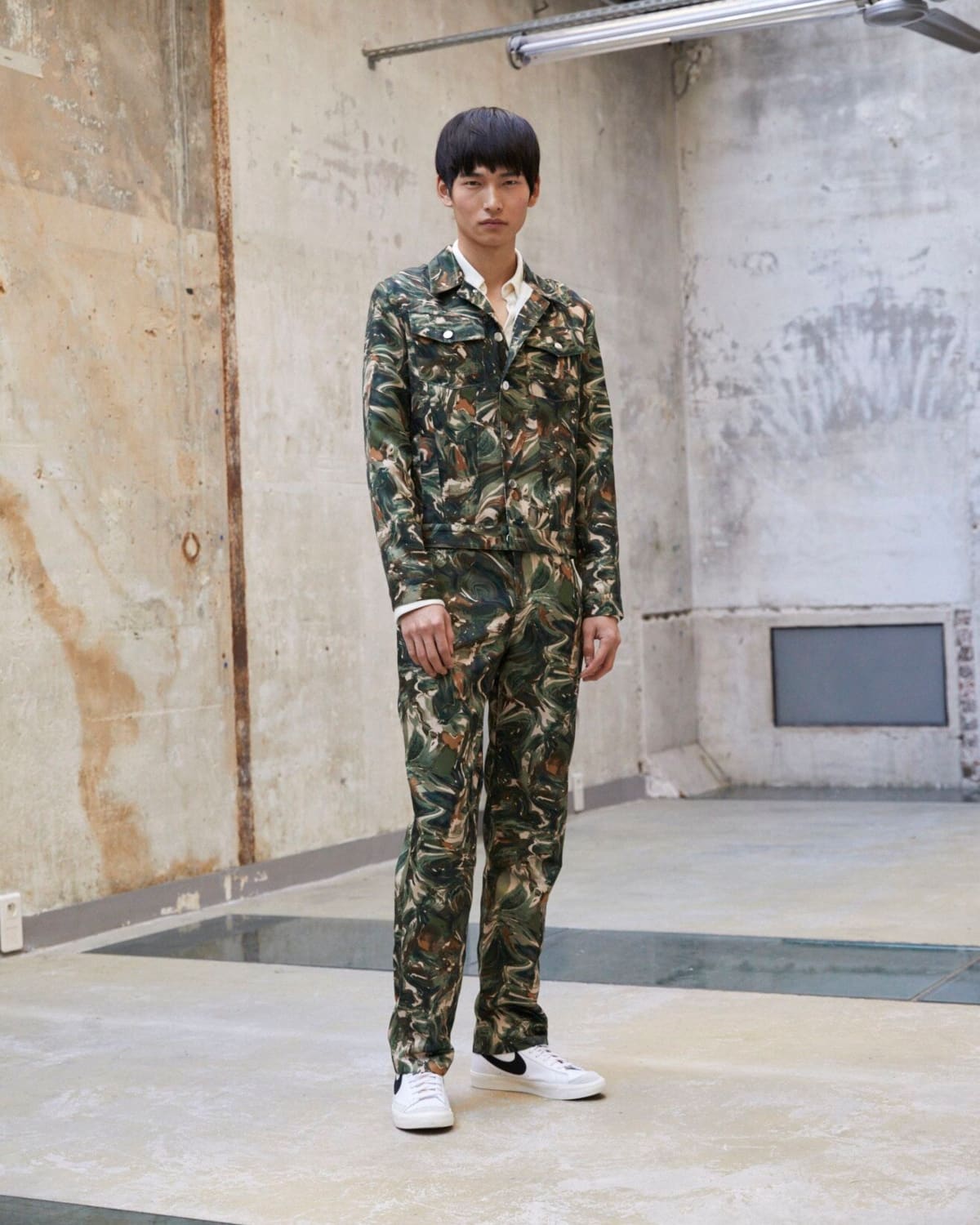 Carlota Barrera continues to make progress on her way by leaps and bounds. The young creator, who can boast of being one of the few women creators in designing menswear, has just presented her latest collection "Dewdroppers" at Men's Fashion Week in Paris. A unique experience that recognizes the work of the designer, whose launch took place in July 2018 with the presentation of her first collection "The Matador and the Fisherman".
In just a year and a half, Barrera, who is based in London, became one of the young promises of international fashion. Her renewed tailoring proposals, her garments loaded with meaning and history and her unmistakable personal seal have been recognized worldwide, highlighting the 'Who's On Next' 2019 award granted by Vogue Spain.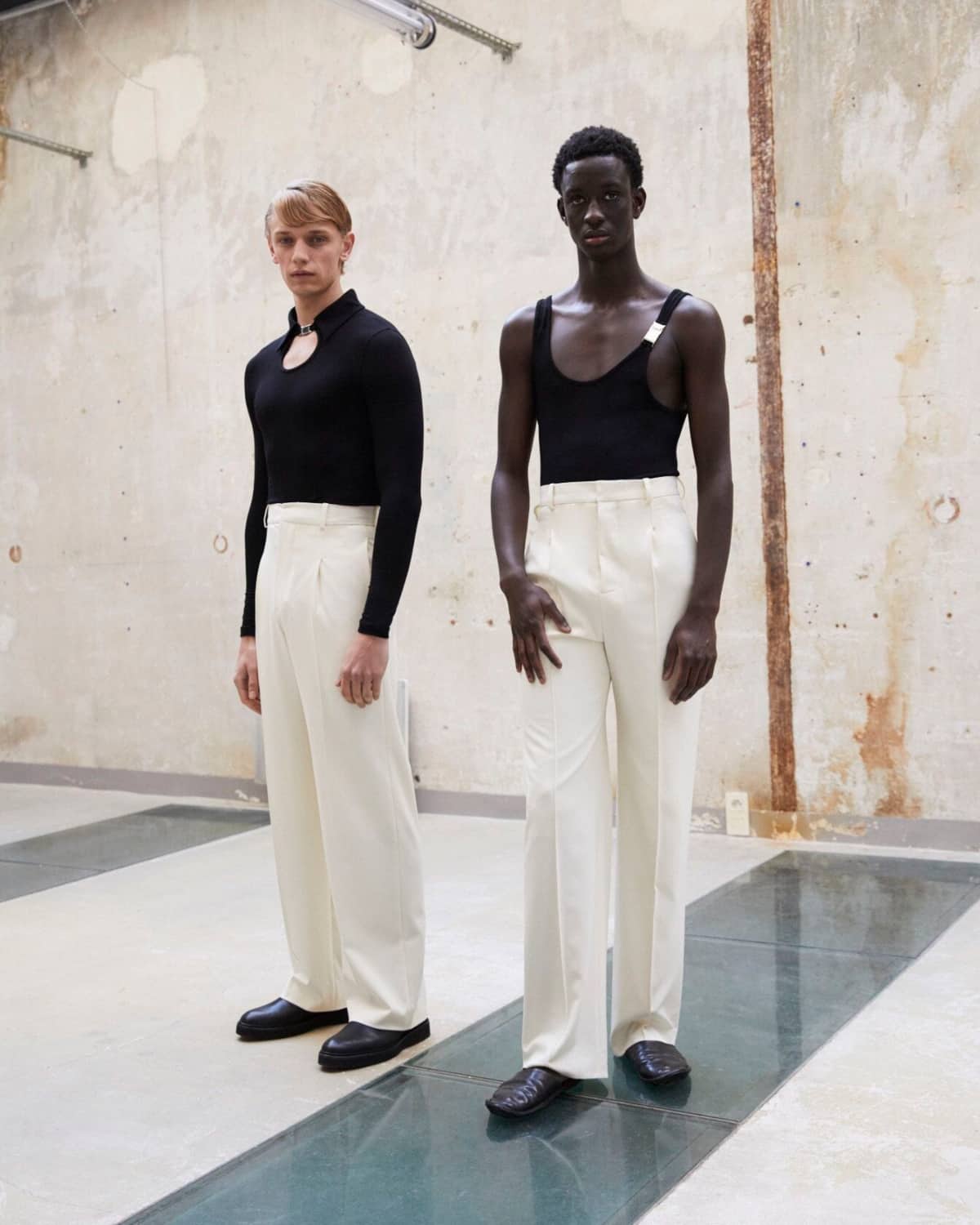 'Dewdroppers' recovers the vitality, exaltation and unleashed energy of the 20s, as opposed to the social and productive model that prevails today. Through a process of research and historical documentation, Barrera takes some of the most representative codes of this golden age and endows them with contemporary significance, preserving its authenticity and uniqueness. The collection, presented in the Parisian neighborhood of Le Marais, is an allegory of sustainability, functionality and the overflowing magic of details and exquisite design. The designer has collaborated with Nike to define the footwear of her Fall/Winter 2020 collection. The Nike Blazer, the iconic shoe model popularized in the seventies (one of the times that most inspires Barrera) is the perfect complement to the designer's narrative, inspiring strength and freshness.
We talk to Carlota Barrera to know how the process of creating "Dewdroppers" has been, how she feels after having presented in Paris and how she conceives the future of fashion.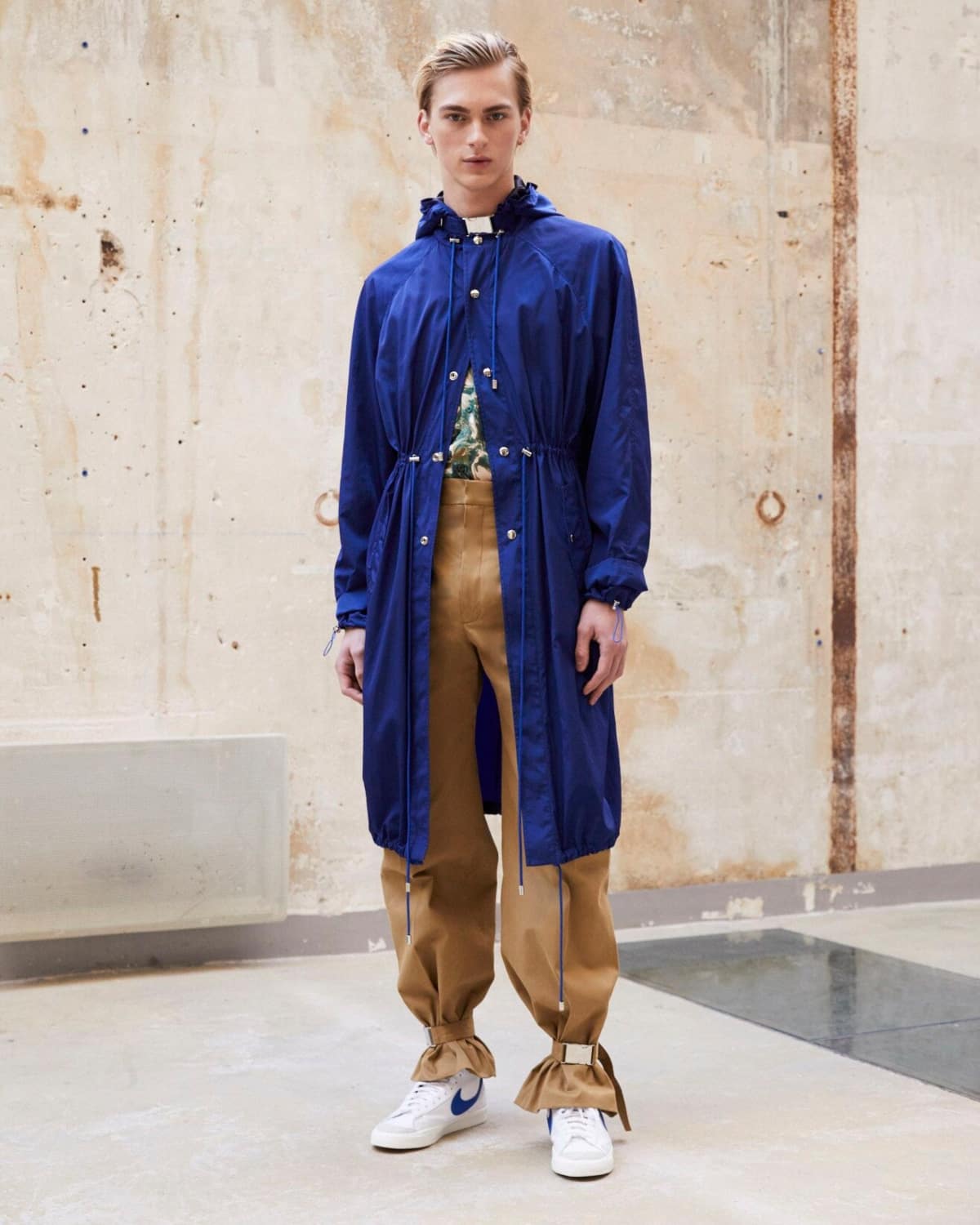 Born in Asturias (Spain) and based in London, you have just presented your Fall-Winter 2020 collection in Paris, within the framework of Men's Fashion Week. Undoubtedly, you are one of the creators with the most international projection. How do you feel?
It is an incredible opportunity to be able to share what we do and for that to have such a warm welcome. I have a fantastic team that help me in every step of the process. We work a lot making these things happen and we really enjoy what we do but there is an insane amount of work involved. Then we look at the result and where we're getting with our effort and it's all worth it.
"Dewdroppers" is your proposal for next season. A collection that recreates a night of passion and debauchery surrounded by a select atmosphere of the early 20's. Why have you decided to relive this night scene? Is this a tribute to the 'New 20's' in which we have just entered?
The collection is sort of an ode to hedonism and the feeling of 'letting go'. The roaring twenties were a decade of extravagance and splurge, and as a society nowadays we are going in the opposite direction, always measuring productivity at work. It was our way to dive into the nonchalant attitude of those chaotic nights.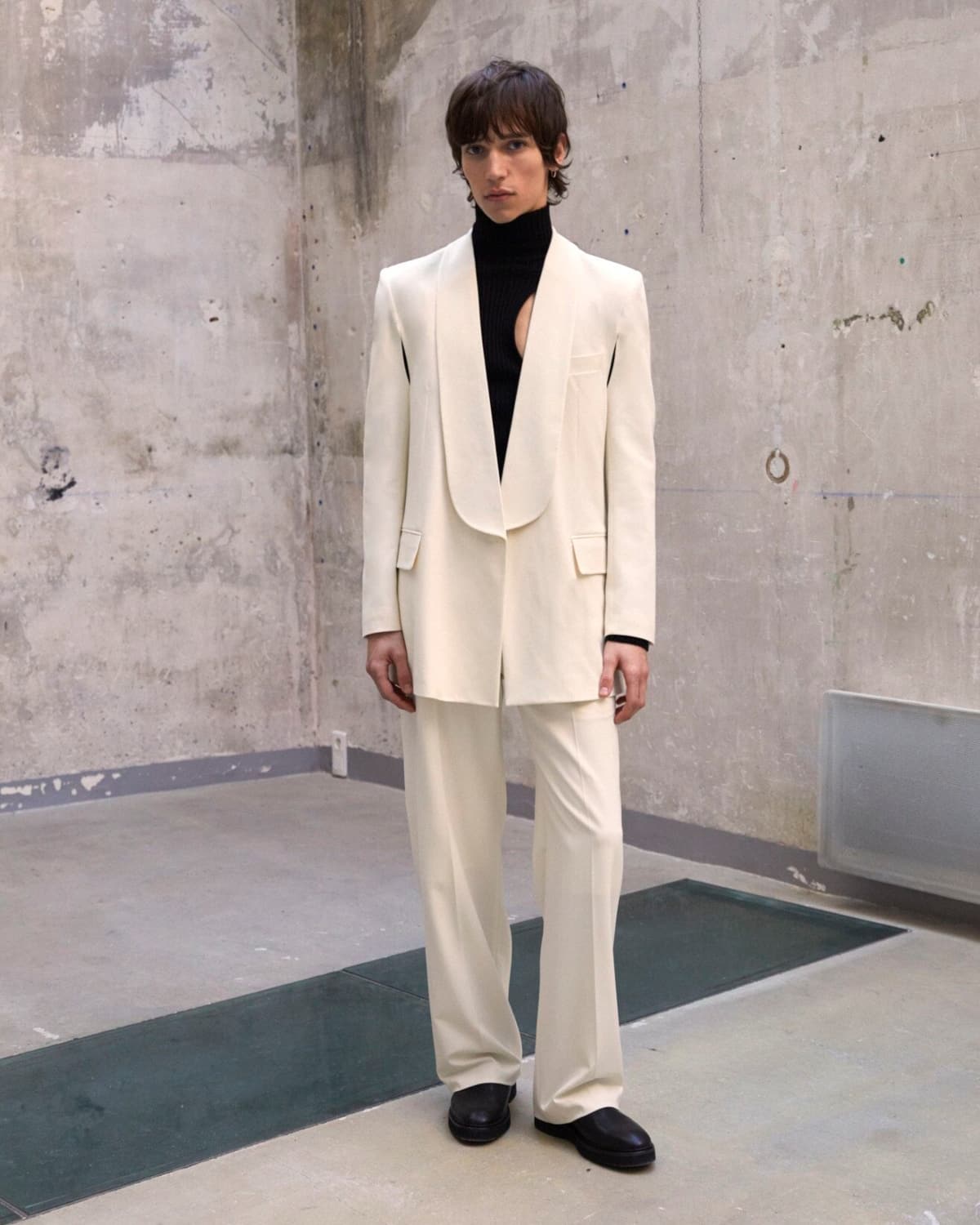 The collection portrays the course of the night, in which the maximum expression of elegance is progressively transformed into fun, chaos and euphoria. In which of all these phases is Carlota Barrera nowadays?
I'm still at the beginning, I've just arrived with my polished tuxedo! Starting a project this big means I have to be in control of a whole lot of things and it's hard to let go sometimes. But little by little we're finding the balance of getting the grip and letting things roll naturally.
Many of the looks that make up the collection, such as your characteristic high-rise pants and cut-outs, are complemented by the iconic Nike Blazer of the seventies. How did this teamwork with Nike come about? How has this collaboration helped you define the proposal?
It was a really enjoyable collaboration. We got along well from the very beginning and it was easy to define the proposal. The seventies are one of my biggest inspirations and every collection has a bit of that decade reflected in it, so the iconic Blazer and this collection was a match made in heaven! It's a great opportunity to have such a renown brand supporting us and I couldn't be happier about the result.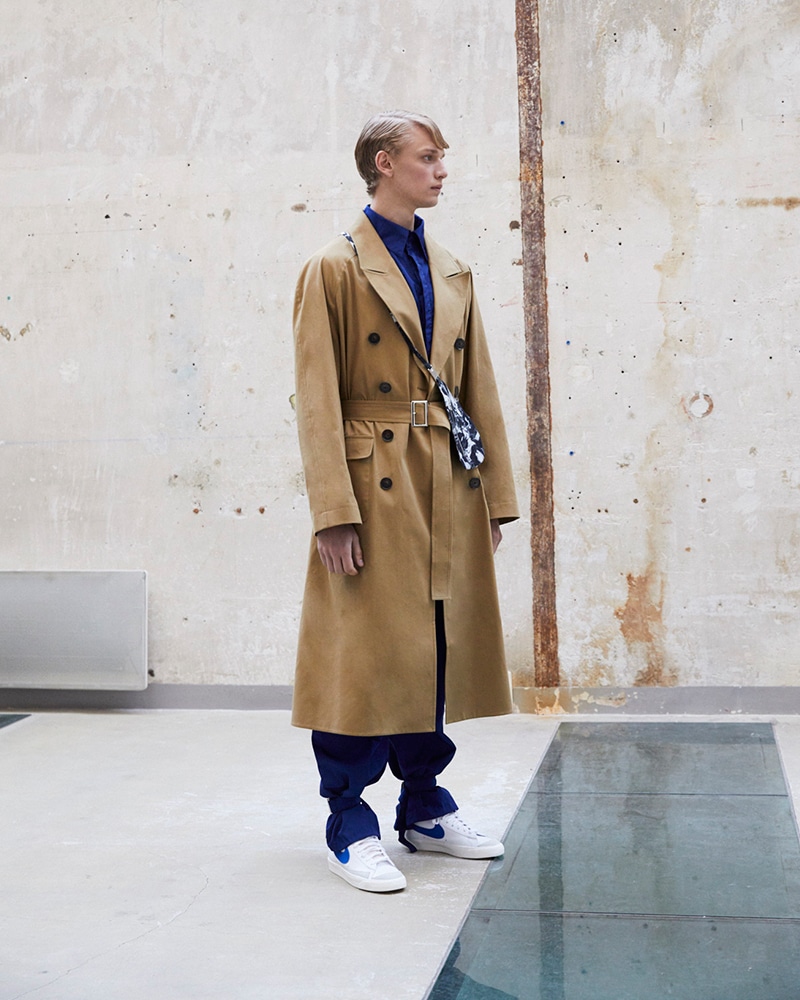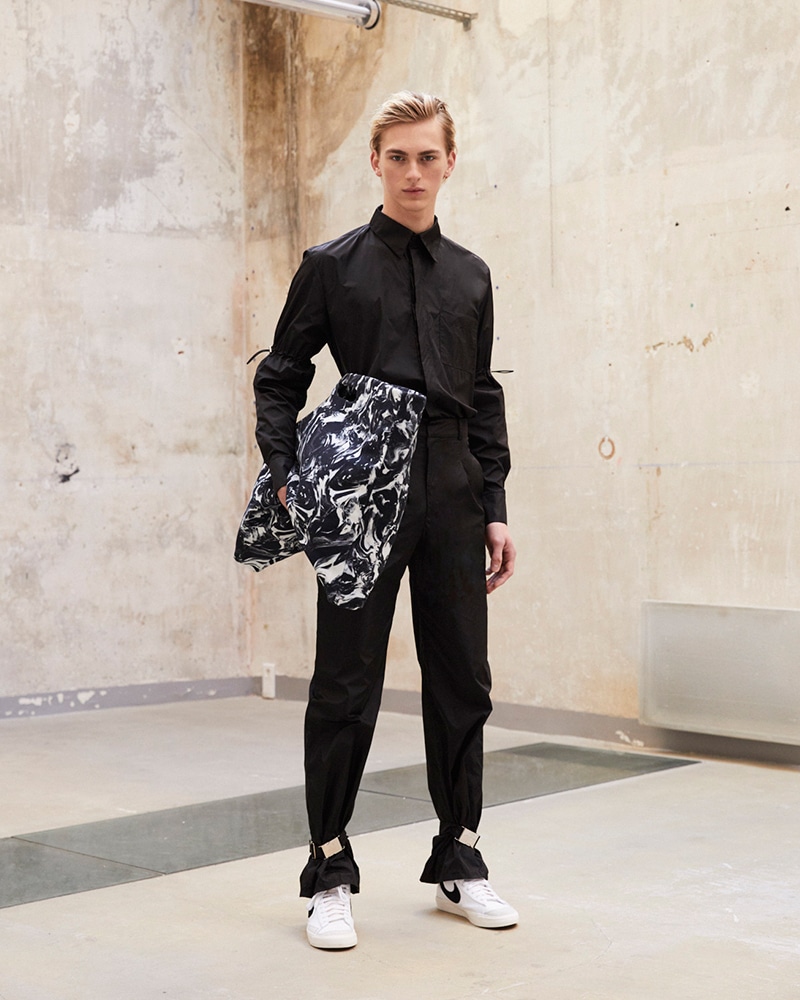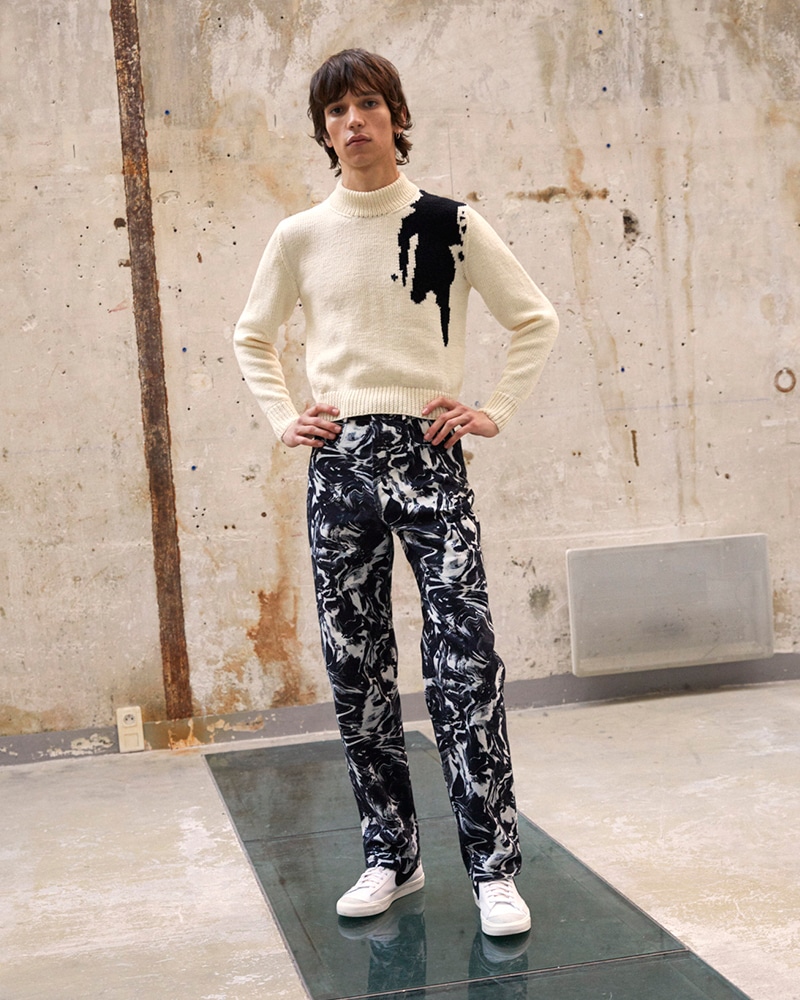 Your presentations are characterized by being unique and different: static, parades in motion, integrated with the public … On this occasion, you bet on an industrial space free of decorative elements as the venue for a parade defined by dynamism. Why have you opted for this space, located in the neighborhood of Le Marais?
We were looking for a space that reflected the flamboyance but also decadence that our collection was inspired in. The space had this charming entrance with plaster mouldings on a beautiful archway, but inside there was a contrast with the industrial set and chipped paint on the walls. It just seemed like the perfect place.
Italian wool blends with technical fabrics, in a collection that preserves the most recognizable codes of the brand and in which the pieces of leather recovered from vintage pieces stand out. How was the process of creating this latest collection?
We started with a deep research of the 20's era: how they dressed, how they behaved, what they were and what they wanted to be, and then we did the same with our current era; what we want, what we wear and what we do. So we picked up interesting details from the 20's and we brought them to our new 20's, making them contemporary and functional, but without losing that classic element or formality and allure. For instance, we translated the classical sleeve garters into a gathered detail with elastics and metal cord locks on a nylon shirt. it was really fun to bring all those elements into a contemporary world.
Leather is a great material but the production processes are not very sustainable, so we bought vintage leather garments, we unpicked the pieces, we cleaned, treated and hydrated the leather and we played a bit of Tetris placing our own garment patterns onto those pieces to create the new ones. It was a very long process, each garment took about 3 days to produce. It's probably the most artisanal part of the collection.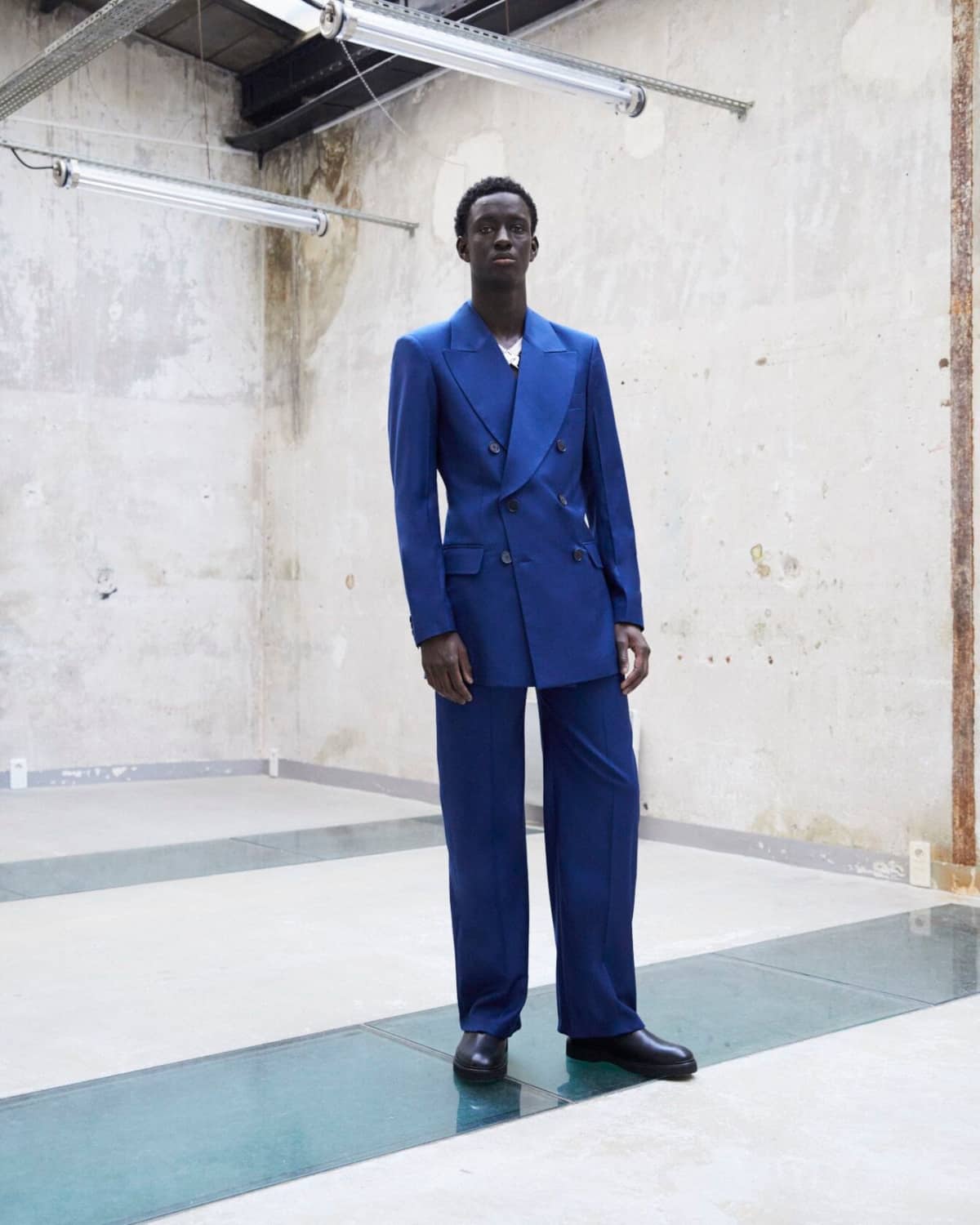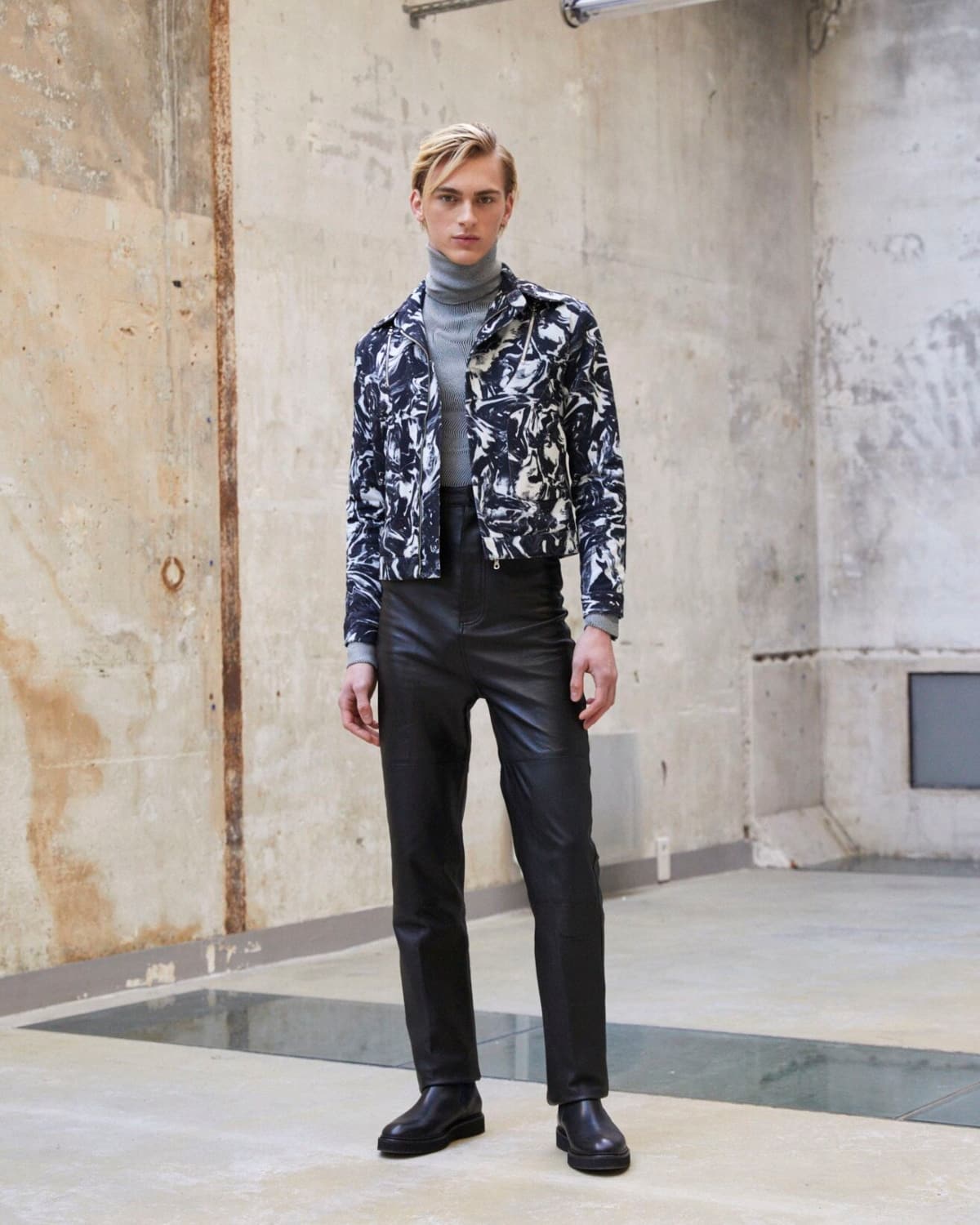 Craft, tradition and sustainability have been very present in your brand the beginning. How do you conceive the future of fashion? Where should the sector head for, in a situation marked by the environmental and climate crisis?
The issue, in my opinion, is to produce less and better. With quality materials, not only durable but that also that gain character and beauty over time, and production processes focused on quality. That is only achievable with smaller, manageable quantities and great attention to detail, and trying to improve each process so that it has the minimum possible negative impact on the planet.
You are not the only Spanish designer who bets on the French capital in this edition; Alejandro Palomo (Palomo Spain) and Oteyza, two other great national promises, have also decided to move their parades. Why did you choose Paris?
Paris is such a beautiful city and it is full of life during Fashion Week. It has always been a key city in our industry and there is a lot happening, so we wanted to be part of all of that. It was an incredible experience, we worked with a fantastic team and I couldn't have asked for anything better.
Just a few months ago, you confessed to be living the dream you always pursued: having your own brand and bringing Spanish fashion to the international scene. Now, you go one step further by presenting in Paris. What is your next challenge?
The next step is always the same, to make high quality and beautiful collections and to be able to show them in the way that we want to, seeing that people want to have those garments in their wardrobes and their lives. And also to always enjoy the process. That's the biggest goal.
More contents about Carlota Barrera at Fuckingyoung.es