Japanese label Auralee just unveiled their Spring/Summer 2022 collection during Paris Fashion Week. Founded by Ryota Iwai in 2015, we caught up with the designer behind the brand to find out more about this season's collection, concepts, and what we can expect for spring.
Last season you had a runway show in Tokyo on the official Paris Fashion Week calendar, and this season you to a turn for a fashion film. Can you tell us a bit about the filmmaker?
We worked with a very talented young filmmaker, UMMMI. Most of her work that we were familiar with before collaborating, has been her original short films and some commercial projects. We felt that her voice and eye would be able to capture our work in an interesting but natural way. For anyone in Tokyo, she is currently exhibiting her work as a selected artist at the Shiseido Gallery in Ginza.
What themes are explored in the film?
All of our collections explore and pursue a common goal for the brand, to create honest, elegant, well-crafted garments that bring the best out of our original fabrications. Our previous Autumn Winter season, envisioned our collection being worn in the comforts of the indoors, subdued, quiet, relaxed, and healing. With it being the Spring and Summer season, we wanted to contrast that and channel in the vibrant energy of these warmer months, so it was important for us to capture this on location and incorporate the vitality and serenity of the outdoors with the film.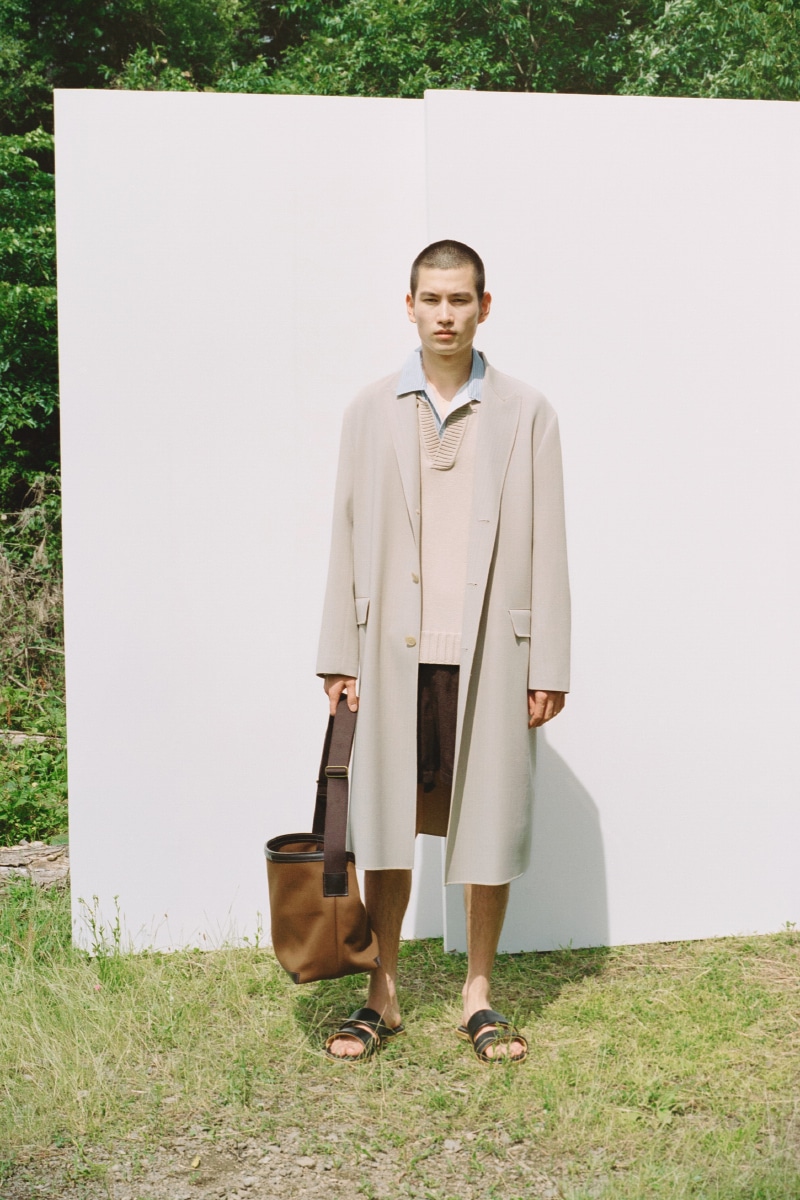 I think many of us are wanting a return to nature. What is your current mood?
Currently, we have just gone live with our digital presentation, so as of right now I am feeling relieved. Of course, I have my mind still on the next collection as well.
As far as inspiration, to be honest in preparing the collection I was binge-watching the HBO series "We are who we are," and I think it played a part in inspiring the mood of the presentation, that youthful but sophisticated, natural energy.
We talked about the exploration of the film, now can you expand on the craftsmanship of the collection?
As we develop all-new original fabrics for each season, every season always brings upon the opportunity to explore new techniques. A few standouts from this particular season that come to mind, are the hand-crocheted knits, individually dyed white baby cashmere herringbone jackets, and the hand-sewn wool and cotton pieces. This season we also worked with a bespoke expert on creating, from the ground, our interpretation on footwear, two shapes: a sandal and slipper, bridging traditional technique with a modern aesthetic.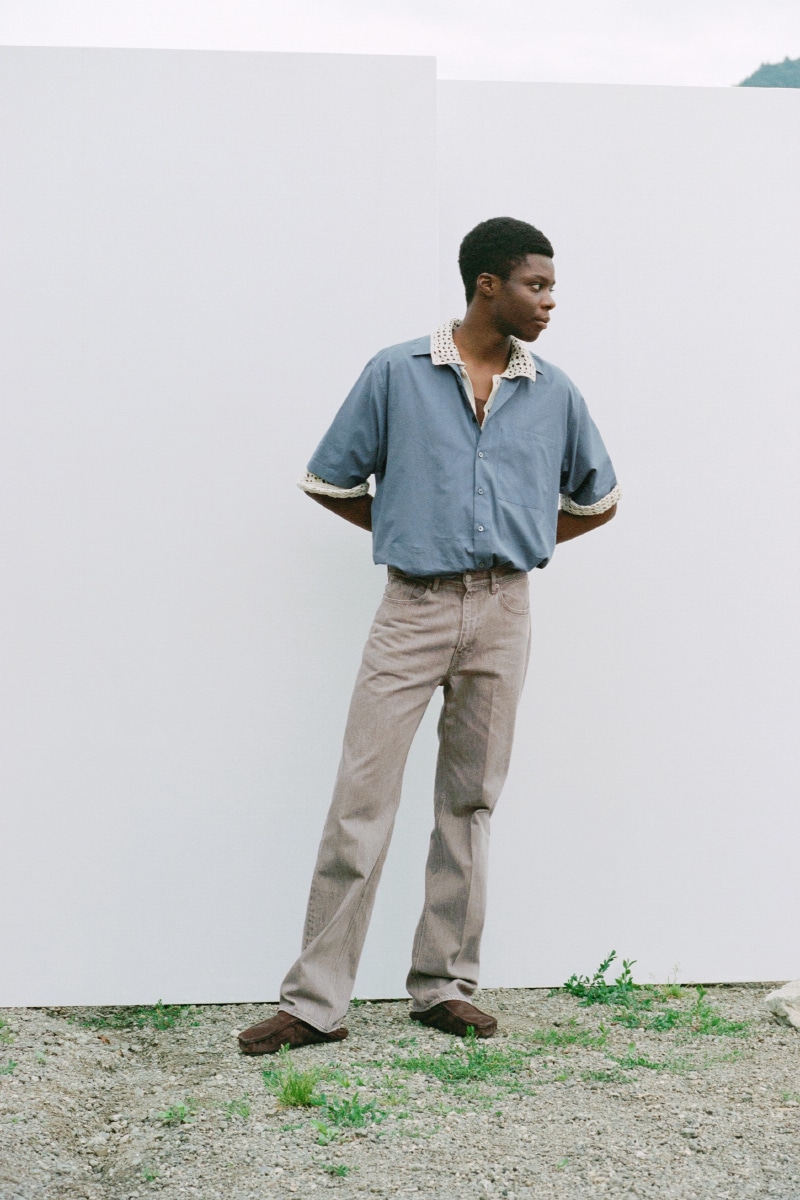 How has the brand embraced sustainability?
For us the first step was awareness, recognizing that as members of the garment industry we have to play our part however we can in addressing our current circumstances and hopefully bringing about a positive change.  Whether it shifts in our responsibilities as producers or the purchasing habits of the consumers, I think being conscious and doing what you can is paramount. From the start of the brand, we have always strived with our collections to create timeless, clothing meant to be enjoyed and cared for a lifetime, with all garments from socks to coats being treated with the same amount of care and attention to detail. I can feel a move away from wasteful tendencies: quick turnaround and cutting corners, to valuing longevity in what we chose to invest in. In being able to develop our fabrications, from the material research stage on, we also are lucky enough to be able to be in control and also have visibility on our production process.  Natural materials have always been my preference, however, in recent seasons it has been very interesting to work more with and explore the boundaries of organic and recycled materials as well as processing and dyeing methods with the least possible environmental footprint. Beyond ourselves, we want to do our best as well to support everyone involved in our production process, from the herding of the raw materials, to traditional techniques in sewing, we hope to be able to give back and ensure that these time tested methods and honest approach to clothing can continue.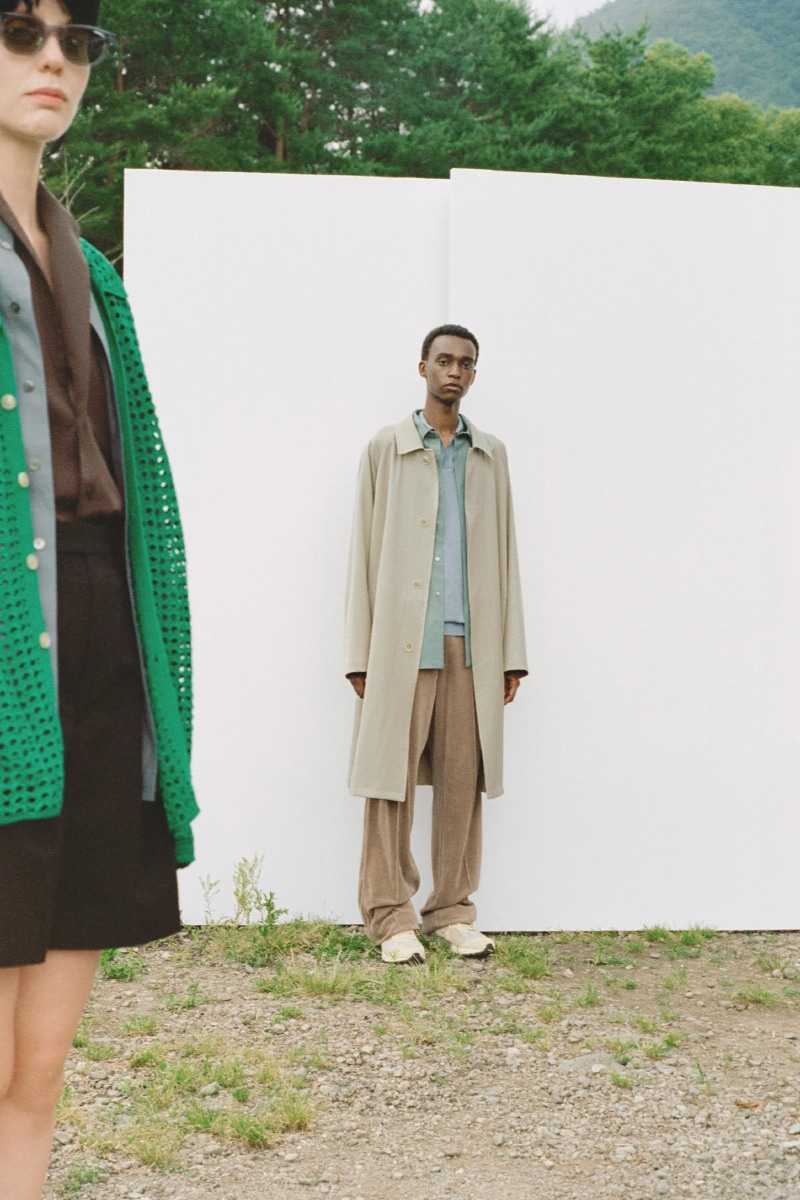 How does it feel to be presenting in Paris while physically not here?
Given the circumstances and travel restrictions we are all going through, we feel extremely blessed to be able to participate in any form. We have found that presenting our work through this new format, has brought along some very interesting challenges and opportunities, that we otherwise wouldn't have the chance to experience. Being able to show the collection in ways that are not limited to a physical space, such as this season. We also have had the opportunity to collaborate with some truly talented and wonderful creatives from the film world through this digital format. As a small independent brand, we feel that the digital platform has also been able to allow us to share our work on a wider scale and to a larger audience, not limited to the seats available in a physical show space. That said, we of course we would love to be able to show physically, and are sincerely looking forward to being able to travel again and for people to be able to see and feel the garments in person.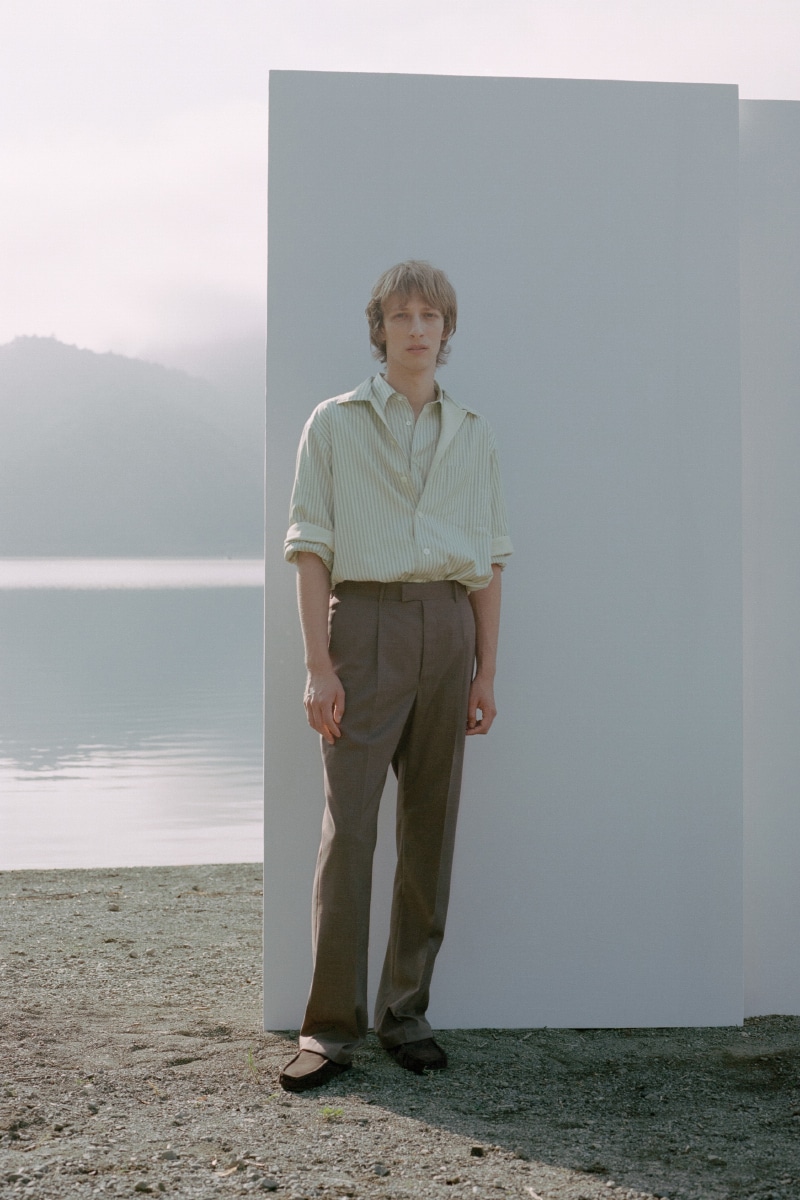 What music did you listen to while working on this collection?
One song in particular that comes to mind is Suicide's " Dream baby dream."
And finally, what are you currently most excited for?
I always bring it up but I love going to hot springs and saunas, so I am most excited about that. Also as travel begins to open again, I am excited to be able to travel abroad. Before the pandemic, as much as possible I would visit our producers and see how our materials are harvested, our Cashmere from Mongolia, wool from New Zealand, or Alpaca from Peru. These trips were always very inspirational, especially seeing the real context and the hard work that goes into these vital steps allowed me to contextualize our role.
Take a look at the rest of the collection below: