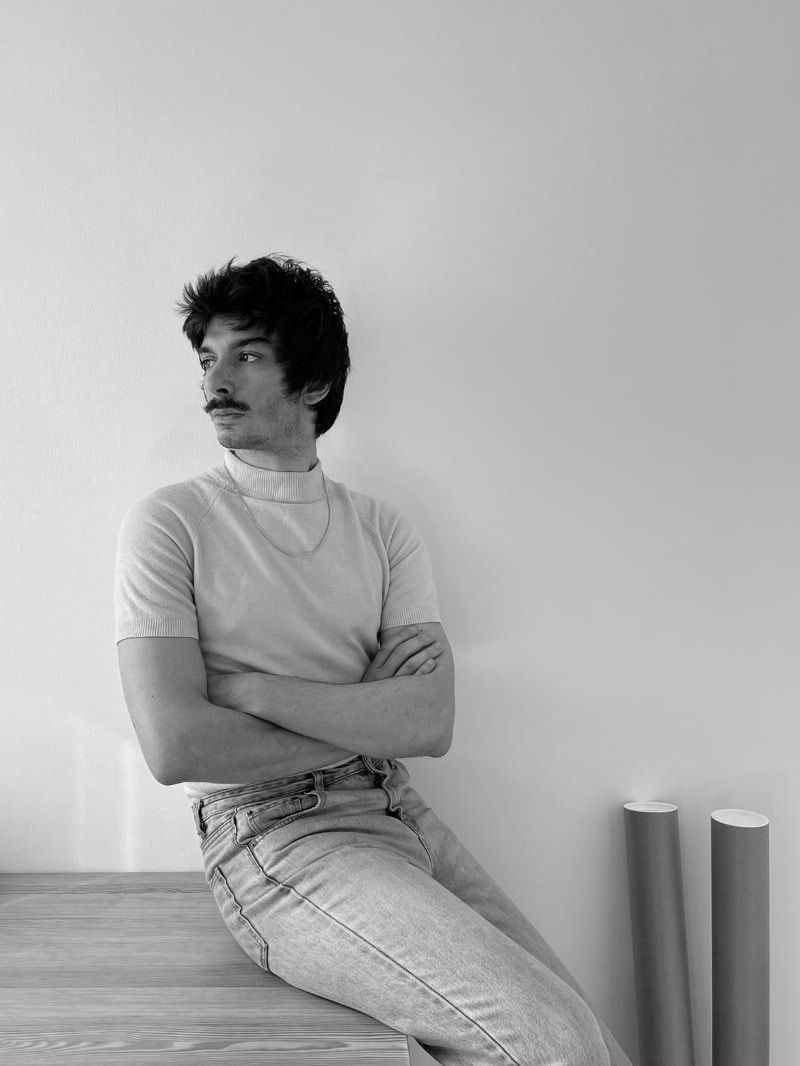 ANTONIO MARCIAL was born in the Summer of 2020, during the Covid 19 pandemic and during confinement. This was the moment when Antonio lays the foundations, the basic concepts and the philosophy of his brand.
Now he presents his new collection during 080 Barcelona Fashion. We had the change to talk with him about art, genderless fashion, and the pros and cons of showing on a digital format. Here's what he told us:
Tell us a bit about you. Who are you, where do you come from?
My name is Antonio, I am 27 years old and I am from Talavera de la Reina, Toledo. I was always that creative boy, who liked to draw, with an interest in art and fashion and as soon as I turned 18 I went to Madrid to study Fine Arts. After finishing my studies I realized that what I really wanted to do was work in fashion, so I went to London to do a Masters in Fashion Design at the University of the Arts London. After that, I returned to Spain and I was working with Santiago Bandrés until the Covid 19 pandemic arrived. It was during confinement, when the world stopped, when I sat down with myself and created ANTONIO MARCIAL. Since then I have been working in my firm, designing, creating, and taking it step by step forward, creating my own brand.
How is the fact of having studied Fine Arts reflected in your work as a fashion designer?
Having studied Fine Arts has helped me to know how to translate a concept into a plastic medium, fashion in this case. Thanks to this background I know how to transfer an idea, inspiration, or story to a garment through the pattern, the color palette, the tailoring … Fine Arts have also given me a broad knowledge of the art world from what I find in the painting and drawing, in particular, two of my greatest sources of inspiration when building a concept or the aesthetics of a specific collection or garment.
Tell us about the collection you present at 080 Barcelona Fashion.
The collection that I present at 080 Barcelona, Fresh and Bloody, is a genderless fashion collection that talks about gender, gender codes in fashion, and about illness, pain and wounds in an optimistic and renewing way. The collection is inclusive and for anyone who feels identified with the philosophy of the firm. For all those who feel comfortable in the space that this collection creates and for those who want to explore the limits of the gender. The collection also talks about accepting the pain of the emotional and physical wounds that we all have, facing it, and beginning to heal without feeling ashamed of these wounds and these scars. In the collection, I talk about finding beauty in a wounded body in every sense of the word.
Is there beauty in pain and scars?
Yes, of course. A wounded or scarred body is no less beautiful. Wounds are something we all carry with us. Whether they are physical or emotional, they are seen or not, we all wear a scar that hurts and sometimes these wounds are associated with feelings of shame or weakness. I do not consider any of these things. From an autobiographical point of view, I speak of leaving behind these conceptions of wounds and pain and accepting it, sharing it and showing it, breaking the stigma of wounds, and accepting that having them means nothing more than being human.
How important is genderless? Do you think it is the future of fashion?
For me, genderless fashion is the future of fashion. Today the gender is very deconstructed, although there is still a long way to go, society already accepts other realities beyond traditional masculinity or femininity. I believe that fashion is both a reflection and a vehicle for this social change. I think fashion reflects this evolution of the concept of gender and echoes it. I believe that fashion, as a means of expression, contributes to this evolution of gender roles and helps to make visible those people who are between both genders. Through silhouettes, colors, and materials the conception of the masculine and feminine is changing and we are accepting that there are no women's or men's clothing, but fashion.
How is sustainability present in your collection?
I try to produce fashion in a sustainable way. From materials to production I try to generate the least possible impact. I work with suppliers who have materials from past collections, cotton materials, linen. It is a difficult undertaking, but it can be done.
We are already getting used to digital fashion weeks. What are the pros and cons of this new format?
I would say that the cons are few compared to the pros. I would say that a disadvantage would be not being able to count on the presence of the public in the fashion show, the possibility of physically bringing the collection closer to the public. However, the possibilities and advantages of presenting a collection through a fashion film are many and very diverse. Being able to work with the plans, the lighting, the space, the music, allows us to communicate and transmit the collection at levels that would not be possible in a typical fashion show. In this way, the garments are perceived in a closer, more intimate, and personal way and it is easier to build the ideal atmosphere for the collection. The details are better, the movement of the clothes, the body. Being able to work with this format I think has been an advantage and I am excited to have presented my first collection in this way.
Take a look at Antonio's Fresh and Bloody collection below: