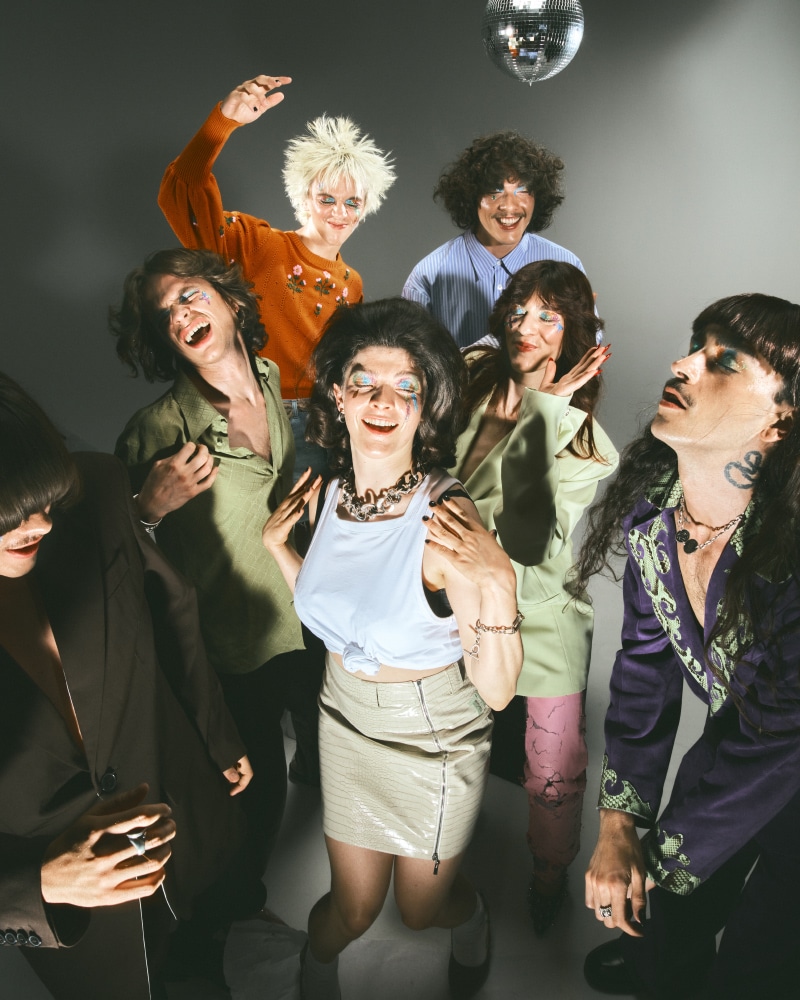 The French collective KLON presented an exclusive performance at Saint Laurent's Rive Droite Live Sessions. Playing inside the fashion house's Parisian concept store, the group spotlight their diverse style of electropop, forged on the strength of the collective. Consisting of Zoé (singer/synth), Vic (guitarist & producer), Akra (singer & bassist), Art (drummer & producer), Rory (guitarist), Nejma (manager & graphic designer) and Aurel (manager), Klon released their debut EP, Nouveau Genre, earlier this year; an eclectic mix of sounds and inspirations set to pulsing beats. Hand-picked by Saint Laurent creative director Anthony Vaccarello, here they play tracks, West, Noise and Andy.
The seven members—Aurel, Art, Zoé, Akra, Rory, Nejma, and Vic—now all live together to focus on making music. We had an exclusive conversation x Fucking Young:
Hello guys, how did you meet each other and when?
We met at a party when we were in high school, and a few days later we were already talking about forming a group.
How did you decide to found KLON and what's the meaning of the name?
In the beginning, we were making rap music and our first collective was called G-20, by changing the musical universe we naturally changed our name, we had a feeling with KLON because of its simplicity, it's the expression of our unity and it's also a critique of society that tends to become standardized while we encourage differences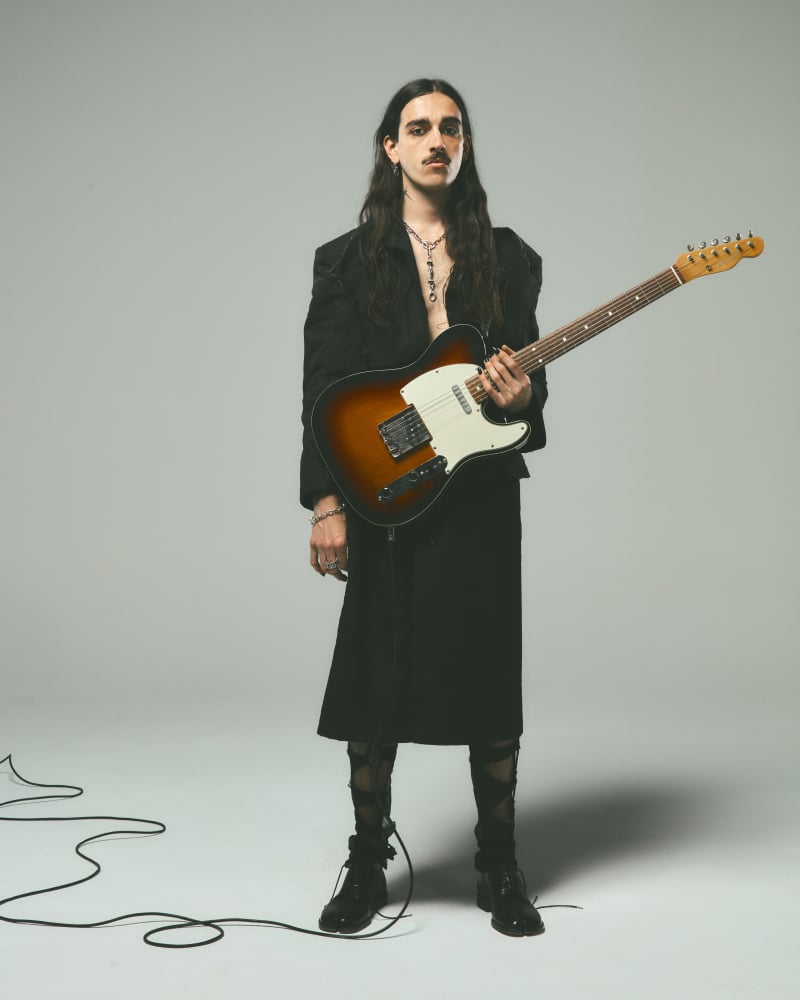 How do you find inspiration for your music and what are the main challenges to overcome for you as a band?
We find inspiration in everything that touches our hearts. Our collective way of life allowed us to create a common culture. We share movies/books and else. We listen to a lot of different styles of music going from French variety to Punk rock but also techno music, house, and rap!
Living altogether always pushes us to evolve and grow, working together AND sharing a family life demands that everyone is able to manage their ego and always try to give the best of each of us to produce our art.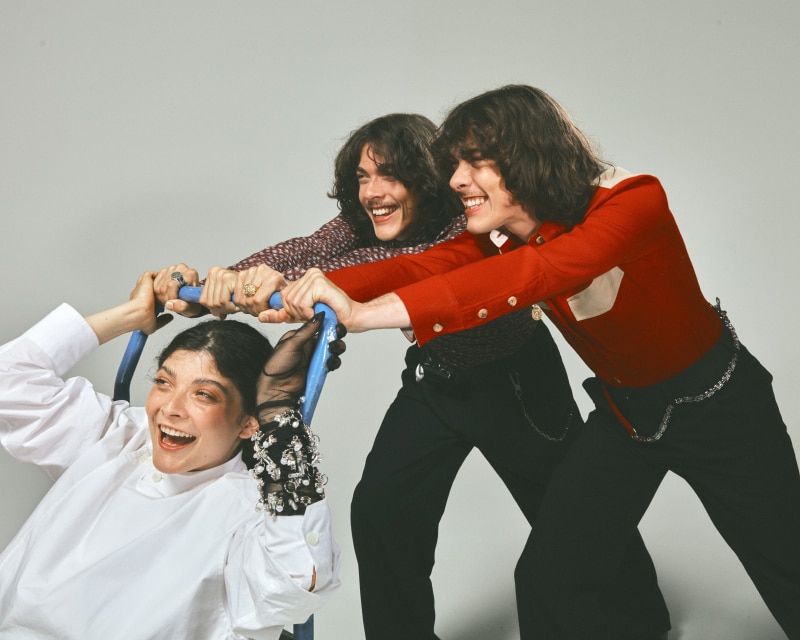 Which decades of music influenced you the most and why? Name your favorite artists/bands who inspire you constantly.
We are big fans of The Cure, in love with New Order and with all that 80's wave. The 90's house music and Hip-Hop is a real turn-on for us, we love Beastie Boys! We are also very sensitive to French touches like Cassius or Daft Punk.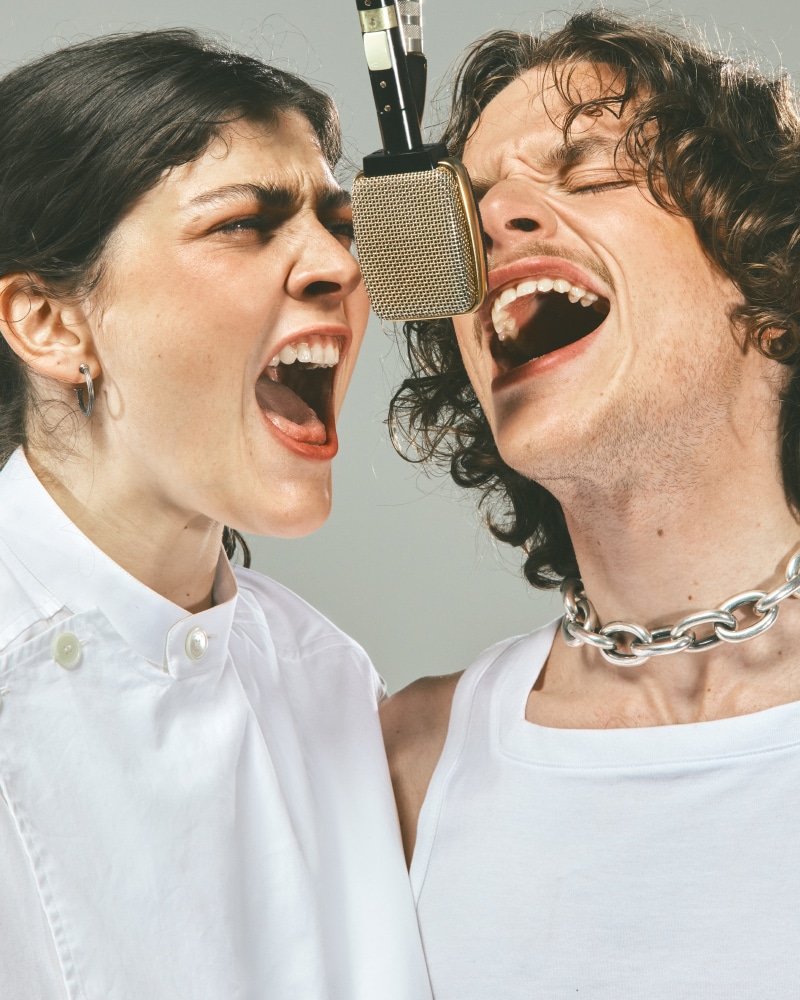 What makes your music and your band so unique?
The fusion of our seven personalities.
What do you expect from your listeners with your last album 'Nouveau Genre'? What is the message behind that you want us to understand?
We just expect from them that they join the KLON family!
Nouveau Genre means New Gender, for us it's the « Non Gender », we want to free ourselves from all the labels that society puts on us, be in total acceptance, first of oneself than of others, and glorify our differences.
To shorten it just Peace and love!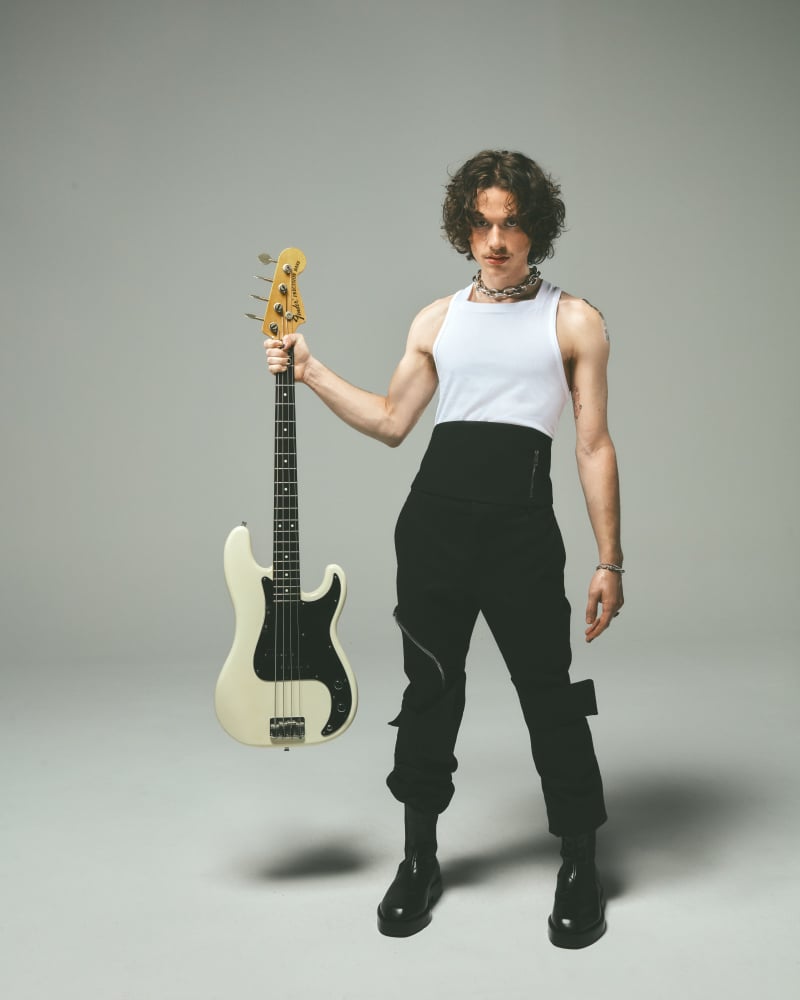 Tell us a little bit about the story behind 'Santa Barbara' song.
We composed these tracks before creating our studio in a dark old cellar, we certainly needed just sun and holidays. To push the contradiction, the irony of fate wanted to we shoot some video clips scenes on the beach in swimsuits under an icy wind with an average temperature of 10C° …
When you're not recording and performing, what other hobbies make you tick?
Smoking a lot of weed
What particular song you have written resonates with you the most?
Black Suit for his energy, we forget about all and we rush into the pogo !!!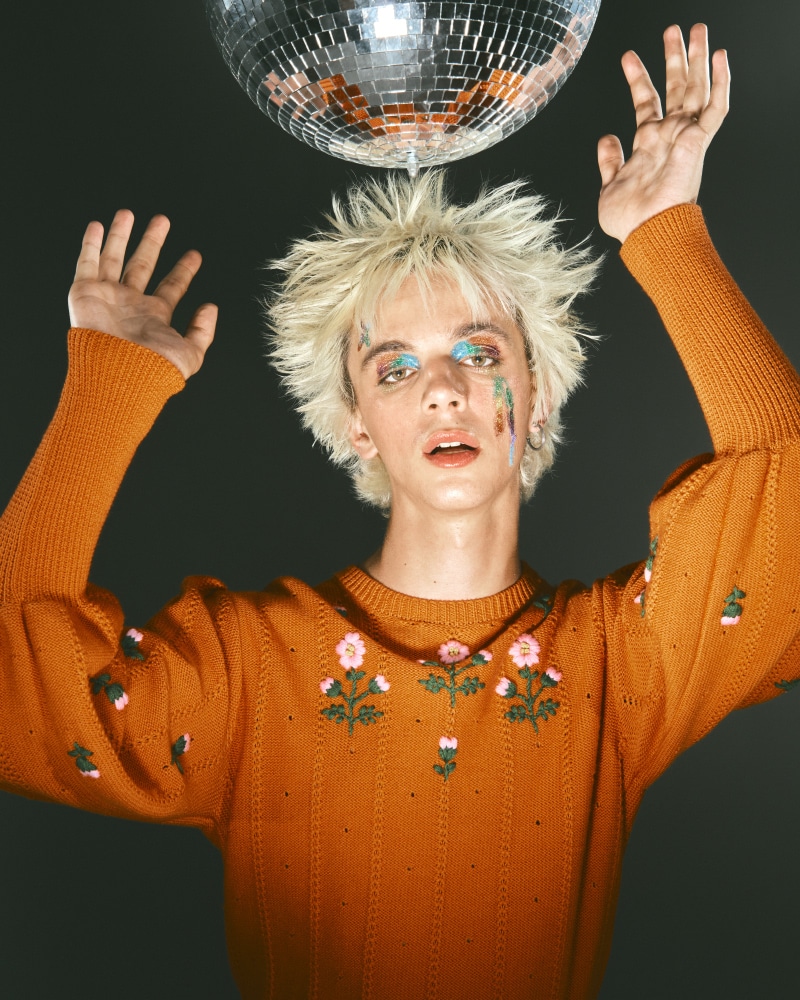 Is not easy to find synergy when a band is composed by so many musicians. How you do approach making music? What's your creative process as a band?
There was always a strong artistic fusion between us, it's not always easy but we are always looking for new ways to improve the way we work together and for everyone to find its place.
The artistic process often starts with a jam, when we have a good feeling about what we play we record it with our phones. Then we take those memos and we choose the track we want to produce. We decide the direction and mood we want for the track by sharing references and then we start producing, finding toplines and lead melodies, recording some riffs. Then we put it together and when the structure is done, then we start writing. We all write some ideas on our own, then we gather around a table, put them together, and try to find the best lyrics for the song. Then we record the voices, finish the structure, start mixing to give the color we want to our sound, then we send it off to mixing.
What would you change in the music industry, speaking about independent artists/bands?
Better remuneration for artists who, if signed in majors, receive an average 8/12% of their royalties.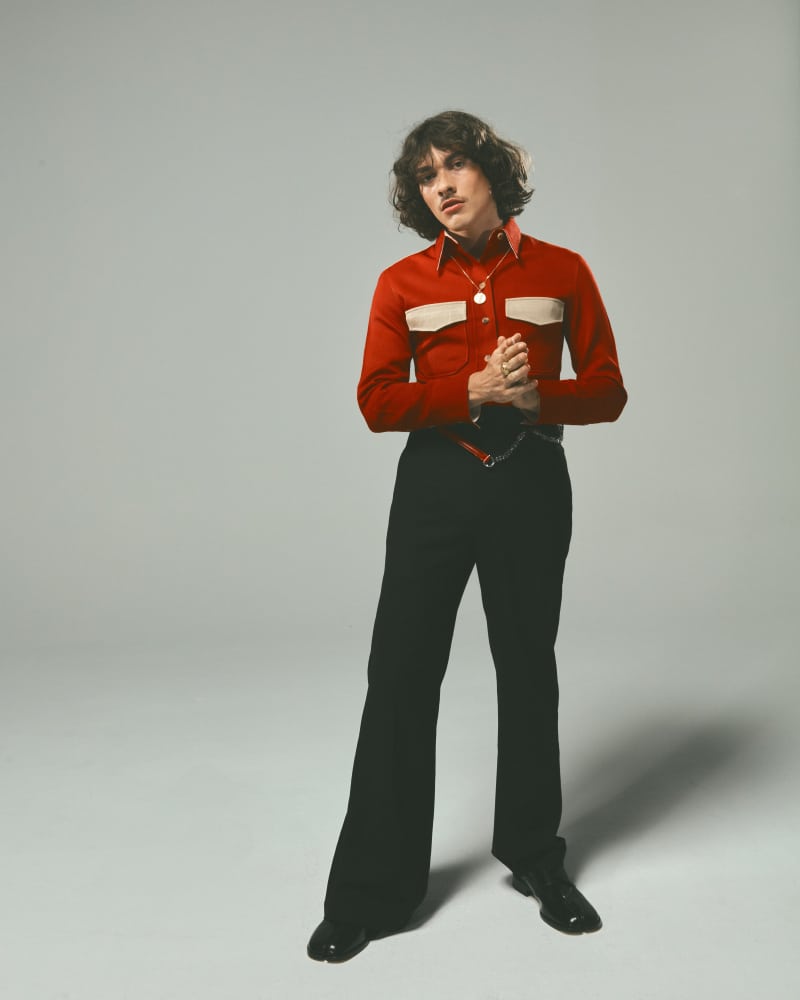 Tell us more about your collaboration with Saint Laurent (Rive Droite live session) show during Paris Fashion Week. How music can have a positive impact on the fashion industry and vice-versa?
We had already a lot of contacts in the fashion industry before this experience.
They contacted us, it was a great opportunity and it opened other doors for us.
Art inspires art, it has always been and it will always be. Fashion keeps giving music and musicians another way to express themselves and help them create the aesthetic universe which they want to give to the world.
A letter to your FUTURE self. What would you write?
Keep going bro!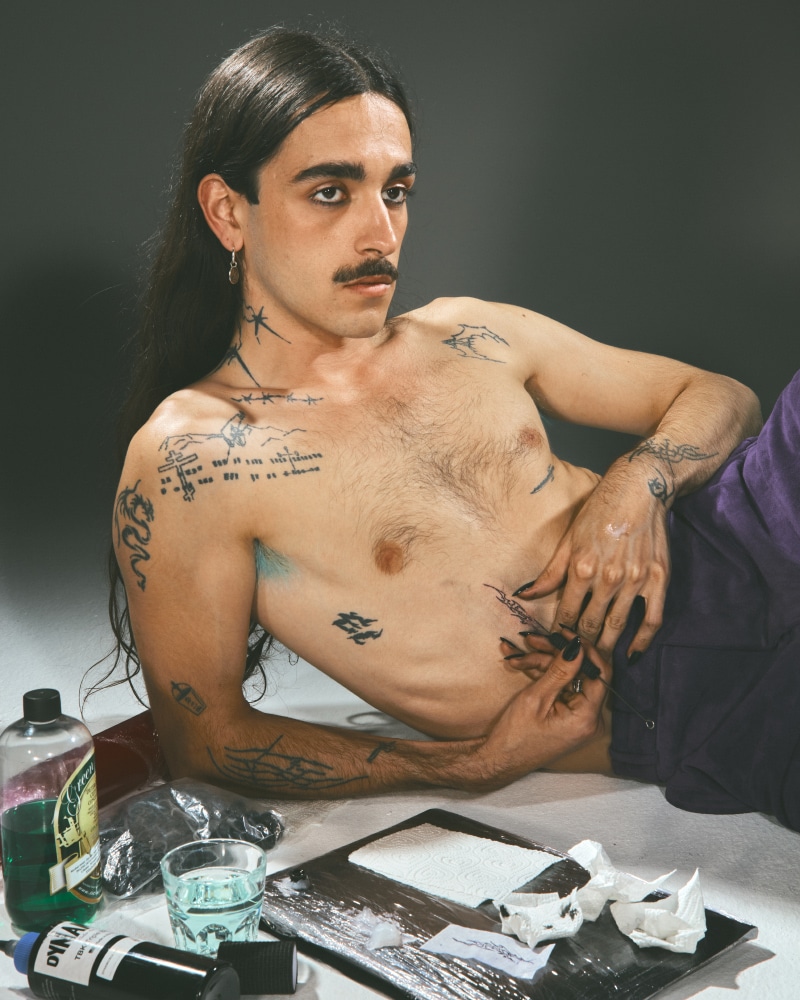 DA : @rayanmazuel
Assisted by @glorijagz
Photographer : @paulinescottodicesare
Stylist: Hugo Asensio @hugoasensio
Assisted by @aliceperraut
Vidéo : @commepapa_dansmaman
Light : @mateopicard
Makeup : @snakeyez_
Assisted by @mirambeau.ophelie & @anaiis.coss
Hair : @mihaoshima
Assisted by @yohanna_heurtault
Nails : @loradesousa
Set design : @anaisprofit
Assisted by @prudencepalle
Talent : @klonfamily
Catering : @anouck_vz
Production : @alikonno