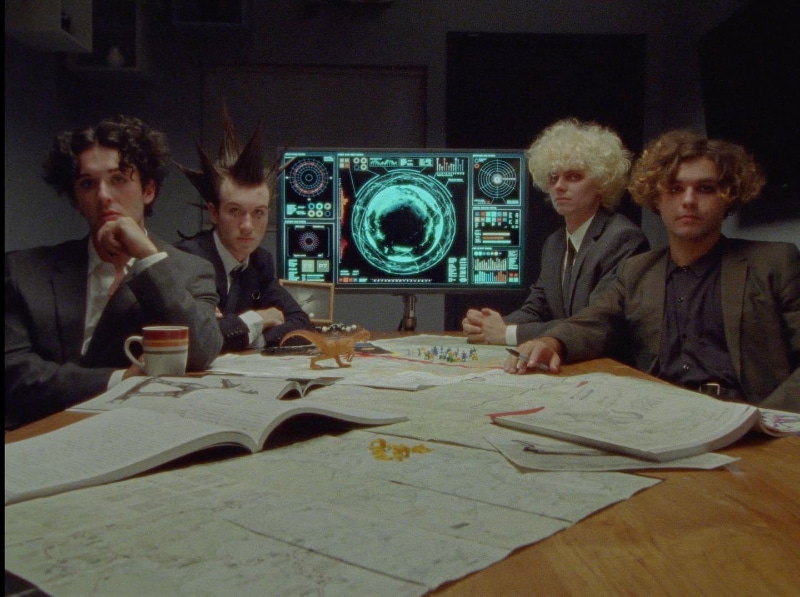 Jakob Armstrong—youngest son of Green Day frontman Billie Joe—began playing guitar at seven years old and honed his craft privately until about sixteen, playing in bands in and around Oakland after meeting friends with like-minded tastes in music. Soon enough, with the memories of Ultraman action figures fighting in his mind, he and a group of friends he cultivated from those years playing around and pouring over records, formed Ultra Q (its name inspired by an Ultraman prequel series).
The band has already had loads of attention from the likes of Rolling Stone, BBC Radio 1, SPIN, Consequence, Billboard, VICE, Kerrang!, Notion, Rock Sound, and new EP Get Yourself A Friend will be released on 19th November via Royal Mountain Records (Orville Peck, Mac Demarco, Metz, Alvvays). Not to add to the deluge of artistic clichés brought on by the Global Event Which Shall Not Be Named, but after spending more or less a year in the house, it was an opportune time to try and get your shit together, and for Jakob Armstrong—in addition to many other things like the rest of us—part of it meant fine-tuning a collection of songs first recorded in late 2019. A prolonged process leading to five of the seven songs on Get Yourself a Friend retooled into their better-than-even final form.
Get Yourself a Friend marks the synthesis of a songwriter's vision and his band's ability, forged through an invisible existential threat and an ever-changing world, eager to show what they've found while we were all inside. Listen to the EP HERE!
First single 'Bowman' is about romanticizing online relationships and the way in which Jakob grew up more connected to technology than people. The name of the song is in reference to the character David Bowman from 2001 Space Odyssey. The song was finished off by PUP's Stefan Bacock. It also comes with a Wes Anderson-style video that stars actor and model Noah Urrea. 'Handheld' is another track written some time ago that sounds like it could be heard in the early Noughties indie era. It comes with a 90s style tour video that you would have seen in the golden age of MTV. It's short, frantic, and a perfect example of what Ultra Q do best.
They shared few weeks ago the new single 'It's Permanent' which is one of the most memorable tracks from the EP. What started as a demo became a stand-out, with its infectious bass and singer Jakob Armstrong's drawn-out vocals. It comes with a distorted visualizer made by Armstrong and mixes old live footage with film The Decline Of Western Civilisation.
Get Yourself a Friend in a few words…
Angular, naive, post-punk, farewell to youth.
How did you meet each other and how Ultra Q was born?
Ultra Q was born when Chris, Enzo, and I met in school when were about 6 or 7 years old. We met through our after-school music program and bonded over an interest in similar music. Later on, in high school, Kevin joined the band on bass and we've been playing together ever since.
What was the meaning of the band name?
I used to be into this TV series called Ultraman as a kid and loved the action figures. When we were thinking of band names, Enzo and I started feeling nostalgic for that show again and discovered that there was a prequel series called Ultra Q. We thought it would be a nice homage to some of our childhood interests.
How did you find music? Did you grow up in a musical household, or are you first generation?
I definitely grew up in a musical household but I never really wanted to make anything. Once I discovered The Strokes in middle school, I fell in love with guitar music. I just wanted to make songs like that. It slowly festered into an obsession and I haven't been able to find anything that I love more than music.
Which decades of music influenced you and why? Tell us that favorite artist/band who inspires you constantly.
As I said, The Strokes were the first band that I fell in love with. Eventually, though in high school, I discovered The Cure and they completely blew my mind. I just love the variety of their catalog and the range of songwriting. I think these two bands are what drew me towards the 80's – early 2000's era of guitar music that I love.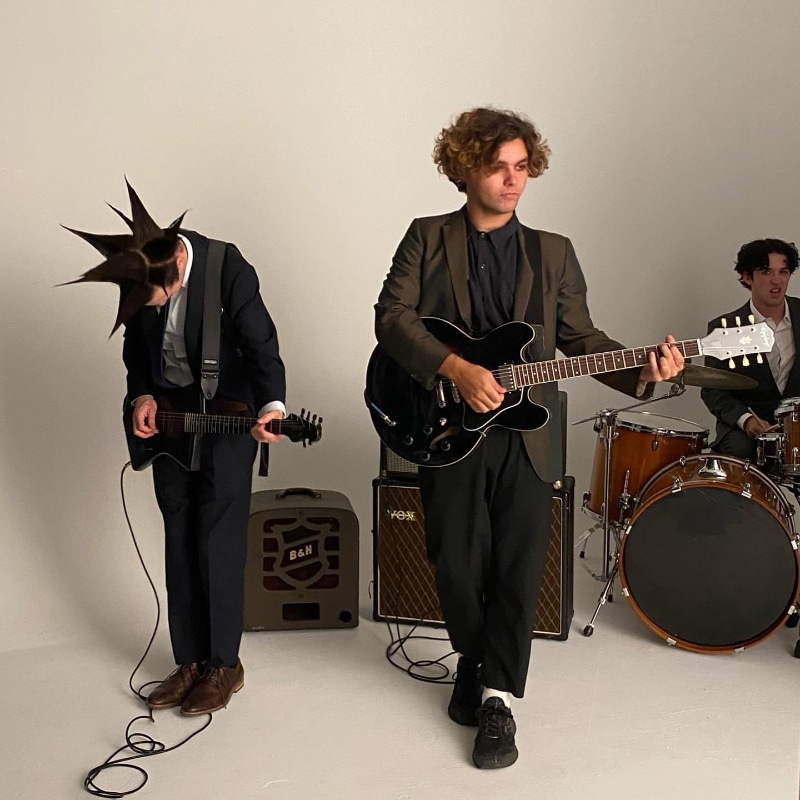 What makes 'Get yourself a friend' so unique? What do you expect from your listeners with this release?
I think Get Yourself a Friend is unique just in the fact that we made it. We wear our influences on our sleeve, and I hope that it comes through, but I also think a lot of our personality and taste come through in the playing.
When you're not recording and performing, what other hobbies make you tick?
Right now, I'm really into video synthesizers. Essentially it's just a little box with a bunch of knobs that you use to create effects with a CRT TV. It works in a similar way as a normal musical synthesizer but it's really fun to see the changes take place on the TV. Great for videos.
What particular song you have written resonates with you the most and why?
My favorite track on the EP is It's Permanent. I just really like the nonsensical nature of the song and the cinematic vibe that we created. It was the first time we were really able to pull off a track like that.
How you do approach the creative process of making music together?
Our creative process is really cyclical. It sort of comes in waves and changes all the time based on our interests. In a way, it's very predictable when the "window of opportunity" is open for us, but at the same time we never really know what's gonna come out of the moment. Both exciting, and annoying.
What do you think is the biggest challenge for independent rock bands nowadays? How would you change the toxic system in order to improve more music industry?
I think nowadays, you need to be more than just a band with good songs. It's not enough anymore. There's so much music being released all the time, and it's so extremely difficult to hold the attention of people. You have to know how to market your music / use social media effectively on top of all of the actual things that are music-related. I honestly don't know how to change things to be better.
What is the last song listened from your playlist today?
The last song I listened to was, "Old, New Bycicle" by Helvetia.
Imagine that you must write a letter to your FUTURE SELF. What would you write?
I would just tell him to keep writing music, and trust/love your friends. Know that you'll be ok if you focus on those things.