French electronic musician Lewis OfMan recently released a new EP "Dancy Party" and teamed up with fragrance brand Diptyque to create an exclusive track for their latest perfume Orphéon. Prolific, OfMan is also a producer, working with some of the hottest French acts as well as for Irish rapper Rejjie Snow. Currently finishing his first album, coming out later this year, here is our conversation with this cool kid becoming one of the most promising electronic artists of our generation.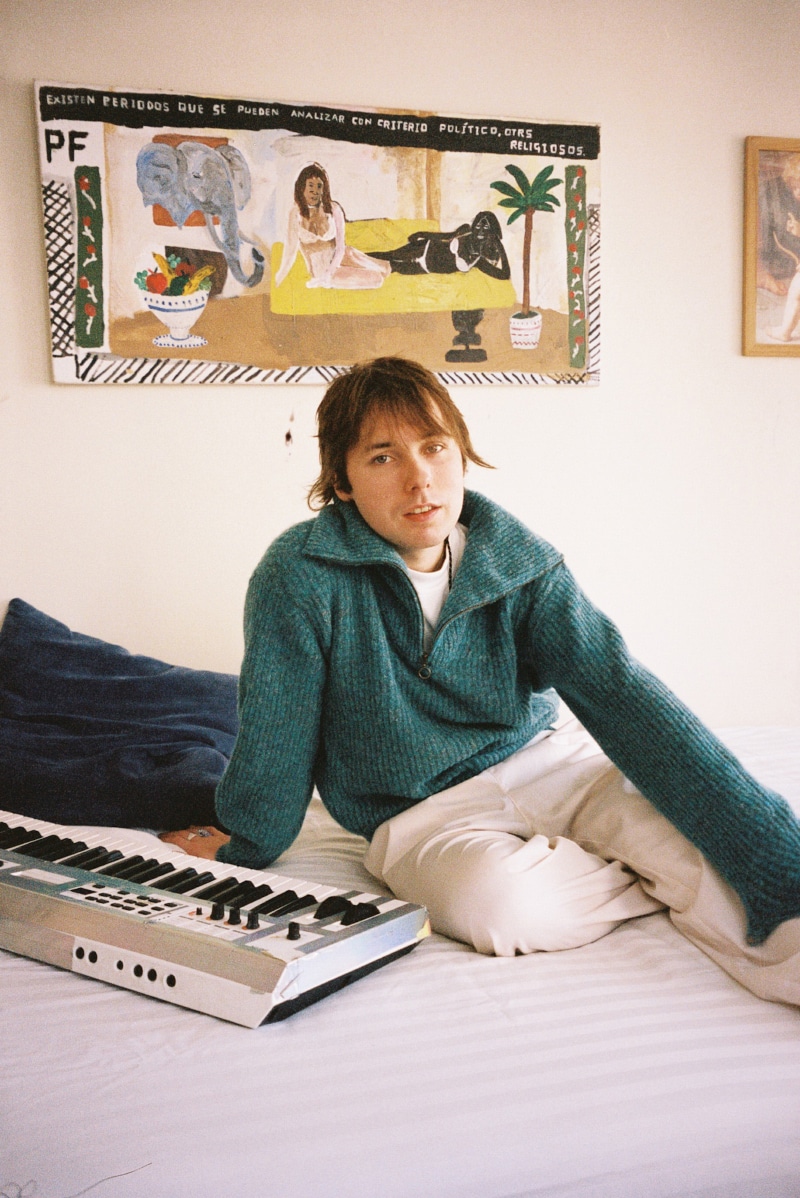 You produced a lot for others as well, are there any differences when you produced your music?
Yes, because when you work with other people you have somebody with you telling you he/she doesn't like this sound or idea, so the choices are way faster, you are less afraid of everything, fewer doubts, so you feel more comfortable in the process. Although when you are alone my friend, you do not have any fresh ideas coming from another human, it is all from you, just you, with all your interrogations, so to finish a song is way more complicated because nobody in the process except you can know when it's done, and we all know it can hard to trust yourself.
I feel that producing or collaborating with others Is something spontaneous and natural am I right?
It depends. When you are in a room with someone, there is a vibe, and the goal is to have a good one and to maintain it, in order to be spontaneous and natural, you have to eliminate shyness and create an environment that allows oneself to be confident enough to try things and ideas. A session that follows these rules can give access to some crazy shit because it's the freedom of working alone combined with the brain of someone else. On the other way, there is nothing worse than not feeling you can try things and you see bad ideas getting executed and no one happy
You recently worked on a soundtrack with Diptyque for the launch of their latest perfume Orphéon "A Scent in a song". How was the process of making this collaboration?
Really cool because they gave me really cool references, the nightlife of the late '50s, the beginning of jazz but also the arrival of South American genre like the tango, the mambo, rumba, samba… in my head I was trying to reproduce the sound of a club that would be hype as fuck because it would be the only place to give access to all these new genres of music arriving in France, mixed to my style. Imagine, to create a club song but from the late '50s, that is exciting!
You said that the smell "Feu de Bois" of Diptyque has been your dad's candle in his working space. Do you have any favorite smells? Are you a candle guy?
I'm not particularly a candle guy but I am definitely a scent guy, I love smelling things and the perfume of someone or something can make me very emotional. Actually, I wanted to be a perfume creator back in the days, but it was too many mathematical studies, I don't like theory, I just want to try things, to fucked up, and then understand why. To get back to the smell subject, I am in love with anything that smells like figs, for me, this is the most poetical and beautiful smell, it takes me back to my summer in the south, the romanticism of the sun
This perfume, made with Olivier Pescheux, is a tribute to Parisian Nightlife. How do you feel right now as there's no more real nightlife?
I don't really care honestly, I would even say it gives more challenge and poetry to it. Of course, it is not good and even polemical because of Covid but hey I bet that everyone that reads this article went to illegal parties during these times, I mean the title is Fucking Young! right ? so yeah to end up in some crazy parties nowadays makes you feel like you are finally alive again, you just enjoy it more because you know how much you need it, how much its funky to discover these new people, these new apartments, these secret gardens you would have never imagined in the middle of this city, parties became an adventure and I like that. Beware of nightlife vampire though, these people are more dangerous these days because parties are more intimate, they will take you to a corner and enter in your mind by making you feel like your life is a mistake and they are the solution if you see one just run away or kiss your lover on the neck
There's no real nightlife but your latest EP "Dancy Party" is full of dancing tracks. It was essential to release songs that may keep people dancing even if clubs are closed and there are no more parties?
I would also humbly say it can make your travel, but yes I felt it was a good moment to release songs that just makes you escape the greyness and randomness of lockdown days. That allows you to dream about love and things, you know it can turn these boring times into a romantic wait. I was on the train the other day, someone recognized me and told me my EP saved her during the last lockdown, I was really touched.
You said on Instagram that for the first time, you feel complete with the illustrations of your music. What were the main things that made you feel good and optimistic right now?
Now I feel a little bit less like that, I would better say in all my releases this one is making me feel the most complete, I still have to work on these illustrations of my music, time will make it come I guess. But these days I feel good because the album is finally finished, after two years of work and explorations, I am done, I have to mix though, I guess it will take two months and then all the promotion cycle and strategy thing that I sweetly hate.
Your song "Las Banistas" is for me an escapism track. Traveling and exploring new sounds and cultures are important facts for you, in your creativity?
More important than anything. To have dinner on a hill in Tuscany with this beautiful girl speaking a little bit french will inspire me for a month because it is insane. How lucky a human can be to enjoy a moment like that, not really organized or planned but you were lucky enough to arrive at this place by chance at this particular moment and the vibe just took you to this other place full of new people, a beautiful house, you hear this marvelous song you don't know, you see this particular way of wearing these shoes or pants, you see these people dancing in the garden with the moonlight.. you live new things, you have new images and new feelings that your mind will then reproduce with the music, simple as that!
You are preparing an album, the first one. In what mood are you making this record? Any specific information you can tell me about this upcoming project?
It took me two years to do it, hard shit, doubts and doubts, you think you are done but not at all, I travel a lot to do it, I lived one year in Barcelona, a few months in Italy, a couple of weeks in Los Angeles, but the really important moment was actually Covid because I lived quite a lot of moments with way more intensity and I realized so many things, it allowed me to be way more adult with my songs. Last December I also had the chance to be in London with this really cool producer called Tim Goldworthy, this really swag man just gave me the perfect aesthetic to keep going. Finally, I locked myself away for one month in the countryside in France to finish this damn project, now it's done and no doubts anymore.