Passion for FCB and Barcelona: five talents connected by their love for sport are the faces of a campaign that pays homage to Barcelona´s districts through the redesign of five football scarves.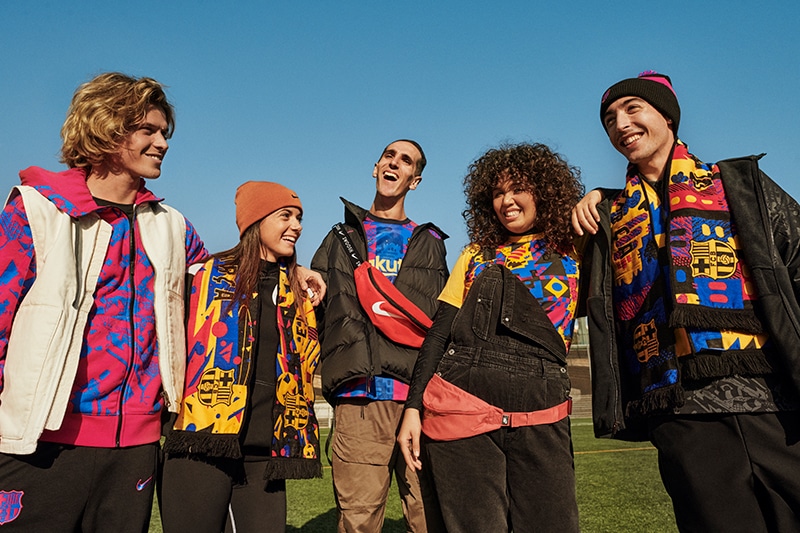 Barcelona is the scene of creativity, inspiration and teamwork and today we discover the different neighborhoods through "5 scarfs. 5 stories. 5 districts.", an initiative of Fútbol Club Barcelona and Nike with the launch of five redesigned football scarves adapted to five vibrant and charismatic districts of the city. El Raval, Poble Nou, Gràcia, Poble Sec and Les Corts take shape in these pieces and are now introduced to us by the hand of five young talents from Barcelona who unite their passion for football and put together their inspiring stories contemplating the city.
Biel Juste – model and co-founder of the jewelry brand TwoJeys, Ikram Bouloum – producer, DJ and singer with a passion for the club that runs in the family, El Bobe – a trap artist whose hit 'Johan Cruyff' hit hard and was a partner of the FCB since childhood, Alex Roca – runner and athlete with 76% cerebral palsy with a beautiful story of inspiration and light. and Aitana Bonmatí – one of the youngest members of the first team in the FCB women's league.





Each one represents one of the districts and combines the passion for a sport, for a club and for team play from creativity and their own vision. FCB and Nike have also launched the new kit and collection and the talents have told us about it. Ikram Bouloum tells us "what I like the most is how they have used different iconic and representative elements of the city for the design and aesthetics they have proposed. The color and the graphic setting of the symbols make it a very current and modern proposal as well as timeless ".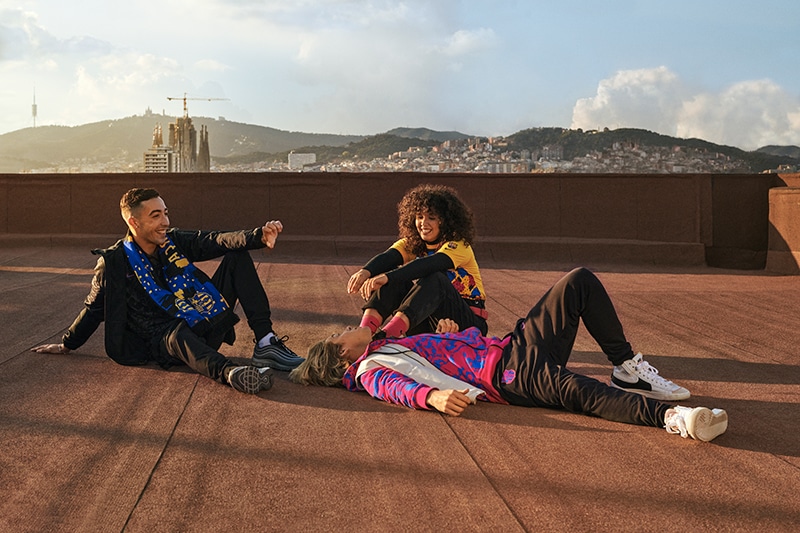 "This collection maintains the essence of the FC Barcelona of a lifetime but has more style than the usual kit, it is a collection that can be worn on the street in your day-to-day," says El Bobe about the versatility of the garments.
"It is connected to the FCB but it also includes other products," says Aitana Bonmatí about the official pieces and other elements that make up the presentation. For Alex Roca, the piece he likes the most about the collection are the Flyease sneakers, "which are not only shoes but are also a gift that Nike has offered us to those who, without them, would never have previously been able to wake up in the morning. and wear shoes that we ONLY have put on. Thank you for making it possible ", he points out.
There are feelings and connections that unite and celebrate, that link and connect. 5 scarves, 5 stories, 5 districts. And a great force in common.
Today we also speak with Biel Juste about the initiative and its connection with football, team play and the city.
With the project "5 scarfs. 5 stories. 5 districts "5 FCB scarves have been designed inspired by five districts of the city. What relationship do you have with your neighborhood and its representation and with the city of Barcelona as a creative field?
I live 10 minutes from Camp Nou. My relationship has always been one of unconditional love. I've been going to the field walking with my father since I was 5 years old to watch every game.
The Camp Nou has become the cradle of good football, creativity and magical and anthological moments such as the 5-0 at Madrid de Mourinho or the night of the 6-1.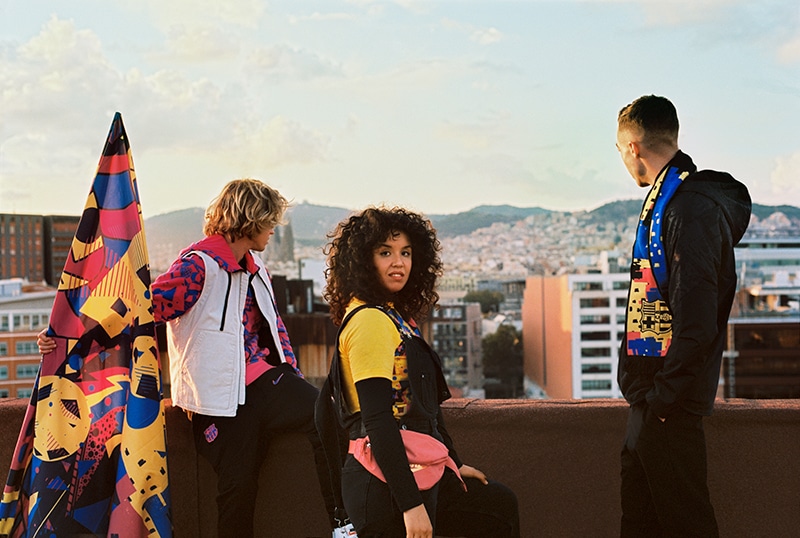 Photography by David Mesa x Nike
You used to play soccer and you have expressed your passion for sport many times. How is your relationship with the FCB? Do you remember when you felt a connection?
My connection is forever and ever. My father is the key person, he instilled it in me since I was little and I have spent my whole life sharing and enjoying it with him. I started playing soccer when I was 4 years old and continue to do so. Now I play a game every Thursday with my father and my grandfather! His friends have been having an intergenerational party for 30 years. My grandfather passes it to me, I put it to my father at the far post and he scores with his head. Is there anything more beautiful? I do not believe that is.
This project is very plural because it defines very well different parts of the city and its energy and how a common feeling unites them. How do you think creativity and younger generations can contribute to sharing the passion for a sport or a club and how does that turn out to be positive?
Sport is salvation. In a society headed towards the metaverse and virtual reality, soccer is a touch of reality. Constancy, effort, dedication and above all the creativity of the moment.
What does sport and team sport like football mean to you? Do you remember any memorable game that made you feel and stayed with you?
The comeback of 6-1 against PSG. My grandparents crying in front of me. I remember finishing celebrating the goal 4 rows down hugging a stranger.