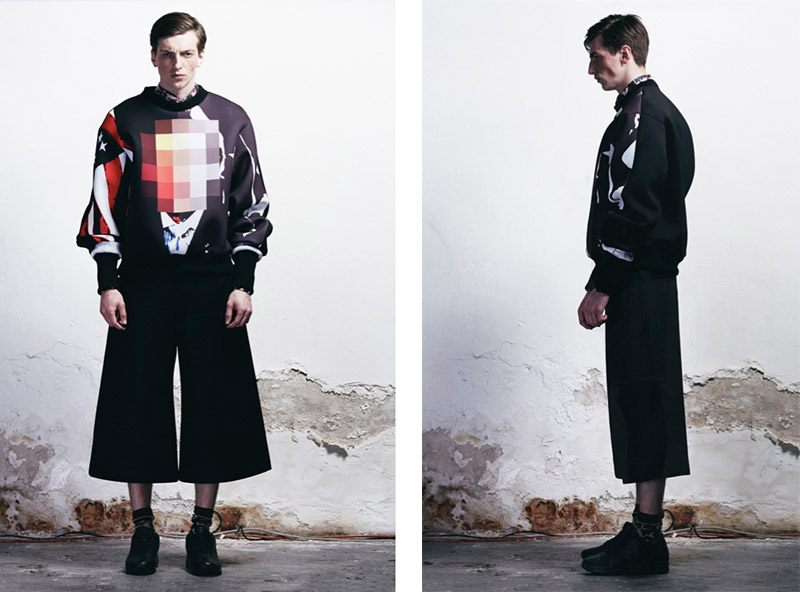 Provocative Prints, cuts and dimensions contrasting one the other and particularly eye catching outfits, for sure 8CUFF is not a random brand but one that we notice for its remarkable features. Sue, the eclectic and visionary mind that produced the brand that is made in Honk kong released to fucking young an interview wherein she explains her inspirational creativity and her unorthodox thoughts.
Fucking Young!: Hi Sue, let's start with the classic preamble, what about you?
Sue: I love to watch documentary, sometimes its too boring so I fast forward them, also with some movies. I like to look at people and listen to their stories, sometimes I judge them. I love to party sometimes in underground house club, sometimes in extravagant EDM clubs. I love to go to art exhibition, make me feel like an artist when I see some art piece that I really like. I love to eat nice cuisine but sometimes I crave McDonalds. I also love disney, pixar animation. I love to watch news, I'm always curious about whats going on around the world. I'm not good with numbers so I imagine small, medium, or large. I'm always confused left or right so I got tattooed on my left hand, 'LEFT'.  I'm not sure if I love fashion, but I do like to make a statement. 
FY!: We appreciate your collection, could you tell about the ideas that inspired you?
Sue: I was inspired by the graphic novel called 'Watchmen', the basic story line is 6 heroes fighting for their own meaning of justice and their mission is to watch over humanity, but who watches the Watchmen? The kind of plot related my vision in the fashion world, the well-known designer's plagiarism, wealthy company's immorality, and the unfair structure of the fashion industry. I took Ying and Yang as an object along the inspiration, the inevitable relationship between the goods and the bad. 
FY!: The choice of prints has a strong effect, do they have a particular meaning for you?
Sue: At the very beginning, I started with drawing people's face, while I was sketching, I developed the inspiration to dualism of human kinds, multiplicity of the facts and different dimension of the reason. I searched for existing immoral figure in our society, I found a lot of disturbing images, but I chose the emblematic images. I twisted them to show multiple meanings, some people would know who it is, but some people will imagine the wrong person, some people might misunderstand, but that was the whole point. Their is no misunderstanding on this graphic, whatever you think is correct. 
FY!: How you define the style of your collection?
Sue: Sports luxe, High street wear.
FY!: Is there any designer or icon that you consider as source of inspiration? Why?
Sue: Theres no particular designer or icon that I constantly follow. I usually like extreme characters, and I do get inspired by fucked up people. If I had to choose one, Terry Richardson, he is just fucked up and he knows it. 
FY!: In conclusion, What is really FUCKING YOUNG for you?
Sue: FUCKING YOUNG is the spirit and the empathy. Im very flattered to be part of FUCKING YOUNG, at the same time Im very excited that I could communicate to the people who has the FUCKING YOUNG spirit.