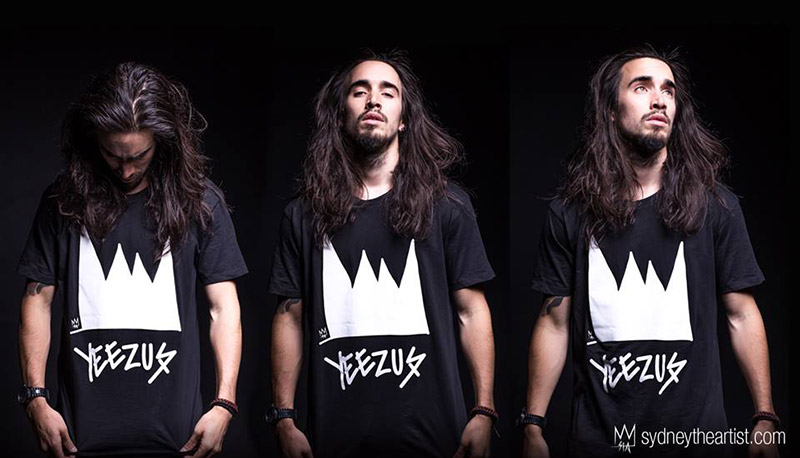 Nicolette 'Sydney' Worth, or better known by her creative outlet moniker 'Sydney the Artist' is an Australian multi-media visual artist and designer. This badass hip-hop-centric babe plans to abandon her life in the land down under to do her thing in the city that never sleeps.
Fucking Young! – Hey Sydney the Artist. Thanks for chatting with Fucking Young! about your work.  
Sydney the Artist – Dude it's my pleasure.
FY! – Would you say you were more an artist or fashion designer? Perhaps a hybrid of both?  Why?
STA – To me it feels as though these professions are very much the same thing. Both disciplines create something, namely visually inspiring pieces. I've been professionally trained in the arts, but not in the artistry of sewing [laughs] so I suppose I would consider myself an artist. But I love fashion and the opportunity it gives you to and express your personality as a sense of style. I think its great to be able to put art onto clothes.
FY! – What is your fascination with the hip/hop urban music scene?
STA – Ever since I was young my mum would play all sorts of music. Her vice were her jazz and blues records and from then I just feel in love with soul. She also introduced me to artists like Erykah Badu, Arrested Development, D'aneglo, Jill Scott, Guru. I love the truth behind these incredible artists, their story telling mastery, their political passion, their pain. Real hip-hop still gives me butterflies when I hear it, especially when that beat drops and I feel that 'boom-bap!' There is an intricate art to rhyming and the way the artists expel their voice. It makes me feel empowered. Despite my struggles through childhood, hip-hop was the constant and it helped give me the strength to fight through what I was dealing with and allowed me to be happy in my own skin.
FY! – How do you feel as though the music you listen to inspires your art?
STA – It's pure and simple. The music I listen to allows me to think outside the box. To stretch the norm. To come up with concepts and colors. When I'm listening to music I go into my head and allow my imagination to go into overdrive. Then I allow the creativity to part and I start thinking of things I want to create. You should see the notes section in my phone, thousands of concepts that wouldn't make sense to anyone but me [laughs].  In many instances I don't have the time to get to them so they just sit there until I get a spare moment to attempt one.
FY! – In your current pieces you focus on artists such as Erykah Badu, Yeezus and Joey Basa$$.  Why have you chosen these people?  Who will be next?  
STA – They are artists who have inspired me by doing what they love. They're geniuses and have set plateaus in their craft. I've definitely got a dope idea for some more clothing and I think I will be able to finally start get it up and running once I get NY and get settled. But next illustration I do is going to be YE himself as part of my current YEEZUS series.
FY! – Which artist (one musical artist, one conventional artist) dead or alive would you love to meet? Why?
STA – Musical artist: Tupac Shakur. This may seem corny, I know… But seriously I remember when I was 12, my mum would say if Tupac came back to life she would fly me to the States so I could find him…  it has to be him.
Conventional artist: Frida Khalo. She was such an amazing person, an inspiration in her own time. Her pieces, her struggle as a women in a male dominated field, she is one of my biggest idols.
FY! – I knew you'd pick Tupac as you have his portrait tattooed on your arm.  What's the story behind that?
STA – Ah, good ol' pac [drifts off into a memory]  When you're young you tend to have that one high school crush.  Mine wasn't conventional, it was Tupac. Actually, I don't know if it was a crush or whether I was legitimately obsessed with him [laughs], he was everywhere!  All over my visual diaries, engraved into my desk in class. I just felt as though I connected with him like I'd never experienced with anybody else.
I was a little rebel and felt like I was an outcast in school. You know the deal,  red hair, pale skin [laughs] so yeah, I fed off his passion and aggression.  Anyway, I always said I would get his portrait tattooed on me and people used to tease me saying my love of rap was just a phase, but twelve years later, I love hip-hop more then ever!  Tupac is there to remind me of who I was and tells me to stick to my guns no matter what anyone else has to say.  Hip-hop isn't a phase, it's something I live and breathe.  It's who I am, it's who I love.
FY! – So you're moving to New York in the New Year.  What do you hope to achieve while there?
STA – The hip-hop and related artists scene isn't that big in Australia and living here makes it difficult to pursue my dreams.  New York is the birthplace of hip-hop, so it just made sense that I would have to move there to give myself the best opportunity I could. Even if I don't achieve anything, the fact that I've moved there and got to experience hip-hop in the United States is grand enough. This is my stage to really show the world what I can do and to show myself that without boundaries, I'm truly capable of anything. I want to be surrounded by like-minded peers, to collaborate with artists and be inspired by my surroundings.
FY! – What would your New York dream job be and why?
STA – I would love to gain experience from the inner walls of the hip-hop music industry by working in the art department on a label. I'm also interested in collaborating with magazines, clothing labels, I mean there are just so many dope hip-hop clothing labels that I can picture myself designing for!  Ideally though, any job that allows me to be exposed, influenced by and mentored in the hip-hop domain.   
FY!  – Finally, what words or slogan do you live by?
STA – Hip-Hop, Art, Culture, Life
To check out all of her rad work, visit www.sydneytheartist.com.  Trust a brother, you won't regret it.