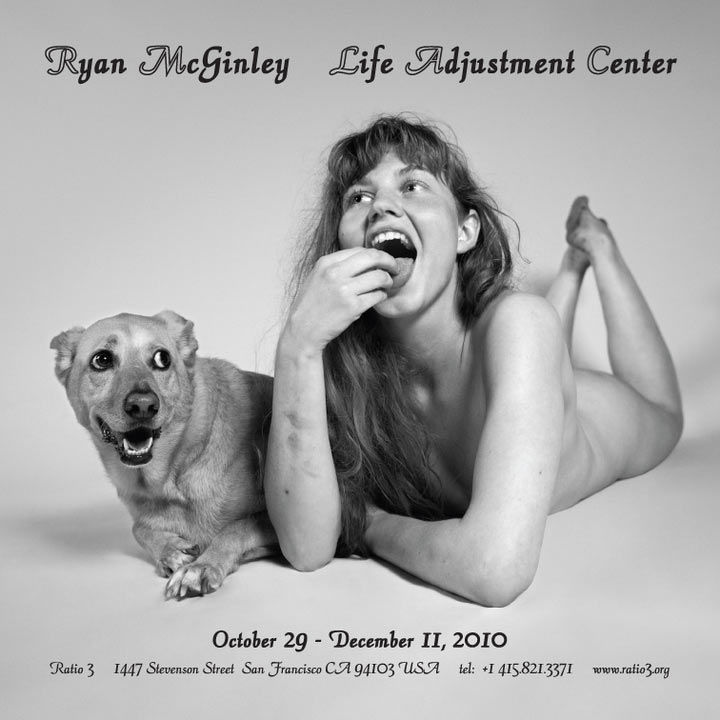 Ratio 3 is pleased to present Life Adjustment Center, new work by Ryan McGinley, on view from today (October 29th) to December 11, 2010.
For his second solo exhibition at Ratio 3, Ryan McGinley will exhibit two new distinct bodies of work.
The first is a series of new black-and-white portraits. Shot in McGinley's New York studio using simple lighting and a plain backdrop, McGinley's images capture incredibly intimate and seductive moments between the subject and the photographer. The pictures appear almost timeless, harking back to the history of classic photographic portraiture throughout the previous decades. In a large number of these works, McGinley adds a sense of improbability by posing the nude models with live animals, adding a further twist to what seems to be a complex depiction between the real and the imagined.
The second body of work on view continues McGinley's ever expanding oeuvre of road trip images. McGinley carefully orchestrates the scene, yet the results are entirely unpredictable. At times gritty and mysterious, these new pictures portray inconceivable actions awash with natural and sometimes implausible colors. The cinematic outside settings, the suspended human forms, and McGinley's acute eye for the sublime all add up to a fervent visceral experience.
With the works in this exhibition, McGinley has yet again captured the exuberance, optimism, and power of youth.
A 44 page monograph published by Dashwood Books will accompany the exhibition.
***
Ratio 3
1447 Stevenson Street
San Francisco
CA 94103
United States