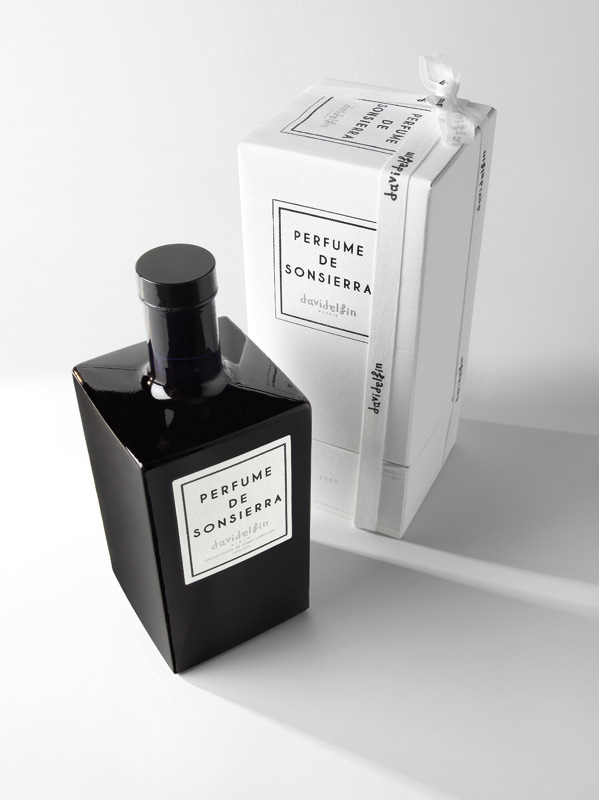 Following the success of Pagos de la Sonsierra Davidelfín 2006, Bodegas Sonsierra, one of the most innovative wineries in the Spanish wine world, has again teamed up, for the second consecutive year, with fashion designer David Delfín, to create a groundbreaking new wine "Perfume de Sonsierra 2007". This year a very special bottle and packaging have been designed, in which the wine is presented as if it were a true perfume. The beautiful video campaign features Bimba Bosé directed by Gorka Postigo.
Perfume de Sonsierra 2007 comes in a case resembling a box for haute couture perfume and the bottle recreates the shape of a perfume from the best companies. Inside, we have included information about Bodegas Sonsierra, its flavor profile and tasting notes.
Perfume de Sonsierra 2007 has been elaborated in stainless steel tanks at 26 °C for 10 days. It then spent 4 days steeping in order to achieve maximum extraction of color. After 16 months in the barrel, Perfume de Sonsierra 2007 was bottled so that it could continue aging in the bottle.
Perfume de Sonsierra 2007: Bigarreau cherry color, high robe, bright. In the nose it has outstanding fruity notes (strawberry, currant and licorice), very well combined with the aromas of aging, especially roasted and toasted coffee. The palate is long, balanced, round, with a good entry and a long finish.