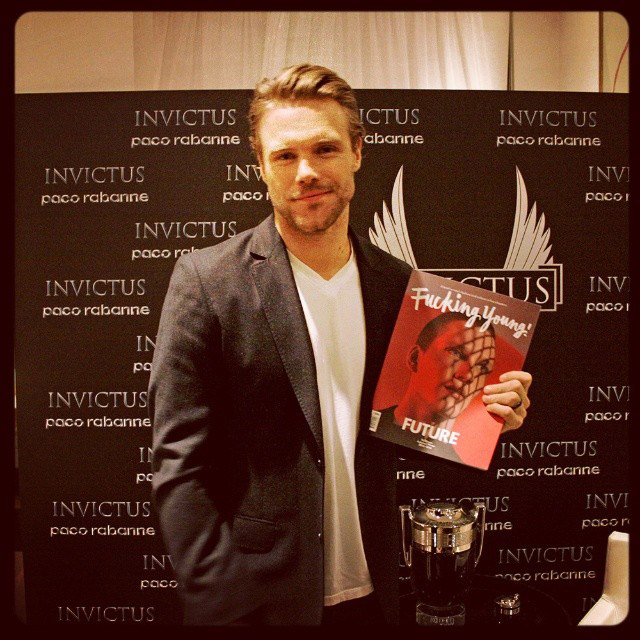 Nick Youngquest is the ambassador of Paco Rabanne's new perfume "Invictus". As the fragrance in itself he embodies the same presence of power, dynamism and energy. Fucking Young! came to interview him and ask him about how is like to feel "Invictus", the latin word for unconquered.
Fucking Young! – How does it feel to be the face of Paco Rabanne's Invictus fragrance?
Nick Youngquest – Obviously it's a great honor to be able to tell this wonderful story with Paco Rabanne, and i'm just happy to be a part of it and done something that I enjoyed a lot, so it's been interesting and cool.
FY! – Could you fall in love with a perfume?
NY – Could I? Yes of course! I'm the face of it right? I really love the fragrance and i wear it whole the time, and i'm quite lucky to have a very good collection of Invictus, so I don't think I'm gonna run out anytime soon.
FY! – Designer Cédric Ragot created a bottle with cup shape for Invictus. Do you see this as a victory for you in the world of fashion?
NY – Yeah of course! I guess its quite interesting when you said it that way. It is quite a victory for me, my experience previously in the industry was quite limited because I couldn't dedicate too much time to it, so this is an amazing campaign to be a part of and yeah I'm very happy and really glad that I got the opportunity.
FY! – Why do you think that brands cast big winners from the sport world to play the fashion game?
NY – I think specially with this campaign people seem to gather to relate to sportsmen. They see them a lot on TV and magazines, and stuff like that so I think it's all relatable, and I hope I did a good job telling the story. It was something that was very enjoyable and scary at the same time but something that I hope I can continue with working with this amazing brand.
FY! – You did a lot of charity work in Australia. One of those was a calendar that helped to raise funds for the National Breast Cancer Foundation. This were your first steps as a model?
NY – Yeah it was. My work before in this industry was for charities back on as you said. It was something that was interesting and I look back now and I've come a long way in the industry. It was something I enjoyed a lot and I'm still finding my way through the industry I guess, but fronting this campaign has been a wonderful stuff for me to move forward.
FY! – Invictus: the name proudly asserts its powerful masculinity and the campaign features an imagery that borders on mythological. What are your secrets to be in such great shape?
NY – A lot of people asks it! I'm not sure why! I guess I was lucky to play professional sport for so long that I had to be in shape and it's something I enjoy doing too. It's something that is part of my life, you know, training a lot. So I guess I'm lucky in that sense that I don't mind going to the gym and spending a lot of time there, I guess thats my biggest secret.
FY! – Your Must-Have wardrobe essential?
NY – I would say jeans. I've always loved denim for some reason I don't know, and half of my wardrobe is denim so it's something that never gets stroked out. You know, sometimes you have this stuff on your wardrobe that gets a little bit old and you have to check it out, and my jeans they always stay.
FY! – Who is your role model?
NY – My father and my grandfather, they looked after me when I was younger, always took me to my sporting events, told me to work hard and taught me to be the person I am today, so they're my biggest role models.
FY! – Do you think you can be the new David Beckham from Rugby?
NY – I don't know, their big shoes to fill right? I'm not sure. Obviously David Beckham is a world wild sex symbol, he is an amazing man, does a lot great work so to be mentioned in the same sentence as him is sort of mind boggling for me, but yeah, I'll do my best!
FY! – Which spice girl would you choose?
NY – Definitely Sporty, right!? 😉
FY! – What is to be Fucking Young?
NY – Just to be yourself, enjoy your life and express yourself the way you want to.
Thanks a lot!