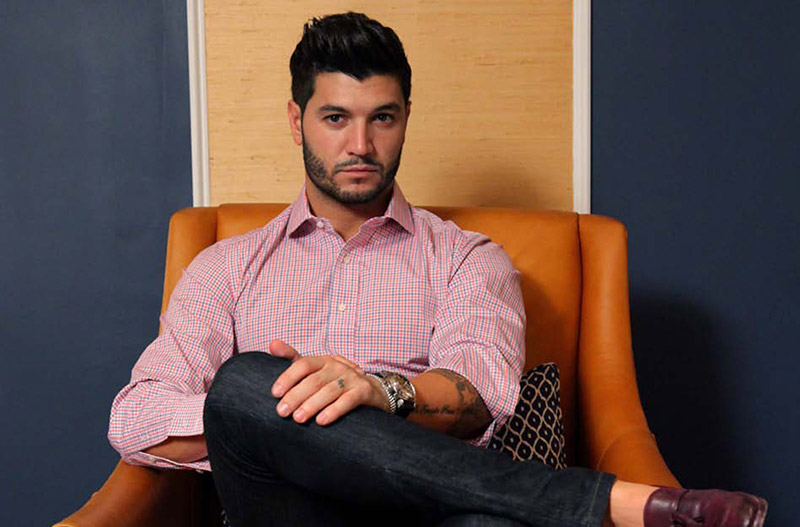 If I awoke tomorrow in some machismo reboot of Freaky Friday inhabiting the body of Brian Mazza, it would be far from the worst thing.  In fact, I wouldn't ask any questions, I'd simply go about my day, chalking it up to really good karma — on my part.  At the 'fuuucking young' age of twenty-eight, Mazza has established himself as the strapping gentleman behind Windsor Custom, the made-to-measure boutique snugly tucked beneath bro bar, The Ainsworth, on West 28th Street in Manhattan.
Mazza has turned a childhood passion into a palatial business model, recognizing the interrelationship between how ya look and how ya feel.  With his business partner Matt Shendell, Mazza meets with clients over a beer/coffee/younameit and starts to 'read' them, finding the stasis between what they think they want and what they really need.
Since opening it's doors in December, 2011, Windsor Custom has catered to a clientele that include athletes (Ryan Lochte), musicians (Diplo), and actors (Albert Brooks).  These 'Mazza'nites — a term I'm coining that I don't see sticking — choose Windsor Custom for the suits, the experience, and of course, Mazza himself.
The Dream Downtown is currently dishing Windsor Custom on a platter, exclusively launching Windsor Custom's first Ready-to-Wear capsule collection at their one-stop-boutique, Safira, and gearing up to launch the Spring collection.  Michael Lindenbaum, Managing Director of the Dream Downtown, commented: "I have always been a fan of Brian's personal style.  He enters a room and always makes a memorable impression, yet his style is subtle, charming and  confident.  As the lead designer and partner of Windsor Custom,  he really personifies our market and speaks to the community of  creative, successful, and sophisticated clients we have the pleasure of hosting at the hotel and in Safira. We're thrilled to be in business with him at Dream Downtown and are looking to expand the relationship to other markets."
I sat down on Windsor's plushy couches to chat with the man behind that memorable impression.
Fucking Young:  Why tailoring?
Brian Mazza: Growing up, I always loved Menswear.  I always loved dressing up and feeling good and fitted clothing.  And as I was getting older, learning more about fitted clothing.  Having more people I looked up to in the fashion industry, athletes and celebrities, watching how they dressed.  So when I finally had the opportunity to do what I wanted to do, which is open a store or custom shop, we had this space down here under the bar I'm partnering with, so I figured it was a no-brainer.
FY: Was there a specific moment for you when you realized you could turn your passion into a full-on business venture?
BM: I remember in November of 2009, I was sitting with my partner Matt Shendell, having just come back from the tailor uptown.  We were thinking 'We're growing with the restaurant group, we have the space, what are we going to do with the space down here?'  And at that point, I was spending a lot of money on clothes and tailoring.  So we thought, we have all these people that are always asking us to do this for them and we're not making any money on it.  And that was when I said why don't we just try and turn it into a business down here.  I had been doing custom tailoring for myself for years.  I'd go to the tailor — it was in his apartment on 130th & Amsterdam — so I'd go up there and watch him make the clothes, go through the buttons and the fabrics, and so over time, it became second nature.
FY: Besides your father, who would you say has had the biggest influence on your personal style?
BM: Ralph.  I've always loved reading about him.  And I watched Bloomberg Game Changers: Ralph Lauren which really inspired me to give it more "oompf" here and keep pushing.  I love what he's about and the fact that he really lives that lifestyle that I try to live here.
FY: How do you explain tailoring as more than just clothes, as part of a lifestyle?
BM: So a lot of people come down here and it's not that they don't appreciate, it's more a lack of understanding.  But after one or two times with us, they start to feel that appreciation and it can quickly become an addiction.  A lot of men, for years, were never educated about how a shirt fit them because they would go to a department store or get something ready-to-wear, it wouldn't fit them correctly, and they just assumed that was how it was supposed to be.  Then when they come and get a custom garment from us, there's components like the armhole will be a little bit raised, the back will be tighter, collar is really different, and overall the garment will be more custom and more fitted.  After a couple of times of wearing it, they start to think, "Wow, this is how it should be fitting me."  And before you know it, they clean out their closet, and we start fresh, which I love.  It's all about that consultation, acting as "style expert," giving them advice.
FY: Because, as you said, most of them just aren't aware of what's out there.
BM: Exactly.  And I love that they don't know.  Because then I can provide insight and pick colors they'd probably never feel comfortable in and fabrics they don't know about.  So it's an entire learning experience.  And I don't blame the guys that don't understand it, because in the beginning, I didn't.  I became so infatuated with how good I could feel in a shirt; how much more confident.  I love what the clothing did for me.
FY: What's it like coming to work at the Ainsworth versus a more traditional blah office building?
BM: Well, the corporate office uptown from here is where I report to day-to-day.  Before we had Windsor, this space, where you are now, was our corporate office.  So I sat where you're sitting.  And I truly believe, in the restaurant business, you have to live in the venue to make it successful from the start.  If you're not around all the time, it won't work out.  So we were lucky because the corporate office is here, so everyday we'd be here, show clients around, book parties, go up after work, have happy hour, meet people.  So it was great.  So now, coming down here and having it be the shop, it's even better because it's way more beautiful.  So now I can give clients of The Ainsworth another amenity down here.  We can keep them in the company.
FY: Of all of those clients you mention, who's been the most memorable for you?
BM: It's impossible to pick favorites.  We've done a bunch of celebrities and well known people: Albert Brooks, Ryan Lochte, Diplo.
[He reaches out and shows me Diplo's just-arrived suit with his name sewn into the shell.  "Is that his?" his publicist asks.  "That's Lochte's."]
FY: So, taking Lochte for instance, there seems to be a big trend amongst athletes showing up in custom suits.  Or maybe I just don't follow athletes enough.  Have you noticed this at all?
BM: Athletes are changing the way they dress now, specifically basketball players.  You've got Lebron sitting front row at a Michael Bastian show and Dwayne Wayde launching his shoe line, And now designers — specially New York based designers — are reaching out to them and getting them in their clothing.  So now everyone wants to wear a Michael Bastian sweater or everyone wants to wear a Windsor Custom jacket because it's easier to reach now; it's accessible.
FY: So these people come in, and they want to look like you in the suit essentially, and for a lot of them that's really not going to happen.  How do you help them look their best without being unrealistic?
BM: This is why it's very important to come here versus another store because you don't get this interaction.  I'll have a coffee with the client, a beer, food, just to feel them out, gauge their personality, their lifestyle, and then I can understand how I think the clothes should fit on them, the pattern I should put them in, what fabric suit, to make them feel confident and fit their body better.  I'm doing all of this without them knowing that any of this is going on.  So I don't have to verbally say anything, I guide them for the perfect fabric to fit them.
FY: What's been the most exciting part of seeing the RTW collection fully realized?
BM: I think the day when we received it, when the boxes arrived and we took everything out. Seeing my product come in was so emotional.  I remember calling my parents.  It was very humbling and incredibly surreal.
FY: How would you like to see the business grow?
BM: Eventually, I'd love to have RTW in other locations.  Right now we're designing our Spring collection for Safira.  We're actually almost done with it.  We haven't picked a date for that to drop.  I would eventually love to collaborate with a major department store.  That would be the goal.  My dream would definitely come true then.
FY: What kind of shoes do you recommend wearing with a suit?
BM: I've been buying Paul Smith shoes for years, so i'm kind of locked in with them, just because I feel the fit is great and they're super comfortable.  So, say for a black tie event, you're in a tuxedo, I would go with the Stubbs [& Wootton], because you can dress those up and dress them down and be totally different.  I think they're super sleek and classic.  For a regular, everyday suit, a loafer is always classic.  For transition, I generally like to wear brown or dark brown, so when I'm going out I don't look too corporate and I like to have the brogue here cause it makes it a little bit younger instead of just a standard brown shoe.
FY: What do you suggest a young professional wear to an interview?
BM: I had a similar conversation with my partner the other day.  I was like, 'If I ever have to go on an interview…' cause it's been seven years.  My interview to get into the restaurant group was over a wiffle ball game, so I was in a V-neck and shorts.  For an interview, I would go with a classic blue suit.  White shirt, blue shirt.  You don't want to go too too crazy.  Depends on the industry, obviously.  If you're going for a finance job you have to tone it down.  Too bold would be a windowpane suit or a shawl collar.  I would probably do that, though.
FY: What about jeans?  Well-fitted jeans, blazer, shirt, is that okay?
BM: No.  I think it's disrespectful.  I would take it as, 'He didn't really care about his appearance today.'  I think you definitely need a suit.
FY: What is the one item every guy needs to have in his closet?  Don't say a white shirt.
BM: You definitely need an everyday blue blazer.  Two-button blue blazer.  Cause you can wear that out.  You can wear it to work.  If you're in a bind and need to wear it to a party, you can throw it on real quick and go.
FY: What do you wear when you're just around the house?
BM: So funny cause my girlfriend always breaks my chops and my friends do too, it's like Sunday morning we get up, have coffee, do what we have to do, and I'll put my blazer on, my shirt, my tie, and they'll be like 'What are you doing?'  That's just how I dress.  It's accustomed to me.  I just do it.
FY: So around the house you'd wear a blazer?
BM: Well I'll have a button down on.  I have about a hundred and fifty five now.  I have enough to wear forever.  I'll wear a V-neck or a t-shirt here and there, but never really out.
FY: What's the most casual thing you'd wear out of the house?
BM: Like to a bar?
FY: Yeah, but let's say it's the middle of the day.
BM: Probably like an American Apparel henley.
FY: What's your advice for people hoping to follow in your footsteps?
BM: Believe me, it's hard.  Everyday there's something that comes up that makes you want to shake your head and be like 'What is going on?' but you can't give up and you can never be satisfied with something.  Always try to be better at it.  Cause someone's going to be right behind you doing it, maybe doing it better.  Be humble about it.  You can always do better.
FY: Looking back on the breadth of your accomplishments, what's been the most gratifying?
BM: Going to a restaurant, seeing five guys in my shirts, and not saying anything to anyone, just knowing.
Take a look at the Windsor custom blazers below.