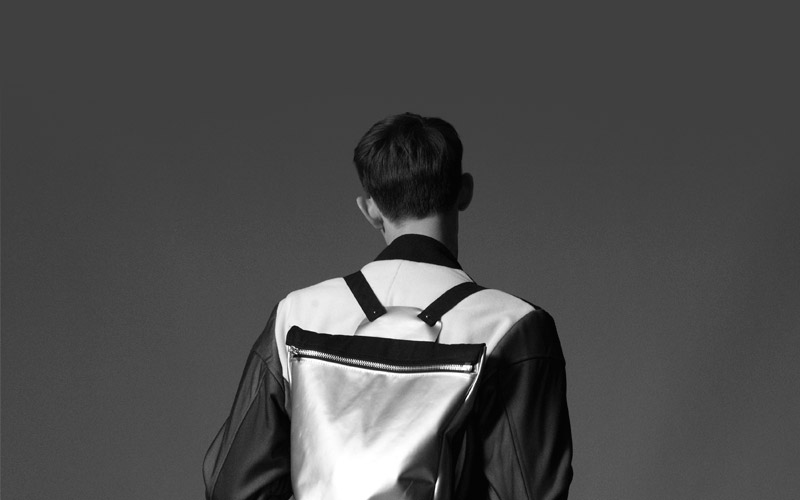 Springtime, a tale of two modern-day vigilantes sipping a cup of joe. As a brazen young man opens the door, clearly a polite yet determined urban dweller, we enter his Copenhagen atelier, to catch up with NICKLAS KUNZ. Bold, strong and graphic, the collections are often presented without any frills, clean and at off-beat abandoned locations. Nicklas speaks without hesitation. His words: well balanced, reflective and simply straight-up. We are sure, his powerful collections will resonate for some time to come, in Denmark and way beyond. A big YES! to keeping it fresh.
Fucking Young! – Hi Nicklas, thanks for speaking to us. Let's get right to it: You have often been quoted as a profound lover of the female form and wanting for us MEN to dress like MEN, could you elaborate a little on this?
Nicklas Kunz – Well, this is indeed what I strive for. Personally, I want us men to step it up by being brave enough to dress in the way where, as men, we shine the brightest, by exposing the symbolism of man-hood through our clothing. It is time to reconfigure our wardrobes and express our masculinity in a fresh and bold manner.  When it comes to women, for a long time they have been able to be seductive through clothing because they dress to show off their feminine silhouettes – I feel that now it is our turn to dress accordingly.
FY! – For AW14, the shapes are quite graphic, the fabrics expensive and the look reminiscent of an urban warrior. What constitutes this vigilante for you?
NK – For the collection, I re-worked the idea of a strong persona, someone who roams the streets with confidence and a sense of purpose. He has the willingness to go for what he wants and does not give a f*** about what his surroundings might think or do. This is what our collections stand for, a return to sartorial irreverence and raw bravery.
FY! – Speaking of sub-urban terror, could you tell us a little about growing up in Danish suburbia, how were your surroundings and does your childhood still inspire you?
NK – Growing up with a lot of different people and personalities, at a young age, taught me to be strong and more tolerant. Next to this, living in suburbia, allowed me to reflect on live and to understand that success or prosperity are not handed to you on a silver plate. To survive is to find meaning in something – and this particular state of mind is something I still, to this day, get inspired by.
FY! – We like your interaction with the music world, like with hip-hop innovators  such as Kendrick Lamar and more recently Zebra Katz, is this musical dialogue important and how come you hit it off so well with these great characters?
NK – For me, the musical dialog with fashion is very important, because you get the best of both worlds.  Fashion satisfies the eyes and body, whereas music satisfies the mind and soul. If you successfully can mix both you are one step closer to fashionable enlightenment. Dialogues can help in our perception, I guess I am straightforward and like to be surrounding by likeminded characters.
FY! – Back to your AW14 Collection, if you had to single out 1-2 pieces that define the NICKLAS KUNZ man, which would they be?
NK – For me these would be the two-tone hoodie turtleneck and the leather jacket with the double zips in the front. They best symbolize the urban shielding and cover for the crisper days, exploring city-scapes.
FY! – Speaking to you now, you indeed come across as a no-frills straight to the point kind of designer. How do you balance your eclectic NYC and UK past with the more serene surroundings of your Copenhagen studio?
NK – You sensed that first bit absolutely right, given my background, I am not a person that wastes time by 'beating around the bush'. In life, I feel you go further by being straight to the point with people. It shows respect when engaging a conversation. As I travelled a lot, definitely studying design in the UK and regularly embracing the grit of NYC, have shaped my vision on fashion and have taught me to interact and reflect everywhere I go.
FY! – Before we conclude, if you could pick a modern day vigilante, to sit down with for a cup of joe, who would it be?
NK – A modern day vigilante is the someone, who has the quality and the professionalism of making something out of nothing. As prime protagonists of looking beyond what is there: I would suggest a cup of joe with Young chop & Lil Durk out of Chicago.
FY! – And lastly, as it is tradition, I would like to ask you what is really FUCKING YOUNG?
NK – Living life like there simply is no tomorrow…
Take a look below at NICKLAS KUNZ's AW14 collection: