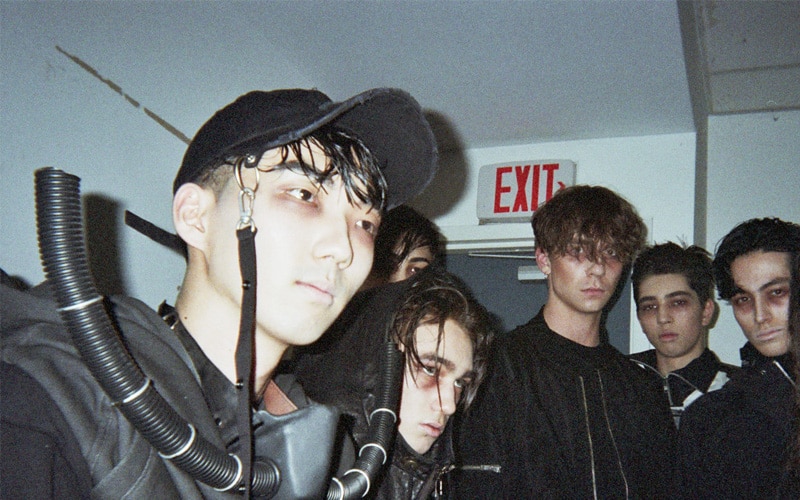 BLACKMERLE, a dark coated dog with irregular streaks and specks of black, is also the name of a brand that revolves around the vision of "Military Grunge" with emphasis on functionality and versatility.
I saw the brand's latest show during
Vancouver Fashion Week
and decided to exchange a few words with the designer.
Hello Terry!
First of all, why BLACKMERLE?
BLACKMERLE [blăk-mûrl] – A dark coated dog with irregular streaks and speckles.
I randomly came across this picture of a dog online and thought it resembled my attitude at the time. Then I learned that the specific coat pattern was called "merle." And I added the word black. It's a persona I created to represent my inner self, and also a medium through which I express and share my vision and daydreams.
I guess we're not going to see any colorful pieces on your collections then….
What's the importance of the black color to you?
I believe the color black can be infinitely colorful in right texture. Black looks different when on shiny polyester versus matte nylon fabric. I love playing around with the shade of grey, and focusing more on texture rather than color to give variation. To me, black is just so powerful and mysterious because it portrays many different states-of-mind such as authority, solitude, or peculiarity.
What's the importance of details?
I am a painfully meticulous person who cannot function without quadruple-checking everything. As a designer, I have always been more influenced by "maximalism" rather than minimalism. I believe in the motto of "more is more." I always emphasize the importance of functional and versatile details. I love incorporating small details into my design, whether it be stitching, seams, or hidden functionality, that my audience can only notice when they have the garment in hand.
And fabrics?
I believe the fabric is the most important element when designing a garment. Fabric can make all the difference in outcome depending on its weight, elasticity, or pre/post-treatment. I personally love experimenting with various kinds of fabric treatments, such as carbon-waxing, boiling, or violently distressing with a pair of industrial grinders.
You're only 25. What role would you say the social networks play in today's fashion scene?
In the world of rapidly-growing omnipotence of big data, I think the social networks in today's fashion scene is everything in terms of exposure and networking. Smartphones are the extension of one's brain, and you can literally "be" at an unlimited number of fashion scenes without being physically present.
Explain me the inspiration and concept behind your FW17 collection.
The FW17 collection is named "A.C. 001 – Incarnate." I wanted to mark the collection, A.C. 001, the year of dog, as the birth year of the BLACKMERLE. I wanted to examine deeper into his inner state and thought it was very much aligned with the values of Dadaism. In accepting those values,
I wanted to transform the dog into a true Dadaist. My favorite Dada artist, Tristan Tzara (b.1896- 1963), said that anyone can write Dada style of poetry by following steps outlined in his work: "How to Write a Dadaist Poem". I used this purest technique/ritual to "incarnate" my own "Tzara Poetry", which acts as the manifesto of the BLACKMERLE.
Furthermore, I thought that the concept of war itself is also in line with the movement; BLACKMERLE=DADA=WAR. Imagining the Dadaist BLACKMERLE going to a war – I incarnated my vision of "military grunge" and my view on the values of Dadaism in a post-apocalyptic setting.
Do you wear your own clothes? What's your favorite piece?
Yes, I do. I would wear everything I made, and will make, on a daily basis! My favorite piece is the "BRATS-66" anorak jacket because it is so wearable yet bold, and features several details. I can play around with the accessories of the current collection to bear different looks.
I was present at your show in Vancouver last March. Really liked the music and I thought it was really well connected with the pieces showed. Can you explain the importance of a soundtrack, not only for the show but also while developing the collection?
The "noise" that we created in collaboration with my friend, Jashan Makan, was actually the first thing we created after conceptualizing the current collection. I wanted to capture the emotions I had when I was inspired by the concept. It was a very critical step to constantly listen and remind myself of those emotions while developing the collection.
What kind of music do you listen too?
I love listening to techno music in general. My favorite artists are Objekt and David August. I love it because listening to techno while working always puts me in the zone. Lately, I have been obsessed with Joe Hisaishi's "Merry Go Round of Life."
Who is the BLACKMERLE client?
All my designs are based around functionality and versatility. It would be someone who is very creative, active, and masculine.
Which celebrity would you like to see wearing your clothes?
G-DRAGON would look fly. But my muse is always going to be me.
You're based in Vancouver and Seoul. Two different continents with different cultural aspects. Which one would you say that has more impact on your collections?
It's really hard to pick one. I would say both. Vancouver, because of its cultural diversity and the herb. Seoul, because it is so densely populated with fashion-die-hards and the humongous fabric market.
So… Asia and America. You said you never been in Europe. I'm curious to know what's your idea of European fashion.
European fashion is unique and diverse because of its cultural depth and history. Ranging from the classic menswear to Avant-garde. It is definitely distinguishable. For example, a collection based out of London (not EU anymore), especially Central Saint Martins, always has that vibe. Ya feel? I am very curious to find out more about it when I travel.
Any favorite designers?
Christophe Decarnin, the former creative director for Balmain Homme, and the current one for Faith Connexion. His take on military-based menswear is absolutely insane!
This is a very strong first collection. Any plans for the future collection?
Thank you very much! The name of my next collection, A.C. 002, is "To Athens."
The collection is about a philosophical paradox that surfaces around my recent research about Ray Kurzweil. I will be presenting the collection in Copenhagen this time.
Hope to see you in Europe then! 😉