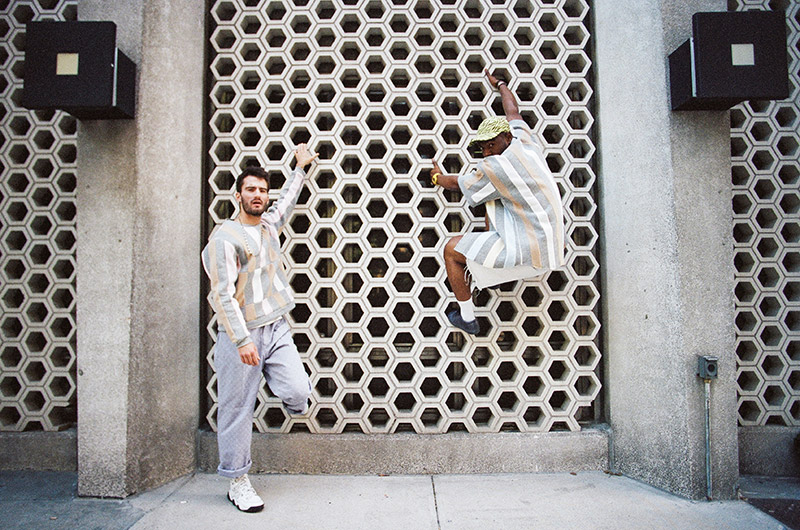 Sometimes threads are so dope that, both in aesthetic and workmanship, that they transcend gender norms and are openly accessible by all. I'm not talking about androgyny, but a completely sexless garment that can be utilised by both genders without any implication towards masculinity or femininity. With inspiration taken from 90's hip-hop artists and the every day man, XXBC want YOU to feel badass in their expertly crafted yet comfortable gear. 
Introducing William Thompson and Alex Lee, the two design mavericks behind the emerging brand XXBC who are making this happen. Just from a glance, these two posses all the elements to project their fresh company into the stratosphere. They're effortlessly cool, impeccably dressed, laid back and ready to take New York City by storm, one borough at a time.
Fucking Young!- Thank you guys for taking the time to have a chat.
Will:  Thank YOU for chatting with us.
Fucking Young!- Tell us a bit about whom you both are and what you do.
Will: My name is William Thompson and I work at Opening Ceremony in SoHo, Manhattan.  I also design XXBC with Alex. I also like to do a whole bunch of random stuff when I'm not working.
Alex: My name is Alex Lee and I also work at Opening Ceremony. And I'm in school. And I take photos. AND I work on XXBC with Will. I also spend a lot of time on eBay.
Fucking Young!- That's a lot of shit you guys try and pack in your day. When do you get time to eat?
Alex: We actually don't eat. That's our multitasking secret.
Fucking Young!- What's the story behind the brand name 'XXBC'?
Alex: All I really want to say about the name is that it's pronounced "Twenty B.C." Otherwise, it's just a name. Let's talk about the clothes!
Fucking Young!- What prompted the decision to team up?  What do you both provide to the brand identity?
Alex: So I started working on the line over 2 years ago now, back when we were both at Boston College. It was more of an idea than anything tangible really. When I met Will, we clicked, and we started pushing it together. Since then it's grown into something more real. More than we had probably imagined [was possible] back in our dorm rooms.  In terms of what we offer, I'd say that for the most part everything is 50/50. Will has his strengths, and I have mine. When it comes to design it's the two of us throwing around ideas and coming up with solutions. We're very different people but our relationship is pretty harmonic. Like a harmonica.
Fucking Young!- Ha! Being so different, but still maintaining a harmonic work dynamic, who/what would you say your biggest design influences are?  Why?
Will:  I'm really inspired by Camron and Dipset in the early 2000s; Juvenile and the Ca$h Money Millionaires (when they wore 3xl white tees).  The Saint Lunatics too…because when they dressed up it was all about custom outfits and shoes and those one off pieces that you couldn't find anywhere….and it was about attitude. That's what made their styles so cool. They were confident in whatever they wore even if it was just a white tall tee.   
Alex: I'm all about the regular dudes. Old guys, foreign guys, weird guys. The guys you see out on the street every day who don't know shit about fashion. They dress the best. For our second collection I think that's the biggest influence I've tried to bring into the mix—regular guys, like construction workers. 
Fucking Young!- What materials are you using in your designs?  Why those?
Alex: At this point, we're really into the idea of using one fabric in a bunch of different ways until we're sick of it. So far it's been this grey sweatshirt fabric. Our first collection was composed entirely of grey sweatsuits with vintage fabric detailing. The vintage fabrics made each piece completely unique and very difficult to replicate, which we liked. The grey fabric gave the collection a sort of signature. So, for our second collection we're sticking with that same grey jersey but using it in a completely different way. This time, we'll be making our own custom fabric that will again be very difficult to replicate. Once it's all out there, you'll see that even though there are similarities in the fabrication of our first and second collections, the collections themselves look entirely different. We're switchin' it up.
Will: Alex took the words right out of my mouth.
Fucking Young!- That sounds dope.  Manipulating fabrics in ways that are unique and unusual. Y'all are pioneers. In doing this though you must have come across some problems in production. What has been the toughest thing you two have come across in your clothing line so far?
Will: Money is always an issue, but we find a way to get it done. The garment district is also tough to deal with.  You have to be stern with the people there and only then do they respect you.  I mean they still screw your clothes up sometimes but at least they respect you.  
Alex: Yeah I'd say money is always something to worry about. Also I'm realizing that whenever you think everything is A-OK something seems to always go wrong. Then, when you fix it and everything seems A-OK again, something else goes wrong. Yay, fashion!
Fucking Young!- Are you boys both originally from NYC?
Alex: Nope. I'm from Medway, Massachusetts, a small town an hour outside of Boston. Been in New York for about 2 ½ years now. 
Will: No, I'm from Jersey City, which is right across the water. But I feel like I spend enough time in New York that I'm a local. 
Alex: Yeah, we're locals.
Fucking Young!- Do you boys think it's important for your company to be based in this city? Why/Why not?
Will: Yes I think it is very important—for the simple fact that we work in NY, we party in NY, and all of our connections are here.  It's also nice to have a NY-based line that supports the factories in the NY garment district.
Alex: Yes, totally. For one, I think "Made in New York" is such a strong statement and it's something to be proud of. Second, I think the overall mentality here, at least that of the downtown crowd, creates the perfect environment for something like this to grow and succeed organically. In New York, people accept things that are different. They see that it's cool and interesting and run with it. Other places people might see something different and refuse to understand it. They just brush it off as being 'weird'.
Fucking Young!- You guys ever been star-struck at any moment in your careers? 
Will: Justin Bieber wore a pair of our shorts, so that was cool.  He also posted a pic of him working out in them on his Instagram and that was random.  Future came into Opening Ceremony asking about XXBC after seeing it on a co-worker of ours.  Bjarne Melgaard also purchased a piece, which was great. I wasn't really star-struck by that, but I thought it was dope.
Alex: No not really [laughs]. I suppose I'm not one to get star-struck anyway. I don't know, people are just people. Celebrities are just people. I don't really care.
Fucking Young!- I suppose living in the big city makes you immune to it all. What do you boys hope to achieve in the next 5 years? 10 years?
Will:  I hope to at least have a small studio in the next ten years.  It sucks to carry fabric all over the city, but it sucks to do a lot of things in life—at least we're having fun with it.  I would also like us to have some type of presentation in the next ten years (something cool where sparkling cider and Whole Foods breakfast bars are being distributed amongst the guests.)
Alex: I can't really distinguish between the next 5 or 10 years—they're both so far away! Of course, a studio space is on my wish list. And maybe an eBay sponsorship. Honestly, I'm confident that Will and I are going to achieve a lot in the next 5-10 years, both with XXBC and other projects, so I'm not too stressed about what exactly will happen. It'll all work out [leans back in reclining office chair, interlocks hands behind head and thinks about future with a smile].
Fucking Young!- Do you have any dream collaborators in the future? 
Will:  If I had to choose to collaborate with someone it would probably be either 69 or Sasquatchfabrix.  I'd love to do something with 69 because I love how simple and functional the clothes are.  69 uses basic materials like denim and linen and manipulates them in so many different ways. I also like the fact that the clothes are super comfortable and unisex.  I'd like to work with Sasquatch because I love the attention they pay to the details of the garments.  Also I think their hangtags are pretty sick.
Alex: I personally don't have any dream collaborators in mind these days, but I would like to work on a shoe somehow. Do you know anyone who makes shoes?
Fucking Young!- I DON'T at this point, but I'll let you know if I come into contact with a shoe manufacturer at some point and drop your name Alex. Just for those who don't know, where are your designs stocked right now?
Alex: So we actually just released our second collection on Tuesday (11/25), which will again be sold exclusively at Opening Ceremony's New York and Los Angeles locations. The collection uses super soft fabrics and colors, while the styles are big and masculine. We're really happy with how it looks—super feminine and super masculine all at once. We even had both a guy and girl model for the lookbook. We want anyone and everyone to wear the stuff. The response to the collection has been great so far.
This collection is a sort of mid-season release, and we don't think the timing could be any better. The clothes are perfect year-round garments.
Fucking Young!- What would you say your company slogan is?  Why?
Alex: 'We aren't following a formula here.' We just aren't. This is our thing, and we demand the freedom to do whatever we please with our thing. 
Will: 'We don't care about trends or what's hot.' We make clothes that we like and that we'd wear ourselves.
Fucking Young!- Thank you so much for taking the time fellas.  Good luck with everything and like Frank Sinatra says, if you can make it there, you can make it anywhere. Stay cool fellas. 
Alex: You rule, Chris.