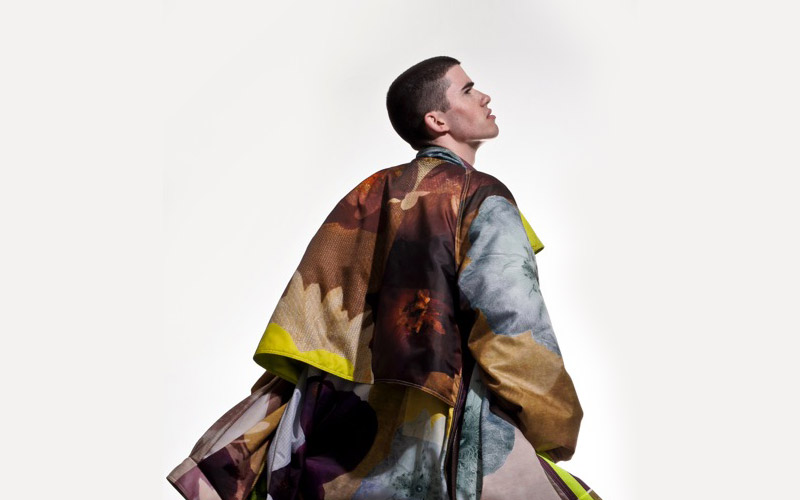 "If you're going to San Francisco, be sure to wear some flowers in your hair". Scott McKenzie's version of San Francisco, the success of The Mamas & the Papas, becomes a historical testimony of the January 1967 great gathering in in the U.S. city with the same name.The hippies' one assumes the connotation of a social revolution and with the motto "put some flowers in your guns!" it goes beyond the national borders bursting with peaceful power into Europe too.
June 2014. Rachel James, a young British designer, chooses to collect flowers from heads and cannons and turn them into 3D prints for her degree collection. It was born GRANNY FLOWER/MAN POWER inspired by 70's working class Britain though the nostalgic photography of Tony Ray Jones. Her men are masculine. The designs refined and creative. The fabrics custom designed to make luxurious innovative sports-inspired clothing. The success is immediate. The collection winds up on the websites of the most prestigious Magazines – V Magazine, i.D, Vogue Italia – and  before she can realize it, Rachel is already among the most discussed talents of the moment.
Fucking Young! – Hello Rachel! How are you? When was your passion for fashion born?
Rachel James –  Hey yeah I'm really great!  Super happy to be finally doing my own label. I have always been very interested in people: perhaps stemming from being an incredibly shy child who enjoyed people watching. I come from a Fine Art background and my favourite subject to draw has always been people. I realized that I have lots of ideas and enjoy a fast paced environment and as a result fashion design has always seemed such an obvious choice for what I should do. I  love that fashion is real: it is moving and transient and by definition is about being desirable and necessary to people.  I love that my work can relate to so many different kinds of people and that my ideas can take shape in reality. I have never not wanted to study fashion.
FY! – Just recently, you have graduated at the Westminster University. How has the course of your study helped you to become the designer you are? Is having specialized courses important?
RJ – Yep, and I'm thrilled to have graduated at last: it was a four year course as it includes a year out in industry – which was the main reason I wanted to be on the course in the first place. I think that having industry experience is actually more important than the degree itself: it is so important to understand the jobs you will end up applying for, learning about the business side of fashion, gaining hands-on practical experience, working as a team and seeing the whole design process in a working environment. It was great to be on a course that has this integrated into its structure. Returning to university after that year out to put our new skills into our final collections I think is hugely responsible for the high caliber of work that emerges from Westminster all round.  It is a tough course too: very competitive and hard wearing. It is not a place for the faint hearted or those who are not in fashion for the long haul. The course has definitely helped me become the designer I am now: but more in how I have shaped myself from the course and the people I have met than anything I have been taught. Regarding specialized courses, my course is just BA (Hons) Fashion Design, without specializing in Womenswear/Menswear/Print etc. This was right for me as I started out in womenswear but through working in that for a while I was able to make a more informed decision that I want to be a menswear designer as I didn't know that when I made my course decision back when I was 20.
FY! – Your degree Collection designed for SS15 is already a great success. In less than a month it has appeared in the pages of V Magazine, i-D and Vogue Italia. Did you expect it?
RJ –  Thank you!  (It's not actually in the pages of those magazines, but in the online versions.)  No, not at all… I just did the graduate collection that I wanted to create and see out in the world from my head.  I've always wanted to have my own brand but never thought I would do it straight out of university.  Throughout I've always assumed I would do my collection and portfolio then hopefully get a great job: it wasn't until I started getting some great press and emails through asking for production and the garments for shoots that I actually thought properly about it. Design wise I have always just wanted to produce garments that were exactly what I wanted to do but I can't say how thrilled I am to hear that people love them and want them in their lives. Seeing my garments come to life when being worn has got to be one of the best feelings in the world.
FY! – What do you think your trump card is and what advice would you give young people who are about to take the same road as yours?
RJ – Ha, there's no trump card in this fashion world! Anyone looking for a recipe to make it in this industry is in the wrong industry. It's full of stress,  episodes of mania, panic, but then also full of moments of pure inspiration and excitement. Being an individual is so important and being comfortable and confident in yourself and your work is crucial.  Also being open minded that your work changes and listening to others too is a skill.  I think it is very important to not be too sensitive and not be disheartened if what you want doesn't happen straight away or if your work isn't acknowledged: accepting that there will always be those who love it and those who don't. Personally I am fairly stubborn about what I do and what I want to achieve (as my tutors know very well!) but I also try and be very honest with myself and others when it just isn't working.  I also have a habit of talking to strangers. And I like chatting about what I do.
FY! – The menswear universe begins to catalyze increasingly the attention of both enthusiasts and insiders. Why do you prefer to deal with men's fashion? What are the differences with the woman's?
RJ –  I think menswear is incredibly exciting right now. Men are more creative and interested than lots of fashion brands currently give them credit for. I feel there is a real gap in the industry for high-end casual menswear that's exciting, modern, creative but real and beautifully made. I think we will see more experimental menswear with a higher  demand from men who want more excitement from their clothing. I think there is a gap between the super crazy and the super traditional while being luxurious and I would love to be a menswear designer who can design bringing the two design concepts closer together.
FY! – Initially inspired by 70's working class Britain though the nostalgic photography of Tony Ray Jones, GRANNY FLOWER/MAN POWER is a collection for refined, creative, masculine men whilst using experimental pattern cutting and custom designed fabrics to make luxurious innovative sports-inspired clothing. Do you want to tell about?
RJ – My graduate collection was called GRANNY FLOWER/MAN POWER and was initially inspired by '70s working class Britain through the photography of Tony Ray Jones. I was extremely drawn to the common references to florals in day to day life: in particular in the womenswear and the wallpapers of the homes; the bright bold clashing colour schemes and the moody strong men living in this '70s world. I wanted to combine it all into a modern silhouette that is relevant now with modern fabrics that nod in reference to their '70s influence.  I wanted to create my own floral prints and went straight to the source themselves: I scanned in tiny pressed flowers at a high resolution, blew up the scale and created digital prints in my own bright colour palette. I toiled shapes that I thought were exciting with a sporty yet nostalgic vibe and spent a large amount of time ensuring I was happy with not only the fit and silhouette but the way they moved and sampling the way they were to be made.  I made big crazy printed coats that were waterproof with velcro, zips and plenty of pockets. I made embroidered shorts that can be altered and fitting with drawn in tabs and poppers in the waistline.  I made printed leather tops to look like boxy t shirts, an oversized hand knitted jumper with authentic Arran-wool, and fitted shirts with a plethora of wallpaper-inspired floral fabrics that were extended to become shirt-dresses to bring the wallpaper into modernity. The final collection was colourful, crazy and floral but boyish, and fun.

FY! – Is there a specific designer who you feel admiration for and  who is a source of inspiration for you? If so, why?
RJ – I interned with Todd Lynn back in my second year at university, which was a truly fantastic placement.  They are a small company in terms of people and I was working directly with Todd: mainly producing toiles from his patterns, and I was able to see day-to-day how he works as a high-end designer and found him very inspiring.  He not only designs everything himself he also does all his pattern-cutting: a skill that I have since found is rare in designers to be able to do.  I love pattern cutting and use it very much as a design method in my work rather than a means to an end. As a result Todd's garments are beautifully thought through and fitted every step of the way. It was so exciting to witness his design process and see that his brand truly reflects his incredible talent and judgement through and through. Todd is also very  interested in other creative and was really grateful for all my hard work that I poured into the company too and has since really helped and encouraged me along the way: he inspires me as a designer, pattern cutter, and creative individual: he is a fab mentor and design inspiration. Mass praise all round!
FY! – Are you already thinking about the FW15-16 Collection and Rachel's future in general?
RJ –  I sure am. Right now I am concentrating on the business side of Rachel James (Ltd) with my partner and boyfriend, Tom Ings and launching some production from the SS15 collection. But yes, I am now represented by Black PR and will be showing in the London Mens Collections in January. Lots of ideas bouncing around and I can't wait to get started, but it's all a secret right now. Definitely more print, knitwear and creative pattern cutting. I am super excited about the future and having no idea what is going to happen!
FY! – A book, a movie, a song.
RJ –  I have to confess, I'm pretty terrible when it comes to books: I don't ever make time for them and get distracted too easily. But I listen to music all the time… a friend of mine called Man Like Nells has just released a track called Welcome to my World which I listen to a lot on repeat, and I'm really loving the silky soul sounds of new band Hawk House in Chill Pill too. I love dancing around my studio as I pattern cut, as I'm sure my lovely interns will confirm!
FY! – According to tradition, I can't fail to ask you too… What is today really FUCKING YOUNG!?
RJ – Guys who want to wear big florals. 🙂
Thanks a lot!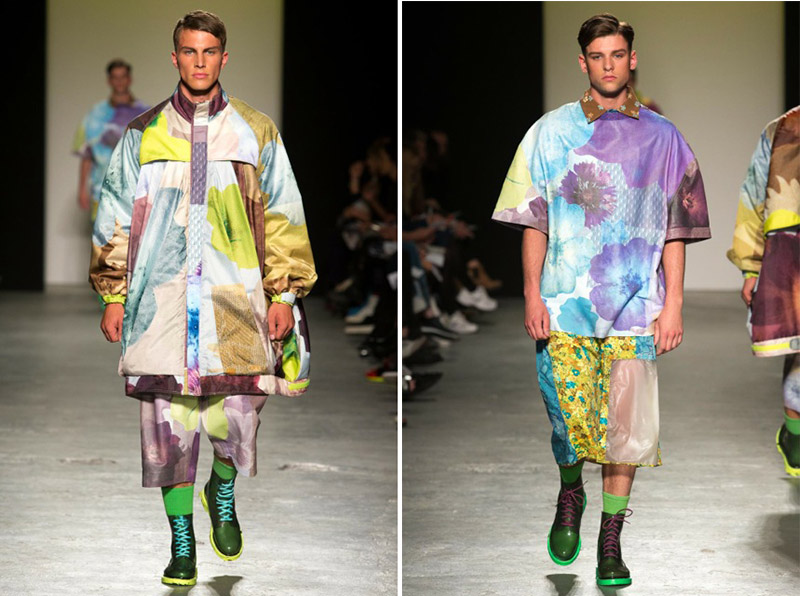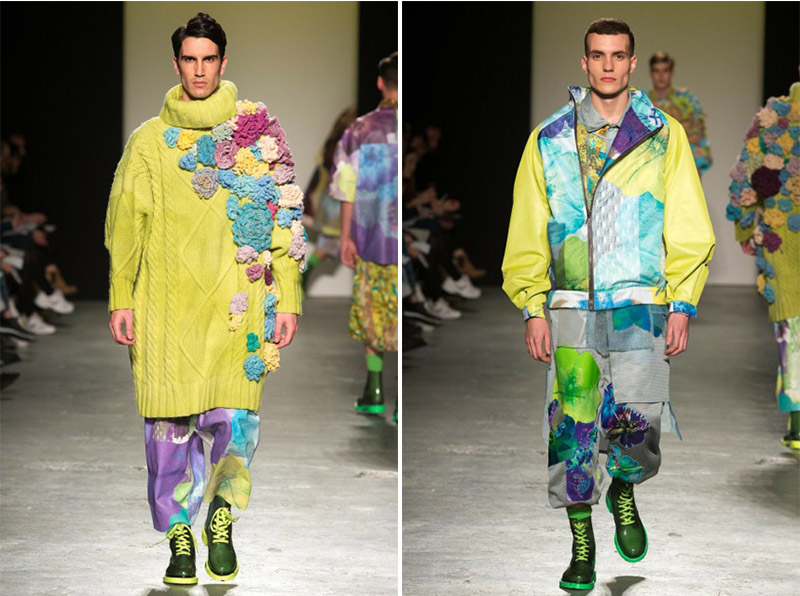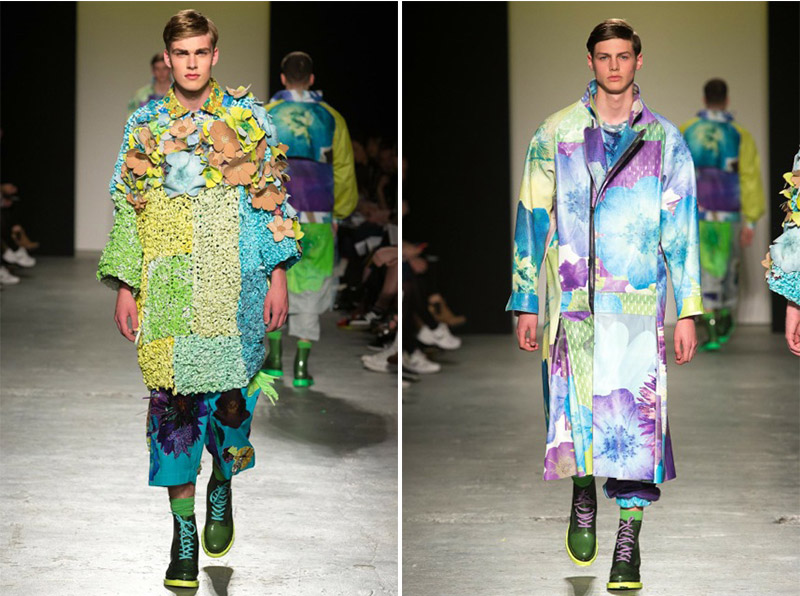 Photos by Gordon Mills.