"Opinions are made to be changed – or how is truth to be got at?" – Lord Byron, Poet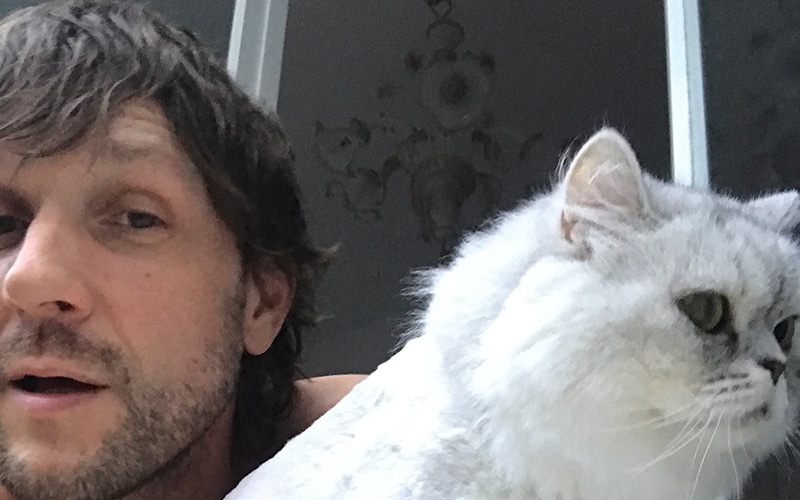 Bernhard Willhelm has clear ideas and a lot to tell. He is a natural provocateur, a conscious dissident. His fashion is a courageous, unbridled warning to the rampant respectability, conformism, and the fake anti-conformism. Eclectic, ironic, direct, just like his style: the items he draws tell a story of folklore and tradition but also of experimentation and transformation. The approach is always unconventional, the silhouettes always eccentric.
We have met him (for the second time) to talk about the link between art, the future, the changes, the new collection…
Who is Bernhard Willhelm? 
Mars, Saturn, Infinity.
Eclectic, ironic, defiant: your style is all this and much more. But how would you define the Bernhard Willhelm brand?
It finishes off smooth and unexpected, such a Sissy. There's also a cozy/protective element. There's always a lot of experiments with colors and color interaction, there's a connection to streetwear.
How did your interest in fashion start?
With curiosity and playfulness. Also with experiences in new places and times. We all were traumatized by America, Capitalism, and AIDS. Maybe it was also an anti-reaction to the current states of the time.
There were much less social media going on when I started to do fashion in Antwerp. There was a new capital in Antwerp for fashion and art.
We have to say that still the most modern art collectors in Europe are in Belgium and they all needed clothes.
The one between fashion and art is an old link, but always current. Could you explain what it means to you?
There are no rules on how to operate in fashion and art. In art, capitalism runs unregulated. Any price is justified when there's a buyer.
Fashion is more controlled as it's a product and it's linked to the human body. You could say fashion is widely accepted as an art form in all cultures but also can be purely functional.
We could say that all is linked to humanity and there's a wide range to be looked at.
You need curiosity, time and eventually money to experience both, DADDY!
In 2015, your exhibition at MOCA PACIFIC DESIGN CENTRE "When Fashion Shows The Danger Then Fashion Is The Danger" was a great success. What point of view did you intend to express on that occasion?
It was about creating an exhibition /installation with only new elements. We did not go back to our past but we did go back to Cutler X and a cockadooevolution. It always comes back to that. It's purely cosmetic.
Penetration is real.
Meanwhile, you're organizing an event in Tokyo to celebrate the Brand 20th anniversary. How and how much has Bernhard Willhelm changed in these years?
Personally, I'm freer with time and place. This year was about traveling: Italy, France, Netherland, Mexico… then Japan. There's a wider view on nature and on humanity.
Most of the BW archive has all gone to the museums. I'm better when I'm in an open space which is not linked to the past with no archive. I still like to improvise and art-direct. I still have problems with money-jobs. You can never predict what sells and the commercial is usually sexually frustrated so better don't listen to Daddy.
Recently, you decamped from Los Angeles back to Europe, and, last fall, you set up a temporary studio in Rosazza, a remote village in the Piedmont region of Italy. Why did you make this choice?
It's about meeting friends and their places, preferable with cute houses and cats (and now the cat got babies!!
She was horny one night and jumped out of the window).
Los Angeles got too crowded and expensive but I'm still working there. I need Los Angeles 2 month a year for creating in a total vacuum and see mine under Zero friends from the show business. Not to mention BW is doing great in Beverly Hills.
Coming to AW19 Collection, it is born during a mountain retreat when Salvator Mundi sold at auction for just north of $450 million and went to a new home at the Jean Nouvel (designed satellite of the Louvre in Abu Dhabi). Could you speak about?
People need icons and Salvator Mundi, Leonardo Da Vinci, Mona Lisa became an icon for CAPITAL. People like to think also for artists/painters as superstars so popularity interacts with capitalism.
Do we really care? Not for Abu Dhabi selfie time. Dejavu? Vanity has an icon. Once again in the desert. Why not go for an Abu Dhabi gay-pride? All the gay Arabs were in Amsterdam!
well, Jean Nouvel has to build a canal first in the desert. We are all looking forward to it.
What are the key pieces?
We made a lot of garments synthetic, corduroy and baby blankets with patches of Mona Lisa and Salvator Mundi. It's a CAPITAL uniform, there are a silence and a self-reflection.
We ate lots of corn/polenta in the mountains. It was a season with no money and little hope so being in the mountains is such a blessing. You need very little key. To be honest there was no key.
If I tell you MYKITA and Camper, what do you reply?
With those two companies, we have been working together for a long period of time. We developed accessory 'classics' for sunglasses and shoes. Those items are what most people know of our brand who are not too busy with fashion. It opened up a new market and we gave our aesthetics on feet and faces.
Future projects?
Move my rosegarden from Paris on the 8th floor back to the ground, maybe in England or Germany.
The botanical rosebushes became too big over the years. I'm poor but have a gardener, his name is Timothy. Call it a relationship.
As always, our last question… According to you, what is really FUCKING YOUNG! today?
You wanted to be that magazine. Now deal with it.