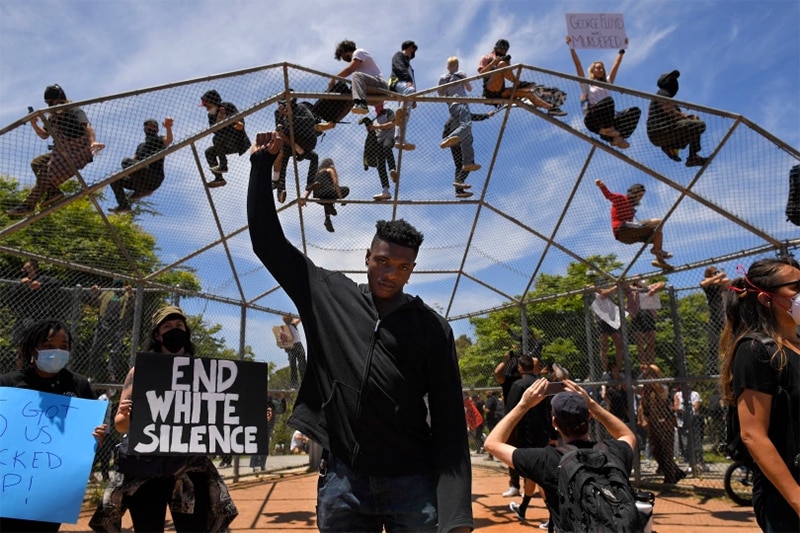 Photo by @jeleeeel
It must feel hurtful being a racist right now. The world sits in an atrocious state of crisis: Firstly, coronavirus hitting the multitudes and causing a global-scale pandemonium. Now, racist acts have simmered from all levels and all places, puncturing the social ladder from a severe angle. In spite of the calamity faced in the U.S., when on May 25 the world witnessed the extreme mayhem caused by the deadly arrest of George Floyd in a Minneapolis shop, Minnesota, the entire world, and its understanding of race-racism has changed forever.
The viral video taken by a bystander shows a white police officer, Derek Chauvin, kneeling on the 46-year-old's neck for eight minutes and 46 seconds, whilst choking the man to death. "I can't breathe…please stop," he painfully exclaimed, until the fatal moment arose. And death was. His name was George Floyd – two words that will be forever associated with the "modern" fight against racism. Why modern? Because it's a progressive socio-cultural phenomenon that's been evolving for 400 years, and as the system ultimately awakened to fight, this reprisal is crucial.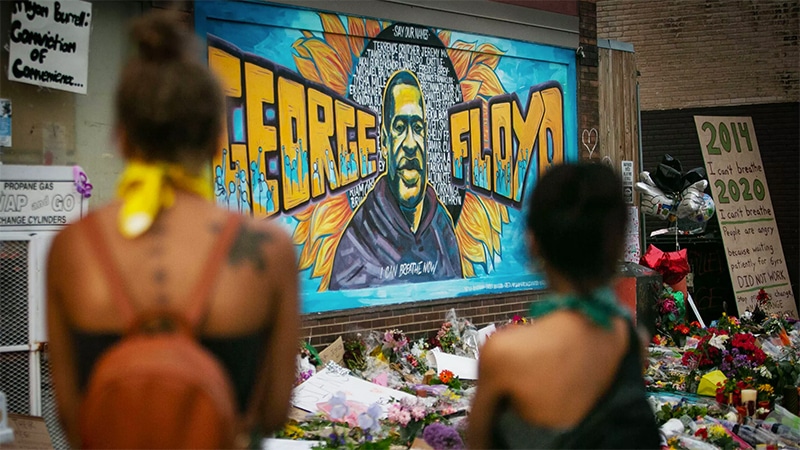 According to America's Mapping Police Violence research, a black person is three times more likely to be killed by a police officer than a white person. While in the U.S. the killing of black people is paramount to confront, happening with a high frequency, Floyd's killing symbolizes a symbolic yet systematic example of institutionalized racism, felt all over the world.
The headlines are now describing The States as a nation in crisis, neglecting the common factor that weaves throughout the matter. It occurs everywhere and it's been happening for long. In Britain alone, after the Brexit measures, the hate-crime rate soared high, prompting a 57 percent increase. These causes an excruciating number of deaths amongst humanity. And, as a black Italian residing in Britain, I was too foolish to believe there were no disparities in what we stood for as a society, but I'm guessing my assumptions were in the wrong. "It has always been a common occurrence as a person of color to be instantly dismissed when muttering the word racism," remarked Shanna Bent, Jamaican creative and emerging designer living in London. "If we stop talking, the issue becomes irrelevant and forgotten," she concludes. And that's exactly the reason why it's fair to say we're urged to abide by fair measures of advocacy to dismantle the problem.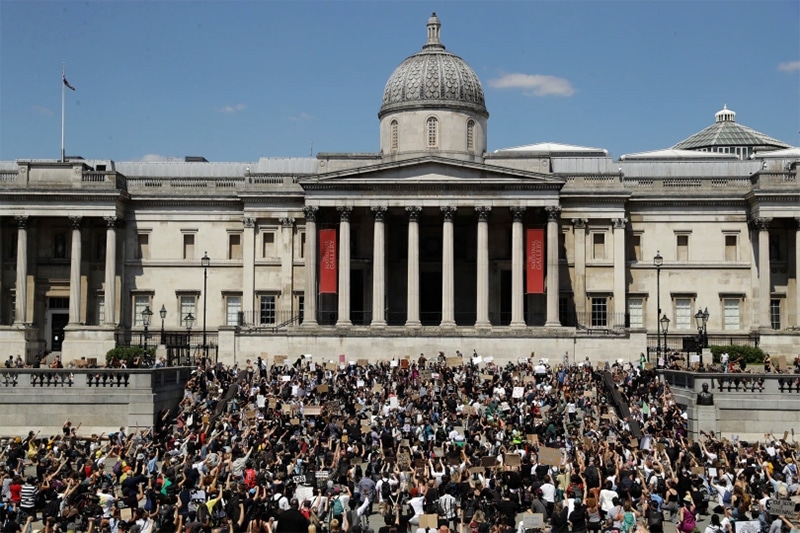 Protests in Trafalgar Square in central London on Sunday, May 31, 2020 (Photo: AP Photo/Matt Dunham)
The United States offers a sad example where, despite anti-discrimination laws and equal protection rights, the government has failed to protect its people from racism. Police continue to racially target and murder black people cross-globally at alarming rates, prompting appalling public outcry but acting with little remedy. Law measures and enforcement efforts have failed to protect the lives of men and women in less privileged situations. In further circumstances, Islamophobia persists across racial groups. June 2018 saw the National Association for the Advancement of Coloured People (NAACP) documenting the rise in racially motivated hate crimes in America. Jewish hate crimes are not to be overlooked, which rose approximately up to six percent in 2018. And of course, racism is not isolated to Americans. As the Black Lives Matters movement has marked its return past Floyd's death, Instagram has trended by using #AllLivesMatter, which created even a bigger dispute. Why involving the entire world, when in these circumstances the death toll on black people is greater than ever? Such, caused harm from around the world. And the issue is that, quite regrettably, governments struggle with addressing racial discriminations. The importance of these laws sits on protecting the lives of those who are more vulnerable to be victims of injustice. The United Kingdom abolishes all kinds of injustices, according to the Equality Act 2010, which implies no business or organization should be treated unfairly. Yet, this draws back to the prime point I stated: black and brown people are the victims of turmoil, leading white supremacy to triumph. Agreed, cases of unlawful discrimination have been treated reasonably, but the silver lining isn't complete.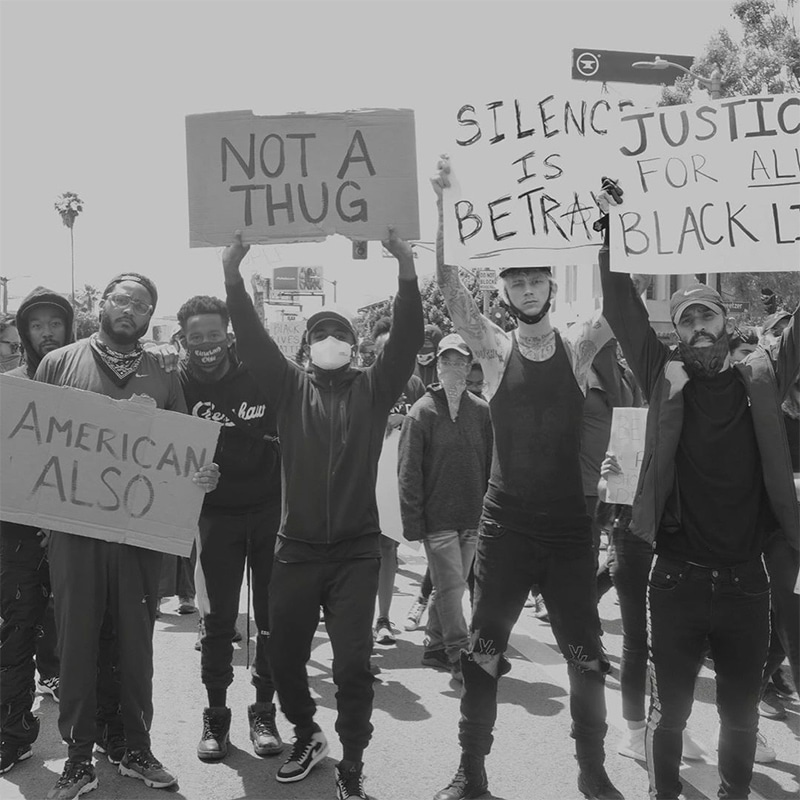 Photo by @machinegunkelly
Putting the legal side apart, the act of advocacy (both across the media and not) is also crucial and must be pointed out. Since Floyd's death, remember, the activism we're all taking part at this moment in time has helped to strengthen an understanding society and, to an extent, it educated those who were oblivious to the topic. Racism felt somewhat apocalyptic, and the disease (how I see it), makes me furious and angry. There have been far too many racist prejudices, and despite the number, each one is to be considered a tragedy. But what can we do to incite a reprisal amidst society to uphold a fair level of advocacy to cultivate change? The answer may sound simple: stay informed, and act with prudence. This may sound Trumpian (pardon the analogy), but the circumstances insist we should advocate for a more thorough way of approaching the system. On the note of advocacy, media neutralizes the threat, which leaves the minorities at risk. According to a recent resource of the BBC, government and military websites leverage cyber-attacks, causing effects that knock off people online for trying to access information and, most probably, finding the right remedy to stay educated and informed. The occurrence of cyber-attacks prompts tragedies, destroying the chances of social evolution. In the face of death outcomes, this negligence results critical for ethnic groups seeking to stay alert. This should have all happened in previous years. All the above isn't enough and has proven not to be. If positive accountability prevails poor symbolic effort, through deeply reflecting on what's right and educating ourselves on the matter, with no law enforcement we can reinstate a profound sense of advocacy that won't sink into the shared-care phenomena taking place right now. Rather, we will be able to invigorate our systematic negligence, to wipe out racial oppression once and for all.