"It is better to create than to learn! Creating is the essence of life." Julius Caesar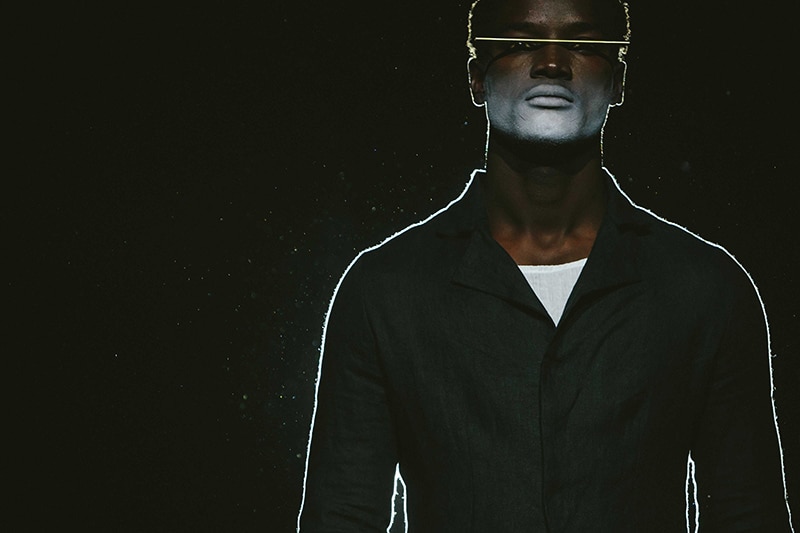 What is really essential today? For each of us something different is essential. For the collective D'Alpaos essential is to be essential. It is in the very concept of essentiality that the made in Veneto guys identify their simple, frill-free, immediate creativity. Under the innovative drive of the founder Nicola, D'Alpaos was born as a unisex brand, different both in form and fabrics. Season by season, it has emerged the desire to offer unique items that do not necessarily follow the trend of the moment. The strong and rigorous cuts remind the Japanese aesthetics. The high urban vision combines the most exquisite Italian tailoring tradition. No shortage of artistic influences.
The research in materials and 100% homemade manufacturing are favored. The products are all, or almost, natural and, indeed, part of D'Alpaos's DNA is linked to an eco-friendly cognizance to create ethical-aesthetic items.
The essential is contemporary – this is their motto. Fashion they create is not mainstream, is not for everyone.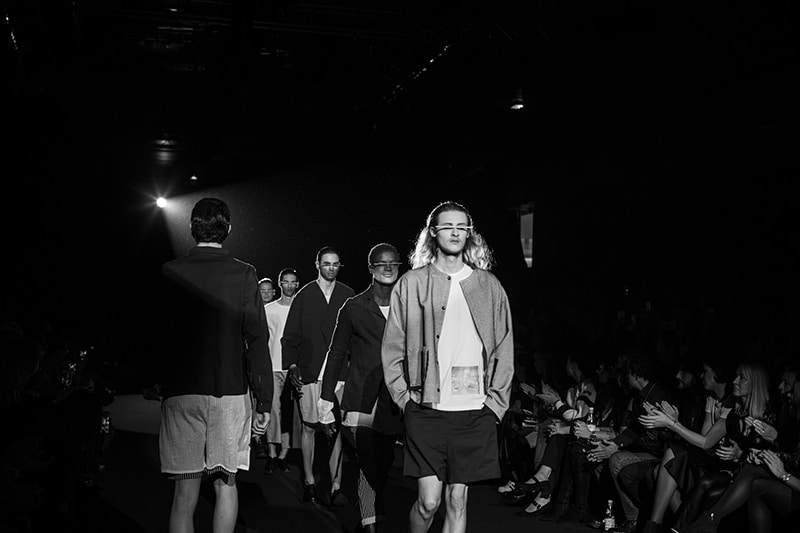 Fucking Young! – What is fashion today? And what is it for D'Alpaos?
Nicola D'Alpaos – There are different points of view, different ways of conceiving it. The mainstream predominantly consists of few brands to which others try to resemble and that costumers buy.
Then, there is fashion as we understand it: a way to differentiate and express yourself, to say something. It is something different, made for those who look for something original, it is not for everyone. It is the fashion for people looking for quality, both in the materials and in the manufacturing. It's the fashion that draws on an uncommon taste.
FY! – But what's D'Alpaos?
NDA – It was a game, at the beginning. It started as a capsule of bags created in collaboration with a great friend, an international artist, in which we privileged the artistic aspect, the handwork and the use of unconventional materials as paints and plasters. After this experience I moved to London, only when I went back we decided to start again with a sunny t-shirts collection. Also in this case we privileged the use of unusual materials and apparently not suitable for the clothing-industry. The inspiration was vaguely Japanese, was aimed on symmetry/non-symmetry and the idea proved itself successful. Since then we have continued with that game till now.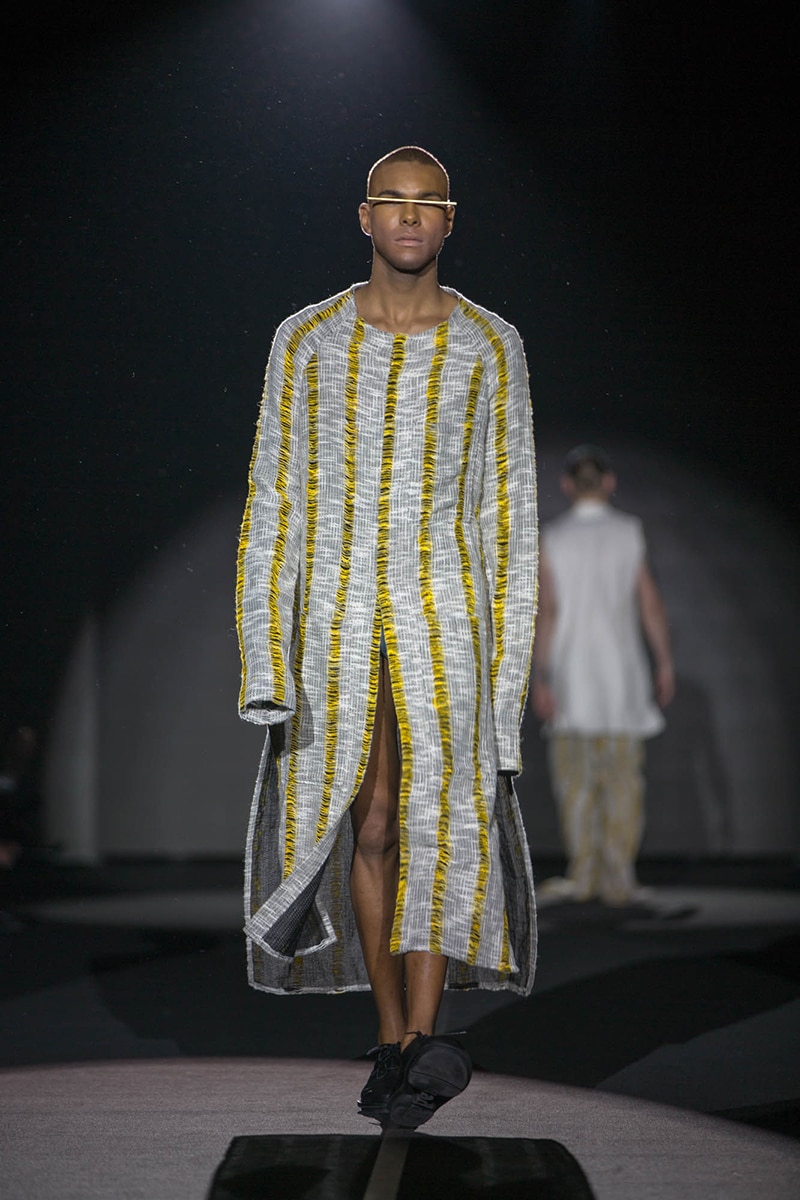 FY! – A plus is certainly the made in Italy authenticity of your clothes. What are the advantages of such a process, and what the disadvantages?
NDA – Ours is a product that can be defined piecewise handcrafted. Many of the makings are handmade. The pro is that of having a semi-artisan product. I like this and I think it's an advantage. For a niche brand which is non-commercial and with a limited production is important to maintain certain high standards.
Compared to our other female brand which is produced at an industrial level, D'Alpaos wants to be our most tailored part, with our vision, our modus operandi; it represents the firm will to nurture human relations: the ones with the tailors, the modelers, the cutters. This is one aspect that inevitably gets lost in the industrial process. It is true, and it should be highlighted, that a successful brand, that produces high quantities, is unlikely to be able to maintain a line of this type if not in a limited way.
FY! – Speaking about ideas… One to which we are particularly attached is the conception of an eco-friendly fashion. You make it and not because it is a current trend, but rather because you believe in its foundation. Why being eco-friendly?
NDA – It is right to make a premise. We try to present as natural as possible fabrics and avoid the 99% use of polyester or at least everything that is chemical. We favor cotton, linen, silk, wool and mixed. The same company from which the assortments are purchased treats 99% natural fabrics, and this helps us a lot. In fact, eco-friendly – as we mean it – would require an additional step such as, for example, switching from cotton to hemp. We aren't ready to face it primarily because of the raw material scarcity. But we want to use as many sustainable products as possible in which all the processes that should be and are generally made with chemical products – including prints and material processing – pass instead through a natural process in which the materials used can also be drunk. We have chosen to work with companies who believe in this principle and with us have chosen to walk this road. We want to get items that have both aesthetic and ethic qualities, "sound" clothes. Also in this case, I believe that for a successful brand, with a production of a certain type is however difficult to maintain the same standards because the costs would be prohibitive.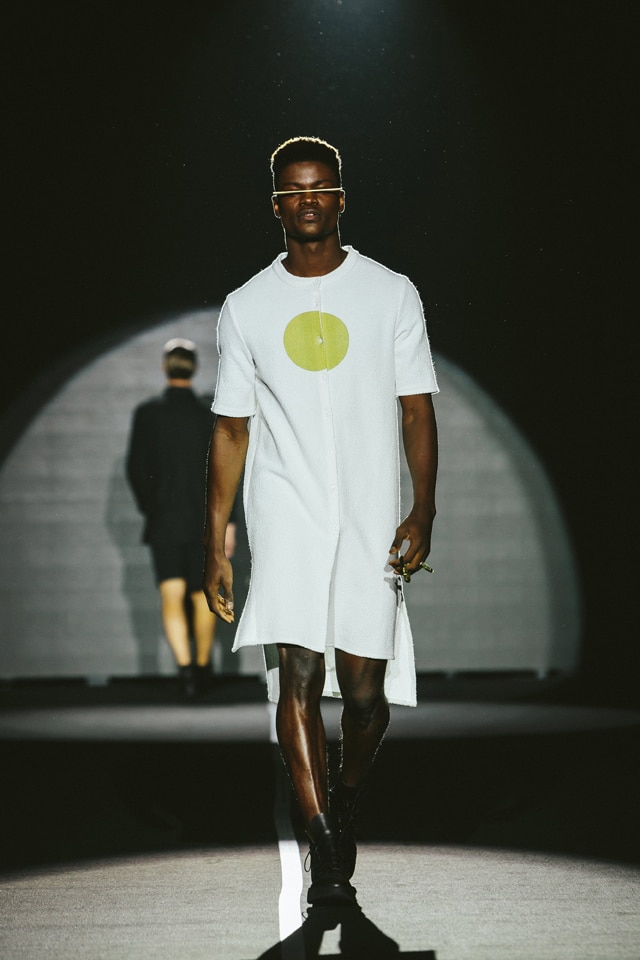 FY! – Yours is a brand based in Veneto, Udine. Is a conscious decision the one of staying away from the main fashion district?
NDA – It is a deliberate and desired choice. Cities such as Milan, London and Paris can be reached easily and we often are down there. We generally prefer to be somehow "outside the fashion system to avoid being affected, swallowed. To live in a context in which you inevitably are subject to prior opinions, trends, ideas, modes, etc. Staying out allows us to offer something different from what the others propose… but instead it might be the biggest mistake in our life."
FY! – Who is your typical customer?
NDA – We had some surprises in our short history. Basically, we do not think about the customers in the design stage, we work in one go. The target is diverse: from thirty-years old boys who can afford an item that has a certain cost to the trendy but no longer young lady. We envision to dress both people who like to be original with the most special garments and people with a more basic and elegant taste but looking for something different, even in terms of fabrics.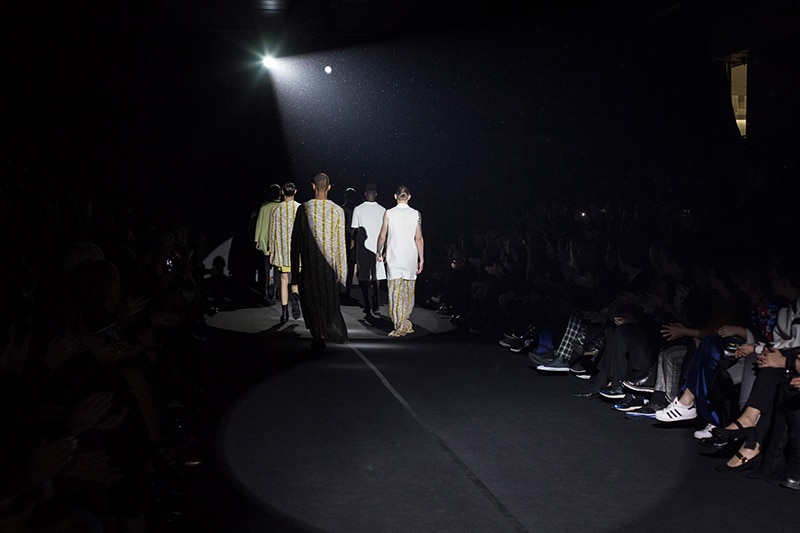 FY! – Let's speak about SS17 presented during MBFWLJ.
NDA – Compared to the previous ones that have always had a theme of inspiration – was it a city or a trip – this collection is one of "protest" and rebirth. We thought that so many terrible things happen in the world. We wanted to fight against them in our own way, first by bringing color, something different compared to the past, something new. For example, we identify ourselves with people who have suffered the recent attacks in Europe. Through this pain we have developed a process of rebirth. Starting from the basic black we gradually created colorful volumes and exaggeratedly oversized structures to represent an armor, a way to become much bigger, much stronger, much confident in yourself. Starting with almost squeezing shapes item by item we arrived to get this result. It wanted to be the representation of an experienced condition from which, however, you can cheer up.
FY! – The most representative item of the Collection?
NDA – All garments with the handmade painted rows, primarily the summer coat and the oversized pants. That was a collaboration with the wool mill that often collaborates with Chanel and that asked us to interpret their fabrics. It was the union between an amazing company, the craftsmanship and the representative aesthetics of the Collection.
FY! – The most common material?
NDA – Three, with a few differences: linen, cotton, silk.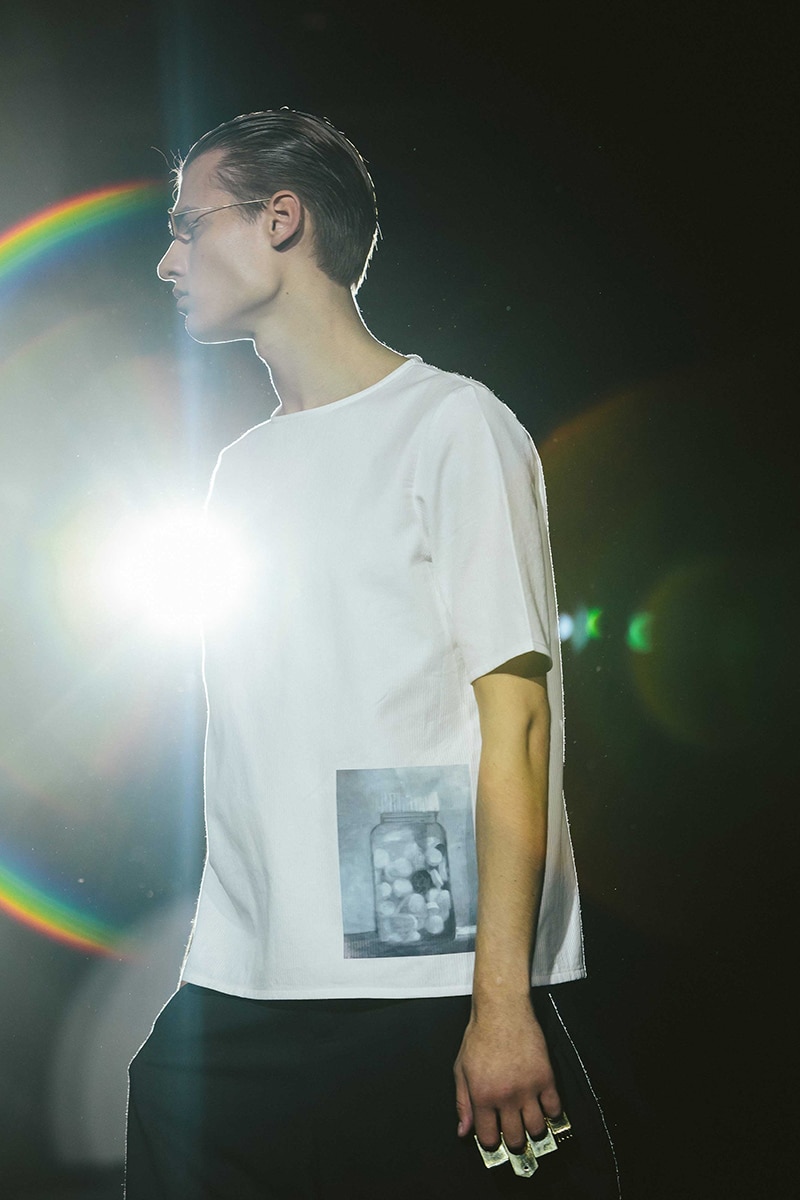 FY! – How to summarize the experience in Ljubljana and what about the next step?
NDA – It was a great pleasure to have been invited and chosen as a male brand. The organization is truly remarkable. It is a risk to propose so many different brands in a multi-brand show and be able to make them fit so well together. There was everything for everyone but not anything. They succeeded in selecting the collections according to their tastes and mixing them perfectly together.
We are very happy of the experience and certainly, if they want, we will return with the FW17 Collection.
Important now is to push the brand from a commercial point of view with all the difficulties of a historical moment that we can rightly define shitty.
FY! – According to you, what is FUCKING YOUNG! today?
NDA – It is something somewhat rare, innovative for sure. It is a group of people who sees farther than many other professionals. It is an open-minded container, where fashion is very democratic. It is a window that enables millions of people around the world to see what's new today. It is an antenna of signals that serves to designers, journalists but also to simple amateurs.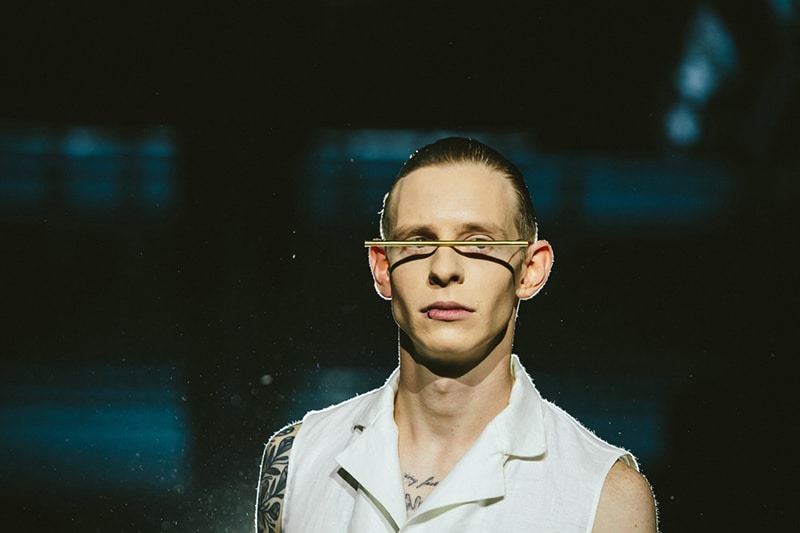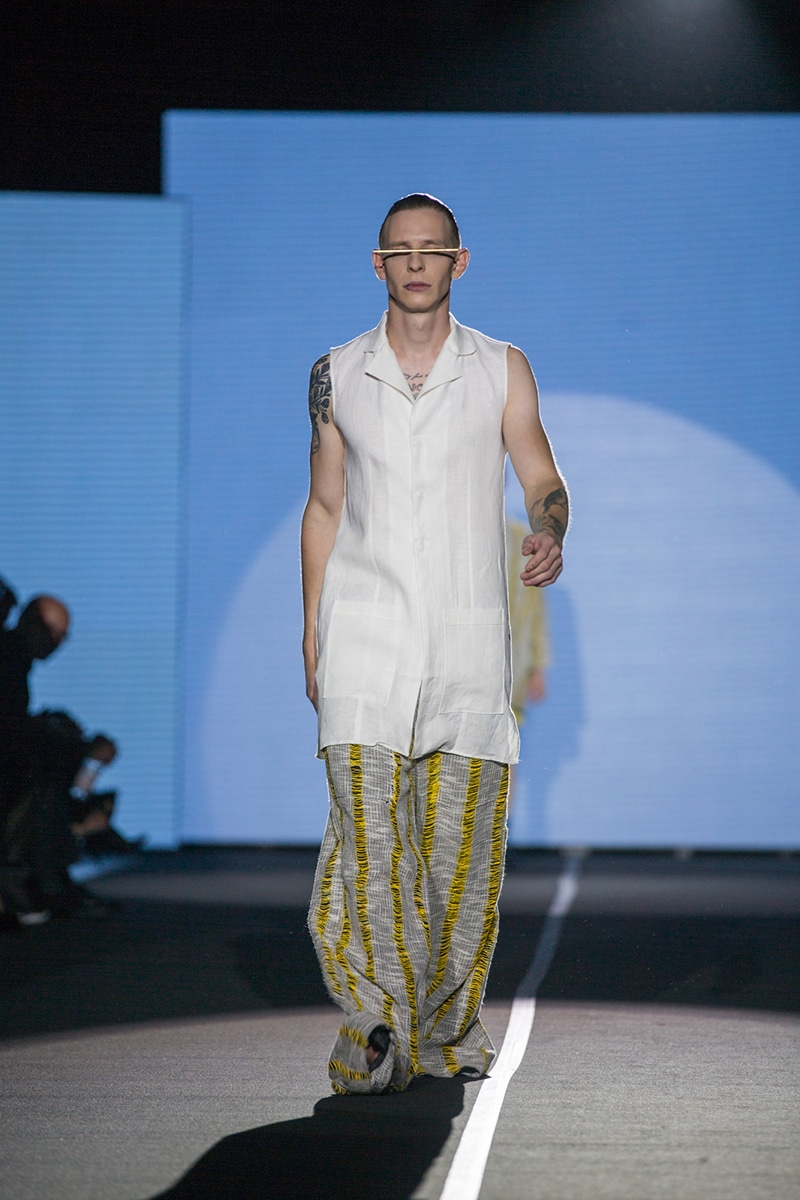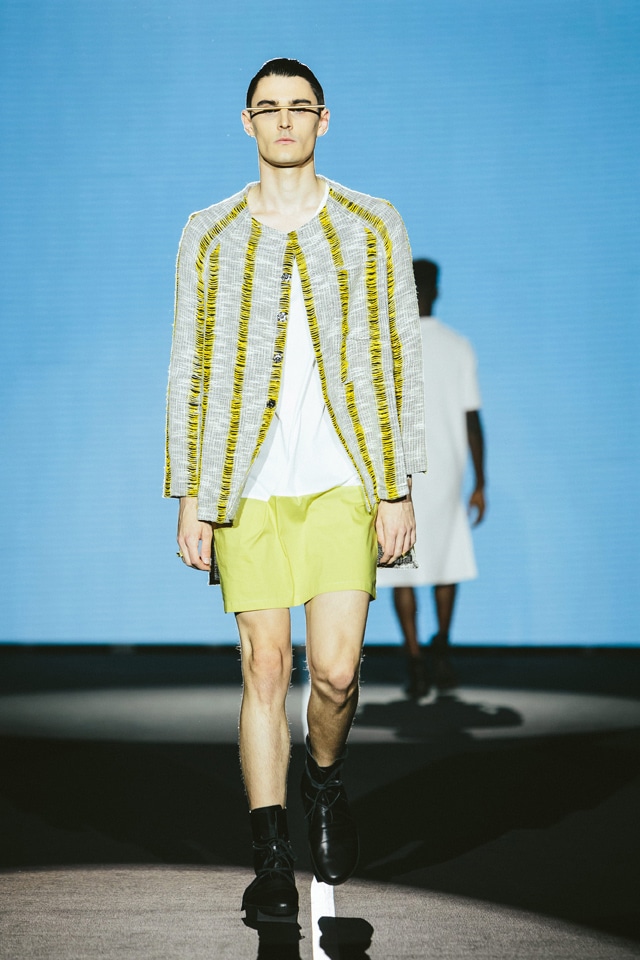 Jewerly : De.y
Ph: Jani Ugrin – Iztok Kurnik – Lorna Kijurko