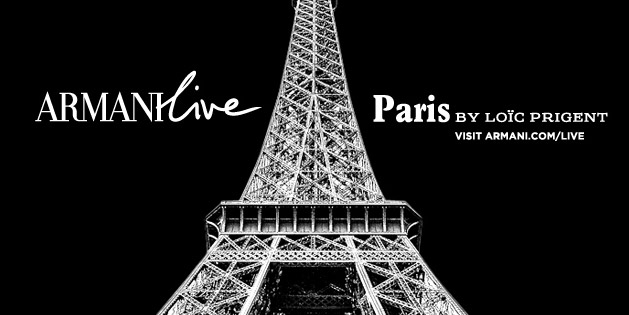 For the One Night Only event held in Paris on Jan. 21, Giorgio Armani will also be launching the second initiative of Armani/Live – a new live journal rich in digital information, often updated and offering viewers an unexpected, even surprising view of the big occasion. The format is such that it allows for both subjective contributions as well as interviews, pictures and new videos related to the world of Armani.
You will be able to experience the event through special editorial content, specifically curated and conceived by French director Loïc Prigent, known for his documentary-style films that show a real sympathy for its subjects, while still offering an often unseen view of the creative process of some of our most celebrated names in fashion.
At the One Night Only Paris, the time has come for Prigent to focus his lens on the Haute Couture world of Mr. Armani as well as his relationship to Paris. Through a series of short films, Loïc will try to showcase the world of Armani by giving us his own view of the event, the show and the man.
Throughout the event you will be able to interact with Armani/Live (armani.com/live) via the hashtag #OneNightOnlyParis on your social media.