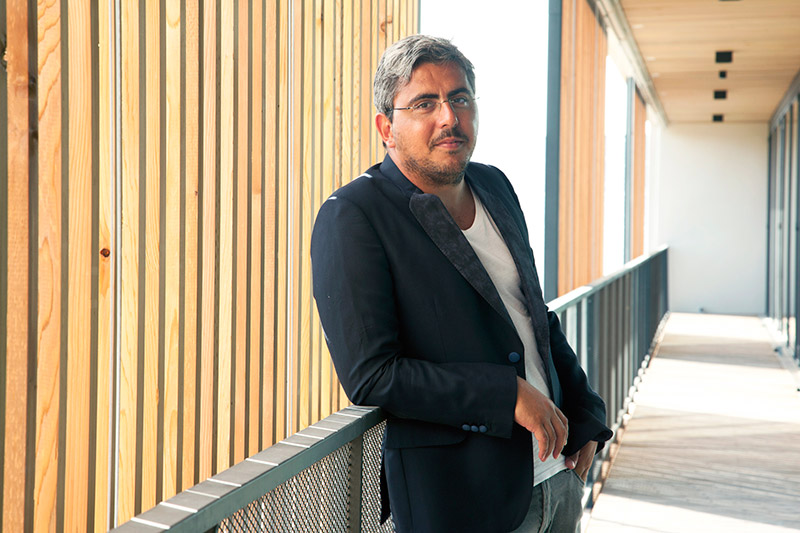 "We become not a melting pot but a beautiful mosaic. Different people, different beliefs, different yearnings, different hopes, different dreams".
Jimmy Carter takes a snapshot of a precise historical moment, one of a social ferment, of a colorful ethnic mix. American Vintage's mosaic is multicolor as well and equally multifaceted. Each tile is beautifully framed. The love for high quality is the glue that holds the pieces together. Come back from a trip to the United States, Michaël Azoulay decides to found a brand able to combine the typically American casual attitude and the French tradition allure. American Vintage was born in 2005 with the aim to create unique, unmistakable, affordable t-shirts.
Just this year the business' tenth birthday is celebrated. A decade of growth, affirmation, confirmation. A decade, long and short together, to establish that there can be a balance between quality and price… no doubts.
Fucking Young! – Hello Michaël! Let's start immediately. You define yourself an autodidact with a natural talent for business. Tell us about your path. How did you come to fashion?
Michaël Azoulay – I got into fashion at the bottom and worked my way up. I began in Sales and soon discovered my hidden talents for business and fashion.
FY – Inspired by a travel to the US, in 2005 you founds American Vintage with the intention to revisit the traditional concept of t-shirt. How did you do that? What are the main features of your knitting?
MA – The initial idea was to focus on T-shirts and knitwear, working with colors and materials to make them more feminine. From the start, our strength lay in our colors and in the quality of our products and materials. The washes used with our cotton give our products a "second-skin" effect. We restyled the basics, making them more fashionable and feminine, which was better suited to the personality of our customers.
FY – Why the choice fell on the t-shirt? What makes yours different from the other ones?
MA – One reason for choosing T-shirts was because it was a product I knew well. I had started out with knitwear as a Sales Person. I also needed to focus my strategy on one product category. I therefore decided to develop T-shirts, creating dress/cardigan versions and working with colors and materials. My initial aim was to make T-shirts a fashionable and more sensual product.
FY – In 2007, the first men's collection. Should we consider it as a natural evolution or a conscious and well measured decision?
MA – Given the essence and values of the brand, it was an obvious decision to develop a men's line. We could give men the same thing we had given women, so it was a natural step forward.
FY – How did you bring the American Vintage universe into a product and a maybe less ductil market as the menswear's?
MA – Men nowadays take greater care of their appearance and notice the feel, look and comfort of clothing. They are also more stylish and tuned into fashion. We wanted to capture this trend and respond to changes in our male target audience, offering them the values and essence of the brand. Customers and brands come together when they are both looking for something new.
FY – French tradition – in manufacturing, for example – and American inspiration – in the lines so as in the choice of fabrics (Supima cotton). How do you combine the two? How did you manage to make them talk to each other?
MA – Bringing together French and American tradition makes sense – it's a winning combination. We have drawn great inspiration from America because it is a country with very high T-shirt sales. American T-shirts are more raw, square-shaped and solid. We gave them a French touch, with attention to detail, sensuality and style. American Vintage is about mixing American innovation, energy and positive thinking with French tradition, refinement and elegance. This can be found in both our brand values and corporate culture.
FY –Your clothes are to be considered urban, casual and cool. Public favor arrived almost immediately. What do you considered the secret, the keystone of this success?
MA – We created a product that our customers can identify with. It speaks to them and brings out their unique personality. At American Vintage, clothing is not ostentatious and showy. Instead, it lets customers express their identity. The brand has brought a new concept to the market, with a unique approach and strong social values, which are expressed through the diversity of materials and colors.
FY – This year you celebrate 10 years of activity. How important is to have succeeded in reaching this milestone today and how gas the brand evolved in this decade?
MA – A 10-year anniversary is an important milestone for any brand, but in fashion, it's also quite old! I feel very proud to have started out with nothing and come this far. We have learnt on the job and have been able to adapt and change to meet our customers' expectations. We can now clearly see the way the brand has grown and matured, through the development of our collection, improved visibility and our international presence. We started with one product focus on knitwear and now have a collection that offers complete outfits. Our products are getting stronger and more stylish. We started out selling alongside other brands, before developing our own retail network. We now boast over 90 American Vintage boutiques and 500 sales outlets across the world.
FY – What could you never give up in your life?
MA – Never give up on your dreams. Hope, believe that tomorrow will be better than today. I never stop believing.
FY – As usual, our last question. For you, what is really FUCKING YOUNG!?
MA – It's our hearts and minds that need to stay "FUCKING YOUNG". It is beautiful to grow up, develop and grow wrinkles, but we must stay young at heart. "FUCKING YOUNG" is about different people of different backgrounds and ages coming together. A beautiful melting pot.