Photographer Hengyi Liang re-creates the Nantaimori (男体盛り) for the FW20-21 "FOOD" issue of Fucking Young! magazine.
Nantaimori is the practice of serving sashimi or sushi on the (usually naked) body of a man. Models Niko Xu, Chen Xu, Jiyuan Liang, Hang Yu, and Cunxiao Wang, are the guests for this special dinner.
Get your copy of Fucking Young! "FOOD" issue HERE and discover this cover-story and many other delicious recipes.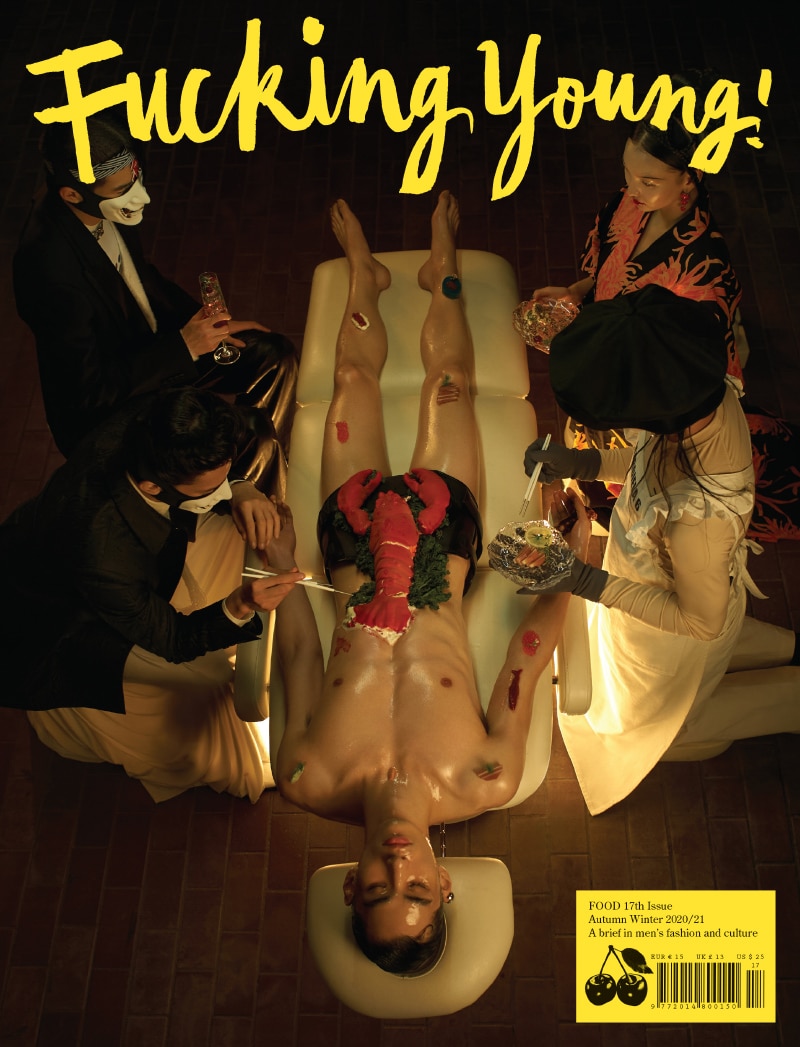 Photographer & Creative: Hengyi Liang @liang1026hy
Stylist: Alvin Yu @alvinyu613
Makeup Artist: Jolin @Jolin.wzl
Hair Stylist: Zaixuan (HairPro) @zaixuanlee
Executive Producers: May Yang, Qin, Yang (PARK STUDIO)
Director: ddwang @wanghuixin_
DOP: Bowie Feng @bowiefff
Set Design: CJ Project @parkstudiochina
Video Music Production: C.A.O caoxiaovero
Models: Niko Xu (FOCUS Management) @nikoooxl, Chen Xu (SUPERMII MODELS) @uchennx, Jiyuan Liang (INSTAR) @jiyuan_liang, Hang Yu (PARAS) @yuhang110, Cunxiao Wang (FOCUS Management) @wangcunxiao
Photography Assistant: ELEPHOTO
Stylist Assistants: Sean, Leah
Makeup Artist Assistants: Vivi, Anan
Hair Stylist Assistant: Hongzhi Jiang
Studio: YYRENTAL
Special thanks to NUDAKE @nu_dake