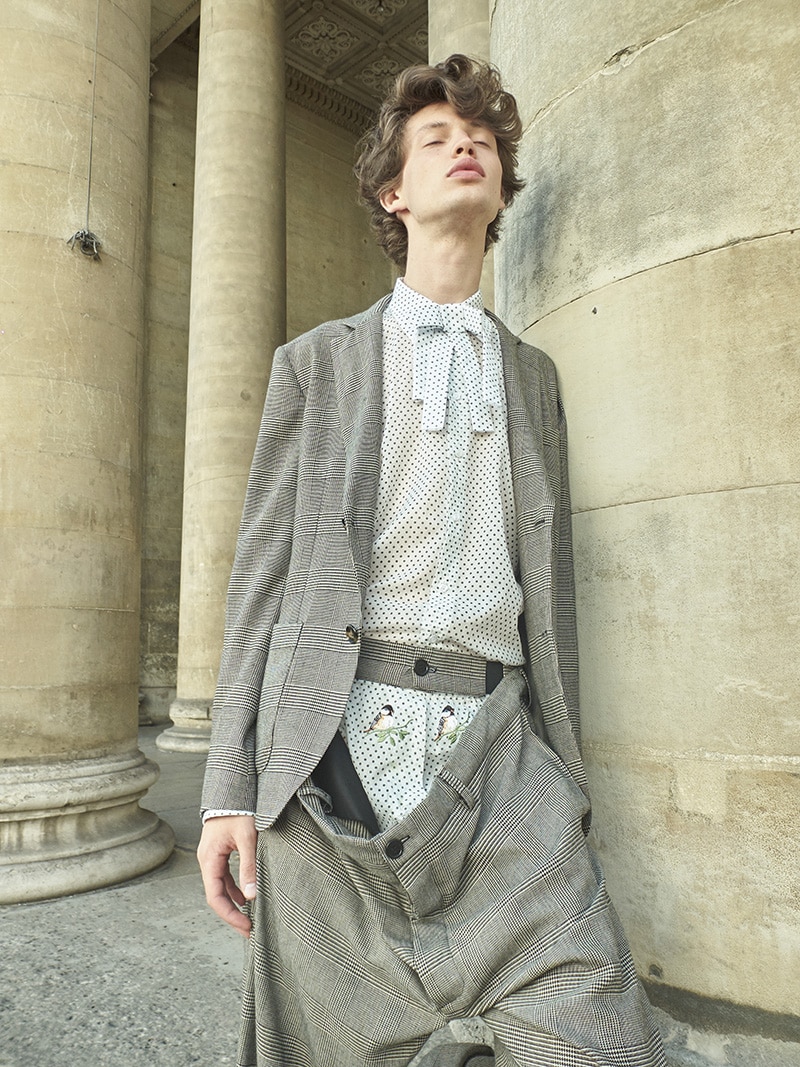 Some weeks ago in Firenze, Italy, far away from the sashaying Pitti catwalk creepers, we find ourselves in a quiet unassuming street. After a short ascent, we are welcomed into the wonderful home of Mr. NICOLA INDELICATO. As the more seasoned travelers might come to expect from the man's IG, surprisingly so, no gritty basement, blacked out boxroom or MDMA laced cocktails are in sight. Instead, lovely cookery, delectable appetizers, and lengthy conversations manifest. Oh dear, how first appearances can be misleading, especially in a world where photoshopped visuals tell tall-tales like modern day Pinocchios. Luckily, at FY!, we like to get our money's worth by breaking SoMe facades. NICOLA surely obliged us.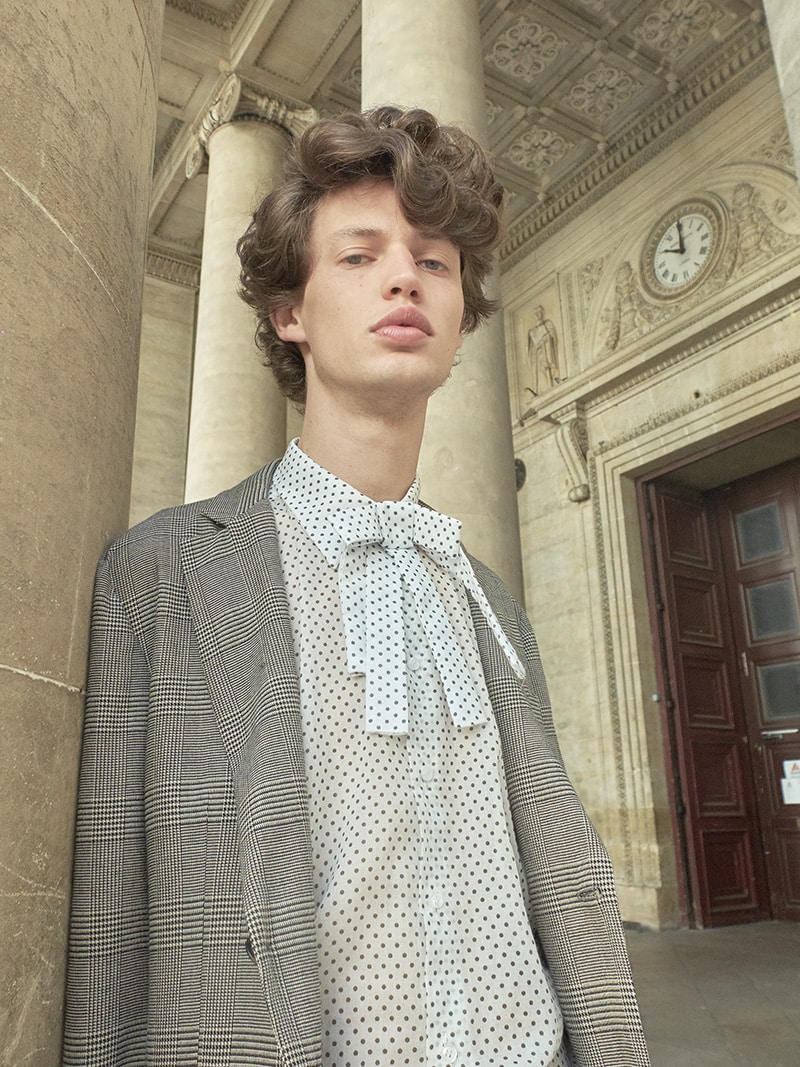 For those of you completely new to INDELICATO's world, we questioned him politely in his homey digs, in order to reveal all. Nicola speaks from the heart, carefully weighing his expressions; without a single stammer. Here is a proper man that knows what he is doing, and does it exactly for that reason. No BS, no tattling, but raw emotion. We believe in him and trust his deep voice. Why? Because fashion that documents our deepest desires, whilst cradling demons and embracing self-diagnosis, always will have a place here. Shouting louder than bombs might get you there too, but if it was up to us, we prefer the fragile world that is lovingly INDELICATO.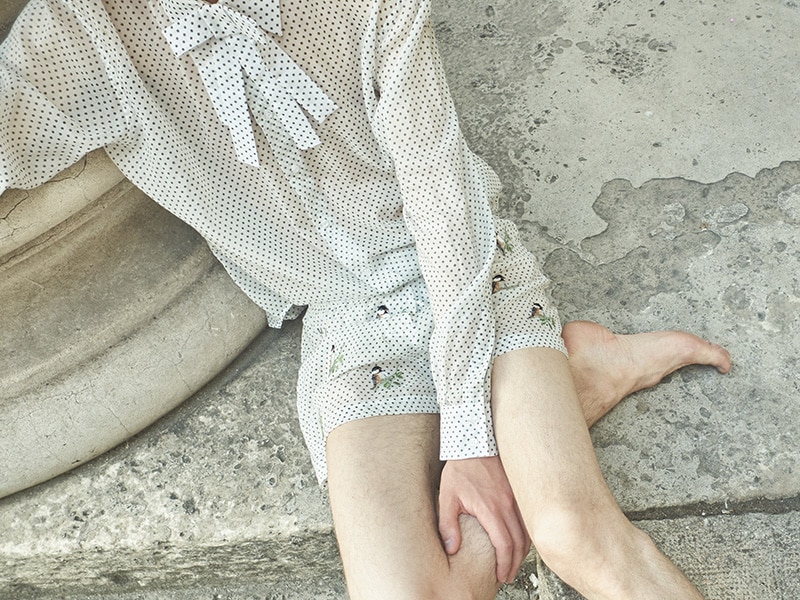 LITTLE MAN. Nicola welcome to FY!, could you tell me about yourself as a young boy and the nest you sprang from?
I was born and raised in Tuscany, in a Sicilian family who moved to Florence in the 1960s. When I was young, I always felt different from the others kids. During these years, I have memories of living my life floating in a bubble, filled with my thought and endless drawings. So you can imagine, I was a child with extreme emotional sensitivity and a very special perspective of the world around me. Initially, I was raised by my father's aunt, who got married to a Greek man. So I was given this life to explore in Florence, the cradle of Renaissance, but with such a strong Mediterranean character at home, it was quite a strong blend. In the end, it gave me this warm lifestyle and welcoming persona. Here I think of cooking homey meals, my taste in visual art, in the people I love; they are all surrounded by a spiced passion. This unique passion, I will never compromise on and could not live without. In my youth, I remember well the feasts that used to happen in that house, with food from Greece and Sicily to celebrate traditions and family events. This multicultural dimension in which I spend my first years of life has definitely made me an open-minded man, with fewer fears towards the world outside. Yet leaving me with this huge curiosity of always discovering more.
BIG BROTHER. As you also indicated, our parents often play a key role in who we turn out to be. How was this for you?
My family has indeed played a crucial role in the person that I have become. I feel that I have to thank my parents for their frugal way of living, based on simple things of life and for the fact that they have never put pressure on me by raising expectations on what I could have become. They simply let me free to explore my own world without imposing what they thought was best for me to do. That is perhaps the most interesting and successful thing that they have done in their parenting and feel very grateful for it. They always believed in my creative talent and nourished this constantly My father, with his reserved way of silently talking to me, has always been a hard worker, therefore a role model who I have been inspired by. I learn to have a big responsibility towards my work and this also involves working long hours, sometimes waking up at night to draw. This full-on approach is where the graphic on one of my prints comes from…..INDELICATO OPEN 24 HOURS (much interpretation lies behind this :))))))
OLD SOUL. You are indeed a hard worker, but your professional life had to begin somewhere right?
The first professional decision I ever took, was choosing this profession! I remember precisely when, in my early teens; my mum sent me to spend my summer holidays with her sister in Sicily. I will never forget the time when she took me a tailor studio, hidden amongst thick walls that kept the place cool and far from the Sicilian heat wave. There, for the first time, I was strongly captivated by the beautiful work and the profound knowledge + talent of those women handling laces and precious fabrics so gracefully. I also recall the profound beauty of their hands when they were embroidering silk blouses. I already had the love of fashion inside me and this magical place with its fluctuating sequins and turbans definitely triggered my definitive choice of making this deep love my profession and my life.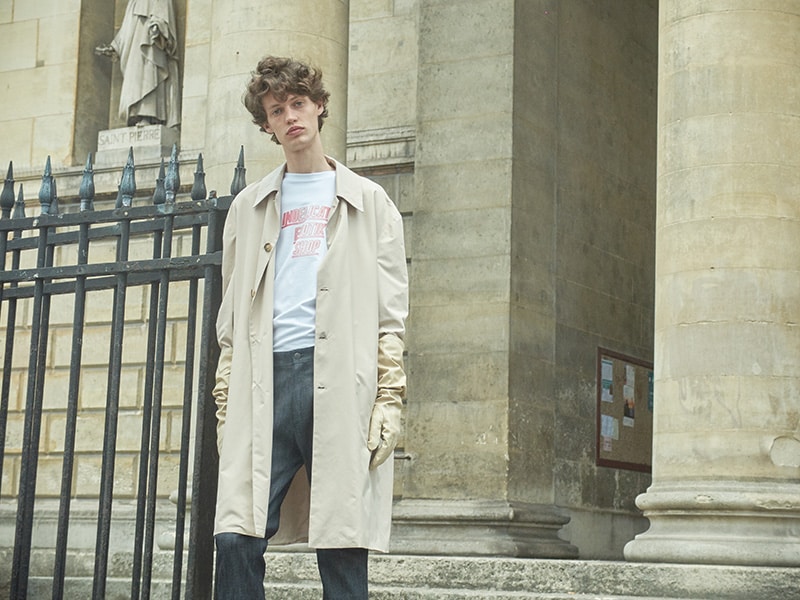 CROTCHETY. You have been around for a while and in a wonderful way are no spring-chicken. So what happened after you made the choice of becoming a designer?
After high school (many many years ago), I started my three-year studies at Polimoda and this was my proper debut in the fashion universe and the successful completion of my dream. I then moved to London for an internship at Vivienne Westwood where I realized the real meaning of being able to do what you love on an everyday basis. Afterwards, I worked for various companies in the fashion industry. The most significant and enduring experience that I have had was the one with Roberto Cavalli where I learned to express myself and had the chance to experience a lot. Today, I still reap the benefits of my work at Cavalli, despite the fact my style is very different from his. So much was learned there.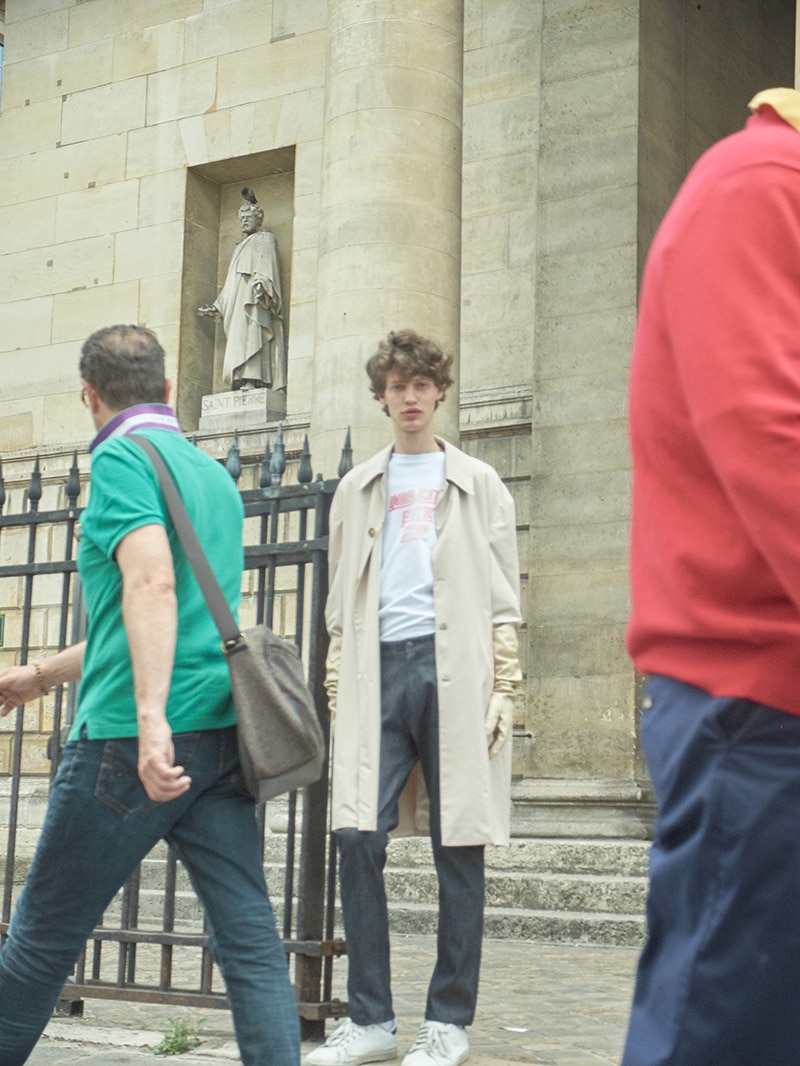 TOPSY-TURVY. It is all about finding ourselves. So when, only a couple of years ago, you started to further develop your INDELICATO world, this must felt like such a release?
It definitely did. My INDELICATO world means so much to me. It is funny how 'indelicato' literally means "indelicate", therefore at first, it seems not that tactful and a little offensive. This is actually my real surname and truly helped to define my brand. At the same time, I find that using my given name, a " brave declaration of war" was given to myself. As this meant I had to deliver, confront and engage myself on a whole new level. Everything I do, I will do it indelicately by using big letters to stamp my name on my creations, as if crying out some form of a message. Each season, my collections deal with a different subject that is part of my life, making my work a sort of personal path of analysis. Dealing with my sensibility and my fragility through my INDELICATO world helps me to battle my "demons". Every time I create, it is as if I am touching my feelings, my most hidden perversions and decide to take them on, digest them and throw them up again into something novel.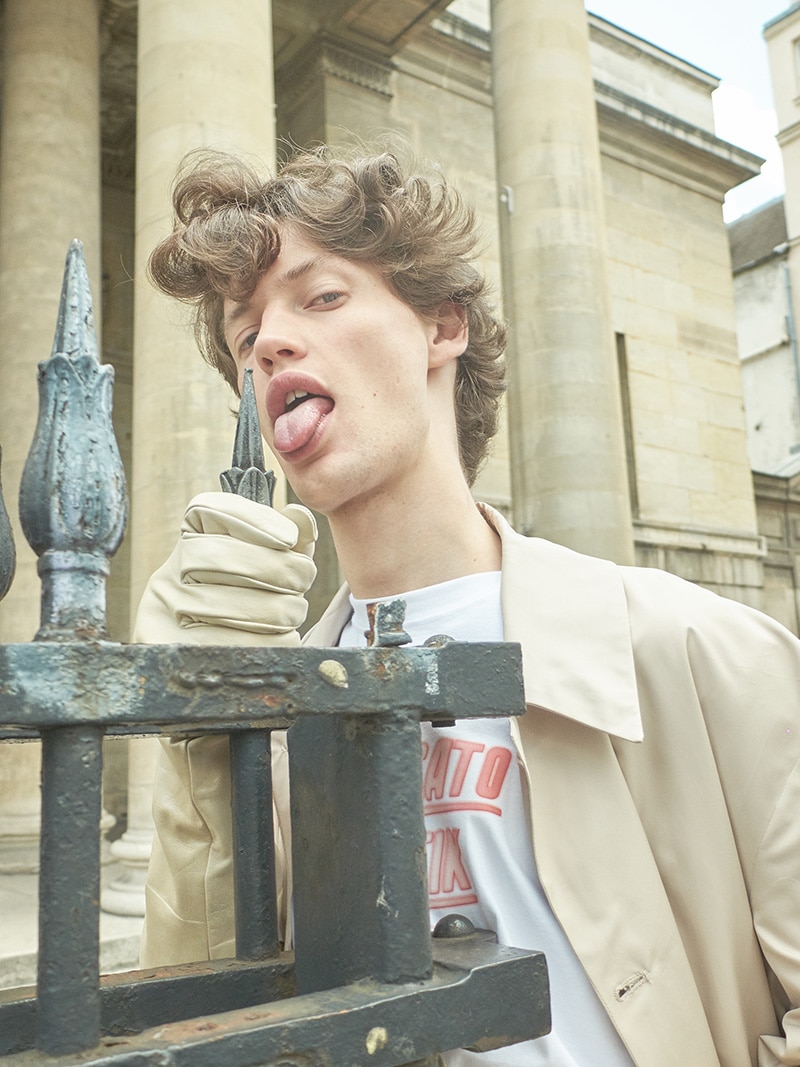 BUBBLES. But the meaning is conveyed mostly through your prints, wouldn't you say?
My prints with their graphics are today perhaps the most effective way of telling a story. My sarcastic approach towards what happens has always some included some irreverence and playful banter. My signature print "PERVERT BUT IN A ROMANTIC WAY" explains well the combination of this irreverence and fun. Being myself a filter does not make me overlook the fact that I interpret things in my very own way. In a time when nipples could not be shown, with the beginning of the " free nipple" movement on IG, I came up with my t-shirt with a print showing the picture of a nipple and real piercing attached to it. This is not meant to be an objection but to show sarcasm and fun instead, whilst conveying a message that reflects on where my personal interpretation of sarcasm comes from.
LIFELINE. Important for me here is to place your work in a wider context, as it is not about gender, discussions, or mere sexuality. As you told me in Florence, it lies deeper and breathes a rebellious kind of love and freedom…
To be honest, I am not very attentive to how others may interpret my work, especially not if they claim it as pure sexuality. Actually, my real objective is being, for the very first time in my life, free. And to allow my customers to be free too. Coming from a such a Catholic country, where repression has always been on the menu, has always influenced me a lot. Repression creates backwardness. And as you said earlier: I am not longer a newbie so I choose to be free and to use my brand to evolve mentally, physically and psychologically.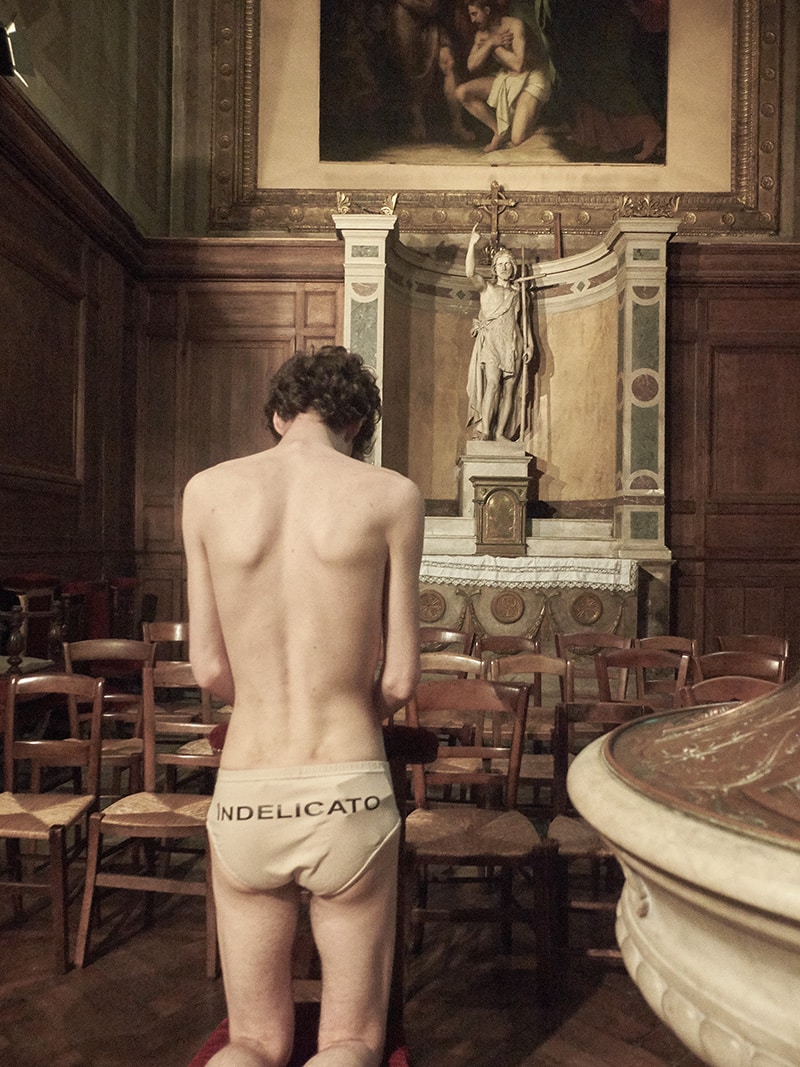 PIRATED MERCH. So in this world of over branding, logo's, 'statements' and below par visual communication, how difficult is it to stick by your own voice?
It is clearly very important to me as a brand to have a strong approach on visual communication-wise as images arrive before words. I am honestly not aware of the secret recipe to crafting one's own voice, but what I know is that I always give a message of what I really think. I don't create viral boxed images, but I talk about what my world is through the help of images. At the beginning, it was a bit of a struggle, as people do not take the time or perhaps fully have an interest in understanding your message. Today I am glad to have achieved some results by gathered some attention to my INDELICATO world. I believe that when you have a strong brand identity, the message will break through and will always be recognized as being truly authentic.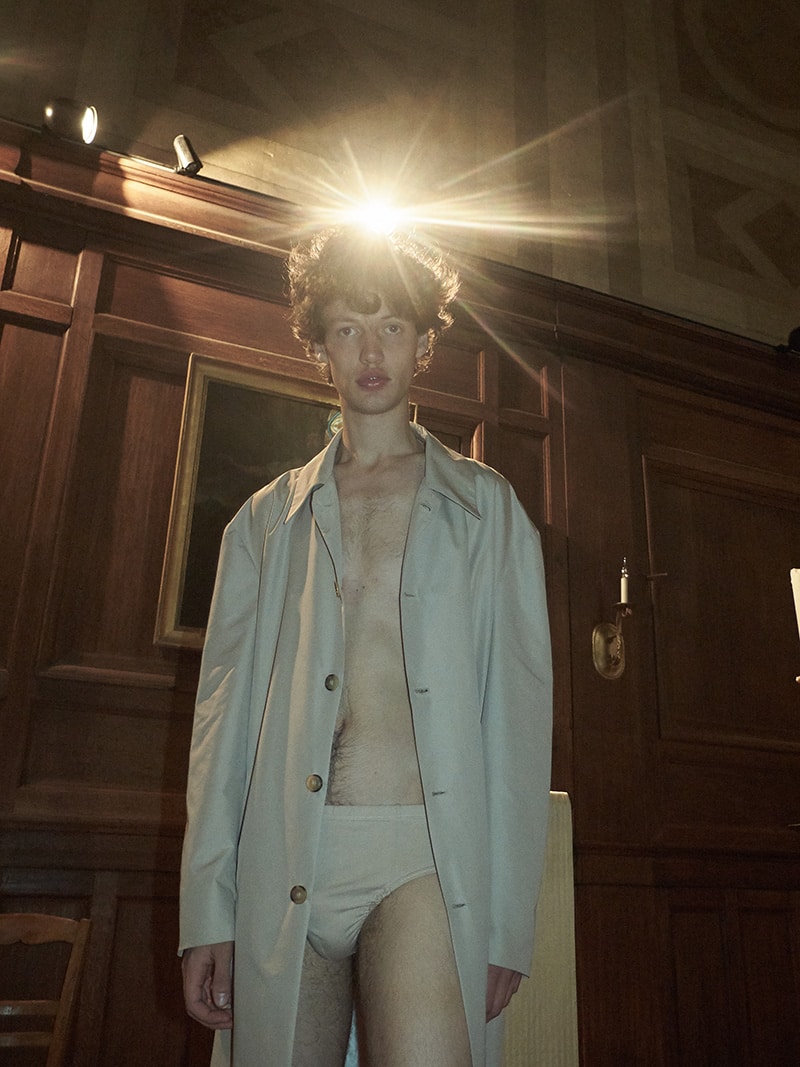 DEADLOCK. You are right, but what is your take on the peer-pressure monster that is Social Media?
Social media surely has the magic of transforming bullshit in diamonds. Leadership parameters have completely changed. I remember when, at the school gym, the guy with the biggest cock was crowned as the leader of the group. Nowadays, you are judged by the number of followers or the likes you have. But is it really true that having more likes on a post, makes you more successful as a person? It is important to give the right value to these media and appropriate them accordingly.
WEDLOCK. So Nicola, all electronics aside, how do you choose to really connect with others?
The only way of connecting to others is by "living" others. In my life, I have been making a selection of the people that I wish to have with me on my path. Is difficult sometimes, especially if I think about the fact that my two dearest friends live very far from me, therefore, we are not able to enjoy everyday life together. My family is becoming more important year after year and I always make sure to spend time with them. I really enjoy my own company as well though, so I often spend some time happily all alone.
Quick fire-round….to conclude this lovely conversation, thank you Nicola!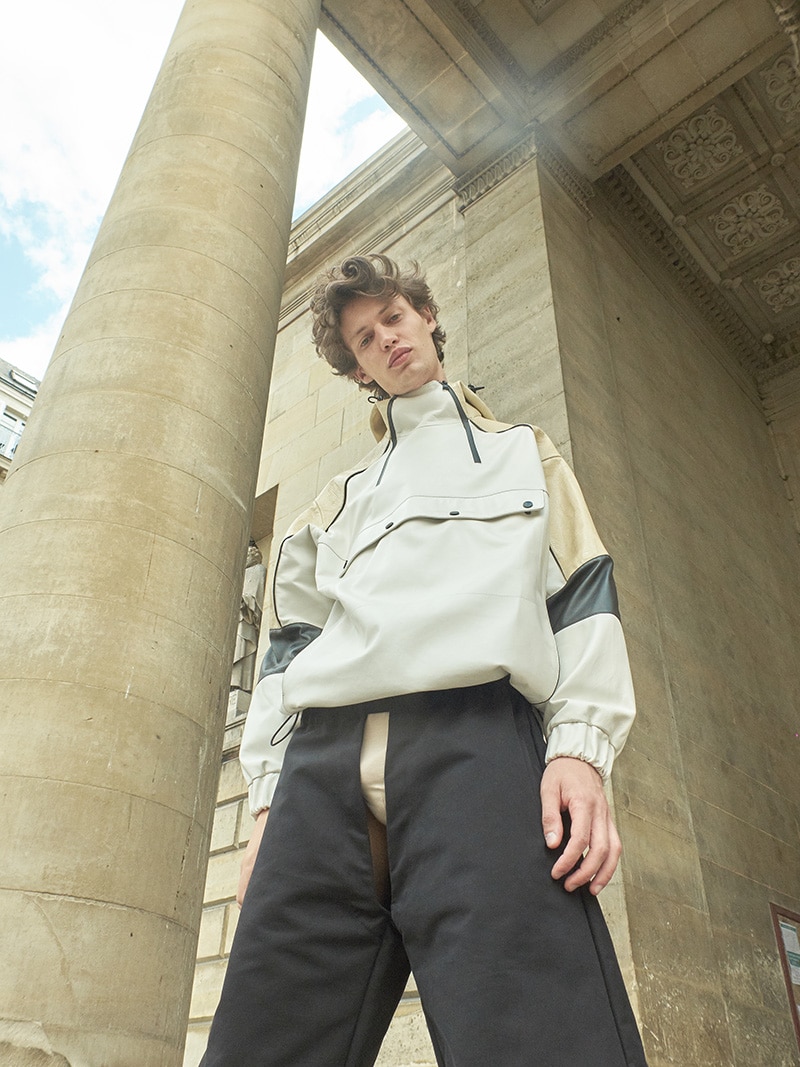 DELECTABLE. If Nicola Indelicato was a three-course meal, what would it be?
Haha: I would be a peasant sandwich made with two slices of sourdough bread and salami, a spring roll and to finish a humble apple pie!
SCRUMPTIOUS. What is the cheekiest darkest corner you could recommend us in Florence?
Piazza Santo Spirito and the alleyways around here, with all sort of markets in the mornings and loads of bars and clubs at night. My cheeky place, though, is a local supermarket where I always BUMP into interesting flirty looks……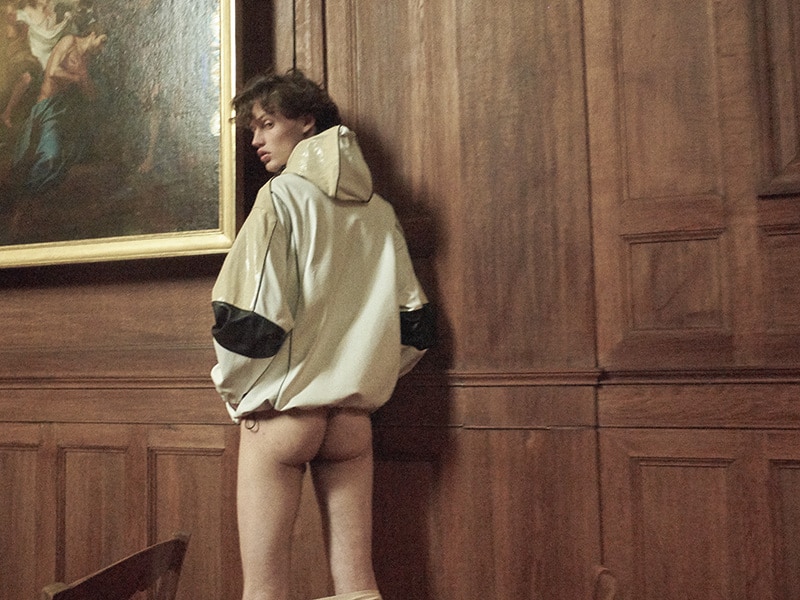 DELUGE. If we had to score (musically), the SS18 collection you are showing us here, which tracks would you pick?
S/S18 "Souvenir d'Italie" is a homage to my family and features pictures of my parents in the 60s. For that reason, I would like to pick a nostalgic Italian song by Jimmy Fontana called "Il Mondo" (The World), as I like to think of the time they arrived in Florence and discovered their new homestead.
PICKY NICKY. What is something you can absolutely not stand in life?
(Ed. Nicola exclaims): Brown noses! I really can't stand them, terrible!!!
WILLY NILLY. And lastly, as we decidedly so must ask. What does it mean to be Fucking Young!??
To be Fucking Young! according to me, can be captured in a single word: DESIRE!!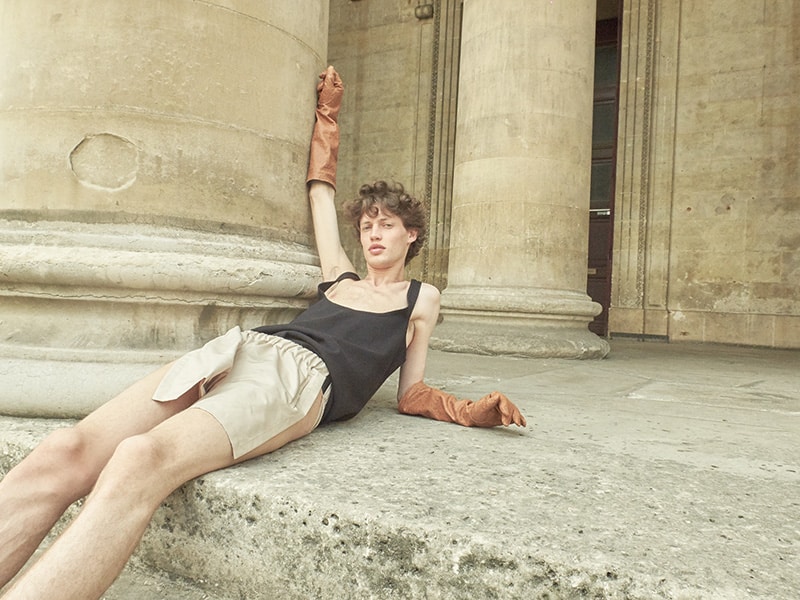 IMAGES EXCLUSIVELY SHOT FOR FUCKING YOUNG!
All garments by NICOLA INDELICATO – Souvenir d'Italie SS18
Photographer: Paul Franco
Model: Jeremy Longo