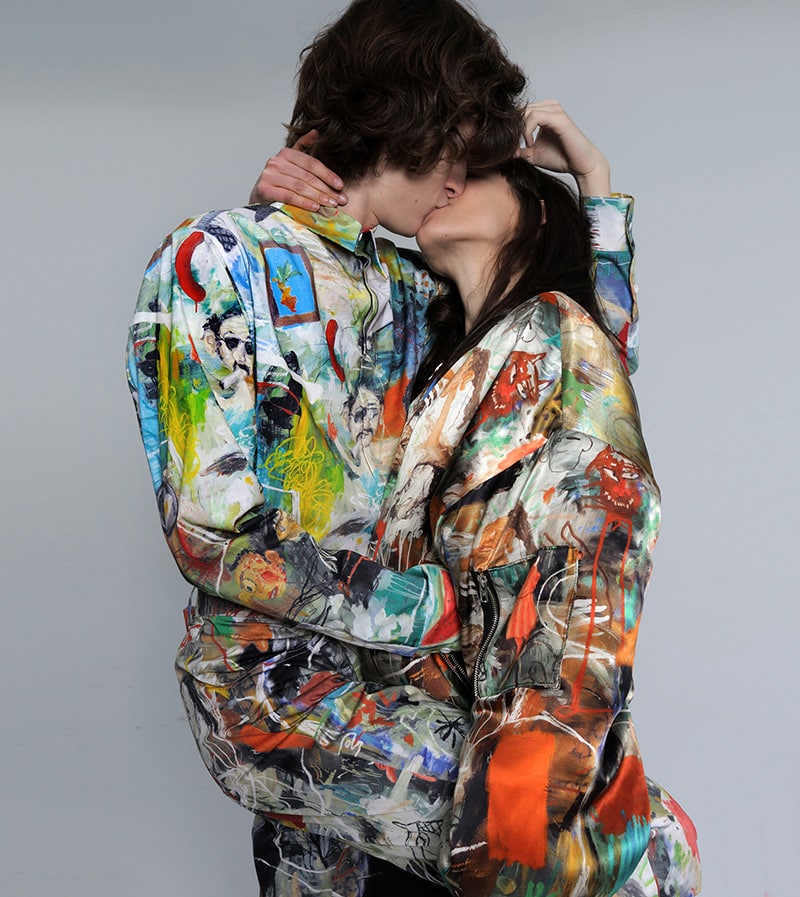 We do not know how to give an answer to the discussion about whether fashion is art, but it is in this collaboration between the Spanish designer María Escoté and the gallerist Fer Francés where we find a rendezvous point.
Frescoté is the name of the new project between them. Maria Escoté's designs for women are characterized by being colorful and vibrant. Fer Francés is the most younger curator in Madrid and runs Javier López and Fer Francés Gallery, specialized in contemporary art. Their new label have just launched a capsule collection based on the work of the painter Matías Sánchez that will be available in the online store of María Escoté. Sweatshirts, t-shirts, bombers, knitted jumpers and pants make up the first collection of Frescoté designed for menswear mainly.
The presentation of the collaboration took place in Madrid within the framework of ARCO, the International Contemporary Art Fair. The event of art per excellence in Madrid, was the occasion where the designer and the gallerist made clear their purpose: joining fashion and art under the name of 'Frescoté', a project in which fashion is honored by colors, geometries and brushstrokes through different plastic arts.
What is Frescoté?
María Escoté: I've always been very attracted to art. When I met Fer it was a great opportunity to met artists and and soon we decided to start designing capsule collections together over the year based on the paintings of the artists he works with. So, in consequence Frescoté was born
Fer Francés: The idea is make a long-term project and create the most professional collaboration that have joined fashion and art ever.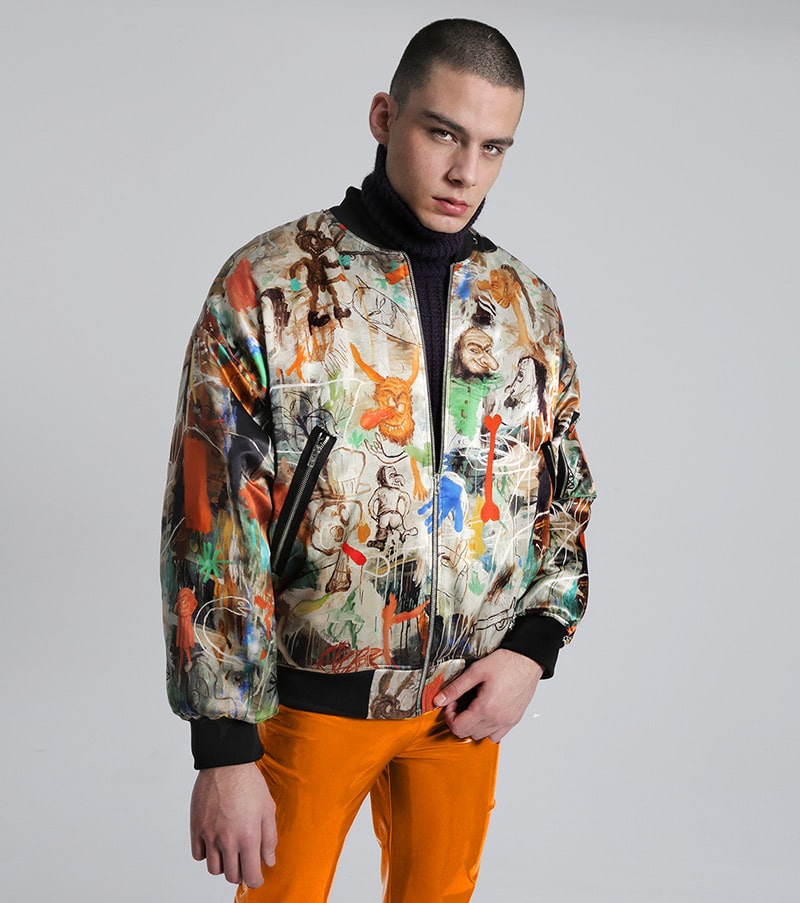 How was working with María? Did you fancy approaching fashion?
Fer: I was a Maria's fan. Actually, we met because we are fans from each other. It is difficult to attract new audiences to the art world, because it is a very closed circuit. Once I tried submerging in fashion by my own, but I realized it was too difficult. However, I met Maria and the possibility came up.
Your first collaboration revolves around Matías Sánchez´s work. How the idea came up with?
María: I found out him thanks to Fer. Her work called my attention because it's so ironic. Also, I love his chromatic range and the icons. It's very different from I've ever made, because until now I 've only create feminine collections, although his handwork inspired me to design a masculine collection.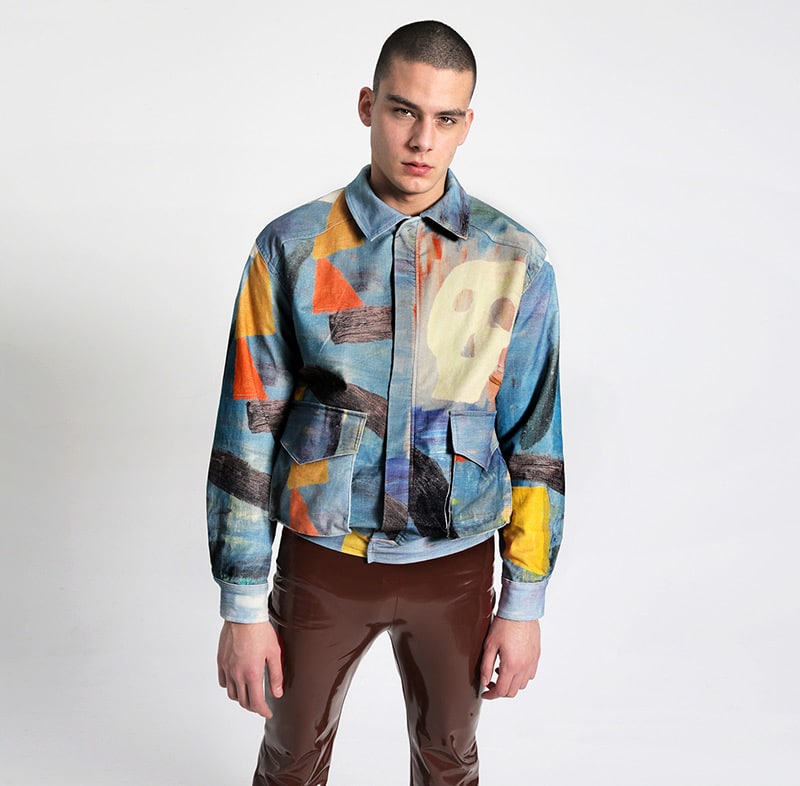 Who is Matías Sánchez? What is his sort of painting?
Fer: He was born in Germany, although he lives in Seville. Currently, he is one of the most international german artist. Influenced by german expressionism, he plays with colors and abstract structures that María has used in her fabrics.
How was to transfer his work to the language of fashion?
María: It has been wonderful, because prints are the part I enjoy most during the creative process. Working with Matías' art has been very beautiful and very funny and very easy. Working with freedom in a project that you love, is the easiest way.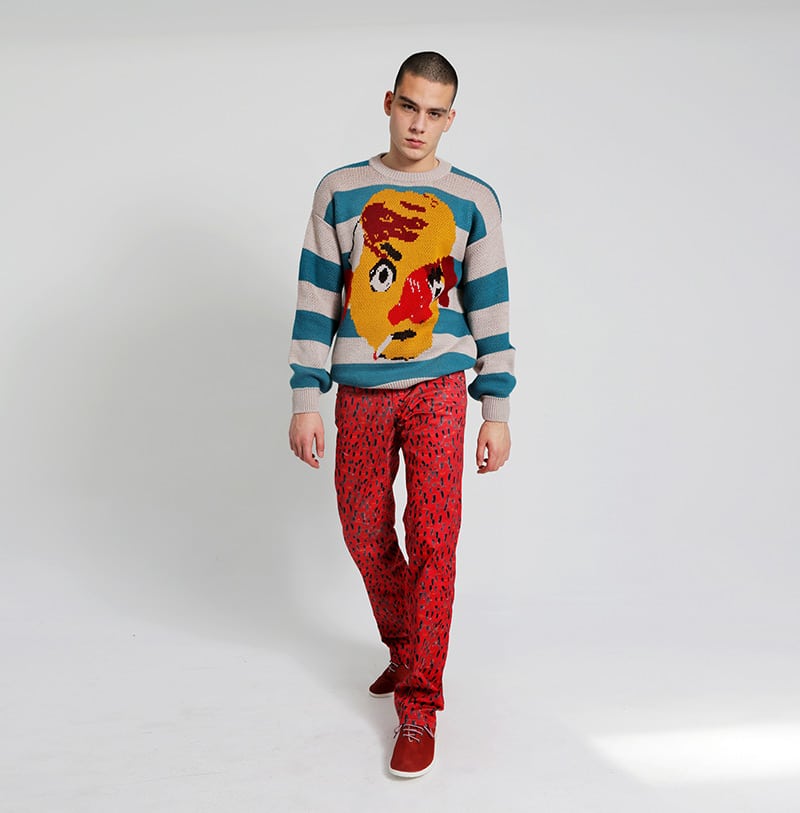 María, last year you launched your first kids collection. Now, you have dared with men garments… haven't it?
María: Although my collections are for women because they are my principal target, I've create, T-shirts, shirts, hoodies …. The truth is men clothes works well enough.
Finally, are other collaboration coming? Have you other names in mind to work with?
Fer: We've already talk with Todd James and Erik Parker, both New York artists with a solid trayectory. James comes from graffitti and Parker is a well-known painter in EEUU.
The enriching thing about 'Frescoté' is that we do not want to make only one piece of each artist, otherwise complete collections so that you can see the work behind each collaboration.