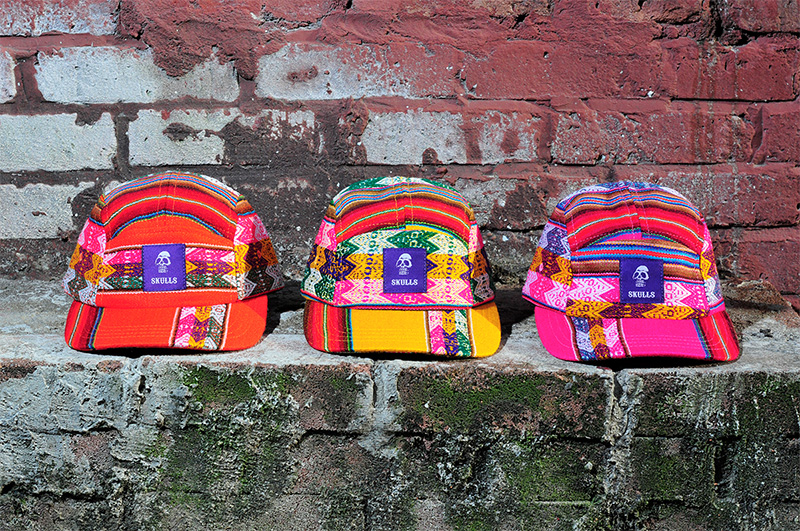 Every single person has one.  You know the kind I mean.  That annoying, sonofabitch friend of yours who's baited you into coming shopping with them but despite running all about SoHo, Melrose area (*insert garment district of your choice here*) they still cannot find a fucking thing.
Don't you wish you were buddies with Ivan Jimenez?  When this creative, fly Spaniard couldn't find what he was looking for, he decided to make threads for himself.  Why hunt for a meal when you can make a feast for yourself?
What Ivan has managed to come up with literally covers the idiom 'something for all occasions' where his designs range from subtle-smooth to face smacking ferocious.  I sat down with Ivan and got him to spill the beans on what comes next when you literally cannot find anything to wear.
Fucking Young! – Hola Ivan! What has your day consisted of so far? What's the craziest thought that has crossed your mind today?
Ivan Jimenez – Hi there. Well, its 7:23 am in the morning. So far I woke up at 6:30 and had a shower. I thought about all the meetings I have today and rushed to "Coffee bean" to get me one of those soy lattes and now I'm at the office in K-Town I just got like 3 weeks ago. The craziest thought today? Well, I said to myself "Today you need to finish a full range of accessories for summer"…. like if that was so easy!
FY! – You designed the SKULLS brand because you wanted to create things you couldn't find anywhere during your travels.  What were you coming across that offended your taste to the point of creative inspiration?
IJ – Nothing really offended me, it was more like "Damn, I cant find what I want to wear" so I took action and went all out to create this small collection of hats. Everything was the same back then, mostly everything was toned down or hip-hop inspired. I just did what I liked: Maps, ships, Hawaiian print, and some colorful stuff.
FY! – You started the brand with designing 5-panels and have now expanded to a selection of apparel and accessories. What's the next step you're planning to take SKULLS?
IJ – First of all it will all depend on the support I get from accounts worldwide. This is a one-man operation, and as much as I want to keep creating, it all goes back to getting more accounts on board. I'm working on more accessories, wallets, and a new line of hats. I'm also doing bucket hats in Los Angeles, its crazy but I try to keep as much of the brand production in the US. I want to do things I would wear and that I like. It's a simple approach to fashion but the only approach I can think of!
FY!  – As you mentioned, your design team consists of a total of ONE person.  Yourself.  Have you ever thought of expanding your business?  Why/Why not?
IJ – I have thought about it but it all goes back to how the brand performs, and how you sell. I support myself and I invest everything back to the brand, so maybe one day I will be able to employ more people, but right now, I cant. My wife created the whole "Mermaid" brand first collection so I get help from her every now and then.
FY! – What's something you never thought you would design, but would love to design just one?  A single grand 'fuck-off' SKULLS piece.
IJ – I would love to design the interior of a car. Something useful, something colorful but well designed. I love car interiors, and I have a very clear idea on what's good and what's not, so Id say car interior is something Id love to do, just once. If you think about it, the interior of a car should be more important than the exterior and the engine, as we spend more time inside the car than looking at it.
FY!  – Who would be your dream collaborator? SKULLS x _______?  Why?
IJ – Well, I would say collaboration is an exchange of ideas and production capabilities between two parties to create a product that embodies the vision of both parties. The way I see collaboration is to share a vision and create something great. Brands I can think of right now I would love to work with would be Porter from Japan.
FY!  – Your headwear design is a juxtaposition between loud clashing patterns such as the Mermaid "Pink Flamingos" design and then sleek structures such as the Dark label "Horse heads".  Why the need for both?  Why not stick to the one design aesthetic?
IJ – Some people have called me "bi polar", I'm not sure if that word exists in English, but shows two sides of somebody's personality. I like to have options in life, especially in fashion. I like to design for any of my moods. Why designing just for full, casual, crazy days or outfits? Why not having the option to wear something super clean? The latest collection of the brands features 5 hats made with ultra-suede fabric and one color block: red, brown, cream, green and black. The logo is the only element that features a little bit of color, then you have 4 other hats with all over print avocado, fishes, birds and floral suede. Having just one-design aesthetic frames you and your mind.
FY! –  Totally agreed.  There are some designers stuck in that paradigm.  You were the brand manager for NIKE between 2004 – 2011.  What did you take away from that experience?  
IJ – How to be able to express an idea with facts, talking in public and brand structure, as well as how to build marketing plans and handle events and create relationships.
FY! – How do you decide which designs would successfully sell?  You say that your design process is focussed on what you yourself would want to wear, but what stops you designing a flat-cap covered in tits and ass if you decided that's what you would wear?  
IJ – Nothing stops me. If I feel that is something I want to do, I will do it no matter what, and no matter what people say. It's all a matter of having fun and believing in your guts.
FY! –  Which is your favourite design to date and why?
IJ –  The "Water runners" is one of my fave designs ever. It was a really weird fabric, made out of silky fabric-like. The graphic was amazing, it had water-holding people and it was an Asian inspired graphic. I only could do like 30 units of that one, and they were done to celebrate the brand 1st anniversary.
FY!  –  Where do you source your materials?
IJ – From all over the world.
FY!  – You enjoy reposting people who have purchased your caps on your own instagram account (@ivanskulls).  How important is social media to your business?
IJ –  I follow certain people on IG, people I admire and back then, when there was no internet I used to send letters to actors, or singers and such. I remember getting back thank you letters from their fan club. The joy and happiness of getting an actual answer from someone is something I try to do when people send me messages or try to contact me and ask me about a wide range of topics. I'm just a simple guy who happens to do some things that some people like, and I really feel blessed to have these friends all over the world who enjoy my work. I feel obligated to say thank you to all of them. Social media is a way to be in touch with people from all over the world, and it's really important to give updates and be closer to the people that love the brand.
FY! –  You're releasing a special 4-cap limited edition Christmas package made of special dead stock sample materials where only 25 of each design will be made.  Where did you get the idea to do such a thing? 
IJ – It's just a way to test peoples trust in the brand.  It comes from the idea of 'don't show the products but promise that the products will be great'. I will live to that promise, and will try to surpass it. The product won't only be great, it will be incredible.
FY! – Ivan, it was an absolute pleasure getting to know you and your creative process.  Keep up the great work and the street-style world is waiting with baited breath in order to see what you come up with next.  Hasta luego, hombre. 
IJ – Thanks again for the support and keep it up!